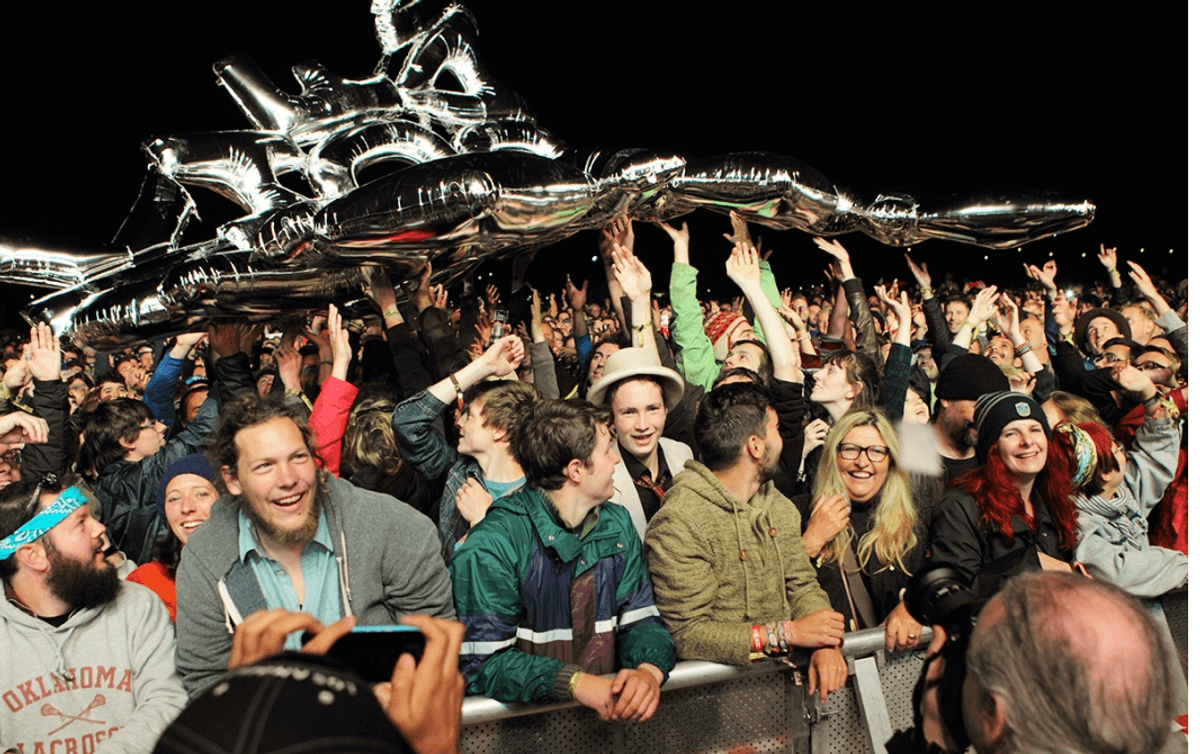 Eight Amazing Things We've Done Across Ten Years at End of the Road Festival
23 July 2015, 09:45
End of the Road Festival celebrates its tenth year this September. An event very much shaped as the ultimate music fan's long weekend, it's been close to our hearts since the very first year.
For the uninitiated, imagine something that addresses every single complaint you've ever had as a festival goer and combines that with everything you've ever loved about music. You're nearly half-way to understanding why it's so very special. Best Fit's been there in some form every single year. About five years back we got together with the festival heads to add our own special touch. Some people might call it a 'media' partnership. We like to think of it as saying thank you to the gods of music. Here are just eight of the amazing things we've managed to pull off during our annual long weekend in Dorset.
8. When The Pictish Trail were drunk and we decided to make a session at one in the morning.
In one of our more risky moves, we figured really late night session might be something of a giggle. A certain Mr Johnny Lynch – better known as The Pictish Trail – volunteered and so a rendezvous was arranged and a location assigned (in front of our tent) along with thr requisite personnel to make it happen (99 percent of them merrily drunk from several pints of hot cider). With the only luminescence available that of our audiences' collective torchlight, we pressed on with perhaps our most unorthodox session to date.
Johnny brought his friends Francois & the Atlas Mountains as well as Rozi Plain and some of Eagleowl as backup and we pressed on filming a beautifully choreographed rendition of "Not To Be" while fighting the plummeting temperatures of a 1am September morning, the numbing effect of alcohol and a surfeit of infectious bonhomie that made it difficult to do anything but laugh.
7. When we drank ale with Frightened Rabbit
Having arrived at the festival after a lengthy journey the previous night, Frightened Rabbit's Scott Hutchinson admitted to have "not been awake for that long", despite the afternoon hour. Their pre-headline Sunday night slot, and penultimate show of the weekend, marked both their second visit to Larmer Tree Gardens, having played in 2006, the year of the festival's inception, and the band's final festival show of 2013.
With a broad range of over 50 different ales on offer, that often take around five pages of the festival's programme to describe, End of the Road's studiously curated musical line-up comes with a bespoke selection of beer to enjoy it with. We imagined Frightened Rabbit to be no strangers to the odd tipple, so under the lucid guise of "interview", we couldn't resist the chance to combine two institutions close to our hearts, and treat ourselves to an ale tasting. Who would be a better fit for a festival drinking companion? Under the guidance of beer-guru Christopher Corry – the man from The Really Good Bar Co responsible for bringing ales to the festival since 2009 – we learned about the process behind "curating" (apparently not the technical term) the selection that accounts for 65% of the festival's liquid consumption, the change in drinking habits in young people that make such a focus sustainable, and the rude health that the local brewing industry currently sits in.
6. When MONEY played a midnight show for us in the middle of the forest
Rallying a drunken band to a secret set in near pitch black conditions with zero phone reception is hard at the best of times - trust us, we have to do this every year at End of the Road. When that band is the infamous MONEY, there's even more risk of it not happening at all.
Despite a tipsy Jamie Lee going missing almost at the last minute, we did pull off a four-song set as the clock struck midnight back in 2013. It was one of the weekend's highlights.
5. When we got to DJ with Jens Lekman
As surreal experiences go, having Jens Lekman singing the chorus to his classic "You Are The Light" down your ear onboard a marooned boat that's sat on a light up dancefloor, located in the middle of an enchanted forest is pretty much up there. Jens and Best Fit Founder Rich Thane set up their laptops on board the disco ship shortly after Lekman's Sunday evening set. He'd announced during his performance that he was going to be playing some records "somewhere in the woods" to his adoring crowd, so it wasn't long until seemingly hundreds of inquisitive folk turned up.
"Memories are hazy," explains Rich Thane, "but the vibe was very much in keeping with Lekman's quirky pop sensibilities." The set was peppered with the wistful balearic breeze - Air France and The Embassy deep cuts interspersed with yacht rock and smooth summer jams. "The highlight perhaps was the coincidental placement of Nicolette Larsson's 'Lotta Love'", which we both had queued up to play at the same time," Thane says. "Twenty minutes before the set was meant to finish, Jens asked if I minded if he left a little early as he was 'tired and wanted to go for a little walk in the woods'. 'Sure', I said, as he pondered whether it'd be ok to play one of his own songs. The jubilant horns that kick off "You Are The Light" blasted out of the P.A and a sea of smiles appeared as Jens disappeared into the night."
4. When St. Vincent agreed to a Q&A in the forest
Pulling off something with an artist of the size and magnitude of St. Vincent should have been near impossible. Thankfully, it was Annie Clark's second year at the festival - she'd played for the first time alongside David Byrne in 2013 - and that meant she know what to expect.
Secrecy was vital and Clark agreed to a forest-set Q&A on the proviso that it was for the fans and not the handful of press at the festival. That worked for us and fitted entirely withe ethos of the weekend. The joy of seeing a hundred or so die-hard St.Vincent fans lose themselves in Clark's magnetic personality and dry wit is an experience we'll never forget. There's a handful of picture of that hour but thankfully her fans respected the no filming policy.
3. When we fought agains the failing light for dusk-set session with Caitlin Rose
Bookended by two sets on the same day, Caitlin Rose stepped out for our cameras as the sun fell with a band that included Andrew Combs, who returns to the festival this year.
Fighting against the failing light, Rose cut a driven take of "Waitin'" from her second album The Stand In.
2. The Perfume Genius secret set when everybody cried
It's in the spirit of our role at End of the Road that everything we do is for the music and the fans. Sometimes the awesomeness of the moment can be destroyed if you threaten that. So there are times when nothing is recorded and no photos were taken. Times when you just want to make something happen that people will remember in conversation rather than on YouTube. Last year, that honour went to Perfume Genius.
Mike Hadreas intimate and emotional secret performance on the comedy stage was for many the high point of last year's festival. It was the first time Hadreas has played alone and he later admitted being terrfied nobody would show. With a late night set made up of abridged versions of his own songs alongside covers from Sade's ("By Your Side"), Art Garfunkel ("Bright Eyes") and Tim Buckley ("Song to the Siren"), Hadreas even brought on his boyfriend to duet with him.
1. When Scott from Frightened Rabbit nearly made a child cry
After meeting up with Frightened Rabbit's Scott Hutchison for an ale tasting (see above), we figured he might be up for a bit of music too. Commandeering a pirate ship in the forest – used the night before for an impromptu DJ set from Jarvis Cocker – we posted a few last-minute handwritten notes around the site telling folk about our plans.
Thirty minutes later, with a hundred strong audience in attendance, Scott took to the deck for a rendition of the opening track from 2008′s The Midnight Organ Fight - prefaced by a hilarious altercation with a small child in the audience.
End of the Road Festival runs from 4-6 September 2015. Tickets are sold out.
Get the Best Fit take on the week in music direct to your inbox every Friday