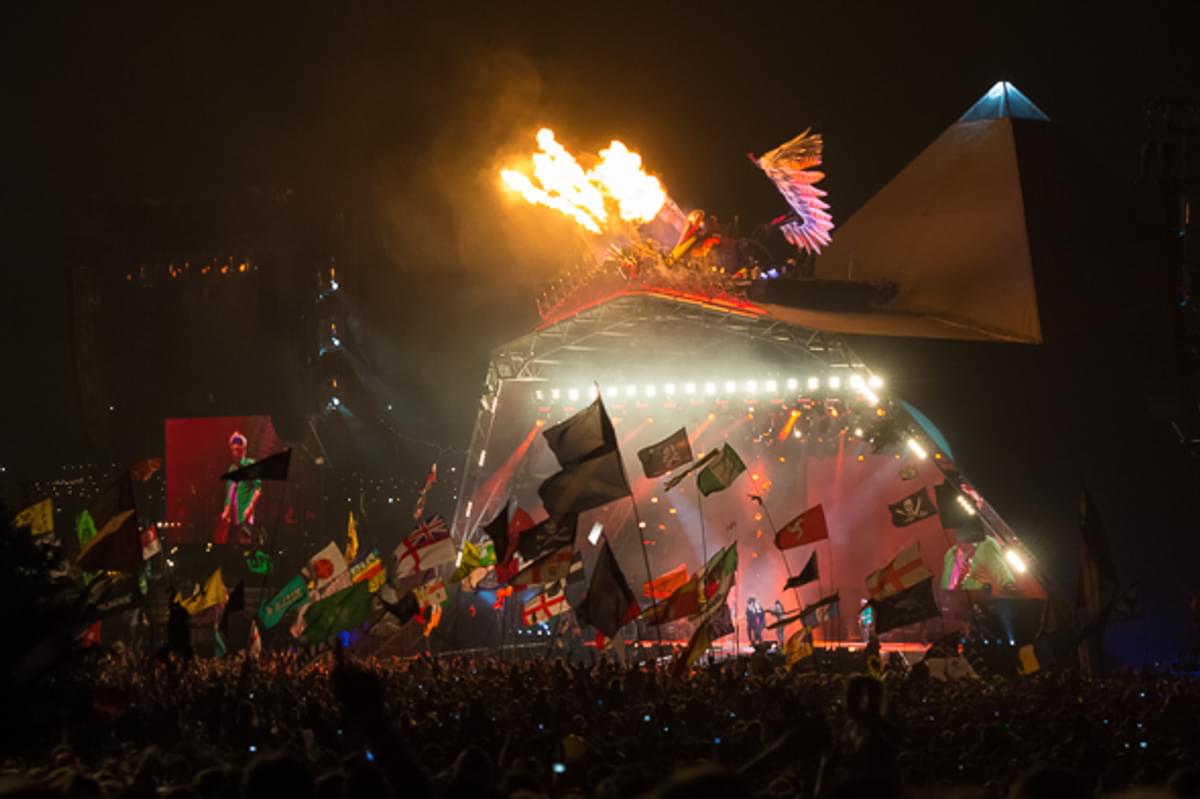 10 Things We Learnt at Glastonbury 2014
02 July 2014, 15:01
So we knew a lot of things before we left for Glastonbury on Friday morning: we knew it was going to rain; that wellies were invented by the devil; that our stash of alcohol from home wouldn't last; that Shangri La offered the best late night entertainment and that to get into The Rabbit Hole required patience. Though, having last seen the Worthy Farm site in 2010, we knew we were in for a lot of new lessons too so we decided to pass on our latest knowledge.
1. Blondie still have it
I wasn't really sure how to feel about the fact that Blondie were the first band I planned to watch at Glastonbury; in 2014. After a four year break from this behemoth of a gathering - spent visiting smaller, primarily new music geared festivals – it felt slightly strange wading through an endless sea of people at midday to catch a glimpse of a band whose pioneering spirit first made its mark in the late 70s. Perhaps seeing All We Are first would have made me better or something but as a (then) 68-year old Debbie Harry emerged to the opening strums of "One Way Or Another" I felt vindicated. Whilst punters were definitely largely there for the hits (a mass exodus occurred after "Maria") they looked and sounded classy as hell.
2. Nothing can stop Arcade Fire
There was a moment mid way through Friday when the lyrics to Queen's "Bohemian Rhapsody" (echoing in the distance from some unknown stage) suddenly took on an entirely too literal meaning. As lightening bolts darted across the mid afternoon sky and thunder rolled in the not too distant distance outdoor stages were temporarily closed (cutting short sets from but Rudimental and Lily Allen) and power was shut off indoors (delaying performances from the likes of Best Fit favourites Wild Beasts). Come Arcade Fire headline time though, none of this seemed to matter. As the majority of Glastonbury's 200,000 attendees gathered around the Pyramid Stage it was clear that nothing was going to stop Win Butler & co playing the show they were born to play. They didn't just play though, of course, they billowed louder than the storm – sequins, mirrors, dancers, performers in drag and fireworks well and truly in tow.
3. Wolf Alice are one of the best British bands around
I thought if anyone was going to blow a speaker stack this weekend, it would have been Metallica but Wolf Alice put in a strong bid of their own on Saturday afternoon at the John Peel stage. Emerging in slick suits fronted by a neon pink clad Ellie Roswell, the London four-piece looked every part the iconic, British indie band they are destined to become – only their shoes, caked in mud, reminded us of their endearingly playful Camden routes. Keeping slower, more melodic offerings to a minimum we were treated to the heavy sonic onslaught of "Bros", the thrashing riffs of "Fluffy" and the dirge-y grunge of "She" and "Storm." Only "Blush" and the expertly chosen Chris Isaak cover of "Wicked Game" provided a momentary respite from the deafening speakers in order to allow Ellie to show her voice can be as fragile as it is aggressive. As the compare himself said before they begun, I'm sure John Peel would have approved.
4. Kiesza has as many high kicks as high hats
So her set mostly consists of covers? So she insists on attempting to make "Hallelujah" a drum and bass tune? So what?! OK, so the latter is actually pretty hard to forgive but the lady has moves, and backing dancers for a set that is choreographed to the perfection of an early 90s Eurodance video. Speaking of early 90s Eurodance, she also has a habit of cover Haddaway's "What is Love", which actually works really well amongst the chart topping original "Hideaway" and crowd favourite "No Enemiesz." As she high kicks and body pops her way through her mid afternoon Sonic Stage set we can't help but be mesmerised.
5. M+A won Glastonbury's Emerging Talent Competition for a reason
Known for their tightly wound electro-pop, Italian duo M+A showed Glastonbury just why they were chosen as this year's Emerging Talent Competition winners. With dreamy, summer geared anthems and tropical undertones it was just what weary spirits needed to lift them up, and see them through the final day of this mud laden affair.
6. The West Holt stage is the place to be
Deltron 3030. Sun Ra Arkestra. Tune-Yards. Jurassic 5. M.I.A. John Wizards. The Daptone Super Soul Revue. Melt Yourself Down. Public Service Broadcasting. Disclosure. They all played the West Holt stage. They were all contenders for highlight of the weekend. West Holt stage, you are my spirit animal!
7. Jon Hopkins never fails to deliver
Shying away from the main stage headline attractions, we joined the discerning handful (comparatively this means there were only a couple of thousand people gathered) who opted for Jon Hopkins late night Glade set on Saturday. Delivering flawless Immunity-featured track after track, he once again proved himself the King of quietly momentous electronica – never once forgetting a little more bass goes a long, long way in a live setting.
8. Dolly Parton has more tunes than you'd think
Nigh on every other song that made its way from the Pyramid Stage across the impenetrable masses surrounding it to our elevated vantage point elicited the response "oh my god, I'd forgotten this was her song," not only from myself but from those around me. Of course there was "9 to 5", "Jolene" and "I Will Always Love You" but Dolly Parton isn't the undisputed Queen of Country because of just 3 songs: "Old Flames Can't Hold a Candle to You", "Real Love", "Baby I'm Burning" and "Islands In The Stream" reminded everyone of this.
9. Annie Clark is and always will be cooler than you
We hate to be the ones to break it to you but, you will never be as cool as Annie Clark. Closing out the last set we can recall in any substantial detail she and her St. Vincent moniker blended into one shredding, choreographed, beast of a thing as the sun moved across the Park Stage and closer to the horizon. As theatrical and measured as her recent self-titled album, set highlights came in the form of "Digital Witness", "Cruel", "Cheerleader" and the wonderful "Birth in Reverse" - whose opening lyrics elicited a joyous cry from both fans and newcomers alike.
10. What the end of the world looks like
Arcadia at 6 in the morning on the Monday.
Get the Best Fit take on the week in music direct to your inbox every Friday