Spinal Tap turned it up to 11. The Monkees were real life daydream believers. But what about the bands that never broke through their fourth wall? That were never anything more than their fictional incarnation? Bands that never existed beyond their imagined confines. Some bands, like Dr. Funke's 100% Natural Fun Time Family Band Solution are probably best left in their imagined realm (although we're not saying we wouldn't absolutely love to see them live) but others, well we damn well wish we lived in a world where they existed.
10. Rage Peace from Prince Rama's 'Top Ten Hits of the End of the World'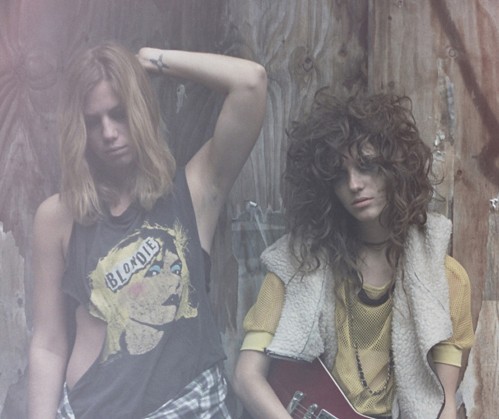 Conceived as a pseudo-compilation album, psychedelic Brooklyn three-piece Prince Rama released Top Ten Hits of The End of The World last year via Animal Collective's own label Paw Tracks. Tracking began with Tim Koh in Ariel Pink's Haunted Graffiti's studio and was then completed and mixed with producer Scott Colburn (Animal Collective, Sun City Girls, Arcade Fire) at Gravelvoice in Seattle. The Hare Krishna community raised siblings Taraka and Nimai Larson and friend Michael Collins invented ten different pop bands that died during the apocalypse, channeling the ghosts of each one to perform the various songs across genres and stylistic eras. Yep, you read that right, we're talking future post-apocalyptic music here. A retrospective requiem to pop music.
Now of the ten bands that went out in crashing flames of glory as the world perished around them there are bands like The Metaphsysixxx, who upon hearing the world was about to end, took all the ecstasy they had and jumped on a treadmill, running until they collapsed but our favourite has to be Rage Peace. For starters, what a name. Then there is their fictional tale of fame and demise which, according the press release, goes a little something like this.
"Rage Peace formed as a small protest band in the early 90s and before they knew it they were the Bob Dylans of a whole generation of angry youth. They became founding members of the Rage Peace movement, based on the principle of nihilism as the only true order, and wrote songs with violent messages placed in seemingly saccharine pop structures. The band was notorious for staging organized acts of violence and destruction, burning cars and sometimes buildings in the name of chaos. When the end came, their bodies were found locked inside a limousine they had set on fire. The license plate read "HEY U"."
There are stories like that for all the bands, which you can read here, but this is our favourite for the pure rock'n'roll nihilism it embodies and more than anything, we would just love to live this world, safe in the knowledge, that if the apocalypse does come, music will live on.
9. Ming Tea from 'Austin Powers'
Taking their name from a company in Elio Petri's 1960 film The 10th Victim, the band made up of actor Mike Myers, The Bangles' Susannah Hoffs and power-pop singer-songwriter Matthew Sweet isn't explicitly referenced within the Austin Powers trilogy. Myers formed Ming Tea after he got together with friends Hoffs and Sweet for a night of B Movies. Inevitable jam sessions followed and a few live appearances at LA's comedy clubs convinced them that the project had legs.
It took life as a hyperbolic facet of Austin Powers' identity and the band members were given equallly ludicrous nom de plumes (Hoffs became Gillian Shagwell, Sweet was Sid Belvedere) to compliment the main character. "Manny Stixman" (New Radicals drummer Stuart Johnson) and "Trever Aigburth" (Canadian VJ and 'Black Velvet' songwriter) were added to flesh out the line-up.
It's Sweet's songwriting that shines through in the two songs and several instrumental pieces that saw the light of day as part of the films while Myers does a passable amalgam of a vocal pitched somewhere between Roger Daltry, Anthony Newley and Steve Marriott. Outside of the movies, they played the odd TV show; a fully-live appearance on VH-1′s Sparkle shows Ming Tea making a decent stab of being an actual band.
8. The Stains from 'Ladies and Gentlemen, The Fabulous Stains'
Marin Kanter, Diane Lane and Laura Dern unwittingly filled in the gap between punk and riot grrl when they appeared as The Stains in the 1981 Lou Adler (who produced The Mamas & The Papas and Carole King) directed film Ladies and Gentlemen, The Fabulous Stains. The production was so chaotic and turbulent, rather apt for a film about punk rock and the music business, that the ending was shot two years after the film wrapped.
The Paramount Pictures satire only saw a full release in 2008 after its cult status had reached breaking point through endless art house screenings. The film itself co-stars Sex Pistols men Paul Cook and Steve Jones, alongside Paul Simonon from The Clash while most of the music was written by Barry Ford and Rob Morton, the pseudonym of Nancy Dowd.
The Stains, comprised of brashly cynical lead singer Corinne "Third Degree" Burns (Lane, barely 15 at the start of shooting), her sister Tracy (Kanter), and cousin Jennifer (Dern, who was 13 at the time), were an overnight sensation, embodying teen rebellion in their skunk striped hair, lightening-bolt eye make-up and provokative see through shirts. Their attitude and rallying cry has probably inspired more people than we're aware of, imagine what they could have done if they were the real deal.
7. Sonic Death Monkey from 'High Fidelity'
It's a classic. Anyone who loves this film, and that I am assuming is most of you, can probably see the scene play out in your head. That moment when John Cusack is burying his head in fear of how much Barry is about to crash and burn, Vince and Justin are swiping CD's from the DJ booth while Laura looks to the stage encouragingly. "It's my great … great pleasure to introduce … Sonic Death Monkey" he says before Jack Black walks on stage triumphantly, of course what we don't get is Sonic Death Monkey. The band have skipped a couple of phases in their career and whilst on the verge of becoming Kathleen Turner Over Drive they play Barry Jive and The Uptown Five and famously cover Marvin Gaye.
And while we do of course really wish we could see Jack Black doing his best 'Let's Get It On' thrust, what we would like to hear more than anything is their Sonic Death Monkey phase, whose immediate influences are German and whose music promises to go over the edge, to provoke a reaction.
"And if Laura's bourgeois lawyer friends can't take it. Fuck them. Let 'em riot. We're fucking Sonic Death Monkey."