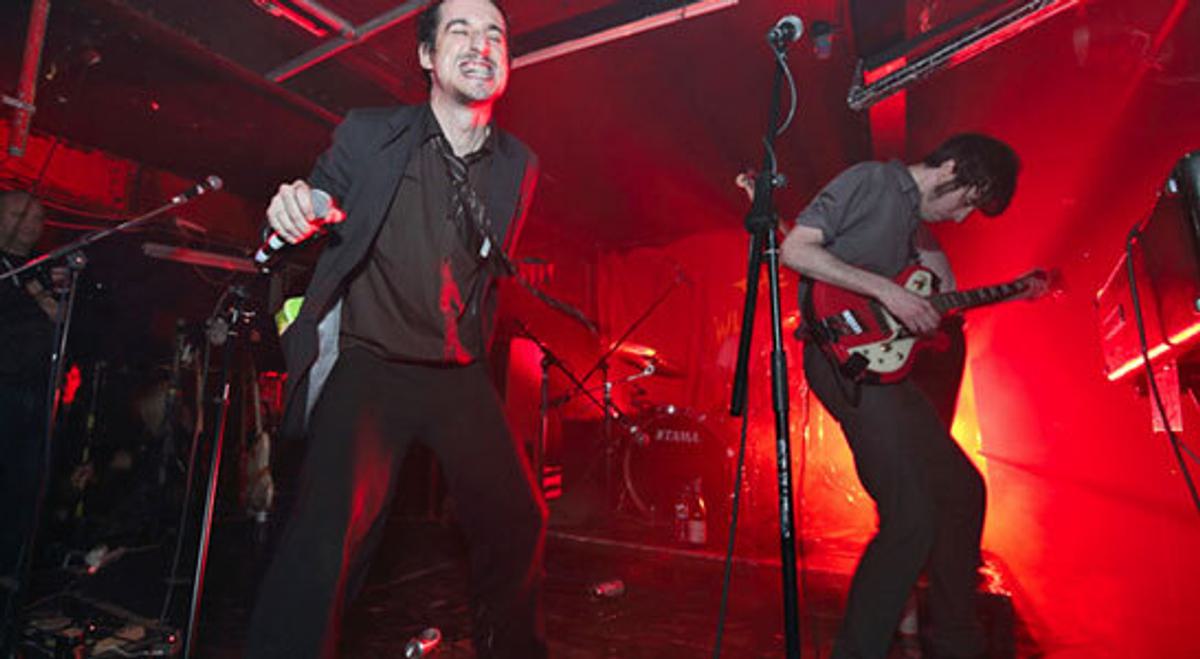 10 Acts To See At Beacons Festival
04 August 2014, 09:30
​There's now just five days to go until we make our annual pilgrimage to the Yorkshire Dales for Beacons Festival - the fast-growing, forward-thinking Northern event that's fast making a name for itself as the best place to catch the best of the new band crop, a cannily booked smattering of veterans and the best DJs of the moment.
To whet our appetite for the feast of fun that awaits us, we spoke to festival founders Simon Stevens & Ash Kollakowski about the ten acts that they're most looking forward to catching at this year's edition, and a little insight into the story behind their booking. Read on for a little taste of what the festival's got to offer.
Action Bronson
I tried to get in to see him at SXSW last year and failed miserably. He's an internet superstar now and he's playing pretty much no other UK festivals this year, so its a huge coup for us. I love the fact that he's taken on this ex-chef persona, it seems really fresh and new and not at all boring. I'm really excited for this one - Ash
Fat White Family
Probably the band I've seen most times this year - mesmerising live and I love the unpredictability of their live sets. It feels like they're one of these bands that are on the outside looking in, commenting about the ridiculousness of the government, people in general and what's left of the music industry. They're not afraid to speak their minds and it makes their music believable. With a lot of bands, you see them playing their first tours with a huge light show, 12 crew members and a merch team and they cant even sell 50 tickets for their gigs, where as Fat Whites seem to be the polar opposite of everything that makes me cringe when I read magazines about "ones to watch" etc. - Ash
Darkside
Another pretty exclusive booking for Beacons. By all accounts this was Now Wave's best show of 2014 so far, so that bodes well. Nicolas Jaar is pretty undeterred when it comes to releasing challenging music, and this is off beat for him. It's gonna be a dramatic closing act for the festival, one that hopefully everyone will remember. - Ash
Sleaford Mods
In the same way Fat Whites get my anarchistic juices flowing, Sleaford Mods make me smile, because everything they say is done with 100% passion and believability. Any kids going to see Charli XCX and a bit Indiana at Beacons will soil their underpants if they stumble across this lot. Also, anyone who can slip the line "Shredded Wheat, Kellogs Cunts" into a song is a remarkable human being. Oh, I forgot their track "A Little Ditty" opens with Jason the frontman burping, brilliant. Love them. - Ash
Hookworms
This'll be Hookworms' 3rd time at Beacons and this'll be our 3rd Beacons (same for Eagulls too, incidentally) - they just sum up what we love about bands. They're totally electric, heads down, volume up, straight into their set and they don't stop between tracks to introduce the next songs which is perfect. Blinding - as usual they'll be the talk of the festival the day after. - Ash
Woman's Hour
We've been looking forward to this for a while and it's been worth the wait. Surely one of the debut albums of the year and destined for the end of year lists. It's full of woozy, shimmering, indie-pop that lures you in with demure choruses but there's a depth to it that we really like, plenty of heartache, an album that you should really make time for. - Simon
The Fall
They surely don't require much of an introduction, Famously described by John Peel as being "always different, always the same", we're not sure exactly what we'd say anyway. The band have been on great form recently and one thing we can be sure of is that letting Mark E. Smith loose on the main stage on Sunday night is going to be one of the highlights of the weekend. - Simon
65daysofstatic
We've been working with 65daysofstatic for aaaaages and it's been awesome to see them grow and develop as a band. They've been involved in some amazing projects - science fiction film soundtracks and more recently a song written entirely on code made available to fans to "steal or remix, or even better, use as a jump off point to write your own stuff" - which shows the kind of positivity that permeates their work. They're ace live as well. - Simon
Daniel Avery
One of the albums of last year for me, I'm a sucker for melody and big, catchy hooks which Drone Logic was absolutely full of. I've not seen him live yet so am really looking forward to seeing him at Beacons. - Simon
Glass Animals
Another band with a debut heading for this year's best of lists. They played to a packed out room at Belgrave earlier this year, simultaneous sexy and cerebral. Influenced by everyone from Dr. Dre to (more obviously) Wild Beasts, we cant wait to see if they can to bring the same party to Beacons. - Simon
To check out the festival's excellent line-up in it's full glory,
head to their website here
. Limited tickets are
still available from here
.