Jonas has spent a huge slice of his life in music, from his late teenage years as one third of boyband Jonas Brothers, through to 2011's solo album Fastlife and now to the present day as the lead singer of funk-pop quartet DNCE.
The key songs in his life tell a personal story, filled with family, friends and pivotal moments, but they are also reflective of an artist finding his identity as a frontman through the performers he idolises: from the rock 'n' roll sex appeal of Rod Stewart, to the flamboyance and artistry of Freddie Mercury and Boy George.
"These songs were all important to me at some point in my life," explains Jonas, when we meet in London, ahead of DNCE's slot supporting Bruno Mars at a huge Saturday night show in Hyde Park. "Some of them make me remember my childhood, or a time in my life that I'd lean on the song for help."
Jonas's choices act as a map of the musical genres that he leans on in his songwriting - verging from the lyricism of Billy Joel to the all-out '70s rock of Jefferson Starship. "These songs have all been big influences throughout my career and definitely on DNCE's music now," he says. "You'll hear bits and pieces of all of these choices in our songs. Of course I could have done a whole different list of songs that influenced the band in particular, but for me personally as a musician, these are the ones I lean towards when I write or produce."
"Bohemian Rhapsody" by Queen
"Queen and Freddie Mercury are heroes to me and musically they inspire so much of what I do now. 'Bohemian Rhapsody' is hands down one of the best songs of all time - it's operatic, it's Rock 'n' roll and it's got one of the best videos as well. It takes you on a journey and it's unexpected. Freddie came from opera and you can obviously hear it in this song. I feel like I want to take a time machine and go back and watch him sing it.
"As a band we walk out on stage to this song, so it's really important for us as a unit. It sets the mood, especially at a big show like the show at Hyde Park: you walk out to Queen and it makes you proud! I really look up to Freddie as a frontman - I have him tattooed on my arm too, which I got done recently."
"Mr. Blue Sky" by Electric Light Orchestra
"This is a song that I fell in love with on a trip to New Zealand and Australia. It was my first vacation without my family and I took my friend John with me. 'Mr. Blue Sky' was the first song we heard even before we landed - I think it was playing on the flight. We got to Australia and just kept it on repeat, it was our party anthem for the entire trip.
"When we got to New Zealand, we did a Lord of the Rings helicopter tour and after that we took off we played the song on repeat for the whole journey for almost two hours straight. Since then it's remained one of my favourite songs of all time. I'm planning to get the lyrics tattooed on my arm - I think probably the first verse, on my shoulder in a circle."
"Something" by The Beatles
"'Something' is probably the first Beatles song I listened to that I felt personally connected to. It's not like any other Beatles song, although they have a lot of romantic songs, most of them are kind of playful too, but this has a seriousness about it. It reminds me more of an Elton John song or a Billy Joel song, it's very lyrical and so relatable too.
"I listened to it a lot when I had my first crush - I remember thinking, there's 'something' about her but I don't know what - I can't pinpoint it, I just like her. It was my childhood crush song and I suppose it's that way for a lot of people. It's a first love song and a first dance song - it reminds me of weddings too.
"I still get excited when I hear somebody cover it, I always want to hear new versions of it because it's a song that you could do any arrangement of and it would always sound interesting."
"She's Always a Woman" by Billy Joel
"'She's Always a Woman' is a good complement to 'Something' I think and lyrically they compare to each other. For me, Billy Joel is hands-down one of the best lyricists of all time. He came up singing in bars and he's about to have his 100th sold-out show in Madison Square Garden, which I hope to go to!
"When I listen to this song I obviously think about the closest women in my life, the people that I respect the most, but especially my Mother. Me and my mom would listen to this song together when I was growing up. It's one of those songs that I can remember the exact place I was when I first heard it, and it was in the kitchen with her.
"Thinking about my mom when I was a kid, she would go through all the different contrasts described in the lyrics - she'd be hot and cold and angry, but then soft. For me, the title lyric reflects how she'll always be amazing in my eyes. It's a really respectful but playful song."
"Da Ya Think I'm Sexy?" by Rod Stewart
"This is a bit of a change in mood from the last song! For a long time Rod was a hero and an icon to me. "Da Ya Think I'm Sexy" is just such a confident song and I remember listening to it a lot as I was starting to perform. I think all artists have a different persona they go into, or a switch they hit when they walk on stage, I would listen to this as a warmup song to get to that place before I performed.
"I was lucky enough to re-record the song with Rod Stewart about a year ago - one of those moments when it really came full circle for me. My A&R told me they were planning to do a Rod Stewart tribute album with a bunch of different artists. She first presented a different song and I said "that would be amazing! But I'm definitely doing "Da Ya Think I'm Sexy", right?" I think I even kicked out somebody else who was in line to do it! We recorded it, produced it and then performed it together at the VMAs.
"Now we have this cool relationship where I see him when I'm in Vegas and I'm going to try to see one of his shows. Rod Stewart is my rock 'n' roll dad! It's one of those rare experiences when you can say 'it's nice to meet your heroes.'"
"I Still Haven't Found What I'm Looking For" by U2
"Forever when I hear this song it moves me. I think it's relatable to anyone really, whether they're out there looking for themselves or someone else, or what's after this life - I find it very moving. The Joshua Tree is my favourite U2 album - they just did an anniversary tour and I was heartbroken that I wasn't able to go.
"A few years ago I was filming in Toronto and I received an invite from Bono to see U2's show. So I go along with my friend and I roll my eyes because the invite came through his PR and I thought, 'Oh this invite isn't actually from him, he doesn't actually want me to come.' But the show was just spiritual and magical - I was hypnotised.
"The PR had also invited me to his after party, and again I was thinking, 'is this really coming from him?' I had to work the next day at 6am and it was already midnight, but I thought 'you know what, this is a once in a lifetime experience.' So we go, we wait for an hour and my friend tells me, 'let's just wait for 30 minutes more,' And just then in strolls Bono - he walks over and sits with me and my friend for about three hours and we just chatted about everything - music, politics, family, spirituality. It was a really special experience. He's always been a lead singer that I have looked up to and I had so much respect for him for doing that."
"Do You Really Want To Hurt Me" by Culture Club
"What I love about Culture Club is how they took inspiration from reggae and made it into this beautiful pop that didn't sound like much else at the time. Boy George was one of the first pop stars to come out and showcase that side of himself publicly, and in a time when it was more frowned upon than it is now. He's always been so outspoken too, which is incredible.
"I got the opportunity to meet him when he was a judge on The Voice Australia and to work with one of the artists that he mentored, Sheldon Riley. He auditioned with 'Do You Really Want to Hurt Me', but it was a really dramatic version of the song - it was so powerful. It was really encouraging to see Boy George work with an artist who chose one of his songs to cover, which would be a challenge for a lot of people.
"Boy George is such a great frontman, with all his flamboyance - his outfits and his makeup. I would be jealous sometimes when I would walk in the room and be like, "Man, who made that?" and he would say, "Oh I made this outfit"' And the fact that he's still doing it and works so hard, I have the utmost respect for that."
"Jane" by Jefferson Starship
"This one is kind of a rare bird - it's one that I think rock lovers from the '70s and '80s will know. It was my Dad's favourite song and it was his karaoke song. I think I have a video somewhere of him wailing it in a car when I was growing up. He could hit all the notes and I was always in awe of him. My Dad had such a beautiful voice and a big range, and he still does to this day. We'd sing along to it and all do air guitar to the crazy guitar solos.
"It brings back childhood memories, but it's also just a badass rock 'n' roll song, and it was my introduction to rock music. I love southern rock and it definitely has an influence on the music I make with DNCE now."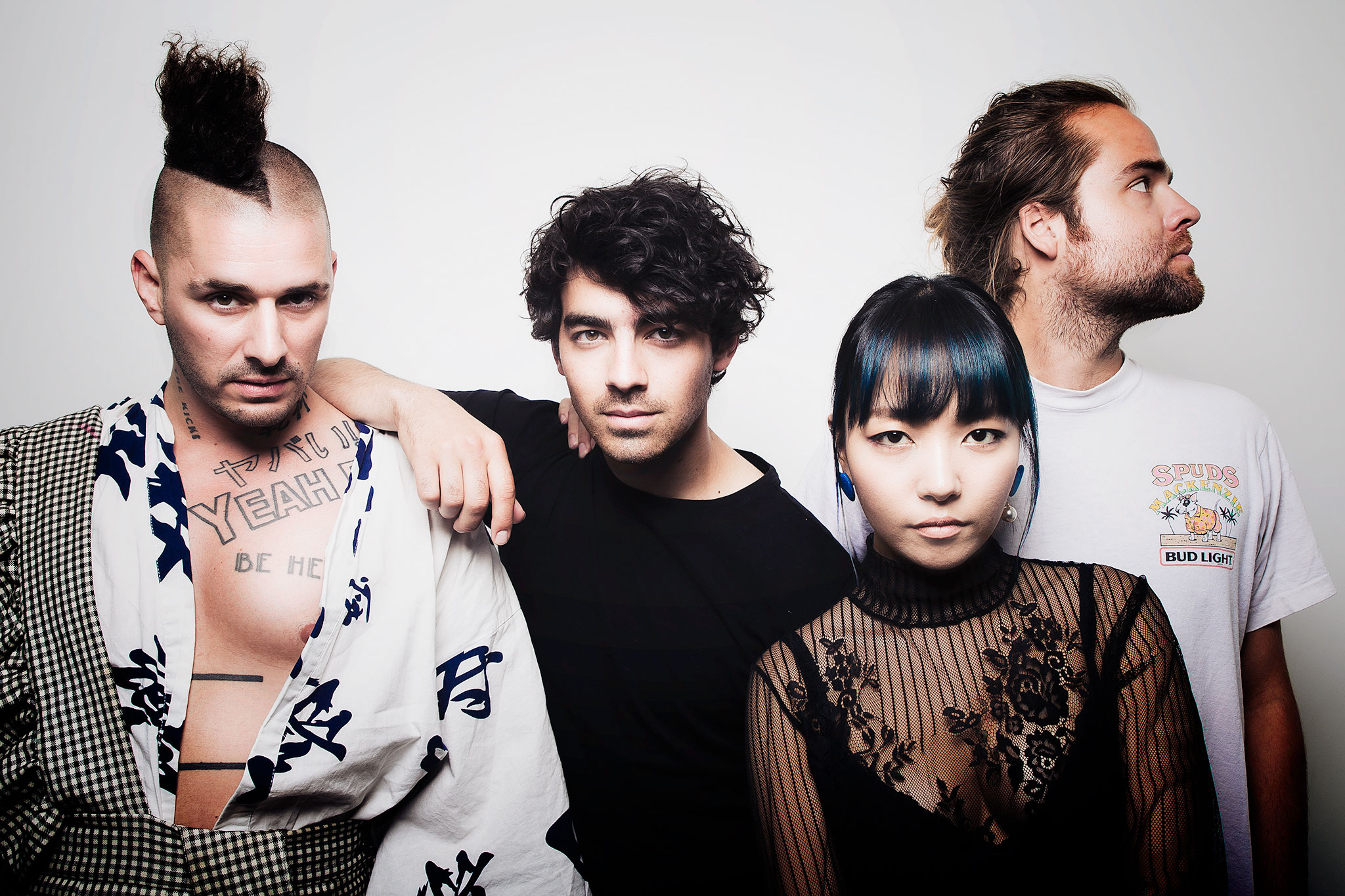 "Everybody Hurts" by R.E.M
""Everybody Hurts" is a song that came to me fairly late in my life. As I was maturing into a young adult I started to really fall in love with R.E.M. and find out about their history as a group. This can be read as a kind of simple and sad tune of course, but it's surpassed that for me.
"When you're talking about iconic frontmen, Michael Stipe is the one and it's all in his voice: there's no song that he could sing when you wouldn't know it was him. I love the lyrics and the melody but I think I'm always attracted to the vocals above everything else. Michael Stipe's voice is so unique and that's what I love about R.E.M."
DNCE's People To People EP is out now via Republic Records