As Record Store Day 2012 wraps up for another year, music fans all over the place are settling in at home to begin making their way through the fresh piles of music patiently waiting to be heard. Record shop staff members are just about daring to open their eyes again after a hectic, busy but brilliant weekend as those that couldn't make it out to the shops stare sadly at the rocketing prices of sought after items on Ebay. During its short life span, Record Store Day has come to be one of the most important dates on the musical calendar, encouraging music fans of all ages, tastes and trends to head to their local shop and marvel in the wonder of the physical product of music.
The Line of Best Fit headed to Rough Trade East on Saturday to find out what the punters had managed to get hold of, and to see the fifth annual Record Store Day in full swing.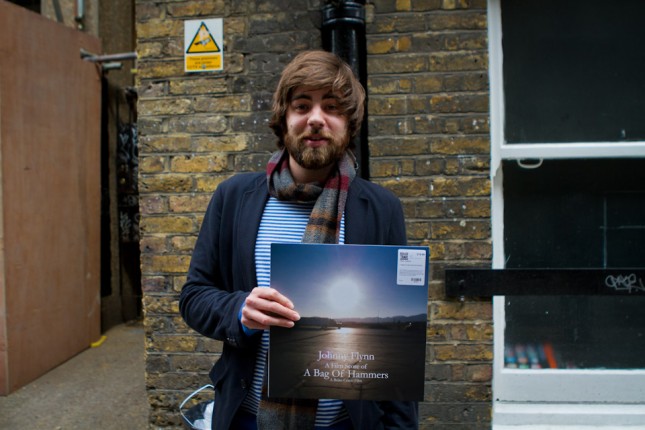 Tim Wilds
"I got the Johnny Flynn 12", I've been a fan of Johnny Flynn since his early records. One of my friends managed to get hold of one of his first 7" releases and then I heard this was coming out on vinyl, so thought I should snap it up."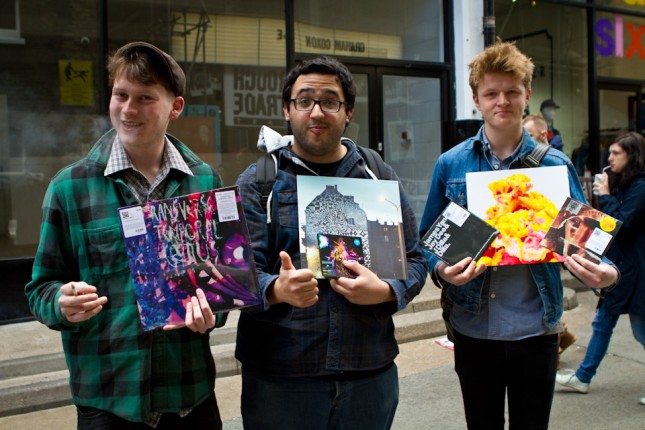 Zebedee
"I got the Animal Collective one, because you've got to. And I got Smuggler's Way too – I wanted to get Mastodon covering Flaming Lips but they'd sold out."
Roy
"I got a Martyn 12", spotted him on iTunes and thought I'd get hold of it, so I found his album. And I got the Lone album too because his new single 'Crystal Castles 1991′ is pretty cool so I got that on CD, and now we're heading over to Phonica."
Ben
"I have here the Dilla 7", my friend who works in Phonica was telling me about it and they only had ten copies in the shop so that was one I really wanted. Feistodon, the collaboration between Feist and Mastodon where they've covered each other's tune, which I thought was a good Record Store Day only thing. And I got Dross Glop by Battles, which has the Hudson Mohawke remix on it that I really wanted. Quite a good haul, pretty happy with it! "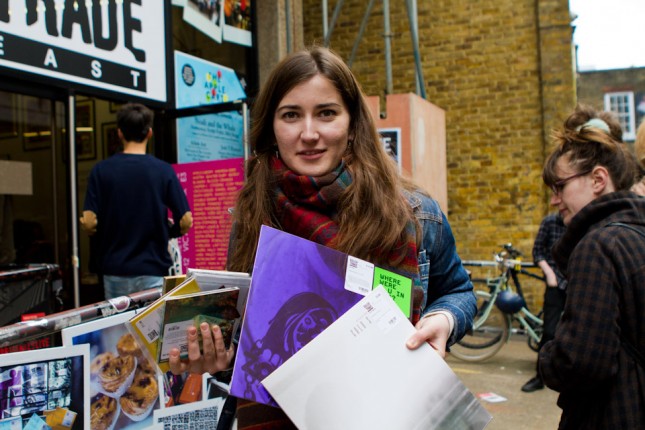 Darina
"I got several, Pond, Tame Impala, Zomby, Cold Specks and the Django Django album too. I haven't found Matthew Dear, but I'm going to keep searching. John Cale, Chad Valley – so much, but now that you've asked, I can't remember it all! I love the new Alabama Shakes album too and Deep Sea Arcade."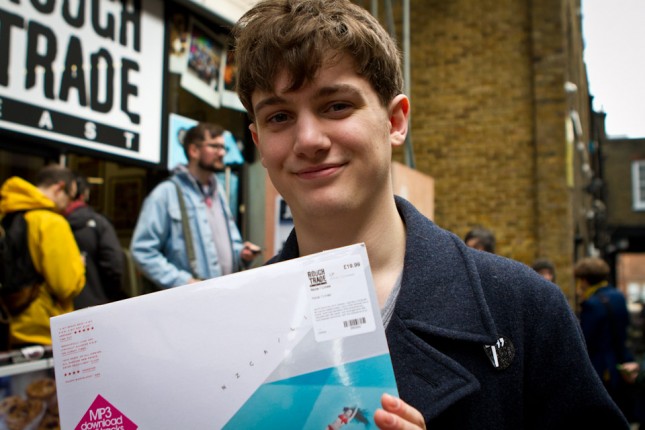 Sim
"I got NZCA/Lines. This has never been on vinyl until today. I worked on the promotion of it, so it's quite a pleasing moment to see the hard work – not that I made it, of course! – but I helped to put it out there. You could only get it on CD before, which was all well and good but it's not quite the same as all this plastic. So, happy days! And one of my friends has bought Zomby for me."
Anna
"I bought the Jonathan Wilson 12", which has got a George Harrison cover on it. I'm a massive George Harrison fan and a massive Jonathan Wilson fan so I thought that'd be really interesting! I bought Velvet Underground, Loaded, on a pink disk – I thought that was really cool. I bought three 7"s, Beach House, Edward Sharpe and Laura Marling and I got three 3 cds which are albums of the month… and Alabama Shakes because I've wanted it for ages. "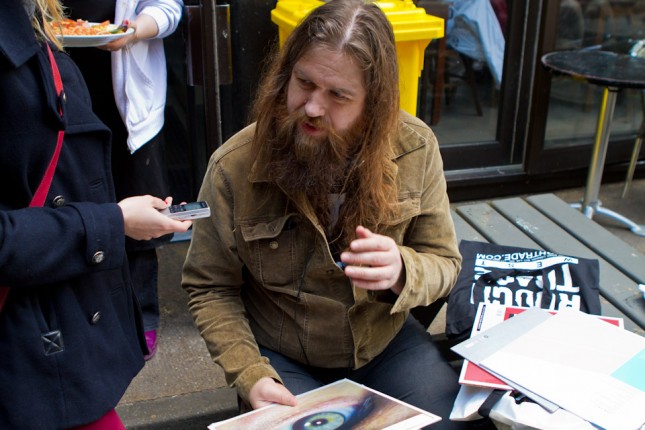 "Circle are a really good band, they're a Finnish kraut band if that's not an oxymoron. I've seen them live a few times and I really like the side project Pharaoh Overlord. It's a combination of the two best forms of music – psychedelic, hypnoid kraut rock and old fashioned heavy metal. Then The Heads are like Britain's best cult space rock band, they've been going for about 20 years and never got anywhere, it's just a bunch of wasters – they're all part time teachers and things like that, but they're absolutely brilliant and if you ever see them live, they totally kick out the jams. So this should be good. "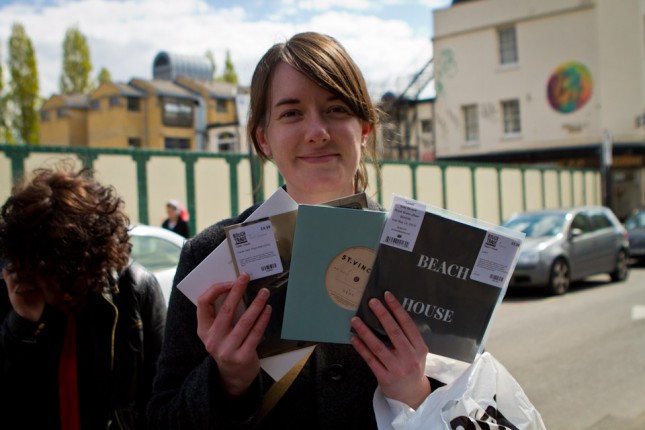 Laura Snapes, Associate Editor at Pitchfork
"I got the St Vincent 7" and Oscar Cash plays Metronomy, mostly because I like the cover art but also because I like the idea of him playing their songs in a jazz piano style! I also got the Field Music cover of the Pet Shop Boys which is awesome, and the Beach House single. I was trying to find the Ryan Adams covering Bob Mould thing, but that sold out everywhere really early and the Donald Fagen reissue which nobody seems to have had – that might just have been an American thing."
"We opened Secret 7″ on Tuesday night and we've been an exhibition since then, open for people to come and have a look. This morning we started selling, so people started coming in and picking their favourites off the shelf. It was inspired by something that RCA do, which is like a secret postcard sale so they get students to make postcards and then some famous artists do them too, then they're all mixed together. I was on the committee at Universal for our charity, Teenage Cancer Trust, and I wanted to do something a bit creative that involved the artists and was something a bit different, and all of the money goes to Teenage Cancer Trust."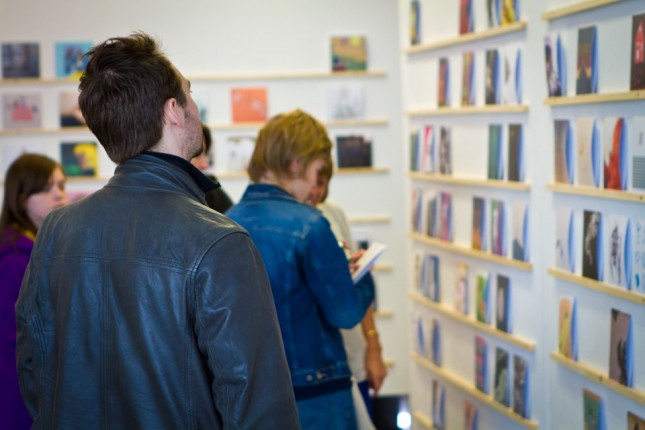 To see more of our Record Store Day 2012 coverage, click here.