We all know that Germany is currently producing some of the best electronic music on the planet. There's absolutely no doubt about that. When discussing the finer details of house and techno music, Berlin is the city whose name is so often mentioned – a cheap and industrial haven which inspires creators to continue the work of their musical predecessors, and to represent their surroundings through that traditional, age-old craft of programming. But much like in other countries across the continent, each big city has a little sister – a rebellious, inward glancing and creative sibling. London has Bristol, Paris has Lyon and Berlin has Hamburg.
One of the city's better known residents, Pantha du Prince has just released Elements of Light, an inspired new record capturing the nuances and extraordinary tones of bells and carillons. As such, we've taken the opportunity to find out more about his home city, and the venues, shops, festivals and people that make Hamburg such an exciting musical destination. Today, we take a look at a very special label that's ensuring that the words 'Hamburg' and 'house music' remain inextricably linked.
Founded in 2005 by Julius Steinhoff, Just Von Ahlefeld and Peter Kersten (aka Lawrence), Smallville Records quickly became not only one of the best hang out spots in the city, but also a label providing an essential reference point for those wanting to take a closer look at Germany's electronic scene. They release the likes of Julius Steinhoff, Juniper & Arnaldo and Stefan Marx, and then accompany their releases with a host of specially created drawings, which adorn the front window and walls of the cosy, but immaculately stocked store in St Pauli. We caught up with co-founder Just to find out about the ethic behind the label, and why the idea was brought to life.
How long has Smallville been in existence, and what made you start the label?
Smallville, as the concept and record store, exists since mid 2005 and the label started with its first release in 2006. We basically just wanted to have a record store and hang-out spot, that's why we started Smallville – it's actually that simple.
What was the first release?
The first release was a compilation with the two founders of Smallville, Julius Steinhoff, Sten aka Lawrence and the legendary DJ Swap.
What is the main idea behind the label?
Basically we wanted to release our music and good tracks from our friends around the shop, as well as people that we like and that we've met before, and this worked quiet well. Meanwhile, the record label definitely also supports the record store in terms of spreading the word and music around the globe.
Smallville is based in Hamburg – do you think Hamburg is a good town in which to create and release music? What makes it special or different from other places?
Hamburg is and was always famous for its music scene, but mainly for The Beatles and rock music in general. The Front Club, which opened in the 80s was one of the first clubs in Germany to import House music and Acid. It closed its doors in 1997, but still seems to be very influentual for the dance music scene in the third generation of DJs.
Hamburg is different because it has a harbour, and is more centralised when it comes to venues and clubs. People seem to be a little uptight at first, but when you get to know them better you will love them. And the electronic sound of Hamburg was always pretty deep and cosy, at least in Smallville.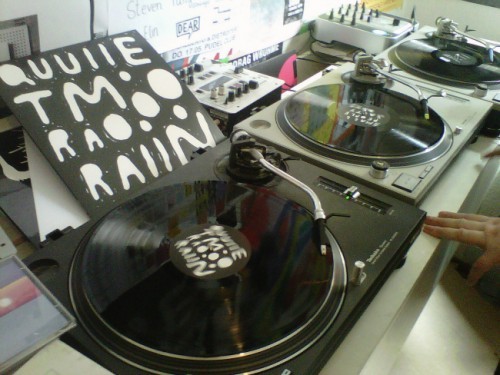 If we were going to come and hang out in Hamburg for a day, what would you recommend that we do and where would you recommend that we go?
Visit the Smallville store, we do not only have records but we also have a variety of art books by our designer Stefan Marx.
Next stop would be the the Reeperbahn St Pauli, which is probably the most famous redlight district in the world. At daytime there is a special tristesse when you see all the party locations that are only open at night, but you don't wanna be there at that time because it could be frightening.
In the night we would recommend a visit to the Pudel Club and later the Ego, we have our own parties at both locations once a month.
If you had to summarise Smallville in one release, which would you choose?
We released a CD compilation in 2009 called And Suddenly It's Morning which covers most of our artists and illustrates a good picture of what the smallville sound is like.
What does 2013 hold for the label?
The next release will be an EP by our homie Lawrence, and the big thing for 2013 will definitely be the album by Steve Tang, of whom we've been big fans for a long time. The rest is a surprise.
What would you say is Smallville's motto?
Stay true and do what you feel.
Have a listen to some Smallville sounds below, and make sure to head to their online shop to check out their full catalogue and accompanying artwork.
Smallville's most recent releases:
SMALLVILLE 30 – Juniper / Arnaldo We Met In Manchester ‎
SMALLVILLE 31 – Roaming Believe In Reflecting ‎
SMALLVILLE 32 – STL Flying Saucer Attack
SMALLVILLE 33 – Julius Steinhoff So Glad