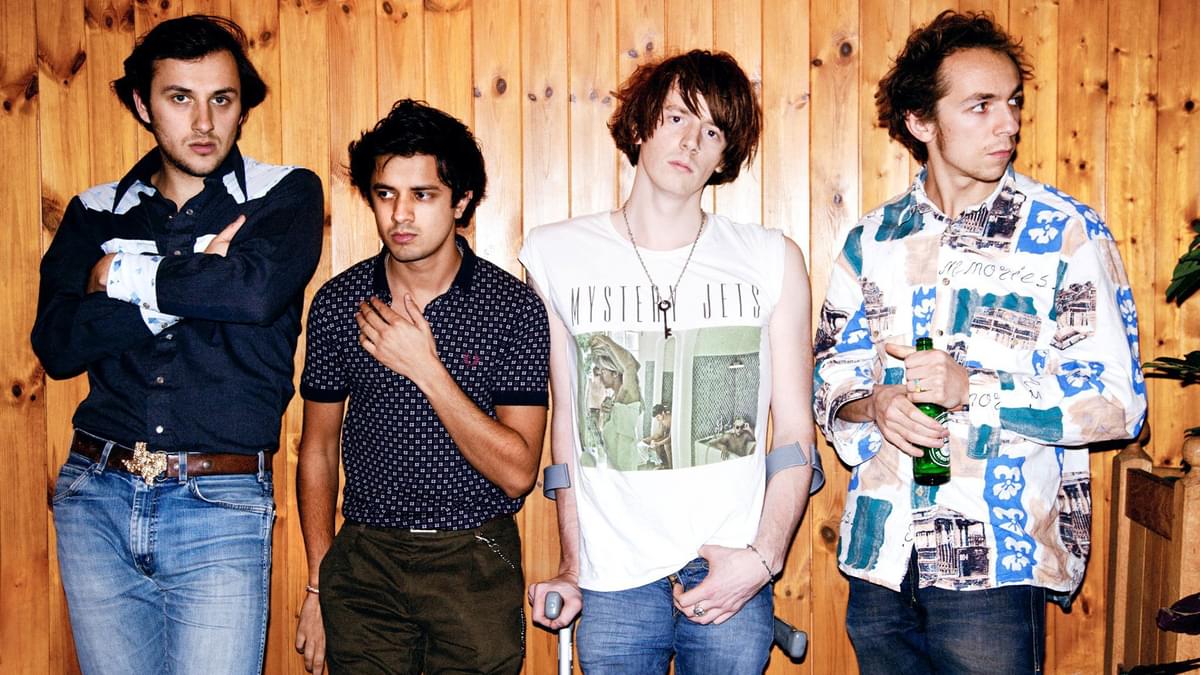 You Had Me At Hello
07 June 2012, 09:30
Josh Hall looks back on a band that has built a decade of goodwill as Mystery Jets clock up their fourth album.
Everyone has one band. The band that helped to define their music taste – that helped, perhaps, to determine what they did with their lives. They might not be the band whose records you go back to most frequently. They might not even appear on your painstakingly curated list of all-time top 10 artists. But they have somehow remained a constant in your life, familiar and important.
For me, that band is Mystery Jets. I first saw them at the age of perhaps 17, supporting Bloc Party at Portsmouth's Wedgwood Rooms. From the terrifying first bars of 'Zoo Time', the chants gradually growing louder as the band appeared onstage, I was horribly, irreconcilably in love. The homemade percussion, the acres of pedals, the time signatures…they were everything my impressionable ears had ever wanted from a guitar band.
I'm still not entirely sure how, but about a fortnight later I ended up on tour with them. At the time I thought I wanted to be a photographer and, rather than sit in college listening to a tutor with a septic ear piercing and a wardrobe of mildewed Breton tops three sizes too small for him, I decided to just give it a go. I toured with the band on and off for two years, sleeping (or not) on Travelodge floors and wedging myself in the corner of an increasingly dilapidated Transit van. They were, needless to say, some of the very best times of my life, characterised by a feeling of forward motion; a sense of being tangentially connected with something important.
Never was this more acutely felt than during the occasional parties held on the band's native Eel Pie Island. In the middle of the Thames, near Twickenham, the island is still home to a clutch of architects, musicians, and shipbuilders. The band had practiced for years in a makeshift building attached to an old dock, beneath the house in which father and son Blaine and Henry Harrison lived. Every few months the band would curate a lineup of their friends, and hundreds of excitable drunks would wend their way up the steps of the dock to pack inside the tiny room.
The NME might have coined the absurd 'Thamesbeat' tag, but it was these parties that came to define it. A startling, difficult Jamie T; a careeringly drunken Larrikin Love; a furious, carnivalesque Noisettes – they all played beneath a portrait of Syd Barrett, to a relentlessly supportive crowd swigging red wine from plastic jerry cans. For the early part of their career, Mystery Jets and Eel Pie Island were inseparable. In their music the band had created their own, skewed little vision of England. In Eel Pie that world was reified.
After the release of Making Dens the band shed the geeky-boy-in-a-mystical-tree-house aesthetic, and began to explore more traditional rock tropes. If their debut was the sound of the class weirdos being let loose in the music room, then 2008's Twenty One was the sound of those weirdos realising that, actually, they were cooler than they first thought – and, lo and behold, that girls liked them. The record instantly alienated a chunk of the band's acolytes; there were mumbles of 'Judas' from those who had placed their hope in Mystery Jets as a vanguard for the return of prog. But in retrospect, Twenty One was a remarkably natural progression for a band whose heart had always truly belonged to pop. It was shorn of Making Dens' foley adornments, and without these the band's easy melodicism was thrown into starker relief.
The record was undeniably front-loaded, but the first half of Twenty One contains a set of six songs as good as any released that year. Of those, the arms-aloft beauty of 'Flakes' provides one of the highpoints of the band's career. Last June, three years after its release, I watched at Manchester's Parklife as the band closed their set with the song – and, in the melancholic camaraderie with which they smothered the half-full tent, it was clear that Mystery Jets were already on their way to attaining the status of national treasures, despite the lukewarm reception granted to third album Seratonin.
A few weeks before their biggest headline show to date, I meet guitarist Will Rees. Some months previously the band had decamped to Texas to make their fourth record, Radlands. The album is another step in Mystery Jets' steady progression from bedroom oddity to genuine chart concern. It is more Fleetwood than Floyd; a record that sees the band self-consciously situate themselves within the canon of rock music. In the café above their south London rehearsal room Rees appears relaxed and at home, maintaining eye contact with an unusual intensity. As the conversation progresses, though, it becomes clear that the band still carry a torch for Austin.
A lot has changed in the world, in music, in London, since your first record. Was this part of the reason you made Radlands elsewhere?
Yeah. We felt that nothing that exciting was happening in London at the start of last year. We didn't feel a part of anything. We weren't going out and seeing great bands a couple of times a week, which we always have done in London, or always have been able to do – especially when the first and second records came out. We'd often work during the day, then go out at night and see something really good, meet those people, talk to them. That's very inspiring. You feel like what you're making is coming out of a relationship with other people, and that you and all these other bands are part of this sound, you're all doing things a certain way, listening to certain records. That's really cool, but that, at least for us, dried up in London.
I think also, making an album in America is a kind of dream. I think we felt that we would be continuing some historical rite of passage by being a band and making a record in America. There's something quite powerful about that, probably because so much great rock music comes from America. Electric guitars are really American, the Fenders and Gibsons are ideas that were developed in America. That was part of the appeal.
Do you feel like you're close to some source of rock music?
You're nearer the divine light of what rock music is. I think also, for our first three records we've been very British, almost quintessential. You know, cups of tea, all that stuff. Which I kind of think is bollocks anyway. Being in America felt a bit like sucking Satan's cock, which is not a bad thing musically speaking if you want to do something different and ask yourself questions, and rebel.
Do you feel that the idea of making a guitar record, or a rock n roll record, puts you out of step?
I think so. Guitar music's getting quite unfashionable.
Do you worry that it could become anachronistic?
I hope so, yeah! I think it's good to be out of time. I think you're either ahead of time accidentally, which some people are able to do, or you catch up with the times and you sound stupid. So it's probably better to just be in your own corner and stand by that. It gives you freedom if you don't think there's a carrot dangling that you have to chase, and that what you want to be is all around you and graspable.
The first three records have felt so autobiographical. Do you feel the same way about this?
It's autobiographical but it's not, in the sense that the mouthpiece for the songs is a character who's based loosely on Cass McCombs. The record is a concept album without a doubt. It's about this guy who's running away from himself, basically, and running away from relationships and things that happened to him that he felt were disastrous. All that. But the content of the songs happened to us. So it's our experience but moulded into this other guy. We've almost shrugged off the responsibility of the songs, and just said it's him.
Do you ever worry about the degree of lyrical honesty in a song?
I think so. And also, just having to sing something and own up to it. A song is a confession, and if there's something particularly difficult to confess then it's easier to say that someone else is singing the song. That's part of the reason for it.
But we only knew we were making this concept record when we got back to England, after the hole Texan thing was finished. We needed distance from it to be able to come back and go, "Actually, there's a pattern here – there's a guy who we haven't got a name for, there's this character Sister Everett, there's this place Radlands." The whole thing fitted together in lots of dots, and we just drew the line. You can actually put the story together in lots of different ways: back to front, start it in the middle, or whatever. It was kind of interesting, or just really surprising, that we were doing something before we knew we were doing it. You come back and think, "Actually, it's all completely there." It was a really strange process.
Tell me about 'Sister Everett'.
Me and Blaine were on the plane going to Austin, at the start of the trip, and we met this lady called Sister Everett. She was sat in front of us, and she had this little badge saying, 'Sister Everett, member of the Church of the Latter-day Saints'. She was very sweet and just started talking to us, making small talk. Then the next thing we knew she'd forced the Bible on us. "You must read this book. I'm going to question you on it by the time the plane journey's over, so start reading." And she gave us a business card. It was weird. It was kind of sweet but also odd that a member of the church would give you a business card. You don't get that in England. In England, religion and the church are very private. In America it's more, "Come, be a part of it, tell us all your problems."
Is that good or is it threatening?
It's different things in different ways. I think in one way I really like that attitude. It's open, you're welcoming people into what you do, and what you believe in. It's not suspicious and private, or something which only priests can understand. It's open to everyone. But on another level it's a bit weird, because it sort of should be private. It's your own thing, it's your own thought process; whatever you've been through, your own suffering. It's strange to think that people should think they've got the answers, or that they've got your answers. They don't. You've got your answers.
The next time I see Rees he is onstage at Brixton Academy, and the venue is as full as I have seen it. Beneath an illuminated backdrop of the Texas skyline the band rattle through a set consisting in equal parts of Radlands tracks and highlights from their previous two albums. The crowd sings back every word of the new material, while the old songs are greeted with extraordinary, unrestrained cheers – the loudest of which is reserved for 'Seratonin', the refrain of "I'm coming up so hard" having never sounded as apt.
But something feels odd in that packed venue, and it takes a good half hour to work out what it is. Virtually everyone in attendance is of almost exactly the same age. Between 22 and 25, these are the kids who grew up with Mystery Jets; the people for whom, like me, the band constituted a formative part of their youth. As 5,000 pairs of hands go up at the end of 'Flakes' it feels like leaving something behind. A moment, perhaps a couple of years later than expected, during which we realise that we're really not kids anymore; that the twinge in the gut is actually a sense of loss, of nostalgia for the time before some semblance of responsibility.
It is not just the crowd who are toying with adulthood. Midway through the set the band dedicate a song to their recently departed bassist. Kai Fish had, for the best part of a decade, been the rhythmic lynchpin on which the band hinged. He is somewhere in the crowd at Brixton, having left the band some weeks before following the birth of his first child. It is a difficult, unpleasant moment, and one which visibly affects the band. Its poignancy is underscored at the end of the show, when Henry Harrison makes a rare appearance for a final rendition of 'Behind The Bunhouse'. They are all there, sharing the most important moment in their career – and helping to create a watershed experience for much of the crowd. All but Kai.
While they've been outstripped in record sales by some of their peers, Mystery Jets have always been there, just within your peripheral vision. The sort of band that you know won't headline Glastonbury, even though they could, but that have carved out a sufficiently secure cranny for themselves to enable them to continue to hone their craft. That rare thing: a career band.
It is easy to write off Mystery Jets as yet more guitar-pop chancers; another group of London boys who've had some luck. But, in the middle of a crowd that radiates delight, in a venue filled from the bar to the stage with bittersweet joy, it is clear that the Eel Pie outfit will be remembered as one of their decade's most important – not because of their influence on music, and not because of their record sales, but because of their impact on the people who loved them.
Get the Best Fit take on the week in music direct to your inbox every Friday