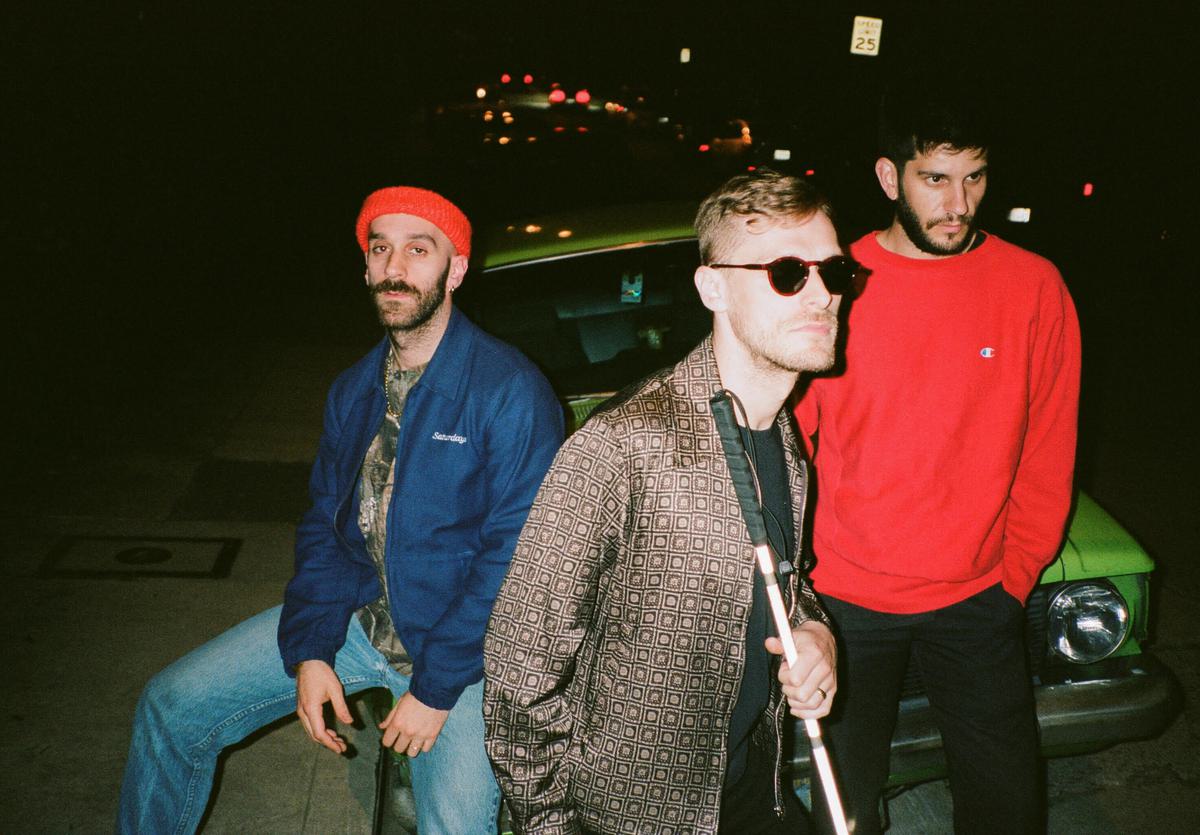 X Ambassadors on belonging, brotherhood and musicianship
05 March 2020, 08:15
In the midst of their European tour for ORION, X Ambassadors frontman Sam Harris reveals the challenges and triumphs of staying true to yourself whilst balancing being a musician, and a supportive family member.
Sam Harris has a lot going on. He has just had dinner with his stepmom before his band takes the stage at Bristol's Thekla. They had the day-off yesterday to wander around Bristol, which Harris says has a beautiful and cozy, yet distinctly college town/art school vibe to it.
X Ambassadors only released their sophomore album ORION a few months ago, but they're already gearing up for more releases, including a three-track EP called Belong. "It's a collection of songs that we wrote that don't quite fit on this next album that we're working on but we really loved these songs and wanted to put them out," says Harris. "The EP is soulful, it's R&B, it's very much that kind of sound that I grew up being very heavily influenced by."
Belong includes their recent single "Everything Sounds Like a Love Song," an orchestral piano ballad about missing someone so much that everything around you reminds you of them. "Happy Home," will also be on the EP, and you may have heard it already at an X Ambassadors show or on the exclusive CD version of their last album that was released through Target.
According to Harris, "Happy Home" is about "looking back in retrospect, trying to figure out how a relationship fell apart before your eyes." His personal favorite on the EP is the eponymous song about finding your home. He explains, "when I wrote it, and when I sing it, I'm reminded of the people in my life that make me feel like that."
This comes in the wake of ORION — named for Casey Harris' son, John James Orion Harris — which Harris says is some of his most personal songwriting to date, and some of X Ambassadors best work as a band. With ORION the band comes back strong with a mix of their energetic soul rock and emotional alt. rock ballads. "Our fans seem to really dig it, especially out here in Europe, it's crazy to hear people singing along to everything — new and old stuff," Harris says with gratitude.
Instead of focusing on numbers, Harris measures his success in pride for his work, and looks ahead to how he can push himself moving forward, whilst accepting the struggles. "You know, second records, I'm not going to lie, they're hard. It took us obviously a long time to make ours and of course everyone wants to have as much massive success as the record before."
Despite these successes, Harris doesn't think he'll ever find the feeling that he's 'made it.' "I don't think it'll ever come, and I think that's okay. I think there's a little bit of weird comfort in knowing you're never going to feel like that no matter how big and how successful you get," he explains.
"It's always going to be this unreachable goal, you know, where you're looking at everybody else. A lot of it comes from comparing yourself to other artists. Like, 'oh I'm not as big as this person, I'm not selling out venues as big as this person or I don't have a number one song right now, this person does.' That shit is just unhealthy and will eat you alive so it's better to kind of let go of all that. It does feel nice to get to a position where we have some cool stuff under our belts and are really making a career out of this, and it does feel like that now – that this is my job, and that's very cool."
The existing version of ORION was vigorously edited, and many of the songs on the original take were scrapped. "We kind of went really left field and made something that felt different and exciting to us," Harris explains. "There were songs on it that did carry over into ORION. The ones that did carry over, they were the ones that felt not only like an exciting new chapter for us, but also felt honest, and real, and pure. The ones that didn't make the cut, that were kind of at the core of the last record, felt a little bit more like putting on a costume that didn't feel quite genuine but that we really wanted to try and wear and show off, you know, kind of like 'look what we can do.'"
"Recover," "Confidence," "History," and "Rule," were all carried over from the original iteration of ORION, although they were adapted to be more cohesive with the rest of the tracklist. Some of the songs that didn't make the cut for ORION might still see the light of day in the future if they fit the vibe of future records. Looking to the future is something that the band have already been through, as album number three is already under way. Once X Ambassadors wraps up their tour, they will be back in the studio to finish it. According to Harris, it's 85% of the way there.
X Ambassadors have also just released "Great Unknown" for the soundtrack of the upcoming movie The Call of The Wild. Based on Jack London's novel, the book is all about companionship with a dog. Harris got a call to work on the song from Andrew Wells and Anthony Rossomando (co-writer of "Shallow" from A Star Is Born) on the same day he adopted his dog, Prince (a handsome schnauzer, chihuahua, and terrier mix). The result was a beautiful song about companionship, loyalty, and love, laced with just the right amount of twang.
Harris and his older brother, keyboardist Casey Harris were born in Seattle, Washington, but grew up mostly in Ithaca, New York. Their mother was a singer, and the three of them would sometimes play music together when they were growing up. His dad had an impressive record collection, so he grew up listening to all kinds of music. Harris himself was into musical theater and had dreams of becoming an actor, but he was also in bands from the time he was 13. "I loved the autonomy that existed in writing songs and making music that was mine," he explains. It is notable that his bands through the years never performed covers, only original songs, as he found solace in songwriting as a vehicle of self-expression.
Harris' playlist includes the likes of Biggie, Nas, A Tribe Called Quest and Wu-Tang Clan, and his songwriting today bares traces of the classic soul he grew up listening to, like Jackie Wilson, Otis Redding, and Aretha Franklin, but of course, there is also influence from the arena alt. rock giants of the early 2000's like Kings of Leon and The Strokes.
For Casey Harris, growing up had a unique set of challenges. He was born blind, and was also born both stubborn and fiercely independent. He struggled to accept help from other people; was angry, rebellious, and felt excluded, but music never excluded him, so he gravitated toward the piano.
Before X Ambassadors, Casey Harris did two years of technical school to learn how to tune pianos, in Vancouver, Washington. Sam (who was only about two years younger) used to visit him and take the bus across the Columbia River to hang out in Portland.
As a sighted person with a blind older brother, Sam has a unique perspective, explaining, "Growing up blind? I have no idea what that's like. I will never have any idea what that's like and what it was like for him but, you know, I was reminded of it every day and I think that had a big impact on my childhood and the way I see the world and the way I navigate the world."
Despite moments of tension, the brothers found their common ground and music and have slowly grown closer and closer. "Imagine being the older brother and having to rely on your younger brother to do stuff – it does not always create the warmest environment growing up, you know?" Sam recalls. "But we as adults, as men now, are closer than ever and I think our relationship is a huge part of my art and his art and our everyday lives and the way that we interact with each other and other people."
The brothers first started playing together in high school. As adults, they moved to New York together to pursue music, and that's where they met their drummer, Adam Levin. "He's the arbiter," says Sam of Levin. "He's the one who kind of makes peace between [Casey and I] when we get into it. You've got to have someone to balance everyone out and he's so good at that at this point. We could not do it without him."
In the beginning, they were just called Ambassadors. In 2012, Imagine Dragons frontman Dan Reynolds heard them on the radio in Norfolk, Virginia when he was sick and on his way to the hospital. When Reynolds heard the acoustic version of X Ambassadors' "Unconsolable," he was hooked. In 2013, they were signed to Alex Da Kid's label through Interscope and added an X to their name (there were a lot of "Ambassadors" out there already, and it was best to avoid getting sued). In 2014, they opened for Imagine Dragons and in 2015, they released their debut album, VHS.
Unfortunately, after two years of feeling like they were on top of the world, things came crashing down when guitarist Noah Feldshuh left the band. Harris had grown up playing music with Feldshuh, so parting ways was especially difficult.
"He'd been struggling with some substance abuse issues for a while and it had been really tough for him to be on tour with us all the time," Harris recalls. "He took a hiatus, and we eventually decided that it was just better if we went our separate ways. It was really tough and sad – a pretty traumatic part of my life. It's hard to see someone you love suffer from alcoholism. It's a really insidious disease and it's heartbreaking and very hard to see and not feel like you can really do anything to help. I have tried reaching out to him since and haven't really spoken to him in a couple years. I hope he's doing alright."
The remaining three X Ambassadors have since learned to function as a trio. They've discovered their creative flow as a band, and as individual songwriters. Their sound has changed, their ideology has changed, and they've matured in ways they never would have expected.
Harris has begun to spread his wings as a writer and producer for other artists. He co-wrote and produced three songs on Lizzo's 2019 album Cuz I Love You, as well as eight songs on For the Throne - Music Inspired by the HBO Series Game of Thrones.
Just as Dan Reynolds took X Ambassadors under his wing, the trio is paying it forward and working with several new artists behind the scenes. One of these new artists is the band's current opening act, Terrell Hines, who is working on a full-length record.
Alongside touring, finishing their third album, and co-writing/producing for other artists, Harris has a lot on his plate, but he's not dialing back anytime soon. As crazy as things get, this is where he belongs.
Belong is out on 6 March via Interscope Records