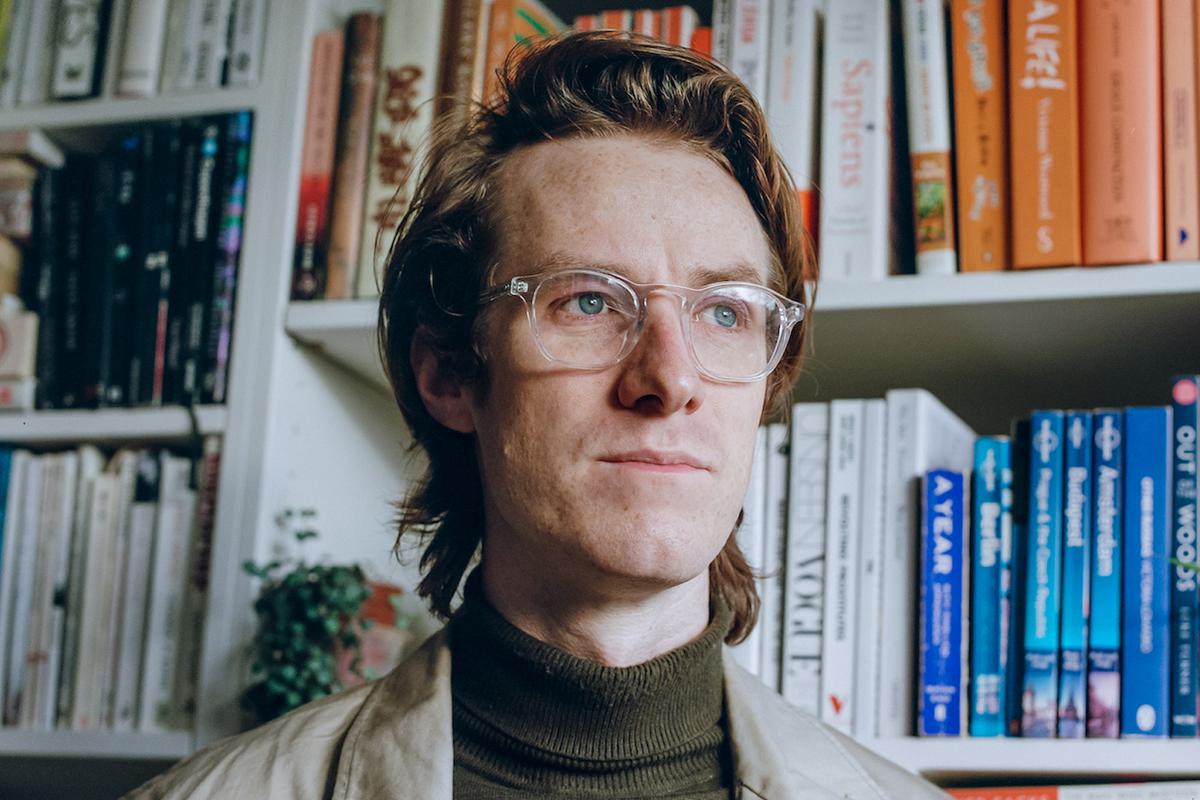 How William Doyle found control
26 March 2021, 08:00
It's about ten years since songwriter William Doyle handed John Doran of The Quietus a tape with his music. Somehow this event belongs to a different era, but it secured his career in one swift move. An East London resident, Doyle, who recently turned 30, has come a long way since his life-changing encounter with Doran.
"I have gone through a personal transformation in the last four-five years," he reveals. "I don't connect with the person who was doing things back then, it feels separate to me."
Doyle's latest album Great Spans of Muddy Time is a daring, unexpected creative venture.There is an unpolished quality to the thirteen songs, and it's a project where uplifting sounds support a shifting approach, style and tone. This third full-length album as William Doyle - as opposed to previous moniker East India Youth - is a step away from his previous conceptional ways of working. Sonically more explorative and playful, it dives deep and creates raw layers of art-rock and pop.
"It's been a weird transition, but I am much happier now. I've got control over what I'm doing. I'm making more stuff than I've done at any point. It's the freedom of taking things into my own hands, it has afforded me that."
If, at times, his route to happiness seemed long and winding, the sense of progress felt even more rewarding when it finally happened. A key figure in Doyle's life, the meeting with John Doran took place at a Village Underground gig in the autumn of 2012. Instantly recognising Doran's big beard and long hair, Doyle walked up to the entrepreneur to give him a demo of his music and tell him just how much The Quietus had inspired him.
It was then up to Doran to make the next move. It took a month for him to get in touch with Doyle, but when he finally did, it was as the bearer of good news. He really liked the songs, liked them so much that he wanted to release them, which prompted him to set up his record label Quietus Phonographic Corporation. The rest is history.
Well, not quite. Things moved rapidly, too rapidly perhaps, and Doyle followed suit. But in hindsight, a part of him wishes he had stopped to take time off at the most intense point of his career. Even if this might not have seemed a realistic possibility at the time. In addition to putting out Culture of Volume in 2015 as East India Youth and The Dream Derealised in 2016 in his own name, those same years were spent constantly on the road, proving tough on his mental health.
Made while battling depression and anxiety, The Dream Derealised inevitably reflects darker times of Doyle's life. We discuss the impact these battles have had on his career: "It has been a facet of my work to a degree," he explains. "I suppose a lot of my records seem to deal with previous trauma in some way, and this new record does too, to an extent. But in contrast, there is a playfulness to it that I've not been able to tap into before."
"It's about learning to be able to deal with those pressures and for musicians to be able to empathise more with each other."
"In the last four or five years there has been an awakening when it comes to handling the pressures of touring and releasing records," he contemplates. "Understanding the effects they both have on the mental health of musicians. I became quite an outspoken person for better practice. I suppose, it's about learning to be able to deal with those pressures and for musicians to be able to empathise more with each other."
Regular therapy sessions have helped Doyle combat this hardship and gain a better understanding of the past. But what does he see as the main reason behind his mental health? "Therapy has taught me that it is good to express yourself. It doesn't have to be a perfect encapsulation. I sometimes have difficulty with that as my anxiety often makes me dissociate if things become difficult, and it then becomes harder for me to express myself in words." When an artist is caught up in this juxtaposition, it can become part of a vicious circle that only serves to increase anxiety levels, instead of having an artist, who feels free to create.
Through weekly therapy sessions, Doyle has been able to both monitor and enjoy the fruits of his work. "That work has been really illuminating in lots of ways," he says sincerely. "I see it now as an ongoing process. When I started it, I didn't really know what I was trying to get out of it, but I just knew that I wasn't in a great place. But the actual practice of doing it has improved my own understanding of my mental health, emotions and relationships with others."
One thing he has taken from the recent therapy sessions has influenced the making of this new album. He admits to normally being too precious, fearing the judgement of others, if he puts something out that hasn't been worked on to perfection. But an unexpected computer crash meant he was forced to skip that stage in production. Having to enter previously untested waters, he needed to employ a completely different approach if he wanted to release a record, and that was never up for question.
"A part of my process seems to be the digital equivalent to Francis Bacon's painting studio, just in a hard drive sense. I was due to have some issue at some point."
Doyle is referring to when his hard drive failed. The hard drive was filled with music he'd been working on for the last few years in preparation for Great Spans. He knew straight away that he had no back up: "It was a shame," he stresses. "I liked those songs, and wanted to revisit them at some point." He's so nonchalant in this description of losing an entire body of work, that I'm sure he must have had some kind of backup. Thankfully, I'm right. He had various cassette tapes with recordings of some of the lost tracks. With the view of turning them into a compilation, he began the process of clipping, slowly working his way through the material. The sum of that work is what appears on the record.
Nevertheless, it may seem as though his songs came about during Coronavirus. "It was made pre-pandemic," he assures me. "It was collated and finished in that state. I did very little work on it, but it was nice to have all these pieces I couldn't really do anything more with. They had a nice, strangely raw quality to them that I might not have been able to get otherwise."
Normally adhering to a process he describes as "increasingly archaic", it is a conventional process, and he has always been passionate about creating full listening experiences. "I'm committed to that," he maintains. "But this album doesn't adhere to such a format. What I wanted to do was make sure that the songs were in the correct order and any gaps in-between were just right, which in itself took a few weeks to get together. I ended up with this whole album full of disparate pieces that I didn't necessarily think fitted together. It was very spontaneous."
The type of tape material he was left with wasn't amendable.The one thing that did allow him some flexibility was the album title. The decision to use a quote from Monty Don, the presenter of BBC Two's Gardeners' World, means that the album still carries an element of concept, even if it is less prominent than usual. Suddenly seeing a connection between his own songs and the host of the BBC series he had been watching during the pandemic, made him want to use the quote.
"In the middle of this panic and chaos I found gardener, broadcaster and writer Monty Don," he tells me. Aged 65, the popular TV host's real name is George Montagu Don. Despite being born in the former West Germany, his family moved to Hampshire in England when he was little. He later went on to study English at Cambridge University, and upon completion, he began taking up presenter jobs for national broadcasters. He has hosted the BBC flagship show since 2003 and also authored more than twenty books.
Don referenced a period of his profession as being "Nothing But Great Spans of Muddy Time", and the distinct phrase immediately resonated with something deep inside Doyle. "When I read that beautiful poetic phrase it really chimed with my experiences," he states." Instantly knowing that he wanted to use it, he understood that their worlds were linked.
"Us artists in our industry are used to being more open about our emotions and mental health. It's more unusual to find that conversation happening in the mainstream."
"It was good to check in with him, I found his character reassuring. I started to get more and more interested in him, and as I studied him more, I realised that he had written about his mental health struggles. Us artists in our industry are used to being more open about our emotions and mental health. It's more unusual to find that conversation happening in the mainstream."
Admired for his spotless track record of self-sufficient music making, Doyle also continues to enjoy a diverse range of collaborations, where the main focus is on improvisation and engagement with other musicians. He recently engineered and produced Anna B Savage's record A Common Turn. It was a tremendous experience, which he took a lot from. "I feel very lucky to have been involved with that record," he enthuses. "We did that here in my flat. She has an incredibly dynamic range to her voice and her songs. I wanted to keep that intact, and I wanted my touch to be quite light on it."
"That was a great relationship," he continues. "I'm going to play with her band when she starts touring at the tail end of this year. There were moments when we could go wild with it. I had the capacity to do that, she had the willingness and openness to want to do it. It would have been easy for this to just be an album with an acoustic guitar, which would have been great because the lyrics and songs are good, but she wanted to do something more adventurous."
It makes sense then, that he tends to find formal writing sessions hard, because there needs to be a relationship or connection with the person. "It's hard to know what your shared sensibilities are, or what the division of labour might be", he maintains. "Some people are able to do that - and absolutely more power to them - it just takes me longer to open up."
He collaborates with musician, theorist and record producer Brian Eno. The work has been important to Doyle's growth, both as a person and a musician. Eno has a gift for making the sessions feel like actual play as opposed to work. "It's chatty, and he's funny. He doesn't sit down, it just feels like you're hanging out." Music collaborations are a way to get to know others. "It's great. He did a spoken word piece on my last record.. I've worked with him a lot over the last couple of years. He's been instrumental in putting me in groups of other musicians, so I can be part of a collective. We've been going into his studio to do improvisation, where no one will guide it."
These sessions have increased Doyle's own confidence in his ability to improvise and make music as part of a group. Instead of focusing on getting an immediate end result, emphasis is about immersion in the process, learn to embrace that and not feel the need to over-analyse things. "I don't think any of it has come to light yet," he reflects. "He'll collect lots of recordings, and we'll slowly work through them, it's a gradual process. Growing up he was a serious influence on me, I've learnt so much in those situations, which feels highly valuable."
Change is not an easy thing to handle, but William Doyle is managing to transform his experiences into positives. Artistically and psychologically in a healthy place, he now finds himself in the best position to be creative and to be the artist he wants to be. There is an extra bonus. "I was always working on a different record, which I'm still working on. Hopefully, I'll finish it this year, luckily it did get saved. I backed it up."
Great Spans of Muddy Time is out now via Tough Love Records