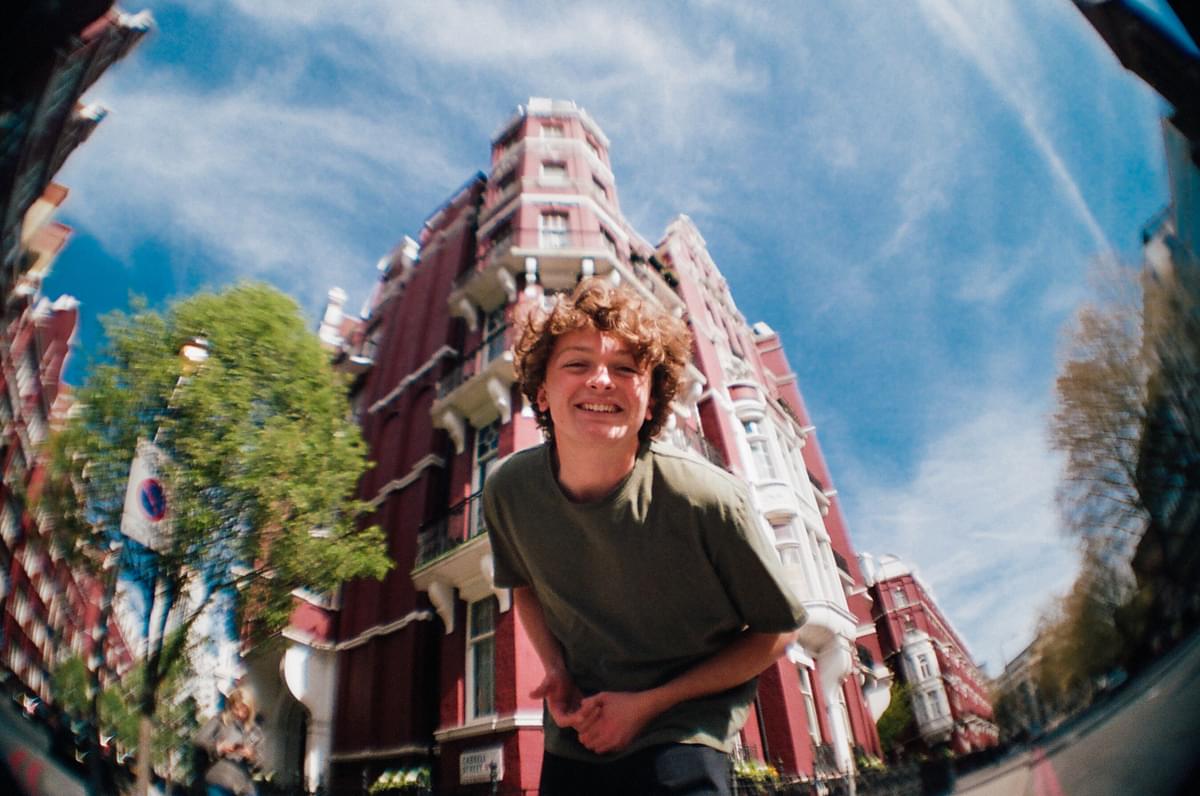 On the Rise

Will Linley
26 May 2022, 09:00
On a mission to put South African pop on the map, twenty-year-old Will Linley is making waves with heartbreak bangers and upbeat ballads.
"One of my mates described me like, 'Brah, your music is happy sad music. All the lyrics are so sad, but you're just there smiling, clapping. You're so happy to be alive,'" laughs Will Linley from his home in Cape Town. "I'm a colourful individual, and I smile, why try and be anything else?"
Despite breaking through from a viral TikTok post, Linley's career hasn't been a race of reactivity. Behind the wide grin he's pragmatic and considered, carefully growing a collection of music and working hard to build strong foundations for his burgeoning career.
While neither of Linley's parents were musicians, music was all around him as a child and heavily encouraged. "You can do more than just sport," his mum would tell him. "Oftentimes I'd catch her singing at the kitchen table and she'd be strumming away at a guitar, singing songs. My fondest memories are singing nursery rhymes with my mum, sitting on her lap," he says.
Both Linley and his brothers were made to play instruments from a young age, Will taking up the violin, then switching to viola at the age of fourteen. "We were all part of string orchestras growing up," he explains. "My mum always joked, she said she wanted us boys to be part of something bigger than ourselves."
For Linley, music was a hobby and a passion, but never something he thought to actively pursue as a career. Albums like Ed Sheeran's + captured his imagination, and he asked his brother to teach him some basic chords on the piano so he could play the songs he loved. "That was so I could sing my favourite songs from the radio," he smiles. "It was never that idea, as a young kid, of going, I'm going to make music my career."
While Linley acknowledges that the music scene in Cape Town was diverse and thriving, it was the music of pop singers from the UK and US that really caught his imagination. He never thought such opportunities would be open to someone like him. "I never had anyone in my frame of reference that I could talk to. There was no one in South Africa that I was really looking at and going, they are doing music that I'm wanting to do," he explains. "In my world of trying to do pop music, and very straightforward pop, there wasn't anyone who I felt like I could chase after. It was my mindset that was holding me back."
Linley took up a place at university to study BCom International Business, packed his bags, and left his music gear at home. "I just said, there's no way I can do this stuff in a dorm room when I've got my roommate right here, and a corridor full of eighteen-year-old guys running up and down and making a racket," he laughs.
Then covid hit. South Africa went into a strict thirty-day lockdown, and Linley's studies were put on hold. He used the time to really focus on his writing, producing one song a day. At the end of the month he uploaded a track to Soundcloud, and via friends, was put in touch with artist and producer David Balshaw. The two struck up an instant creative relationship. "He was the person that I found and I was like, you want this just as much as me. You want to do music and you don't like your degree just as much as me," laughs Linley. "I held onto him and I said, don't go anywhere, David. I am holding onto you!"
It was Balshaw who pushed Linley to start posting on TikTok, reasoning that there were too many artists blowing up on the platform for them not to give it a go. Linley wrote out a mission statement for his first post. He was going to "challenge the norms" around how the music industry views young, independent, overseas artists.
He began posting snippets of the demos he and Balshaw were working on until one video, for the song "miss me", went viral overnight. "I remember the afternoon that I posted it, I was like, 'I hate this app, this app sucks, nobody cares about my music, nobody cares about me,'" he laughs. "I put the video up as one of those, here you go, fine, take another video, and I went off to my mate's birthday. My phone started blowing up. Suddenly the video just started moving."
Realising that they needed more material ready, Balshaw introduced Linley to his production partner Bubele Booi and their wider team, including manager Seth Kallen. Under his guidance, Linley began writing and producing, growing a pool of vibrant pop singles from which he could take his pick.
It wasn't until November 2021 that he was finally ready to release "miss me", a year after the demo went viral. An honest rush of storytelling, driven forward by Linley's spoken-sung delivery, it's laid-back and confessional. Clever and bright, it hooks with rich sentiment and explosive chorus.
Linley followed up with "wrong time", a track that came from a Zoom writing session in the middle of lockdown. Mixing acoustic guitar riffs with a pulsing beat, it nods to Linley's early love of Ed Sheeran while staying true to his own playful idiosyncrasy. "It's funny to think that the song you've written with someone on the other side of the world in my bedroom on Zoom is out there," he smiles.
His latest release "i don't wanna be yours", the first song he ever wrote with Balshaw, tells the story of a relationship out of sync, Linley's character trying to let his admirer down easily. "I don't wanna get too close and break your heart tonight," he sings over euphoric production, cushioning even the hardest of blows.
From his video posts to his music, you can't help but be utterly charmed by Linley's positivity and instant charisma. Even when singing about gut-wrenching heartache, he still leaves you feeling like it's all going to be OK. "I think that if you can try and put what you are feeling into words in a song, chances are someone else has felt the same," he explains. "I'm just trying to write something that's honest and real, and personal to me."
Get the Best Fit take on the week in music direct to your inbox every Friday