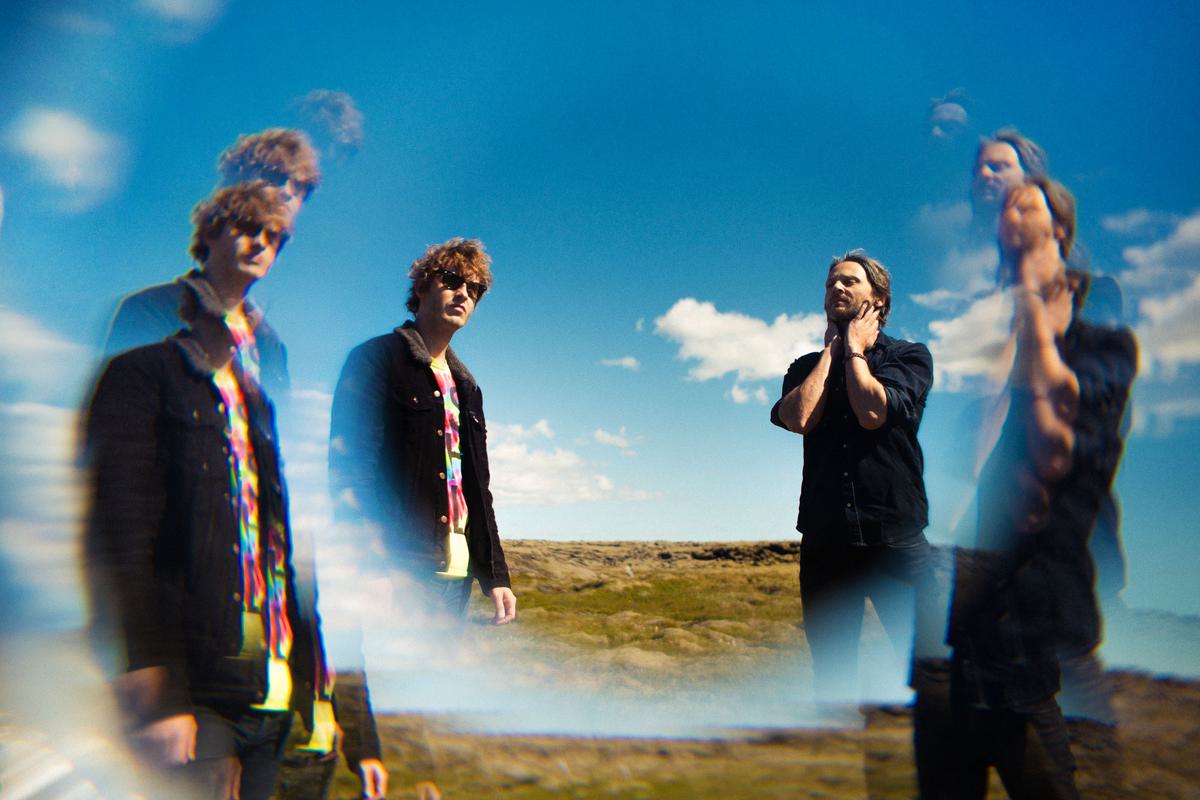 On the Rise: WARMLAND
04 July 2019, 09:37
Equipped with vintage synths and a disarming wit, Iceland's WARMLAND are making cinematic electronica that reflects the breathtaking landscapes of their homeland
Of all the places to launch your debut album, a lava tunnel – complete with treacherous rock faces and dripping stalactites – might not be the easiest choice. But for synth pop duo WARMLAND, the otherworldly, if hostile, environment and its remarkable acoustics were too good an opportunity to pass up.
"It was totally worth it," says Hrafn. "It gave us a chance to rework our songs into something that would be more 'cave friendly' – a more minimalist approach. We added some droplets, reverbs and other effects to work with the space that we had. There was some cold and we had to carry the gear on our back down into the cave... but at least now we are 'cave experienced', should anyone need a cave band."
WARMLAND make expansive, romantic electronica, and today meet me in the aptly opulent setting of Reykjavik's Centre Hotel, hours before they're due to open for Patti Smith at Secret Solstice festival. In their quieter moments, the thrum of synthesizers and muted drum loops on their debut album Unison Love recalls Moon Safari-era Air, but singles like "Further", with its twinkling sequencers and four-to-the-floor throb, show the duo can just as adeptly turn their hand to stadium-worthy pop. Their aesthetic – the paired down indie-boy looks, the Kraftwerk-esque live setup – sticks out against the backdrop of contemporary Icelandic music, which remains dominated by trap and Scandi-pop.
"It feels good to be ourselves... to have a sound that is our own" smiles Hrafn, when I ask about the potential challenges of this outlier status. "We don't want to follow trends necessarily because it allows us to do whatever we want. Our music – although pop-oriented – is not exactly traditional in its arrangement ... we don't want to be boxed in and if we are honest in our approach we feel that will translate to our listeners."
Arnar and Hrafn sit in each other's company with the quiet comfort of old friends. The pair knew of each other for years before they started working together, as kids kicking around Iceland's relatively cosy music scene. It was a tour with local downtempo band Bang Gang that eventually brought them together, initially on session musician duties: "I had a studio space in Reykjavik and I was looking for someone that could take the night shifts, since I was only working there over the daytime producing bands," says Arnar. "Luckily, Hrafn was looking for a space where he could work on his music … and he also needed a place for his collection of analog synths." I had had inkling from listening to the album that such a collection might exist, and, sure enough, Hrafn gets delightfully animated when asked to pin-point his favourite set of keys. "If I had to pick a desert island synth then it would be the OP-1 by Teenage Engineering. It looks like a toy from the 80s but sounds like a wizard from the future," he laughs. "It can do anything you throw at it... it even has a radio!".
As well as being stacked wall-to-wall with electronic gear, Arnar's studio plays host to a very special heirloom which helped to give the duo's debut LP a subtle retro underpinning. "My father used to play the drums back in the day," Arnar explains. "He's all into jazz and played the drums very softly, often using brushes. So he wasn't very keen on having me and my brother bashing his old vintage Gretsch drum kit. Then a few years ago I got a permission to take the drum kit from my grandmother's basement to my studio." Arnar marks the heist as an important moment in shaping the WARMLAND project. "I decided that I wanted to do a project where I would play drums and bass. I had very specific ideas about how I wanted the groove in the song to move and the only way to get that across was to play it myself. So my father's old drum kit plays a big role on the album. It even had some vintage drum heads that he bought in New York somewhere in the 60s." Have they survived the recording process? "The skins just made it through the album. I had to replace them recently," Arnar laments.
When asked of their influences, Hrafn cites industrial pioneer and bondage wear champion Trent Reznor as someone's he's looked up to since he was very young, having obsessed over The Downward Spiral as a teen. With guitar as his core instrument, Arnar's a little more closely aligned with rock. "I started playing guitar when I was 10 years old, and as soon as I learned the first chords I tried to use them to create something new," he says. "I guess the music I was hearing at the time was quite random... but I know what got me interested in production and studio work – that was when I started listening to The Beatles at the age of 15 and 16. It was their later albums, starting with Rubber Soul, that got me hooked."
Lyrically, WARMLAND anchor their grand, atmospheric sound with relatable poetry about loss and heartbreak. When I gently enquire as to whether either band member went through a recent trauma that might have inspired this, they both shake their heads: writing lyrics is more an exercise in storytelling, and books and movies provide more inspiration than any single personal experience. Hrafn is a big science fiction fan: "Terminator 2 is the best film this year … as well as for the past 20 years... and Skynet is not far off," he says. "When Gravity Fails by Georg Alec Effinger also had a huge influence on me – that juxtaposition of religion and technology is something that is a possible future. Perfume by Patrick Süskind is a book that I've read a few times... it's strange to have empathy for a murderer but the book pulls it off. I think we are constantly being inspired by things, the difficult part is filtering it out and not to get influenced by shit," he laughs.
Reflecting on the unique setting of their album launch, I wonder if the duo would recommend listeners plug in to the LP from anywhere specific. They off a hilarious slew of answers "Deep, deep down in a cave... wrapped in a blanket made of harsh wool from a mountain sheep?"; "With Tibetan monks, just before daybreak?"; "At the beach with the crew of Who's The Boss?". As for future venues for promo, Arnar expresses his desire to find somewhere else that has a synergy with the band's sweeping, reverb-heavy soundscapes. "I have actually recorded some Icelandic artists before in hostile conditions... on a floating iceberg and inside a volcano." They'll have to beat those then surely? "That would be fun." he smiles. "We might try some skydiving in the future, we'll see."
Unison Love is out now.