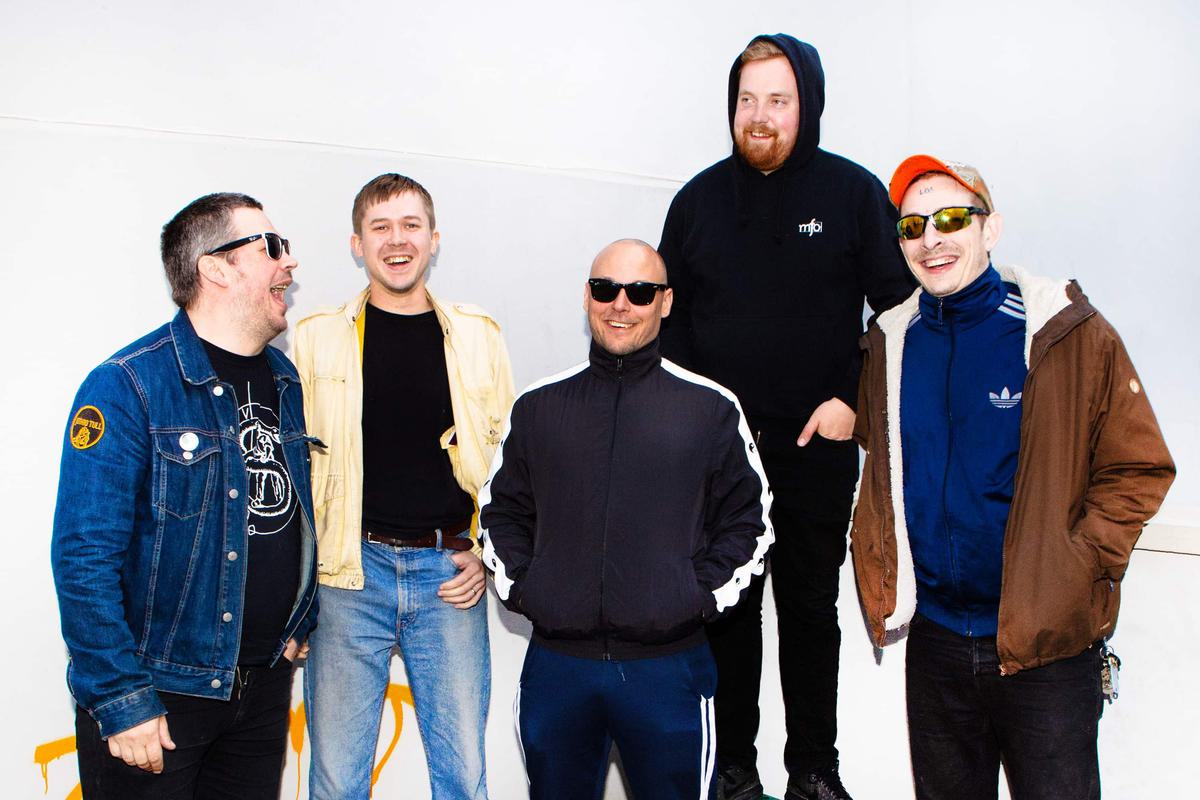 Stockholm's Viagra Boys are brazen and sleazy in the most refreshing of ways
15 July 2019, 10:00
If you'll pardon the pun, there was always going to be a spike in interest when a band called Viagra Boys began popping up on the scene. I remember having a disorganised array of gig flyers on my desk at the end of last summer, when a colleague pointed at a distinctive lime-green one with the letters V and B encircled in a bold Yin and Yang symbol and sniggered. "Ha, Viagra Boys. That's pretty funny".
It was just days before the Swedish post-punks released their debut record Street Worms, which would quickly go on to catapult what had since their inception in 2015 had essentially been a fringe appreciation the all-out fervour that they're currently in the midst of. Though they had gained reasonably stature in Stockholm, making a home out of iconic venues such as Kafé 44 and where there shows still remain their largest, their name now features on many a major European festival poster.
Street Worms built on the snarling, scuzzy textures of the 2016 EP Consistency of Energy but added more of an art-rock groove and sense of theatre as frontman Sebastian Murphy donned exaggerated personas of the lewd and often shaming narratives he comically depicted. The band won high acclaim for their ability to mock the skewed and failed understanding of masculinity today. It's there in their name, of course, but the most accessible entry point to this idea is "Sports", a bizarre but brilliantly explosive and simple hit that aims its derision at a particularly American tropes of machismo, from "Weiner dogs" to "Short shorts" to, well, "Sports".
Murphy is originally from California, which no doubt adds to the accuracy of his characters in the likes of "Sports" and the surreal skit "Best in Show", but when I meet bassist Henrik 'Benke' Höckert and drummer Tor Sjödén back in May, they tell me how they had all been exposed to the broken and forced ideas of masculinity. "I had done a lot of construction work in my days," Benke tells me, "and if you hang around with the workers who work in construction all the time then you get fed up with masculinity. But at the same time I don't have a problem with it, it's a mixture of feelings. When you're a little bit younger it's just... stupid."
Tor agrees that it's not a topic you can face on objectively until a certain age. "When you're young there is this sense of 'man', but then when you grow up you don't think about it anymore because, well, we are who we are. It's just about being who you are".
I'm interested to find out a little more depth to indeed who these men are, because for all the talk of dissatisfaction and disgust at society, the most interesting aspects of the group are their own identity and how they seemingly control the fine line between comedy and pure recklessness masterfully. When we're discussing social critique Tor is quick to remind me that Murphy "also sings about shrimps a lot," to which everyone in the room begins to crack up. There is certainly a surrealist and sordid aspect to Murphy's lyrics, one that draws on shrimps, worms, amphibians, dirt, mud, addicts, sweat, sex and drugs. While the imagery is crude and grotesque, it's also freeing and humbling in how it focuses a sleazy red spotlight on the most animalistic parts of our nature. Speaking of Sebastian's songwriting style, Tor explains his open-minded approach: "When we're on tour I can say 'Oh, you should write a song about that', and he'll write it down for later. The topics are mostly humour, but at the same time they're serious also."
Though Tor, Benke and the rest of the band had played together in various bands for years, Viagra Boys really came to light when Benke met Murphy through an ex-girlfriend who worked in a tattoo parlour with him. (Both Murphy and Benke are heavily tattooed, and Benke shows me a fresh VB Yin Yang logo on his hand that Murphy gave him). "We talked about starting a punk band when we were drunk together, and then I saw him singing karaoke and, well, he sang really well, ha ha! Even from the karaoke you could see that he had something." When you see the band perform live, it makes sense that the heightened theatrics of karaoke should ultimately be Murphy's casting process. Sunglasses on, beer in hand and belly bloating out, he falls forward and jerks back with the microphone flopping nonchalantly in his hand like the drunken friend who plays the role of haggard rockstar in a late night karaoke bar. It's hard to believe Viagra Boys is his first stint onstage, but, as Tor reminds me, he's a fast learner and they're making up for lost time: "He's grown into it and it comes even more natural now. He's become really self-confident when he's on stage and he's learnt that by playing a lot of shows."
Though admittedly they are stoic in their replies and have the soft stare of someone lacking a significant amount of sleep, both members are polite and full of wise aphorisms that come from many years of playing together. Finding his words, Tor tells me that the best thing the newfound buzz has given the band is a gust of life, an inspiration to move forward, to which Benke nods and quietly adds "Yes. You should always move forward".
Is there a unifying philosophy to which Viagra Boys anchor themselves to as they progress? The answer, Tor tells me, sits somewhere fittingly between wisdom and recklessness. "Yeah. Fuck off, be kind. That's kind of the sense of our band. Some people don't expect us to be nice people and get surprised by it. I don't know why. But yeah, just be nice, and be a dick. Expectations are expectations, they can think whatever, we just do our music."
Viagra Boys play End of the Road Festival, which runs from 29 August to 1 September. Find out more at
endoftheroadfestival.com
.