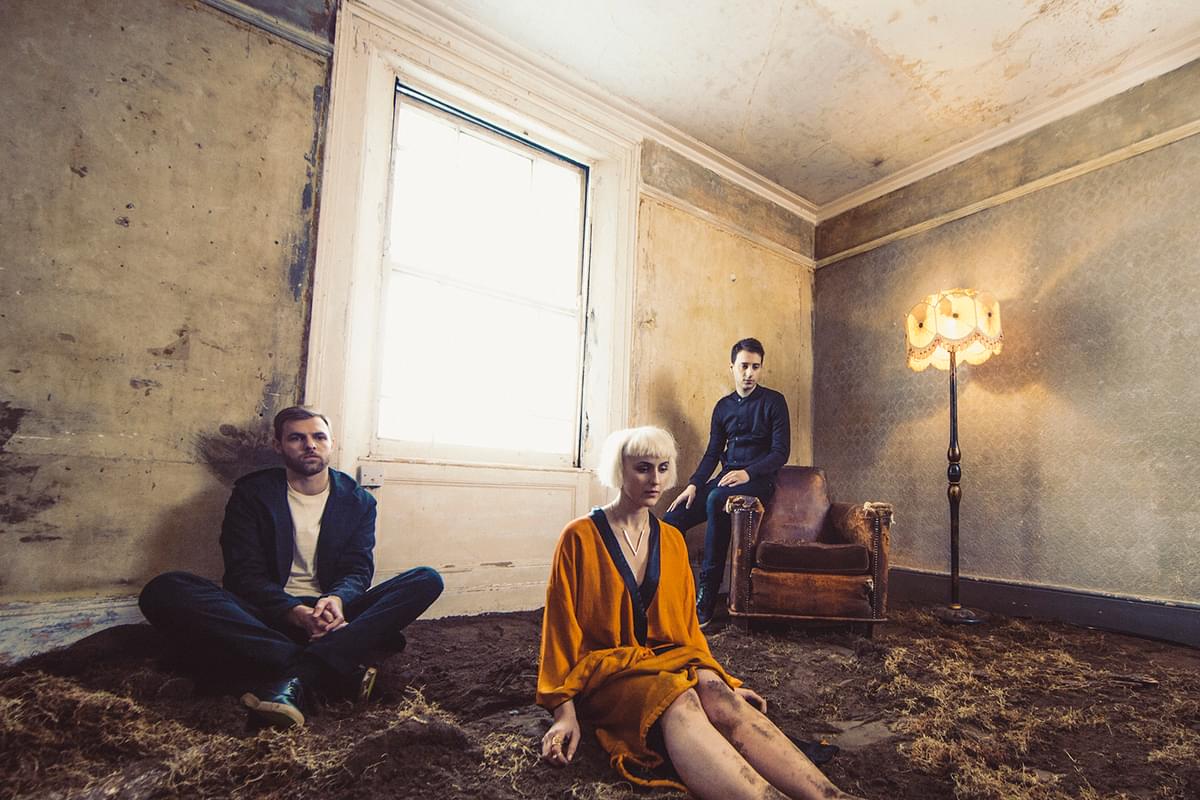 Vaults on "the Ocado delivery" and upcoming album, Caught In Still Life
30 November 2016, 16:19
Electro-pop three-piece Vaults chat to us after shouldering the weight of soundtracking this year's John Lewis Christmas advert, one of 2016's most hotly anticipated releases. This comes in the lead-up to the release of their debut album, Caught In Still Life, which has been several years in the making.
You're probably bored shitless of talking about doing the John Lewis advert by now!
Blythe Pepino: We're just getting good at it! We're not stuttering as much now.
How did [soundtracking the John Lewis Christmas advert] come about?
Pepino: We put it forward last year. We did a version of "Half A World Away", but obviously we didn't get it! They really liked the one that we did, and I think they were looking for something very specific this year. They'd remembered us, and asked us to pitch for it. They sent us through a synthetic version of the orchestra backing, then I recorded the vocals over one day and twiddled it and sent it back to them. They seemed to like it!
How have you found the reactions from the public and your fans?
Pepino: I feel like it's been really positive towards the song, apart from some die-hard Randy Crawford fans - which is totally understandable, considering she is absolutely amazing! Overall it's been really good.
Do you think people who've found you through the advert are going to be surprised by the depths you have to offer on your upcoming album?
Ben Vella: We've changed the whole album to jazz standards! I think they might be a little. It was interesting when the song got released and started charting, lots of our older singles started charting again. Obviously people are looking into us and hearing bits and bobs. I think people have quite diverse taste these days.
Has it been weird for you, coming from quite left-field pop and doing a really big release like this?
Barney Freeman: It is really weird. I just think in this day and age, you can't turn that down. The noise on the internet is really difficult to cut through, and it's impossible to say no to that.
Did you have to keep it secret until the release?
Freeman: Management signed a non-disclosure agreement, so we weren't allowed to tell anyone anything!
Pepino: We had a codename for it, which was "the Ocado delivery", so that we could speak about it in public without anyone knowing!
Vella: It was very strange! I live in a really small village - I had to keep schtum and not tell anyone.
Pepino: Most of my friends are hippies though, they're all finding out about it a month later, which is really amusing.
How are you feeling about the album release? It's been over three years in the making!
Vella: It's amazing. It has been a long time coming. We had quite a lot of singles and EPs come out, but there's a big swedge of new music on the record. We wanted to make sure there was a good third that people hadn't heard before, so fans that are used to the old material have got something new to listen to. It's amazing that it's coming out, I'm so happy!
Freeman: It's coming out on a nice, big, gatefold vinyl! It's gonna be great.
Do you have any favourite songs on the record that people haven't heard yet?
Freeman: There's quite a subtle one called "Orphan" that I really, really like. The production on it is quite unusual; using modular synths to make an organ sound. It's quite simple, but I think that's maybe my favourite.
Vella: I think I'd agree, actually. It's quite an odd track, 'cause it's a string quartet the whole way through. The electronics are quite subtle, and it's got a strong hook in it. It's an unusual track.
Pepino: My favourite is still "Lifespan". I'm stubborn!
How would you describe the progression in your sound from when you started putting out EPs to now, your album?
Vella: I think it's definitely changed. Me and Barney produced it, and there's a natural learning process as you go through, and there's a learning process in terms of writing. It's changed in state of mind as well. It's quite a dark album, but at points there's more light-hearted tracks - some of the more recent ones have been more upbeat. It's a more varied album because of that.
Did you have any disagreements sorting out the tracklisting, or were you all pretty set on what went on?
Vella: A few! No really bad arguments.
Freeman: It was quite a long process trying to work it out.
Vella: We've probably got over 100 tracks. There were around 14 or 15 that were screened for it. "Orphan" actually went on quite late.
Pepino: It did, yeah! In comparison to some of the crazy stories you hear, with bands throwing televisions out of the window about not wanting to put certain tracks on, it wasn't anything like that! We'd had a lot of time coming up to the point where we'd finished "Hurricane" and the album was coming it, it sort of fell into place! There were lots of conversations about it.
Freeman: There wasn't a blazing row!
Is your writing process quite collaborative, or do you do bits together and send them between each other?
Pepino: This album has mostly been Ben's writing. We do work very collaboratively to make the tracks come together - I'll add lots of bits in, and so will Barney. Barney does all the production stuff.
Vella: There's a track that Blythe wrote entirely, called "Bodies", which was on the album. It depends - some tracks I take quite far in the writing, some have been rough ideas that we've fleshed out.
Do you find playing live then takes unreleased songs in a different direction?
Vella: Very much so, actually.
Freeman: I probably shouldn't say this, but we have a drummer called Daisy who's worked out some new drum parts playing live that I now wish we'd recorded. When I listen to the record, I hear the new drum parts coming in in my head, but they're not there!
Vella: That's a lot more the case, because we produce it. There have been songs that have been ideas that we started to play live and modify in the rehearsal room, then you go back to the studio. So probably more so than other bands who have a producer they work with and that's the session that's booked and paid for. We're able to go backwards and forwards.
Pepino: The ad-libs on "Poison" were re-done after I came up with them live one time.
Freeman: The whole arrangement of Hurricane changed after [Blythe] put the breakdown in.
How do you find playing the songs live differs from working on them in the studio?
Pepino: I really love it, because you have to be very present. The fact that there's an audience there sharpens your awareness when you're onstage. When you hit the intro to the song, it's almost like you're getting on a ride, and you're part of the ride, but in a sense you're not so in control of it anymore. It's a beautiful feeling to be able to fall into that. This music specifically requires a specific area of me, magnified. I need 20 minutes before going onstage to get into that, but it's fun! It means I can be a bit more of an exhibitionist with this material, which is great.
Freeman: It's also a harsh test. People aren't going to get into something that they're not into. If it doesn't go down well, you can't argue with that.
Do you use it as a barometer for new songs?
Vella: I think you have to. There's lots of songs we've played live that aren't on the record. If you see a crowd reacting incredibly strongly to something, that tells you a lot.
Pepino: "Bloodflow" - right from the beginning - people were like, "When is it coming out? What about "Bloodflow"? I love "Bloodflow"!" I fell out with that tune for a little bit, so I was like "We don't have to put that on the album," then the fans were like, ""Bloodflow"! "Bloodflow"!"
Freeman: The production of that one has been a real journey, and it's the one that's changed the most in the mix. It was mixed by David Wrench, who's done FKA twigs and Caribou. He really changed that one and gave it a breath of fresh air at the end.
Are you nervous for the reception of a studio version of "Bloodflow", then?
Pepino: I am a little bit! Half the album is something that people are very familiar with, and the other half we just have to wait and see.
Freeman: Fingers crossed!
Are there any particular tracks you're excited for people to hear for the first time?
Vella: All the new ones! "Orphan" and "Bodies" are quite down-tempo, and really beautiful. I don't think we've released a lot of tracks like those. I think those two are going to be really interesting.
Pepino: Anything new, we just want to know what people think.
Freeman: It's a lot more dynamic than putting out an EP. That's what I'm looking forward to - people being able to get into the dynamic.
Talking of the dynamic, how did you find the process of ordering a tracklist?
Vella: You have to top-load a little bit these days! Some of the bigger singles are upfront, but that makes it really interesting on the vinyl. The one side is some of the singles, and then it all goes a bit left-field on the other!
Freeman: I prefer the second half I think.
Do you think the resurgence of vinyl has changed how people listen to albums?
Vella: Maybe! So many people have been asking about it. It takes longer to make, so the vinyl comes out early next year.
Freeman: We got our test pressings today - which are behind Blythe's head!
Finally, do you have any venues that you're particularly excited to play on the upcoming tour?
Pepino: For me it's the Islington Assembly Hall - I know that's really obvious!
Vella: There's some I've never been to, like The Haunt. King Tut's is obviously quite legendary in Glasgow, and I haven't been to that either. There's a few that should be great!
Freeman: I'm looking forward to The Deaf Institute in Manchester. It's got a little theatre type vibe.
Vella: And really good burgers. I'm actually looking forward to the burgers more than the show!
Get the Best Fit take on the week in music direct to your inbox every Friday