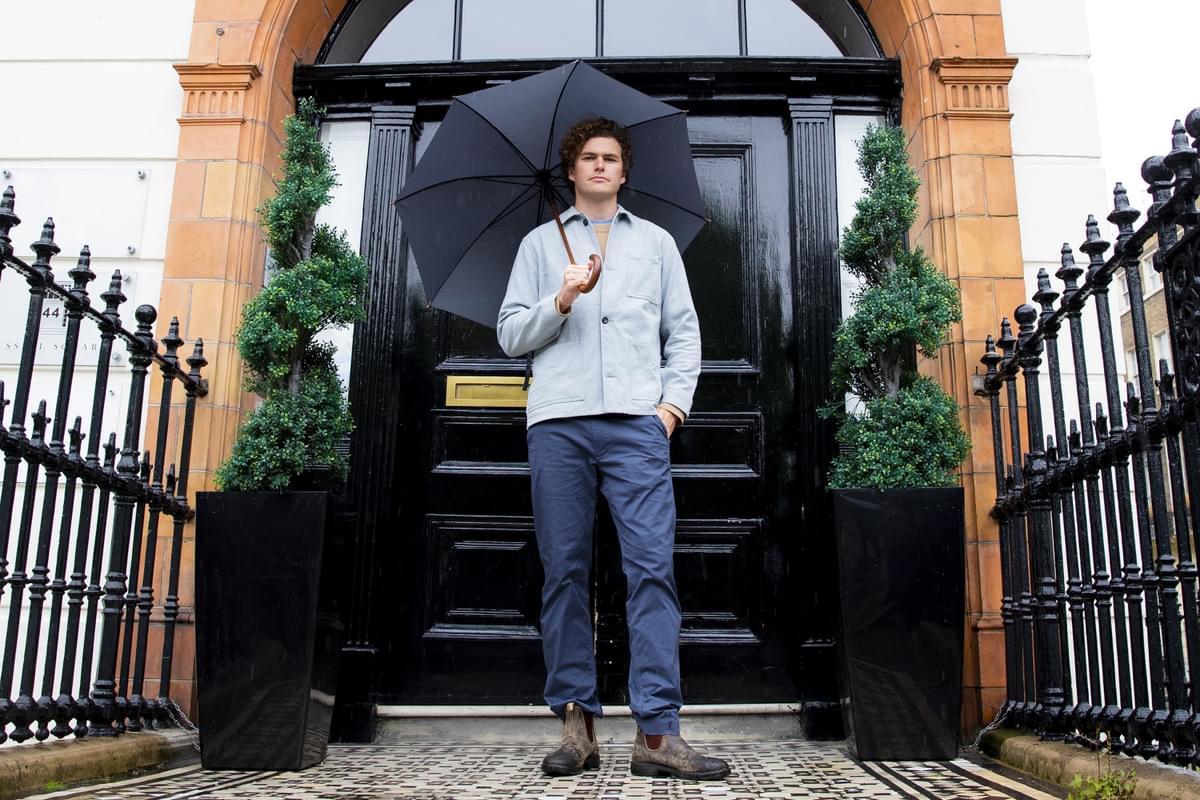 Vance Joy is taking his time
08 June 2022, 08:06
Australian songwriter Vance Joy found his place in the spotlight thanks to ukulele-led platinum smash "Riptide" and on his new album In Our Own Sweet Time the Australian troubadour finding new ways to tell his tales.
Speaking from a hotel room in London, everything about Vance Joy remains relaxed.
Over here for his first UK shows since 2018, Joy spent the pandemic surveying the landscape and studiously looking at what was going down musically. "When you take a break for a few years, you kind of think: do you have to change things up a bit?" Joy explains. "Or, you know, if you listen to the music that's around and it's popular, you might think 'Oh, how do I fit into this landscape?' But usually, it's like you just end up reverting to instinct, do what feels right and natural."
The spirit of Vance Joy is one where his words are meant to carve a space in your heart. Born James Keogh, he grabbed his moniker from fellow Australian Peter Carey's 1981 novel Bliss. After performing at various open mic nights around Melbourne, his 2013 debut EP God Loves You When You're Dancing and its breakout "Riptide" led to support tours with the likes of Taylor Swift. All throughout Joy has dug into something tried and true for his songs – the essence of loving and living.
Since he was already between album cycles. Joy admits he wasn't affected too harshly by the pandemic. Spending six months of 2020 in his native Australia, he decamped to Barcelona for another six. With all plans dissolving, this unfettered freedom allowed Joy to embrace life: "I was happy to just kind of have all those kinds of plans cancelled that were booked in for 2020," he recalls. "It would have just probably been the same old, same old. Like going home to Australia for a month and then coming to America, or coming to London for 12 months would have been good but I got to spend like six months in Barcelona with my girlfriend."
It was the space he found within the streets of Barcelona that allowed In Our Own Sweet Time to take its first breaths. "I wasn't quite as studious about looking at my phone quite as regularly," he says of his previous penchants. "Or checking on my voice memos and seeing what was there."
Since his 2014 success, Joy has travelled down a very welcome, but well-worn road, which more often than not finds artists stuck in a loop between touring and recording until a straw breaks the camel's back: "There was no real pressure and you couldn't make any plans, which I liked."
He focused on his present instead of the future, "trying to be in the moment, whether or not I achieved that…I always tried to be present and stuff, but even just aspiring to do that is kind of a theme on the album."
In Our Own Sweet Time delivers more of Joy's trademark succulent melodies, while delving into pop territory. It's the furthest he's pushed into such realms, and he wears it well, particularly on "Clarity". But elsewhere on the record – from the luminescent "Catalonia", to the soaring "Solid Ground" – Joy touches back to his previous efforts to see where he belongs in the present, and who he wants to be. "I think I probably have a pretty good memory for all these different moments and phases," he tells me. "I think you've probably pretty much learned from everything like and sometimes you go I'll never do that again."
For songwriters, each moment penned is a moment locked in time. From lyrics to music, there's something raw at play in terms of personal growth both inside and outside of the studio. "And then you kind of think, well, here I am again," he shrugs with a wry twinkle in his eye. Mentioning how he's now more relaxed when compared to his debut (2014's Dream Your Life Away), this is a reaction due to the success he found and his label taking a leading role in deciding his fate: "'Oh, this is the single, this isn't a single or whatever it is this the film clip."
This is where the raw side comes into play. For such personally-influenced music, such worries can lead to, "sleepless nights thinking, 'Oh, is this the right move' or 'Can I stand behind this'. But then, I think over the last few albums I've realised that everything passes and you might release a song and it'll do well or it doesn't do well. You probably don't want to hang too much of your self-worth on the way that song lands because it can go either way."
"And if you put a song out that people care about and you put a song out and people don't care about it no one's going to be holding it against you…I feel more confident in riding those waves and knowing that those waves are out there," he says. "You might go down a little bit and you'll eventually come up with whatever it is, but even the last few years, the songs keep coming and you kind of know if they're good. You know if they're decent and so you put out a decent song and then the rest will take care of itself. That's kind of my attitude."
The prolific Australian songwriter Paul Kelly is a name which appears consistently throughout our conversation. "[He] has a good analogy," Joy enthuses. "It's like fishing, and sometimes you catch hold of a fish – it's a huge fish that's gonna be a big, giant hit song, but then it's [also] just being content with catching a fish every now and then. So, I kind of say just keep throwing the rod into the water and see what comes."
On the surface Joy's laidback demeanour lends itself to his Australian heritage. It radiates through his music – it's the sounds of someone being themselves while trying to emulate the feelings they heard when they were younger. A vivid memory for Joy is hearing tracks from the likes of Kelly, including a particularly cutting track called "To Her Door".
"It's about a guy that's for the time being estranged from his family, and then he's hoping to repair it," Joy explains. "Put the pieces back together, you know, and it's about him arriving back at his wife's door to give it another go after they've done some healing. And so I remember hearing that song as a kid and I kind of knew what it was about – I could sense the power of it, even if I was still not quite mature enough to understand the full picture."
It's this resonance Joy hopes his music carries too – being able to convey a wealth of meaning so it hits on something more than just recognition: "When I was a little kid I remember hearing (Peter, Paul and Mary's) 'Puff the Magic Dragon' and there's the story of a boy growing up and the dragon's there and I was like, 'This gets me'. It was like a different kind of thing, but it was still that same note, the thing that you can try and aim for."
As for his relationship with Kelly, it all began when he was a child with a Greatest Hits CD. The lyricism he heard through the speakers found its way into the young Joy's mind, setting into place the seeds for his future career. "I'd just run around singing, I had no idea really what the lyrics were," he laughs. "And then we had it in the car as well as a kid just kind of in the background. It's funny, I was kind of listening to the best stuff as a seven-year-old and then I kind of listened to my own stuff – there was still some really good stuff when I was 14, but also some stuff that I wouldn't want to listen to now. I didn't even really have to return to [Kelly] so much as it was just kind of always in the background."
For Joy, his relationship with Kelly's music was the age-old connection – the right place and right time – but after exploring his catalogue and understanding what a songwriter can do, he affirms: "For me, there are some of the themes in the songs, he just knows how to create a really great story. Like Bruce Springsteen, where he can capture a whole world, you know, like a family and the kind of the world they live in. Maybe their hardships and that real bittersweet emotional struggle that's going on – that push and pull. He can capture that in a very simple and a beautiful, poetic way. And I think as a little kid, even though I didn't fully understand, this story still resonated with me."
Joy's beginnings in music were as carefree as his Barcelona sojourn. It was looking to the likes of Springsteen and Kelly that first instigated his inquisitive mind. One stand0out moment came from Springsteen's 'The River'. "I remember a chord progression," Joy tells me. "He goes from G to C, and he sings a certain melody over it and it just sounds so nice. And I remember when I heard that the first time I was like, wow, that's magic and it sounds so cool!
"And for ages, I just remember trying to weave that same kind of moment into one of my songs and it never came about. But those kinds of things, when you absorb them so much and so deeply they end up coming out in your songs like later on. So that's how I feel like those kinds of guys influence you."
For Joy it's about understanding the shoes he wants to fill. It's not even just solo names: he also mentions how The Strokes' First Impressions Of Earth left its own lasting impression. "I'd barely put my foot into songwriting at all, just trying a little bit," he remembers. "But I remember listening and I was just like, 'What are these songs', they must be so complicated. But, I was kind of amazed that when I boiled them down it was like, what, two chords? I just imagined they were just totally impenetrable to me.
"But I think that probably started me…like you can do a lot with just staying within the pop world of song structures and chords. Because at first, I was like, this is some weird Mozart genius shit – and it probably is – just I didn't realise that it doesn't matter. You can start with the same ingredients and make something that's totally legendary or just super basic."
This leads us back to Joy taking his time. As we've all discovered over the last couple of years, we're only in control so far, the rest of the time it all boils down to a strange amalgam of circumstance and luck. And much like Joy's here Paul Kelly says: sometimes, the big fish is hiding away, you can't manifest it out of thin air. But you can try and lure it to the surface with bait, and enticing it through skill. "There's something to be said for the stream of consciousness song, but for me, it's always been a little bit of piecing together," he explains of his approach. "Even my song 'Riptide', I had the bones of the song written for a while, and I didn't really make much out of it. I thought it wasn't going to be anything. And then, later on, I had a chorus melody. The stream of consciousness part, and the kind of magic parts that tied it together were all short moments that turned it from something that was kind of sitting there – something that didn't have any X Factor – and then all of a sudden it felt like it was alive."
The final piece of Vance Joy's new puzzle arrives outside of music. All of our discussions hang around an emotional resonance: it's the crux of Joy's music. Even he has to open himself to these moments in order to understand them. The last time he did so was on the plane over to the UK, watching a documentary on reclusive mountain climber Marc-André Leclerc (The Alpinist), who climbs treacherous inclines. "The interviews with him and his girlfriend and his family, they were just so raw," Joy explains. "That definitely struck a chord."
It was Leclerc's intent on staying focused on his goal that resonated with Joy. "Letting your true nature shine through is inspiring," Joy concludes. "And I think I'd like to be doing that because that's when you're probably at your most powerful. Whatever message or whatever you're doing, you can convey your music as long as you can. You can do it the best you'll be at your best – the height of your powers – when you're just being your true self."
In Our Own Sweet Time is released on 10 June via Liberation Music
Subscribe for news and competitions