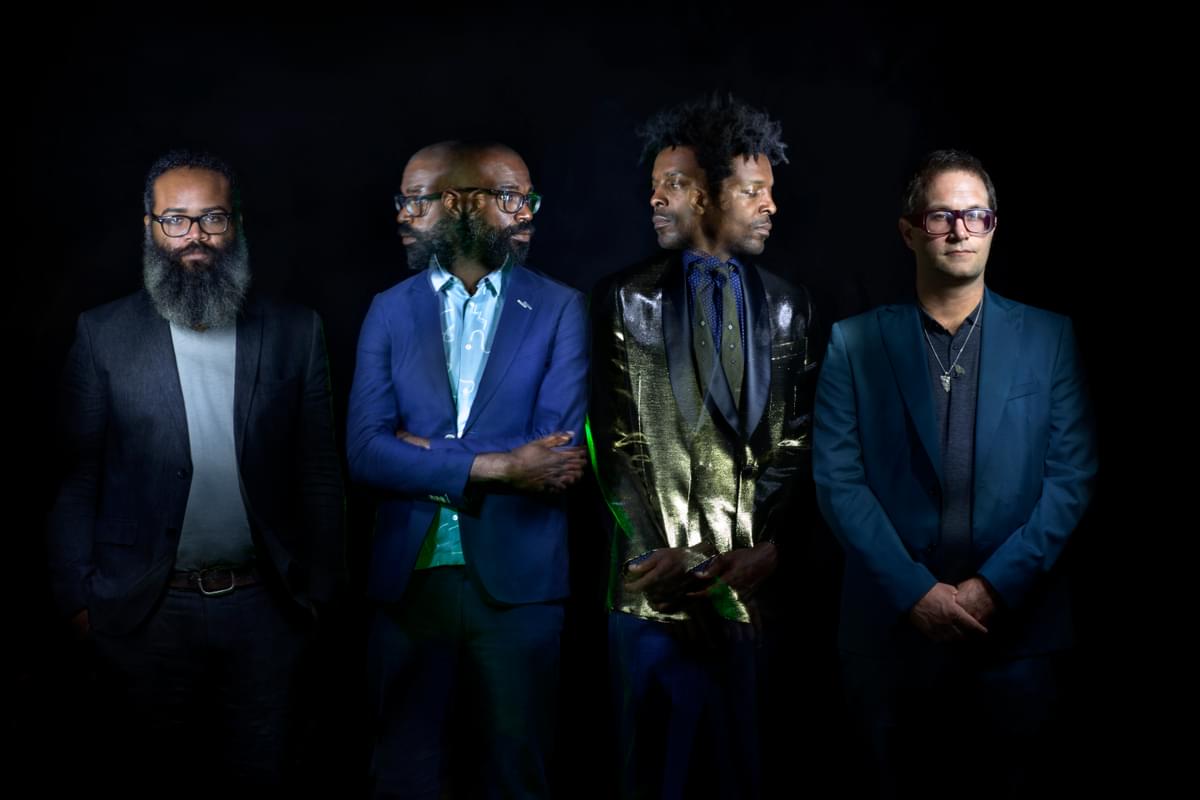 TV on the Radio: "Self analysis is a pause in the creative process"
10 November 2014, 11:00
Five minutes into my interview with TV on the Radio, things take a turn for the weird. I've opened, as one might in such a situation, asking the collected three-quarters of the band (Kyp Malone, Jaleel Bunton and Dave Sitek – singer Tunde Adebimpe is in absentia), what they can tell me about their soon to be released new record, album number five, Seeds.
"We made the record in Los Angeles over the course of nearly three months last year, on and off; actually I could give you the run down succinctly because we've been having this conversation a lot," Malone begins, with the look of a man well versed in the spiel, as we agree that succinct may well be the best go-to in such a scenario. "We recorded it at Dave's house. The process was not unlike the process of the previous albums, people brought demos in and demos were written on location. Different people interpreted the songs in different ways. People added and subtracted and added and subtracted the sounds." He breaks off to breathe, run down over.
"So far people have been telling us it's a more direct record than the previous ones," he adds, before looking at my face, which apparently says otherwise. "You don't think so?"
And within five minutes I've found myself surrounded by three very accomplished, respected and intrigued musicians, sticking my head above the parapet and apparently disagreeing with the collected analysis of the array of journalists who've come before me. I tentatively comment that it feels more mellow than the previous LPs, and at once more pop-y.
Malone nods wisely: "that's the influence of Blue Dream, which is a strain of marijuana that is popular in California. Plus, just, age and interests." "Maturity and finesse," chips in Sitek.
It certainly is different: the album feels calmer – not dull – but in the manner of men at ease with themselves, something that dissipates from everything they say to me throughout the course of the interview. It's also unashamedly more mainstream, in the best way possible: all rich, juicy hooks and catchy lyrical couplets, the sort that beg to be screamed back to the band by a raucous crowd of their typically energetic and dedicated fans.
That's not to say, however, that like Nine Types of Light, this will be an album of slow jams (although Sitek is quick to admit that they have those "on lockdown" and that they "come together first"). Rather, Seeds brings back the punch you'd expect from the kind of neo-soul art punks who brought us Return to Cookie Mountain and Desperate Youth, Blood Thirsty Babes, with the last third of the album being notably rockier than the rest, where the melodies gives way to roaring, rambunctious tracks like "Winter" and "Lazarray", which, were they not so damn catchy, might even seem incongruous. It begs the question though, what was behind throwing those tracks in at the end?
"'Lazarray' was one of the first songs we wrote. It was written even before we started writing the record, so it was already in the back of everyone's minds from the start," Sitek explains. "It's been in Tunde's head for a while, maybe even from the last go around. But yeah, we wanted to have a balanced record so you didn't just get bummed out or have the urge to lie on your side smoking opium while you listen to it."
For a band whose roots lay so heavily in the Brooklyn art-rock scene – hell, at one point they basically were the Brooklyn art-rock scene – TV on the Radio have come a very long way. A succession of astonishingly well received albums hit peak critical acclaim around the time of 2008's Dear Science, an album that topped pretty much every end-of-year list, and put the then-quintet (with bass player Gerard Smith tragically passing away from lung cancer in 2011 soon after the release of Nine Types of Light), very firmly on the alt-rock map, the sonic architects for all the bands who subsequently adopted their use of looped tracks, layered vocals, driving beats and eclectic influences.
However, as is often the case, success proved tough. The incessant touring and press that followed Dear Science led to understandable discord in the ranks, and following the end of their promotional duties the band decided to take a year off, spending some time apart to focus on their various solo projects, a pause which only lasted six months, before they regrouped in Sitek's adopted new home of LA to record Nine Types of Light. Perhaps unsurprisingly, given their Brooklyn roots, it wasn't a wholly enjoyable process, with Malone, Bunton and Adebimpe talking extensively in interviews about their lack of enthusiasm for the city of angels. It's something of a surprise then, to hear they went back to LA to record Seeds. Wasn't it infused with all sorts of negative memories?
"This time was very different," explains Benton, "LA has a lot of different personalities. And the personality that's dominant where we were last time just isn't the most like ours."
"This time we were in Northern Los Angeles - it was a lot more mellow and harmonious I guess," continues Malone. "Last time we weren't even in LA, we were in Beverly Hills, and I just don't think it was a good psychic mesh for our personalities. We were recording at Dave's house, but we'd eat and sleep in Beverly Hills and commute up to Dave's place. It was a weird way to start your day, waking up to that sort of psychic battlefield."
Thankfully, theirs was a victory upon round two of their 'psychic battle' and Seeds is a return to much of the form that TV on the Radio fans have come to adore and admire: songs filled with subtle (and not-so-subtle) political references, songs about the state of the world today and a plethora of love songs, as usual with typically honest lyrics penned by Adebimpe and Malone. I raise this point, to much discussion amongst the group.
"Is there a perpetual state of happiness that you arrive to, and then you're like 'got here, now it's going to stay this way forever?'" ponders Sitek. "I mean, I guess within the confines of a three and a half minute song you could say it's going to be like that forever, but I feel like there's a base line level of honesty, at least from this group, where you're like "yeah, it's great, but there's this other thing…"
"There's an element of struggle to love, and the experience of everything being perfect, I've never known that to have any resonance for me," agrees Bunton.
But couldn't they try to write a happy and content love song?
They laugh. "Would you want us to?" counters Bunton.
They've clearly found their formula as a group, and the banter between them is infectious. Five albums in and they're going from strength to strength, although they're lucky that their path has been paved, if not necessarily with mainstream renown, then certainly with critical acclaim. With this in mind, I ask them if they ever feel a sense of critical pressure.
"Aside from Arthur Magazine I don't think music criticism has ever given me a new insight into music," Sitek tells me with a laugh. "I think if you're making music for that, good luck. It's different if you know someone, and you know what's on their iPod… but some anonymous dude?"
"If someone has constructive criticism I'm almost all ears," Malone agrees. "But the nature of criticism that I've seen is that there doesn't seem to be much thoughtful music critique."
"Although there's something gratifying about when people are good at shit-talking," he admits. "It's why gossip exists. There's an acerbic humour to it. We're not so sweet that that part of what is funny isn't part of our world," he pauses, before continuing on a more serious note.
"I haven't met many people who I'd want to discourage from creative work,' he tells me sincerely. "I don't have to like it. There's a lot of music that gives me a visceral sickness, but I know someone else is going to walk down the aisle to that, and why would I want to take that from them?"
The point clearly strikes a chord with the rest of the group, and the rest of the interview continues in this vein: "It's just like, to me I look at it like I look at eggplant. I don't like eggplant, but for me to try and convince other people not to like eggplant is kind of a dick move," Sitek explains. "But if I find a great recipe for eggplant I'll share it. I don't share things I don't like, I don't give them the time of day, I'm not going to be like 'if you like eggplant, you're an asshole.'"
He shakes his head as he continues. "Self analysis is a pause in the creative process, like, to stop doing something to see how it's being perceived, I just don't see the fruit in that. Maybe there is. Maybe we'd be more successful if we listened to what people said about us."
The PR walks into the room to give me the two-minute warning. Rushing to think of a last question, and having witnessed the amusing dismissal of critics, I succumb to cliché and inquire as to who influences them most.
"I've managed to reduce the influences in my life to about twelve people who I really trust, and if those twelve people are in concert with what I'm doing I'm very open to hearing about what they have to say," says Sitek, without thinking. "I think my whole life my approach has been to consider the source, and that's led me to where I am now, and I like where I am now. I feel like that's been a really healthy thing for me. My friend just found out what a click track was last year, and I was like: 'please don't pick it apart. ever.' His objectivity speaks volumes. I trust what he says more than I trust anyone in the business because he just likes music, and it stops there. He doesn't know how to make it, and he doesn't care about the process."
"Just be about the music".
Seeds is released on November 17 via Virgin EMI / Harvest Records.
Get the Best Fit take on the week in music direct to your inbox every Friday