This is Turnstile — Brendan Yates on vocals, Franz Lyons on bass, Daniel Fang on drums, and Brady Ebert and Pat McCrory on guitars — and they're the most hyped hardcore punk band in the world. So what now? The answer is the same as ever. Whatever the hell they want.
Turnstile's third album GLOW ON was recorded in that barn — the remote studio of producer Mike Elizondo, who has produced the likes of Maroon 5, Rihanna and Eminem. The band was tucked away from the world, nestled in a cocoon of synths, amps and drums, and living in a house attached to the studio. "The one trip a week we would do was to the grocery store, and that was it," says Yates. "There's nothing to focus on other than just being with the songs." As such, the album bloomed into a brilliant ride through Turnstile's mind. It's reliably heavy and moshable, but its madcap twists and turns take you through unpredictable changes of pace, bizarre melodic worlds, and oddball instrumentation.
Their comfy surroundings may have been a far cry from the underground punk scene they started in, but their open approach to creativity is the same as ever. The band formed in 2010 while Yates was drumming in the riff-heavy Trapped Under Ice – one of Baltimore's most notable hardcore bands. At first Turnstile was nothing more than a chance for Yates to reconnect with his childhood friend Ebert amid Trapped Under Ice's hectic touring schedule. "It was this loose thing that we just wanted to do for fun, and [we] had no intention of even playing shows," says Yates. "None of us are trained musicians — Franz never touched a bass in his life before playing in Turnstile. So [we were] open to more inspiration and just a little more free in the writing process."
Their 2015 debut album Nonstop Feeling was influential from the offset and made waves straight away. It was so different from anything around them in the scene; fun, more flexible, less self-conscious, even funkier. It got more comparisons to 311 and Red Hot Chili Peppers than Black Flag or Bad Brains. With its follow-up, 2018's Time & Space (their debut for major label Roadrunner Records), they went glossier and bigger, but also even more left-field. "Understanding what feels good and constantly working off that always opens doors to making music that makes sense to you," says Yates.
Now, Turnstile look to be at the precipice of breaking into the mainstream. They have collaborated with Blood Orange on two tracks on GLOW ON, and on Time & Space they had a contribution from Diplo. They're booked to play at huge pop festivals such as Primavera Sound and Firefly, and in 2018, they were the lone heavy band at Tyler The Creator's Camp Flog Gnaw. This never really happens to hardcore bands, but something about Turnstile's sense of fun and freedom transcends heavy music.
The band takes this in their stride though, says Yates. "It's never a big or small thing, it's always just a new experience, and we always try to be as fluid as possible. [But] it's exciting when we're the odd man out. Not everyone even knows where to look for anything that might really connect with them. When I was a kid I didn't. It's hard to even feel comfortable stepping into it. So opportunities [to reach different people] are always exciting."
Indeed, even pop stars are all of a sudden leaning towards heavier, alt sounds; Willow Smith and Halsey have tapped into grunge and nu-metal, and Olivia Rodrigo's brand of pop punk is one of the biggest sounds in the world. The question right now is whether genuine rock bands like Turnstile could be swept along with them into chart success. Yates believes authenticity is key: "People want something that's genuine. More so even than songwriting or musicality, it's exciting to connect to something on a human level. And that's something I've always appreciated, growing up and going to punk shows, and being in the crowd and making friends with the band. It's something that you're connected to."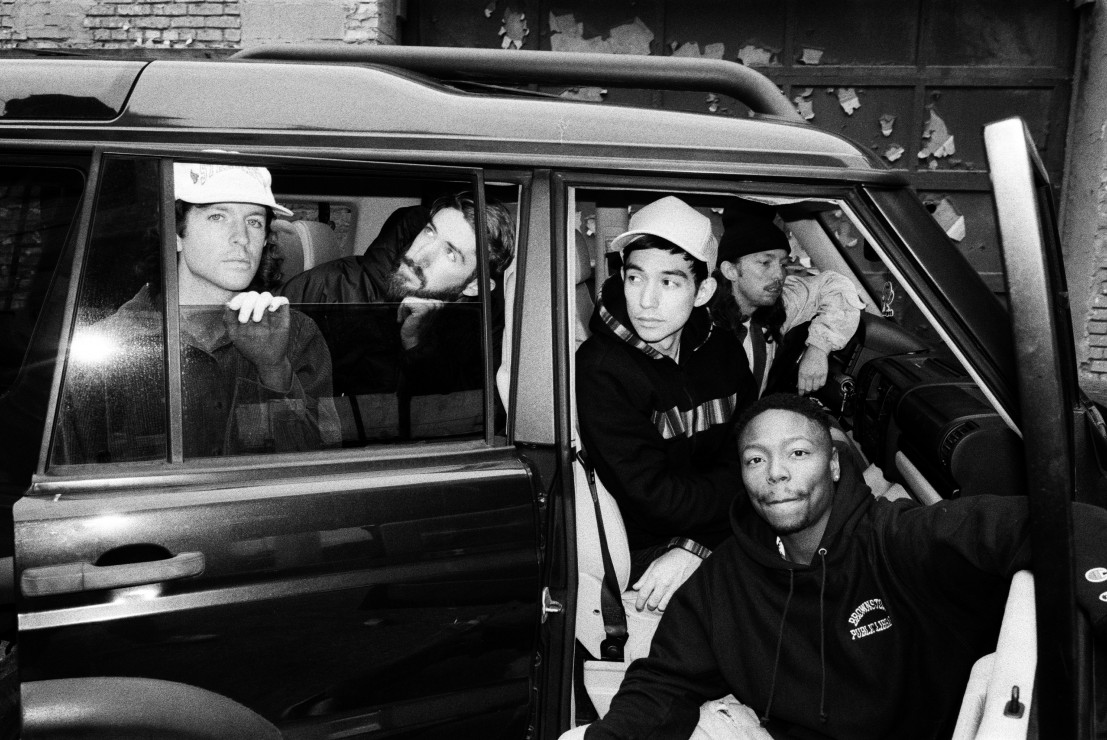 Hardcore is a community-oriented world, more so than almost any music genre. Bands and fans are one and the same; they're on stage to play their set, and then they're in the crowd to mosh to the next band. Friendship, camaraderie; often 'brotherhood' is emphasised in lyrics and on-stage sentiments. So when a band like Turnstile signs to a major label, plays theatres instead of basements, and all the while looks likely to climb even higher, one might expect a barrier to form a bubble around them. But community is still the most important thing to Turnstile, says Yates. Friends open their shows, and above anything they still live the hardcore lifestyle.
"Playing music and travelling and meeting people over the years in a community [has been] the biggest learning experience for me, and the most rewarding thing too. I've made lifelong friendships and relationships with people all across the world. And I think it's something that naturally we'll always be connected to – the built-in support system – because the thing that brought [us] together in the first place is kind of just this idea. That's something that we're all really grateful for."
Skateboarding culture, which was one of his own entryways into hardcore, is something that Yates compares to the spirit of the scene. Skateboarding itself is experiencing a similar boom of mainstream attention with its inclusion in the Olympics and major movies such as Mid90s. He explains the parallels: "There's this level of freedom with [both], it's something that is very individual to the person. And the idea that if you have the desire to do something, you can just take the wheel into your own hands and make it happen."
That speaks to the DIY ethic which is central to the entire idea of hardcore. Yates says their position on a major label, rather than constraining them, allows them to push their creativity further. "[There are] a lot of things that we didn't have the resources for, being five kids from Baltimore, but we had big ideas that we just wanted to try to make happen. So it's nice to be doing exactly what we were doing when we started, but actually being able to facilitate things rather than just [having] ideas that are hard to achieve."
GLOW ON developed slowly and patiently. Seeds of songs would be planted during live shows; one such song was the hazy dream pop "ALIEN LOVE CALL", which is probably Turnstile's biggest departure from the hardcore sound, and features Blood Orange on vocals. Yates explains: "It was a little thing that we would play between songs. When it came time to making the record it was something that, while not necessarily making sense on paper as a Turnstile song, made so much sense to us. We were like, 'This is our song, we need to make this a full thing'." Meanwhile, studio experimentation combined with the most resources and time they'd ever had, allowed for head-turning moments such as the jaunty piano notes of "DON'T PLAY". "I think it's easy sometimes to be like, yeah, you can't put piano here," says Yates. "But instead of saying you can't, [there was] a process of trying it. If it's something that you can imagine, it's something that's possible to do."
Before the album release came a short film directed by Yates himself, featuring four tracks from the album. Norman Brannon, member of legendary '90s bands Shelter and Texas Is The Reason, wrote on Twitter that the film "just obliterated the limits for what hardcore music and hardcore imaginations can look and feel and sound like".
But believe it or not, Turnstile have never intended to obliterate any limits. "Everything that we ever do is just because we wanna do it," Yates says. "I always anticipate it to be challenged, because it isn't always within certain people's expectations of what we should sound like. Challenging that idea is always kinda exciting. [But] it's never an intentional effort to push outside any boundaries. I think the goal is to not hold ourselves back from doing anything that feels right."
He continues: "In one perspective it's going against the norms or bounds of hardcore, but at the same time I think that branching out and blossoming as individuals perfectly fits within what hardcore is." Ever since Turnstile entered the scene, it seems there have been more and more bands following that philosophy. Bands such as Angel Du$t (which shares three members, including Yates, with Turnstile), Truth Cult and Militarie Gun have in the past few years made an impact with hardcore that's unafraid to embrace unexpected influences or just plain weirdness. It's an exciting time for the hardcore underground, and in part that's thanks to Turnstile.
As for Turnstile themselves, there is an endless number of possibilities for their future. Hit singles, Grammys and arena shows all feel within their grasp. But you won't find them reaching too hard. Most likely, if you look you'll find them in the middle of nowhere just making some new sounds.
GLOW ON is out now.