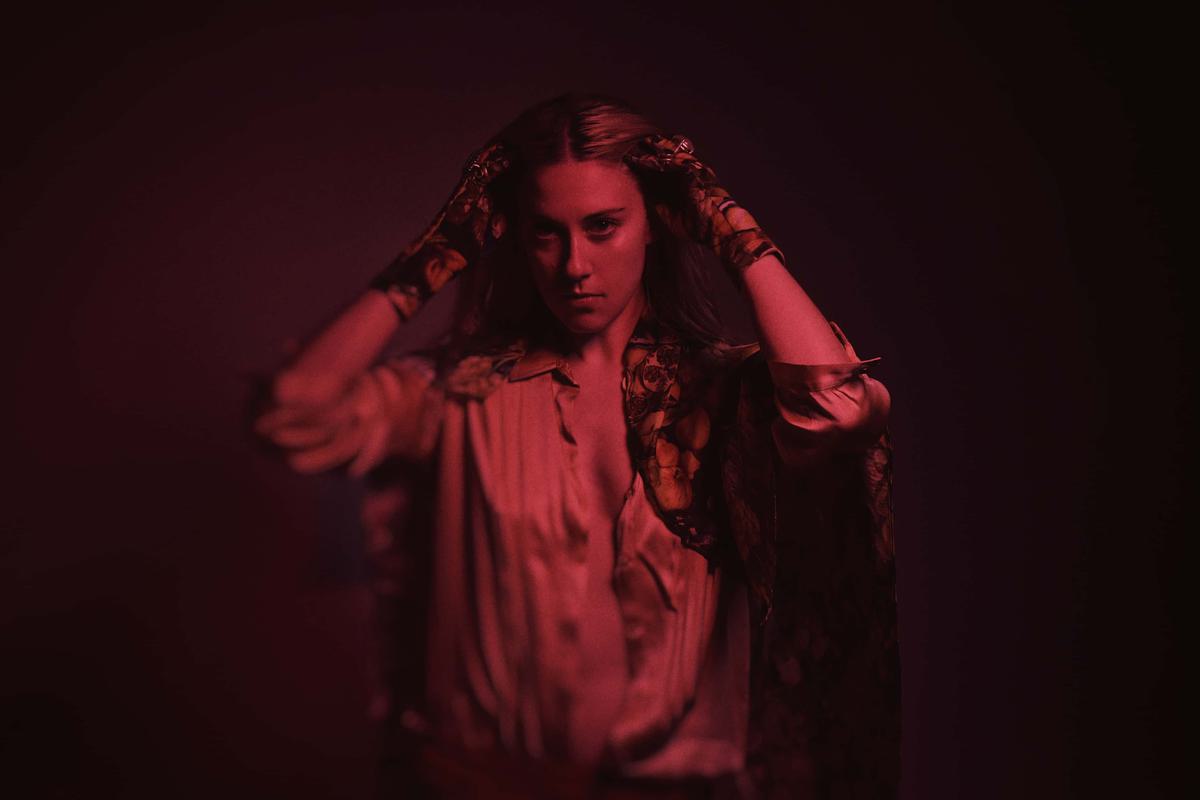 Torres and the unabashed celebration of intensity
25 July 2021, 10:00
There has always been a sense of tension in Mackenzie Scott's music: between her slippery lyrics and tendency towards strange, simmering instrumentation as Torres, and the bright flashes of indie rock melody which often underpinned them.
Thirstier, Scott's latest album, feels like a fever breaking. It is a bombastic tribute to love, and an unabashed celebration of intensity. While on Scott's previous records, desire frequently manifested as adjacent to fear — something Scott was frequently found grappling with, or shying away from — on Thirstier, desire is a centrifugal force, driving some of the biggest and best choruses of Scott's career.
Take "Don't Go Puttin Wishes In My Head", a freewheeling air-punch of a song, one which Scott aptly describes as her "relentless arena country star moment." On "Don't Go Puttin Wishes", love is a roaring triumph, a game that Scott has finally won: "For a while, I was sinking, but from here on out I'm swimming" Scott sings, her voice high and trembling over the kind of drums and power chords that really wouldn't feel out of place on a Killers single. Or the shimmering title track, where Scott implores her lover to "keep me in your fantasies, even though you live with me", swearing that "the more of you I drink, the thirstier I get", in a love letter to a desire that hasn't faded, but has morphed into something nourishing and sustainable.
BEST FIT: You described Thirstier as being about "a deep, deep joy that you hadn't felt for most of your life." Could you elaborate on some of the feelings behind Thirstier?
MACKENZIE SCOTT: Sure. When I think about joy in the earlier parts of my life, there were definitely moments of it, and pockets of it. But I don't remember feeling a steady joy, like a consistent well of joy that I could really count on.
My relationship has obviously been a massive part of that. It has provided me with a home and a steady foundation. But I don't know, I turned 30 in January and something just.. Shifted? [Laughs] I actually think I've become pretty self-actualised. I know people are always saying that, but I feel it more now than I ever have before. I really feel like I have what it takes to be a foundation for myself, and a foundation for my partner. Now I feel like I have what it takes to help other people anchor themselves.
Is Thirstier a pandemic album? I'm asking because, if I had to guess, I would say it's a pandemic album. It feels very intimate, and there's a lot on there about navigating domesticity and long term relationships. The pandemic has put a lot of strain on people's interpersonal relationships, but Thirstier is a very beautiful tribute.
I'm glad you think so! Yes, it was written during the pandemic. After my tour was cancelled, I basically took a month off to think and to do nothing. My girlfriend [Jenna Gribbons] is a painter — she works every single day, it's really very rare for her to take a day off. And she was like 'OK, when are you going to make something?' She actually really pushed me in a way I really needed. I think if I hadn't lived with her, I would have indulged that nothingness for way longer.
It feels like a big, full-blooded record to me. There are some huge choruses, some real bangers on there. Was there a specific mood you set out to capture with the sound on this album?
Yes, exactly. I like the word 'full-blooded.' I wanted it to sound bigger than my other records. I wanted it to sound as big as the biggest records I've ever heard, like drums pummelling and guitars buzzing, and everything as big and loud as we could get it without blowing your eardrums out. I know everyone references Nirvana, but I was like "this album should sound no smaller than the biggest Nirvana record."
Your girlfriend, Jenna, painted Thirstier's cover art. I'm very interested in this painting — you're looking quite defiantly at the camera, but at the same time, it looks like you're backed into a corner, maybe in a shower cubicle? It's an interesting juxtaposition.
Interesting that you think it's a shower cubicle! It's actually an imagined space that Jenna created. She's good at making up imaginary, psychological spaces. I'm speaking for her here, but I think she would say it's up to you to interpret where I am and what that space means.
You and Jenna appear regularly in each other's work. If you put your work side by side, are they in dialogue with each other? Would you suggest that people look at your music and Jenna's paintings as a single body of work?
I like that you said 'in dialogue with each other' — I think that's a great way of looking at it. I think people could definitely find a thread there, if they wanted to. We live together, we talk about our work all the time. I feel like we're infused in each other's work.
I want to ask you about the video for "Don't Go Puttin Wishes In My Head." It's so beautiful, by the way. Was any of it scripted, or was it entirely off the cuff?
The idea behind "Don't Go Puttin Wishes In My Head" is "don't show me what I could lose, if I'm just going to lose it." So we wanted to make a real, visual representation of what our life and our relationship is like, and what I would lose if all of that was taken away from me. It was shot in our apartment, and it was all pretty off the cuff. Jenna is actually a natural performer, she's way better at being in front of a camera than me.
What did you listen to during the making of Thirstier?
I try not to listen to tonnes of music when I'm making a record — but Jenna is a huge Sonic Youth and PJ Harvey fan. I think there's some of that floating around the record.
I revisited White Chalk at the start of the pandemic, and it became such a significant pandemic record for me.
That's such an underappreciated album. I'm sure you know this, but PJ Harvey said that while she's made some records that weren't exactly what she set out to do, but they ended up being massively popular, White Chalk was actually exactly the album she wanted to make, but it didn't have quite the impact that she wanted. [Laughs] I've made a few records like that myself. Like, I maniacally crafted Three Futures, and it did not land. But I feel OK about it. It's the record I wanted to make. It's so dark, and so fucking weird, I was in a very strange psychological space at the time. But, as it turns out, that process does not make for the most commercially successful albums…!
I love Three Futures too! One last thing I wanted to ask you about is the recurring cowboy theme in your music. Cowboys have become a thing in pop music in a big way — we have Mitski, Lil Nas X, we're basically overrun with subversive cowboy popstars right now. How do you feel about this trend?
I have a very non-ironic love of cowboy imagery. I'm from the American South, and I grew up listening to country music — Dixie Chicks, Tim McGraw, Faith Hill, all the Shania. It feels like cowboys have been rightfully queered in popular culture. It's a real subversion of that culture that would never let someone like me really be a cowboy.
It really feels like something that has bubbled up in popular culture. And as soon as it started happening, it felt so obvious. Like of course cowboys are queer, look at their little outfits!
There's a really great song that Willie Nelson covers, called "Cowboys Are Frequently Secretly Fond Of Each Other". It makes sense! Those tight-ass jeans and button down shirts, right? It's so gay.
Thirstier is released on 30 July via Merge Records