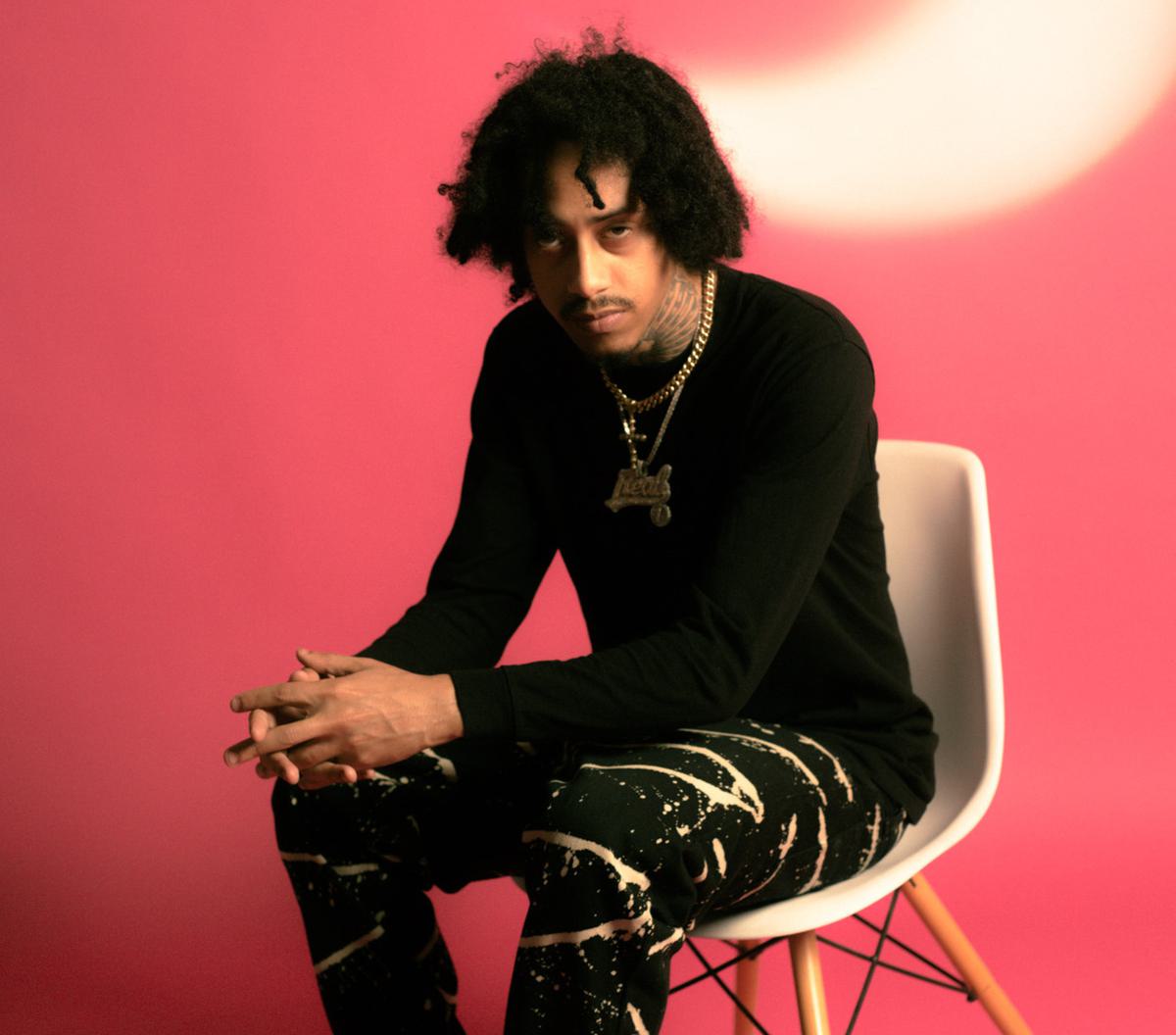 Tony Shhnow refuses to be influenced
09 May 2023, 14:00
Quickly shuffling between his apartment, multiple interview locations, and bouncing in and out of Ubers, everyone wants to talk to Atlanta native and up-and-coming rapper Tony Shhnow about his newest project, Love Streak.
27-year-old Tony Shhnow has had a meteoric rise with projects which have set underground alight (if you're unfamiliar with him, start with Rp's and Plan B's, Kill Streak), pouring a slick pluggnb glaze over a hard-hitting, flashy yet melodic flow.
As a genre, pluggnb stemmed from the Soundcloud scene, featuring heavy synths and smooth R&B sounds elevated by high-pitched percussion drums. The vocals are usually defined by a fast-paced flow and braggadocious bars centred around drugs, money - and in its vulnerable moments, love.

Shhnow's unwavering dedication to his craft helped him quickly accumulate monikers like "plugg pioneer" and "hip-hop veteran" that constantly circulate the underground community. His newest project, however, has allowed him to show a different side of himself - a part he hasn't laid bare in the studio before. It's inspired by the feminine perspective, old R&B romance movies like Poetic Justice, and expressing his inner thoughts on love and genuine relationships.

Raised by a single mother in Cobb County, Georgia, Shhnow has always looked to her for guidance. In high school, everyone was wearing the newest looks from BAPE, Billionaire Boys Club and Polo when he got most of his school outfits from Goodwill. He spent his time hunting through the bins for something to show off (thankfully during the time Macklemore's viral "Thrift Shop" was charting).
Frequently seen sporting clunky red Adidas sneakers, he started formulating a plan to switch things up. "It made me a harder worker, to try and earn what I had," he tells me, before stopping himself for a second. "My mom always instilled in me to be a leader, and to strive for more," he reflects - and Shhnow carried the assurance that with ambition and a little resourcefulness, everything he wanted was within his reach.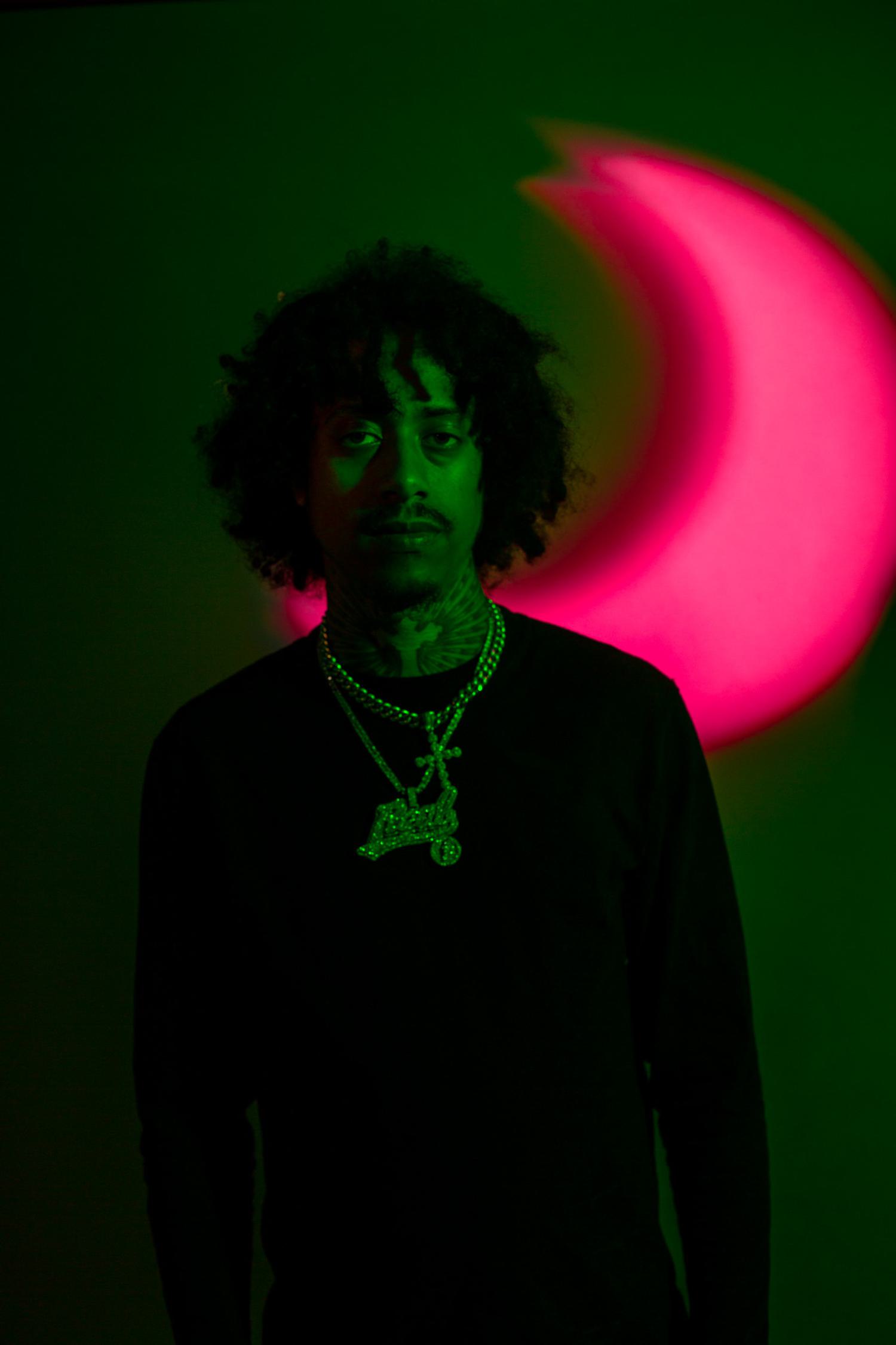 "To me, in hip-hop, there are three jobs and they all coexist peacefully…There's the president… Well, you know how it works", he laughs. His government consists of the rapper, the DJ, and the producer, each with a vital role in Shhnow's work. "How the label treats the rapper, that's how I treat the producer," he notes, referencing New Jersey-based producer GRiMM Doza (widely known for his collaborations with XXXTentacion, Matt Ox, and WIFISFUNERAL), who contributed instrumentals to a good portion of the tracks on Love Streak. "GRiMM Doza just asked me if he could come to the party, I'm like, it's your party too, it's our party!" he laughs. "It's Sam's project too!" He motions to his PR manager, Sam Hadelman, who's in the Zoom call as he Ubers to Shhnow's apartment. "I try to share my projects with the people who help me make it. It's our moment".
"I'm telling the truth, and people wanna see that. Some days I do feel pressure, there's pressure to make a hit," Shhnow acknowledges, but his mother always told him to be a free thinker. He tells me that he's working on deleting outside influences to only pull from within. "I deleted Twitter," he says. "I'm in a transition of trying to delete social media off my phone because I hate being influenced."
He hasn't even been listening to rap music - although, he makes an exception for songs made by rappers in their up-and-coming era: Lil Wayne's No Ceilings, Drake's Take Care, etc. Fans will sometimes pressure him into making a certain sound, but he just wants to stick to what feels right in the moment, negotiating how to exceed their expectations without compromising on the essence of what earned their loyalty in the first place. "I had like a 40-year-old man with dreadlocks and grey hair come strong arm me real hard and tell me he's fucking with me. It's always like, 'Woah!'", Shhnow laughs.

Love Streak is the start of a new series; a spinoff to his previous project, Kill Streak, which he dropped a couple of days after Christmas - one of the slowest times in the industry. He tells me that he didn't expect his audience to resonate with the new project following the success of its forerunner, but it was through that earned confidence that he decided to pursue it. Shhnow centered Love Streak around softer themes of the female perspective, love, and R&B-inspired romance straight out of Love & Basketball. "I had a girlfriend at this time, and she told me how Kanye would look at movies to find samples he wanted," he reflects, looking for key moments in that he could transmute into ideas for his producer. The album itself is more gentle, like something you'd hear as Lucky and Justine kiss on the beach, cuddled up in a blanket as the waves crash in Poetic Justice.
Shhnow realises that his success can serve as a platform for upcoming artists, and tries to pay it forward by inviting them to feature on his tracks. Some of them just happened by chance, though. "With DRAM, I was at Club Digital and he just walked up to me singing [my track] 'Real Runtz'", he laughs. Shhnow was looking for a singer and invited DRAM to pull up and record a verse for it. His voice is a soothing addition to the ambient instrumental complementing Shhnow's bars ("I got another one but when she leaves I start to miss her") and reinforcing the album's theme of romantic vulnerability.

He credits Sam Hadelman, who's now sitting outside patiently waiting to be buzzed into Shhnow's apartment, for the MAVI feature. "Sam had really pressured me about it so I just invited him over to my house", he recalls. There, they recorded "On The Street". A standout track from the album, both artists have been on the rise this year. MAVI began to see mainstream success with his most recent album, Let the Sun Talk. His tone is relaxed yet articulated, letting him embrace a deep sense of reflection. "On The Street" embodies all of MAVI's strong suits, paired with Shhnow's more upbeat and energetic flow.
The thought sparks a chain of ideas: "I might do a soft rock song!" Shhnow tells me that he's been listening to a lot of that lately. He elaborates, "Just slower rock, like Coldplay or some shit like that…" He has been making a concerted effort to listen to new artists and genres rather than newer, popular rap music. Again, he just doesn't want to be influenced. Now, he's working on getting where he wants to be - but not too hard. "I don't think too much into the future, I just live in the moment and make it happen", he says.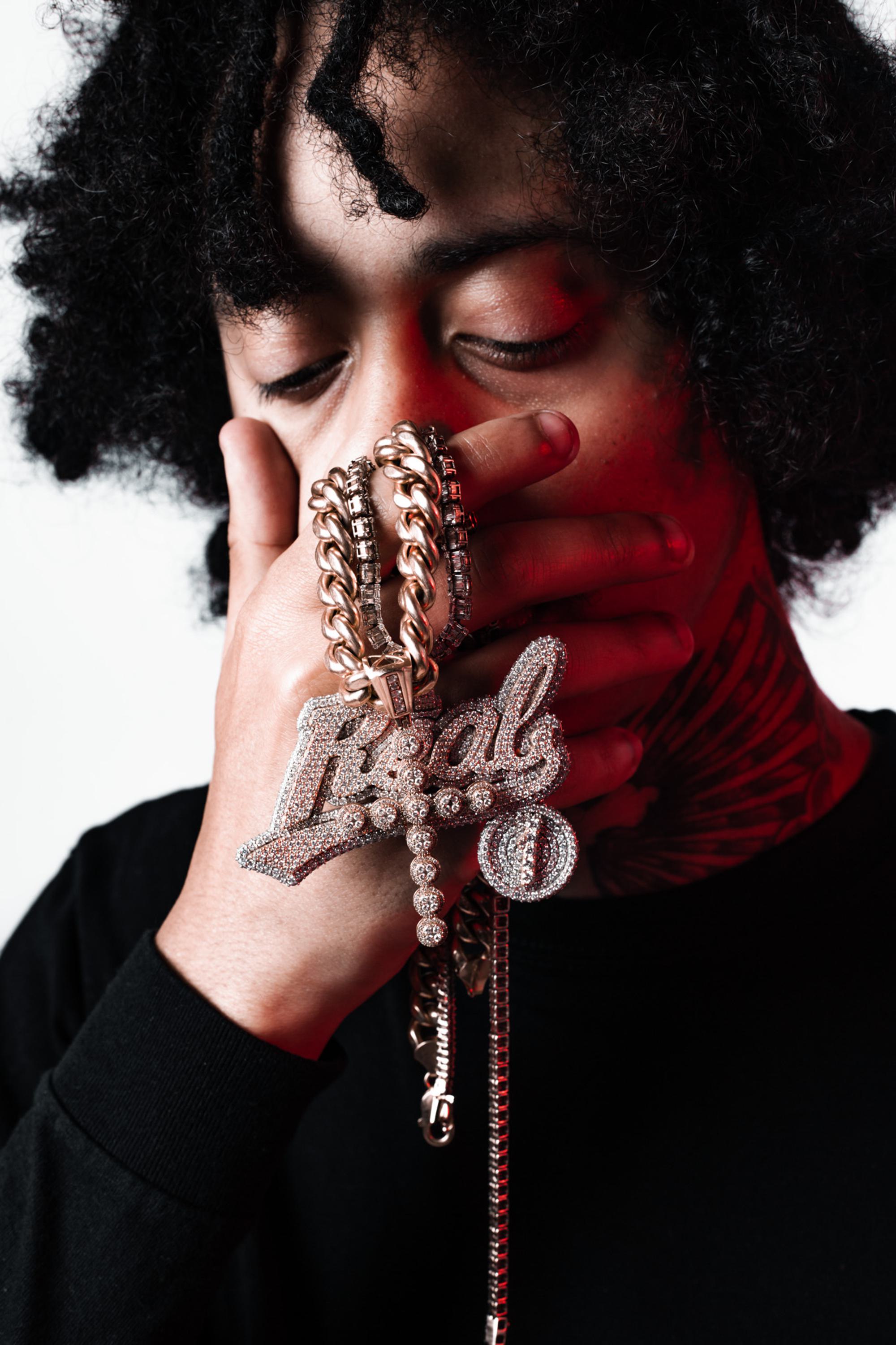 To get in his position, he tells me that he worked hard and set goals rather than waiting around for it to happen. "I already know I'm gonna be big as fuck, but I'm not worried about that!" he insists - until then, he's just trying to fall in love with working and preparing himself for when he gets there. "That shit is cool to me, I'm getting stronger," he says, and Shhnow takes it day by day.
"It's a whole bunch of ways to get money… but this one right here is dangerous," he tells me. People don't see the work it takes to get to the top. "Everybody's a rapper now, but it's not adding substance… people are rapping just to make a cheque," he shrugs. Shhnow's genuine devotion to his work and his evolution as an artist sets him apart from the rest. He isn't worried: "I'm doing it for legacy."