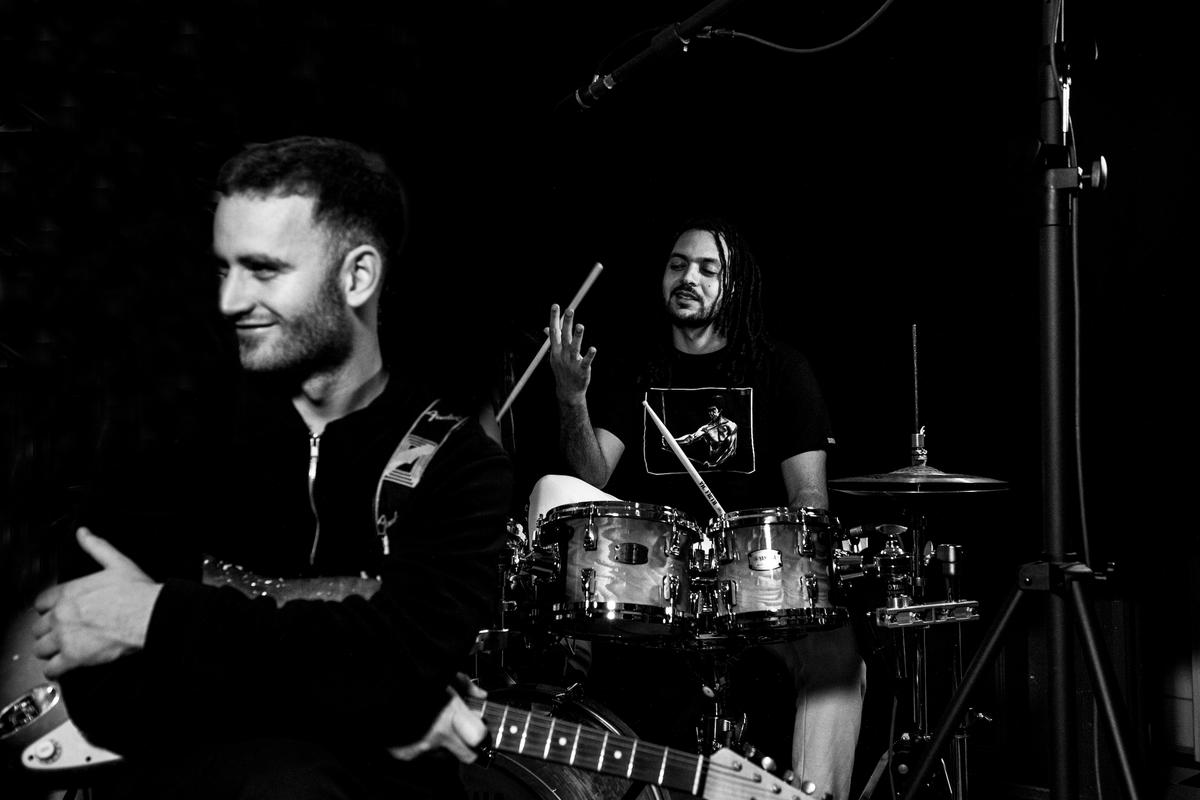 Tom Misch and Yussef Dayes talk connectivity and their genre-defying debut What Kinda Music
22 April 2020, 09:00
"Whether it's through rhythm, melody, spirituality, whatever you want to call it. Music: it's all related, man."
Despite their propensity for improvisation, their signing to cult label Blue Note Records, and the fact that their faces adorn the cover of Spotify's State of Jazz playlist, Tom Misch and Yussef Dayes are reticent to label their collaboration "jazz" — in fact, they'd rather not label it at all.
Speaking from his studio, Misch elaborates. "You could say this record isn't really a jazz record, the record that me and Yussef have made. It's inspired by jazz because it has elements of improvisation and the freedom of jazz, but it's not at all traditional jazz. I think... I think it's just music."
Dayes weighs in: "I suppose that's where the name of the album comes from — people can just interpret the music how they want to."
Indeed, the album is a far cry from the navel-gazing, hyper-intellectualised conventions unfortunately associated with jazz music. What Misch and Dayes present on What Kinda Music is a chilled-out, head-nodding, democratic collection of vibes. Dayes' groove-heavy beats sit front and centre; Misch's smooth voice and hazy guitars flit in and out of focus.
Undoubtedly, the laid-back ambiance of the record stems from a certain aloofness in the duo's creation process. "When we got into the studio for the first time, we didn't intend to make an album... we were just kinda messing around," says Misch. "Stuff just came organically. And then we just kept making stuff. It felt quite natural."
As the compositions unfolded, the album emerged spontaneously from a series of low-pressure recording sessions. Originally, the dyad planned on releasing the recordings informally as a collection of instrumental grooves. "We were putting beats together, and over a period of a couple months' work we had about fifteen different beats," says Dayes. "Some of them turned into songs — we went away and wrote to them."
Misch contributes his signature vocals in several places throughout the album — and yet originally had approached the project solely as an instrumentalist. "I never intended to sing on stuff, actually. First of all it was gonna be a beat tape, and then I started singing on a few tracks. If we had something nice I'd write to it." Neither artist is a stranger to the beat tape format, having released several with various projects — indeed, Misch has two solo records under his belt entitled, Geisel-like, Beat Tape 1 and Beat Tape 2.
Was there a reason the original intention was to make a beat tape? Toeing the line between the jazz and beat scenes — primarily instrumental, quasi-improvisational genres — why not immediately commit to an LP release? "Maybe calling it a beat tape, a joint tape, whatever you wanna call it, maybe it takes the pressure off," Dayes admits. "It not having to be something that has to be so polished and produced and all this shit. I think kind of going that direction at first allowed us to flourish and let it be what it's gonna be. You can kinda keep it raw."
Spawned from these informal sessions, the musical liberty was compounded by the freedom of working without deadlines. "The nice thing about this record," says Misch, "is that there wasn't really a cap, or like a time we had to finish, so we had quite a lot of freedom to just live with the music and sit with it."
"It was just a big experiment, really," Misch reminisces. "One day it might start with me playing a synth part, and then it might lead to Yussef doing something on the drums, or vice versa. Yussef might be messing around on this little synth called the OP-1 that we used on the record a lot. So it was day to day, really. We had the studio booked out for like a month, and we'd go in one day and just vibe out."
Beyond performing vocals, guitars, and synths, Misch also acted as producer. Though he's no stranger to the engineering side of music, he speaks of how his approach to production contrasted his earlier work. "The production process was very different from my solo stuff. It's a collaboration, first of all, so instead of working by myself I'm working with someone else. And it's a different time in my life. I feel like I've matured musically. I'm listening to different things now, I'm listening to more soul music, and like 80s and 70s. Like real live bands and stuff like that. It's just a different era, you know? The beat tapes were more electronic. This is collaborating, and having Yussef's influences in the room as well."
With such a strong partnership, and with Misch at the helm, the majority of the music was created on the spot. Yet as the project grew and transmuted from beat tape to LP, additional personnel were recruited to adorn the tracks. "Yeah, there were actually quite a few people involved, in terms of sourcing out," says Misch. "If we knew someone, we wanted a certain flavour on the record, or saw someone had a certain sound, we reached out. But the majority of the record was in-house."
Yussef Dayes cites a few key players that allowed the record to take shape. "Obviously Tom lead on production and is playing a lot of the stuff, and myself. And then Rocco [Palladino] is on a lot of tracks on bass. Got Kaidi Akinnibi, a young saxophone player that Tom's worked with before, he's on one of the tracks. Yeah man, there's a few other people that helped put the project together. Adam, the engineer, he had a big contribution with recording the actual sounds. Tobie, the violin player, he brought some nice strings to the record."
"I've been playing the violin since I was four. I was quite musical as a kid," says Misch, who penned the lush string arrangements that are interspersed throughout the album. Why outsource, then, if violin is another string to his bow, so to speak? "How it works it is, Tobie's a better violin player than me," Misch jokes. "So I get Tobie in and then I tell him what to play, basically. We've got a good relationship, and because I play the violin, I know what is possible."
Amidst the recording, the duo, along with bassist Rocco Palladino, travelled to Kiev, Ukraine to film some promotional material— a live session and a music video, both directed by Brazilian director Douglas Bernardt. While filming their live session (tracked in one take, filmed on 16mm film and accompanied by a pair of local contemporary dancers), an off-the-cuff jam was captured. This track made it on to the album.
"After "Lift Off" we had a bit of film left on the reel, and the guy said 'Do you wanna just jam?' So we jammed and "Kiev" was born. Rocco just started playing these chords and we just..." He gestures vaguely, brushing off the improvisation — just another commonplace occurrence, one that happened to make it onto the record. "That was the last bit of the film. So that was like another track on the tape."
Regarding collaborations, What Kinda Music features a left-field guest artist: American emcee Freddie Gibbs. Unsurprisingly, Gibbs and Dayes had been corresponding, hoping to work together. The rapper's latest album Bandana, produced by acclaimed beat maker Madlib, exists in the same universe as Dayes' own work at the crossroads between hip-hop, soul, and jazz. "I been sending beats to Freddie for the last year or so — him and his manager," explains Dayes. "Just going back and forth. So I sent him this track that I was working on with Tom and he jumped on it, man, and finessed it. I linked up with Freddie and Madlib in L.A. last summer and got to just chill with them and see them perform live, and from there, hopefully got more music coming."
Despite their reticence to label What Kinda Music a jazz album, the duo are enthused their record is released via legendary American jazz label Blue Note. "When I was younger I was always listening to Blue Note," recalls Dayes. "My dad would play a lot of records that were from Blue Note. I suppose to actually be able to release something on that label, as iconic as they are, just shows you that if you just have your focus and build your sound, anything is possible, man. Obviously it's an honour to be on a label that so many musicians have released music on."
"I think for me it feels particularly cool that we're from the UK," adds Misch.
"I don't know any musicians from the UK that have been on Blue Note before, so it's a good feeling, man," Dayes says. "It shows you how the world is linked up and being inspired by each other."
Linked up, indeed. The internet, as has been said so many times before, has been a great leveler, democratizing music promotion for the independent artist. Misch recollects the influence his social media presence has had on his career. "It's kind of just given me a fanbase — it's how I started. I started putting beats on SoundCloud, and it was a platform for me to spread my name. I put beats out every day after school. More people listened... Word of mouth, word of mouth, people reposting, reposting. And now I'm on Twitter and Instagram. It's another platform. I do those videos of me playing guitar, people like that. If I can't be releasing music all the time, then I'll just put up a little jam of me playing guitar or making a beat or something. It's a nice way of communicating with my fans, and letting them know what I'm up to between releases."
Beyond assuaging his fans' desire for new music, Misch also uses social media as an immediate retrospective on his career. "You can see my whole progression as a player and as an artist on my Instagram. If you scroll down you can see me when I was like, less mature as a guitarist, and you can see now... a bit more mature," he smiles.
Unfortunately, due to COVID-19 and the surrounding turmoil, Misch and Dayes, along with artists around the world, have been forced into interaction with their fans that exists in a solely digital realm. True to his M.O., Misch has uploaded a series of bedroom guitar jams since the beginning of quarantine, garnering hundreds of thousands of views on each one. Although making the best of the situation, he speaks ruefully of how the confinement has affected the promotional tour for the album. "It's stopped us from playing the gigs that we had planned, and we can't do any promo stuff in person. We had a couple of trips planned and stuff. No album release party. It's unprecedented."
Dayes, on his end, seems to be taking his social isolation with a zen attitude. "You've got to turn the negative – what's supposedly a negative – into a positive, and just find ways of still being able to communicate. Obviously Tom's been up on his visuals and stuff. Just find other ways to communicate music to the people because actually now is a time that people might need good music to get them through certain moments or give them inspiration. I feel like as creatives, as creators, we have to find other means. Obviously we're live musicians, so we love to perform live, but if there's other ways we can find a way to communicate that vibe to people then, you know, maybe at the time of the release we can maybe, like, do a live session or something, some kind of way to do a performance for the people."
Beyond reaching out to their respective fanbases, there's not much to do but stay home and play music. Both men concede the cancellation of their summer tour plans affords them time to hone their craft. "I really want to try doing some film scoring, so that's something I can work on," Says Misch. "Just getting some demos out and just seeing how you get into that world."
Dayes is balancing his time between post-production, family, and the woodshed. "I've got another project that I want to put out this year so just like, doing the artwork and all that stuff. I've got a little daughter so I'm just taking this time to work with some of my shit, man. Do some practice and some studying, learn some new stuff, so when I come back I'll just kinda like, have a different perspective. I think this time is a blessing for a lot of people, if you use it wisely. Just trying to do some training and practicing. And tweak things so even if things are going to go more internet-based for a while, I like to do things at high quality."
Faced with their tour's rescheduling and potential cancellation, the duo are unsure what the future holds. Will their focus shift from performing together to focusing on solo work? "Dates just need to be confirmed, man," Dayes replies. "It's a combination of the two, really, over the next year or so. We'll see how things pan out."
In the meantime, both artists are content to focus on creating music with no agenda. "I'm never trying to represent a cultural change in the youth of today or something... You know?," grins Misch. "I'm just making stuff that sounds good."
"Yeah, man," Dayes chimes in. "For me it's just — if it sounds good, it sounds good. If it ain't popping it ain't popping, you know what I mean?"
What Kinda Music is out 24 April.