The Duke Spirit are back. The Kusama EP showcases a more "articulate and concise" sound and is followed in the spring by their third album, Bruiser. TLOBF talked to front woman Liela Moss about bunga bunga parties, spicy sandwiches and how the self-proclaimed "sexy farm goths" finally captured their sonic power.
Liela Moss is a self-confessed "café snob." On discovering that one of her favourite restaurants in London's East End is both full with the lunch-hour crowd and too noisy for my arcane recording device, we are forced to decamp to an adjacent coffee shop. It's sterile and soulless and definitely not Liela's sort of place.
Thankfully, with a weedy-looking cappuccino in front of her, Liela is still eager to effuse about The Duke Spirit's forthcoming album, Bruiser. And she is very, very happy with how it has turned out. "I feel much more comfortable and grounded in performing the songs on this album than I ever have," she tells me, leaning in to make her point. "So, for me, this is where I wanted to be and there has been a whole two albums scratching around trying to find that, while collecting cool weirdness along the way. I feel much more that Bruiser reflects me personally. It's like an idea I had years ago that has finally come to fruition."
Recorded in Los Angeles with producer and long-time fan Andrew Scheps (who has worked with artists as diverse as U2, Metallica and Neil Diamond), the new album sees the band finally deliver their musical vision. "This album seems to be us at our most articulate and most concise," Liela says. "You grow up when you are making music, and I don't want to look back and think 'I wish we hadn't done that' because, actually, each experience you have making an album is you flexing your creative muscles. We felt we really wanted, in terms of production and song shapes, to get more reductive. We wanted a more simple sound, which in itself would have its own cosmology, instead of just throwing everything at the wall – which is what we perhaps did in our early days."
Two songs from The Kusama EP are likely to end up on Bruiser, although Moss admits that the tracking has not been finalized quite yet ("There may be a last-minute surprise track-listing"). 'Everybody's Under Your Spell' is a sharp-focused ballsy rock song, while 'Northbound' is a heavyweight ballad that bristles with sexual menace.
When I mention that both songs contain a sense of space, the singer nods in agreement; "This time it was about giving some songs a haircut in terms of their instrumentation. The effect is that you can get a wonderful sense of space, which is a really sensual listen. Lyrically, you can hear more of what is going on, so the story-telling is more clear and the colours of the songs become more vivid. Before, I felt we were more about textures – fuzz and distortion."
The Duke Spirit front woman proves to be a sparkling interviewee. In the flesh, she is stunning. Even without a jot of make-up her cheekbones look like they were created with the aid of a protractor and her eyes dance with mischief. She talks with her hands (revealing artfully-chipped nail polish) and is vivacious, articulate and warm. She also says "super-cool" a lot. When I put it to her that the new songs seem more mature, she seems momentarily mortally offended.
"Mature is the wrong word – we are still immature fools. The album is articulate, it is focused; it's about stripping things back and getting to the best part of a track and trusting that your experience got you this far. We've created anticipation and thrown in guitar solos – which were unheard of because it seemed histrionic and ridiculous. Now, we can do that on this record because they come in, make their point and leave. What you will hear on this record is a lot of the force that we have been trying gather over the last seven years – all of that authority – but we have now marshaled our instruments."
Formed in 2003, when Moss met guitarists Luke Ford and Toby Butler at art college, The Duke Spirit released their first EP Roll, Spirit, Roll later that year, and (after some record label feet-dragging) a debut album Cuts Across The Land in 2005. The follow-up – 2008's Neptune - saw them increase their fanbase (especially in America) and cement a reputation as one of Britain's most visceral and fiery live acts.
So, The Duke Spirit seem like a pretty established band, but Liela is grounded enough to take little for granted. "On the one hand, I don't question that we will rehearse and tour. That is fairly established in my psyche," she says when I ask her if she feels that they are a 'career band'. "But at the same time I find everything so unpredictable in the music industry. I don't really know if I have the right to have any expectations. I can have things that I wish for like more success and to play big festivals around the world; super-cool things that are joyful and make you want to do this. I have those, but I don't have expectations because we will be thrown a curveball."
A number of bands make a huge career leap on album number three (Radiohead with OK Computer and Arcade Fire's The Suburbs spring to mind) with an increase in global appeal and a push into rock's higher echelons. This may well happen for The Duke Spirit with the release of Bruiser, but Liela maintains that success cannot be manipulated – an album cannot be written to ensure mass appeal. "We've experienced huge amphitheatres and great venues – supporting REM was electrifying – and I want more than that. But, in terms of manipulation, I would like to say we didn't but at the same time I don't know how much of it seeps into this album. I don't want to be doing small club tours for the rest of my life. It would feel like you haven't reached enough people. That feels small and I don't like to feel like that, I'd like to bust out of that limit."
Bruiser could help her reach those people; the title itself seems is a statement of intent according to Liela. "Bruiser has become our way of operating. It's about making more confident decisions, cutting out things that get in your way and being a bit more cutthroat about what we are doing."
The cover of the album features a nineteenth century etching of a ram, salvaged by the band's sleeve designer, and Liela loads more imagery on the mythical beast. "Bruiser may be in the character which is on the front of the record, which is a super-cool four-horned ram with a quizzical look. It has one foot in the Black Sabbath world of rock and it also has an English farm quality which I think is us saying we have a sense of humour. We're 'farm goths' – sexy farm goths."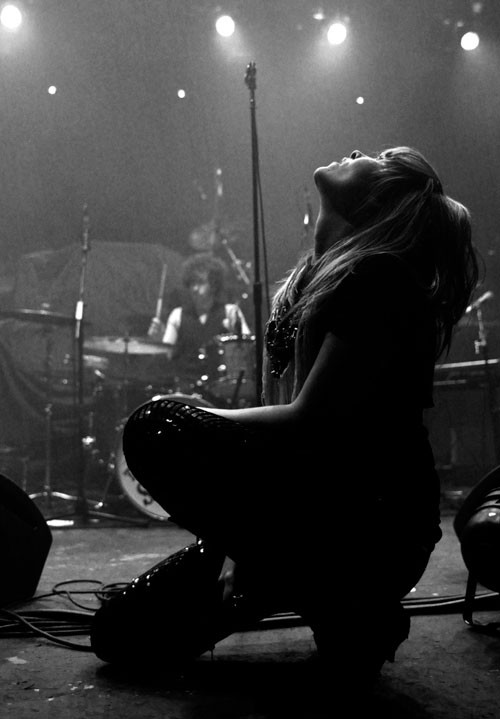 "We're farm goths – sexy farm goths." – Liela Moss. Photograph by Sophie Barnett.
More recently, the sexy farm goths have become 'super-cool' fashion icons. In 2009, the band were approached by the late Alexander McQueen who wanted to use their 'look' as part of a new collection for the huge American retailer Target, which resulted in t-shirts with an image of Moss and a specially-created album being stocked in the Target shops. While admitting that the idea of working with McQueen was "tantalizing," Liela seems to want to play down the project. "Of course we wouldn't say no, because he was one of my favourite designers. But, ultimately, you end up working with Target who are going to stock your records. And that is fine – it's cool – you are just gonna have your records in these shops and that is reason for doing it. It wasn't a great explosion of creativity – but it was funny that they used an image of me on one of the t-shirts."
Having never had my ugly mug on a t-shirt, I ask Liela if she has ever worn 'her' garment. "I haven't worn it, although I did give one to my mum. I'm sure she's worn it." And did she actually meet Alexander McQueen? "No – I went to Paris and saw a show shortly after the experience and it was his last show. I was coming backstage to say 'Hi' and I was heading over to him, but he was whisked off somewhere else. He was desperately shy and didn't like the showbiz occasions."
Other designers, such as New York's Phillip Lam, have also taken a keen interest in Moss' burgeoning sense of style. As with any band containing such a vibrant front person, there could be a temptation to push the singer too far into the limelight, rendering the other band members as just 'the other four blokes'. After all, does anyone know the names of Florence's Machine?
Thankfully, The Duke Spirit are a grounded group of friends. "They get it," Liela explains. "If there is a fashion thing going on, and it has been me that has been called up – which is obvious, because women are the majority consumers of fashion – it is totally cool that it would be me that is most involved with it. I don't think they've got a real big chip on their shoulders about that, but at the same time, I start so few of the songs it would be ridiculous to think this was all me. I sing and I put the words in place, but none of this happens without the others."
Moss does seem to, on occasion, exert her huge personality. When she came up with the album title after pacing around the streets of her home in North London, she made the suggestion to the band and admitted to thinking 'they better like it, because if they don't, they're fucking wrong'. I rather foolishly suggest she is a benign dictator within The Duke Spirit; an accusation which she takes on the chin. "I've never thought of it as a benign dictatorship before. It is not a good quality, and I don't encourage it in society in general. Maybe I'll be more like Berlusconi and have bunga bunga parties."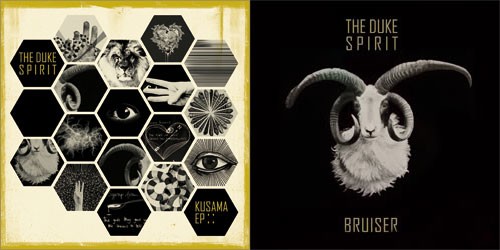 Sex parties aside, and after a brief foray into civilian life ("to rekindle friendships and relationships" and "absorb new influences and inspirations"), Bruiser was written and recorded in the first half of 2010. The initial work was done in an east London rehearsal space they converted in a concrete monster of a 1960's office block. The songwriting process mostly took the form of either Butler or Ford creating a guitar part, and then Moss adding a melody and lyrics. Intriguingly, drummer Olly Betts contributed a track to Bruiser, to Liela's obvious delight, "Olly, for the first time, put some stuff together that has become 'Deluxe', which is a beautiful soundscape with lots of percussive loops and ethereal sounds."
However, the band were not happy with the resultant vibe of the new songs. "They weren't sounding rich or interesting and it just wasn't sounding right on anyone's stereo," Liela admits. Fortunately, Andrew Scheps was on hand. The L.A. producer had previously worked with the band and was eager to do more. "He mixed a couple of tracks on Neptune and he was the only person we've worked with who had seen us on numerous times – he'd been a fan and been in the audience and felt the firepower. We said to him that 'we'd got this far, but we are a little bit stuck'. He said 'I'll be honest with you, I'm not hearing what I hear when I come and see you live.' The stuff he started saying made complete sense."
Seizing a six-week window in Scheps booked-out schedule, The Duke Spirit headed out west and took a month to hone the perfect sound. So just how does a 'farm goth' cope in Los Angeles? "I really enjoy it, I mean I laugh at a lot of it and despise aspects of it – but it is the same stuff I despise in my own culture. We've made some really strong, good friends over there. Because the dominant culture over there is so overbearingly commercial in so many ways, the sub-cultures and counter-cultures are full of people who are really informed and really passionate about alternative ideas; they're super-cool people. So it is not like we have to swim in the same stream when we get there, we are tapped into something else."
The Duke Spirit have a complicated relationship with the UK. Despite a solid, loyal fanbase, there is a prevailing sense that America 'gets' the band more, while they've enjoyed huge success in Germany, Japan and Australia. I put it to Liela that, perhaps, The Duke Spirit should be bigger in their native land. For once, she struggles for an explanation and comes back to the question as we continue our chat. "I think we were slightly misplaced at the beginning," she offers. "We had a very indie beginning and we had an EP on a super-cool indie label and a flurry of press. Then, we didn't deliver an album for quite a long time, and then we were on Polydor and we were quite stubborn. They were unsure where to place us, and it was all a bit lost and we didn't have strong enough guidance. Also, we didn't realise that we should guide ourselves. But, perhaps, the simple truth is that we wrote some good songs and played well live, but nothing that set people on fire."
"I think perhaps we placed our trust in the powers that be too much and then were disappointed that not enough was done. Now it is like 'fuck this; here is the album, here is the artwork'. Although people can assist you and advise you, it is not anyone's job to make your career happen – you have gotta do it yourself. That inner fire might almost have gone out but has come back again for this record."
As we drain our respective cappuccinos, thoughts turn to food and a specially-prepared question from my young son. True to a more Smash Hits-style of investigative journalism, I ask Liela 'If The Duke Spirit were a sandwich, what type would you be?' "That's too hard," she squeals, clearly mindful of the deep, psychological insights an answer may provide. "It would be a hot sandwich – like a toastie or, dare I say, a panini. It would have to have melted cheese and maybe some spicy content. It's not often you hear of a cheese and chili sandwich, is it?"
Cheese and chili sandwiches served by sexy farm goths at bunga bunga parties – it is rather wonderful to have The Duke Spirit back in our lives.
The 'Kusama EP' is out now on Velo Records with the album Bruiser out in the spring.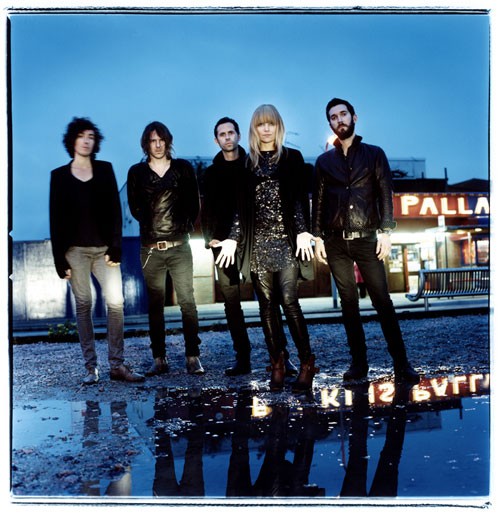 Band photography by Steve Gullick