Sure to be one of the underdog success stories of the year, The Concretes return on November 8 with their fourth studio album WYWH. From what first began fifteen years ago with three school friends Lisa Milberg, Maria Eriksson and the now departed Victoria Bergsman, The Concretes have steadily blossomed into an eight piece band, quietly becoming one of Sweden's most treasured exports.
It's long been said that 2003′s self-titled debut was the bands crowning glory. Eleven perfectly crafted pop nuggets, awash in melancholia and sixties fuzz; it was the sound of a band finally coming into their own – almost 10 years after forming. The follow-up record was an altogether different story. In Colour saw The Concretes in turmoil, with vocalist Victoria Bergsman visibly unhappy and withdrawn from the band, the sunny exterior of pop gems 'On The Radio' and 'Change In The Weather' only acting as a mask to the darker clouds that lurked up ahead. Poor reviews followed and shortly afterwards so did the departure of Victoria Bergsman who has since gone on to release two solo albums under the Taken By Trees moniker.
2007 saw co-founder and drummer Lisa Milberg retire her sticks and take her place front of stage as the bands new vocalist. The resulting album Hey Trouble! was – indeed – troubled. Although featuring many a great song (including one of the bands stand-out tracks – 'Kids'), mixed reviews ensued – focusing more on the lack of Bergsman than the actual songs themselves, the future did not look bright for The Concretes.
So it came as a great surprise for many when news finally broke in early 2010 that the group had reconvened in their hometown of Stockholm to record WYWH. Although instantly familiar as The Concretes, on first play the record seemed different. There was a confidence, a swagger and…. a cowbell. Ten perfectly crafted tales of love and loss fused together under a dimly lit glitter ball. Yes, this was The Concretes in disco mode. But disco the Concretes way – all melancholia and aching tones rather than Hi-NRG pomp.
A career high for a band that had once been written off as the "Victoria Bergsman show", WYWH is a glorious return. I caught up with Lisa Milberg recently to talk about the records beginnings, the troubled times that haunted their mid-00′s output and how she's finally adjusted to being the central focus of the band.
WYWH is out on general release on 8 November. However, you can pick up the album early (along with a bonus mix CD and a ticket to the bands London show on 1 December) from Rough Trade now. Alternatively, stream the album in full via the bands new website WYWH.CO.
Hi Lisa. Firstly, huge congratulations on the new record. To me at least, it seems like the most consistent Concretes record to date. You must be thrilled with the results?
Hey Rich. And oh why thank you. And yes I am very happy with the album, I think it's done a fine job in saying what I wanted said and how I wanted it said.
I heard that the early gestation of the album began whilst you were all sat round having Christmas drinks in Stockholm last year. Was it really as simple and straight-forward as "hey, I think we should make a new record"?
Oh no. It was a very painful procedure. We just chose to fast-forward to the part of the story where the album actually started happening. Before that we spent at least two years pretending we wanted to make a new album when all we really wanted was to not spend time together. Hey Trouble really was what it said on the tin. It was a very hard time and we did the album at least partly for the wrong reasons. Mainly we felt we had a lot to prove I think. To others of course, but even more so to ourselves. We needed to know we were still a band.
That said, I think big parts of Hey Trouble are really quite good, but it's still unnerving to listen back to it because I know what a sad and trying time it was. Everyone pretended it was all fine but of course we mourned losing Victoria whom me and Maria had been friends with since we were kids.
For me though the same goes for In Colour before that, which in many ways is the saddest album we've done. It became very clear whilst we recorded it that things would not continue as before… We did a good job disguising it in flutes and handclaps and flowery 70s-fabrics but it was anything but easy when we recorded it. It still makes me sad to listen to it.
So Victoria's decision to leave the band had already been made during the recording of In Colour?
It wasn't something that was talked about but it was something that you could feel in the room. It was very obvious she wasn't enjoying herself. Which of course meant no one was having much fun.
Hey Trouble! must have been a difficult record to make. When Victoria left the group did any of you think of splitting the band up completely – or, was it a totally natural decision to carry on regardless. Onwards and indeed upwards….
I think we knew all along that we'd keep going one way or another. I really see the band as my family. I'm not always crazy about them – and they are definitely not always crazy about me – but I couldn't picture life without them. We did intend to change the name though. Up until the very last minute. In the end we didn't because it just felt too weird. Much like when you run into an old friend from school and he used to be called Thomas and he just says I am called John now. It's a little spooky.
Now that time has passed and you've both found peace in your respective creative paths, is the past now all water under the bridge – or does it still hurt to think about that time of the bands career?
I think it's very sad what happened but at the same I knew all along that her leaving the band was the right decision. And I am really happy it worked out so well for everyone in the end. Even if it was an unpleasant process.
WYWH is very much a disco infused record. However, on repeated listens at its core there is a sadness that exists deep within the music. Are there any specific lyrical themes that run throughout the record?
I think the lyrical themes are summed up very neatly in the album title. It's about love and loss, love and longing. And all feelings related to that. The feeling of "is this it", "there should be more"; of "I bet he or she has an easier life" and "if only I had this" or "with him in my life things would be different" and also… "I could really use some sun", etc.
I find I get more melancholic with each passing day and I wish that wasn't the case, but I also realise more and more that all people walk around in their own little vulnerable bubble thinking everyone else has got it all figured out. And there's something very comforting in the impossibility of that equation. We're all too smart and too stupid and far too sensitive for this world.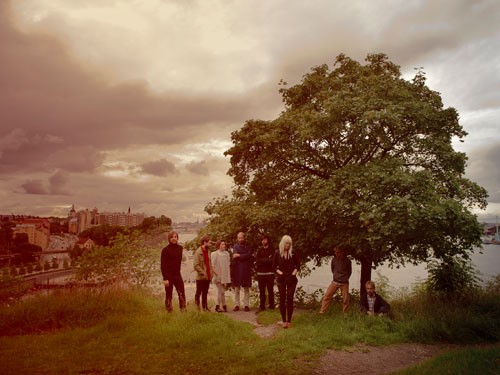 Did you intend for people to refer to the record as "Wish You Were Here", or did you purposefully leave in the initials to leave it up to the listener as to what it could mean. "Wish You Were Him", for an example.
I refer to is as the initials and for the very reason you mention. I wanted to leave room for "Wish You Were Him", "What's Your Waist and Height" etc. I also think it looks very photogenic that way and I like that you have to stop and take it in, not just read it and keep walking.
You really seem to have found your voice on this record. Perhaps I'm right in thinking that Hey Trouble! was you dipping your toes in the water and WYWH is you immersing yourself fully in the role of front-woman… Stepping out from behind the drum-kit and into the limelight must have been a pretty intimidating experience?
Yes, I'd say the first year of doing it is not something I would recommend. I was terrified most of the time and also, because of the circumstances, I felt really cornered. It felt like I had way too much to prove to way too many people. Then I think I realised all I can really do is try and be true. It sounds incredibly clichéd but I don't really know how else to put it.
It's also a very interesting experience to get to know your voice. You use it every day, to buy milk, ask directions and tell your wife about it but it's not something you're in control of really. It's just kind of there and gets the milk bought if you don't pay any attention to it…
When the Concretes aren't writing/recording/touring – you also perform songs under your own name: Milberg. Can we expect an official solo release once the promotional duties of WYWH are over, or is Milberg more of a personal, fun thing to do?
I do intend to put out some Milberg-music but I haven't found anyone I wanna work with yet. I need a wonderful guitarist with good hair, a drummer who can hang on the beat and a producer who stands to the left, can turn water into wine and hear the sweet sweet music in my mind.
You had your album launch party in Stockholm last week, how was it?
It was marvellous! Packed full of charming folks and free amber-coloured cocktails served in old Champagne glasses that I had the bar hire in especially. We also covered the place in really beautiful bouqets of huge green leaves and exotic flowers in red and pink. I was very happy. And then we played a short show, all stood in a long line on a very narrow stage. Someone said it was like watching a live Concretes cartoon strip.
You split your time between London and Stockholm. What is it about London that made you think "yeah, I could live here".
Hyde Park and its dogs. Barrafina on Frith Street. The 50p coin. The dirty pink sky. Daunt Books. The word sorry. The foxes. Tesco's atlantic blueberries. Cay Tre on Old Street. Tricker's on Jermyn Street. Dry Martinis when they are really good. The wren outside our kitchen window. Liberty's. Tate Modern. The Comic and Book Exchange by Notting Hill Gate. My friends. Regent's Park's Rose Garden. The fact that Brian Eno is my upstairs neighbour.
Having never been to Stockholm but loving so much of the music that comes out of the city, and indeed Sweden as a whole – give me a potted guided tour of your city… Where would we start?
Oh man! I can't believe you've never been. This needs to be corrected. Stockholm is gorgeous. Let's pretend it's summer (something I always try to pretend either way): we'd go swimming in Hornstull, jumping off that big tree that bends down over the sea. Then we'd play scrabble in the grass and drink some not so alcoholic beers. Then we'd cycle to a cliff somewhere and invite some people round for a barbecue. Then it's a matter of picking which part of town you wanna be in: Babylon, Snotty's or Indigo for drinks if we're over south and Riche if we head into central Stockholm. Either way it'll end right where we started: with a late night swim in Hornstull. Repeat til summer's over.
There is also Louie Louie if you wanna be served coffee by our drummer Dante and there is Svenskt Tenn for all the glamourous gifts you wish you could afford to bring back with you. I could go on for days, Stockholm is really something.
And if you head up to Fåfängan (It means literally "The Vanity") you can find the very tree that graces our album cover and take in the most stunning view of Stockholm ever.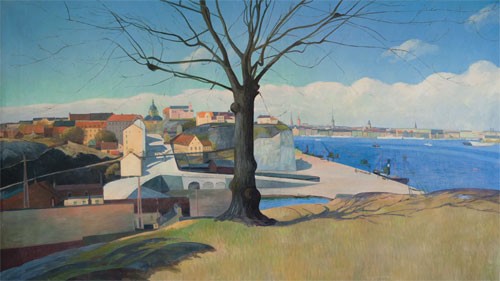 Sounds pretty perfect! I'll get straight onto Ryan Air… The album art is indeed very striking. Who created the wonderful painting that adorns the cover?
It is a painting from a century ago made by Swedish artist Arthur Bianchini. It's hanging on my mother's man's wall. I asked all my friends to send me Stockholm-related stuff because I knew I wanted Stockholm represented on the cover. My mom sent over a bunch of pictures including one she'd taken of the painting. The moment I saw it I knew it was perfect. It feels like we could have made the album with the painting in mind.
You were recently asked to play in China – that must have been an amazing experience for you guys. The Middle East is known for its crazy fans – I'm imagining you were treated like The Beatles upon arrival?
Well…. We're all very into food and seeing new places so we were so excited to get to go. But sadly we were there so very very short and we stayed in a hotel in the outskirts of the city, to be close to the festival we played, so basically we spent 90% of the time in our hotel suites and 10% on stage. Not by choice obviously…
We did have time for one amazing lunch at one of those big round tables with a spinning middle section filled with really wonderful food. The rest of the trip was spent in our hotel suites watching TV series on laptops (Thank god we brought our own entertainment, their internet is really very boring) and trying to track down coffee.
I posed for a lot of pictures though but I think it might have been more down to the fact that I stand out quite a lot in Beijing… If I was in a witness protection program I'd go some place else…
Anyways, next time I'm hoping we get to stay a little longer than 32 hours.
WYWH is being released in the UK via Something In Construction. How did that relationship come about? They have pretty good stock with great Swedish pop acts – Loney Dear, Air France and most recently Niva. You're in very capable hands it seems!
We were first introduced at Wichita and Moshi Moshi's Christmas party I think. And then, sexily enough, Twitter might have played a part… (I think of my grandmother when I say things like that, she'd be very confused). And then one day we met in my living room and talked about David Bowie and took it from there. SiC is like EMI inverted and I obviously mean that as a very good thing.
I remember at the start of the year during a DJ set at The Social, you turned me onto Millionyoung and Frida from Abba within a matter of 10 minutes. As a lady with exquisite taste in music, what are you currently enjoying that you can recommend to our readers?
I'm all about tempo. At the moment I'm very confused cos I find myself drawn to faster songs. I've always been a "Bee Gees Love You Inside And Out" type of person. The perfect bpm. And all of a sudden I'm looking for songs that are much faster. 'Johnny And Mary' by Robert Palmer is my perfect tempo at the moment. I'm assuming this is a fleeting thing because it really makes you a little nauseous when you think about it, but at the moment that seems to be what my ears are after.
Having said that I really love James Blake, Idiot Glee and How To Dress Well, all of which are typically quite slow. Also love the Spectrals EP, anything Robert Wyatt touches. And Frida from ABBA still. She's my favourite of the ABBAs.
Aside from music, what are your influences? What inspires you on a day to day basis?
I'm a big fan of words and I collect them in little books. I tend to forget what I've quoted, stolen or made up though so we'll see how that goes.
The rest is summer, love, friends, food, driving and wine. (To be mixed with caution!). Probably the most common themes imaginable and still they occupy my mind every day, all of the time.
What's your favorite lost tradition? Something people don't seem to bother with anymore or that you think is too easily forgotten because of modern life?
Baking bread. Our oven is broken so I blame that but I didn't bake once in the ten years before that when the oven was fine. You can't beat home-baked bread. Also I wish people would walk more. It's saved me from insanity more times than I can count.
What does the imminent future hold for The Concretes? You're coming to the UK soon, right?
If we stay on this side of the year the imminent future holds shows in Scandinavia, UK and Paris. Also we really should clean our studio in Stockholm some time soon. Which is another thing that made me think "Yeah, I could live in London".
And finally, describe your perfect day from start to end.
Coffee, poached eggs. Long walk somewhere on my own. Sit in the grass and laugh at dogs and make notes. Bus it back home via somewhere where I can buy hosiery or lingerie (big fan of all things boudoir but hate "real" shopping or going to more than one shop). Nap! Fish taco dinner with Corona. Margaritas to follow. If I am going out I wanna be DJing because I want to pick the music and also I get very shy if I have to mingle.
But I'd just as well stay in and watch Masterchef on TV with my husband.