The idea of a difficult second album is a notion that hangs over many bands like a Sword of Damocles, threatening to dump a writer's block at any moment, but not much is said about the trials and tribulations of the third. A little over two years ago, Midlake arrived home in Denton, Texas, fresh from touring the world with their much-loved, breakthrough record, The Trials of Van Occupanther, intent on starting work on their follow up, but quickly hit a brick wall.
"In the first year after we'd finished touring, we recorded a whole bunch of stuff but not a single song that we wanted to keep for the next album," says McKenzie Smith, the band's drummer, "it was a really difficult time. After working very hard for a year and still not getting anywhere we were all starting to ask ourselves, 'man, are we even going to be able to do this?'"
"Eventually, after literally a year of nothing, we started working on a song called Acts of Men," (aptly the first track on the new record), "and after that, the whole album came together pretty quickly. It only took us a couple days to get the whole song finished and it really set the tone and the mood, like a benchmark for the album. We all felt like – ok, we've found it. This is what we want to do. Let's make an album now. Suddenly it was all pieced together in the right way. Everything about that song gave us hope, and a sound to aspire to for the rest of the album."
What followed was the writing and recording of Midlake's triumphant third record, The Courage of Others. A sensitive, pensive album, it sees Midlake shrug off the Fleetwood Mac and Neil Young comparisons and swap them for another set of influences entirely; a distinctly old-English tone; organic and folkey.
"Tim really appreciates things from an older time, maybe a simpler time," McKenzie says of the band's song-writer and lead singer, "his house is filled with really cool second hand furniture and antiques, and musically he was very obviously influenced by British folk of the 60s and 70s. We were trying to create something that had that feel – not a direct carbon copy but something that was openly influenced by that time and place."
"He writes music that's directly inspired by what he likes, what he listens to. After Van Occupanther we were expecting to continue in a similar vein, when all of a sudden he stumbles upon vinyls of bands like Fairport Convention, Steel Eye Span and Amazing Blondel and The Incredible String Band and we never looked back. Suddenly he was writing in a totally different style."
"We're certainly not trying to do anything that's not real or forced, but it's natural that you become influenced by things as you're growing older. That's just part of life and as musicians we're changing too. Ten years ago we were listening to very different bands to the ones we are now, and I wouldn't be surprised if the next record has an entirely different feel to it because something new inspires us."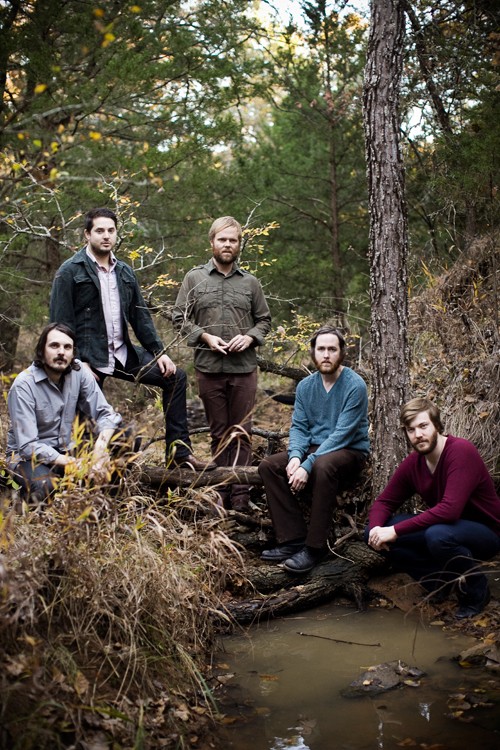 Listening to Midlake, it's clear that they're not a band who feel pressure to write cutting edge, innovative music. Their songs are comfortable referencing the past and reveling in the achievements of others, offsetting any over-reliance on influences by stamping their subtle trademark sound all over their songs.
"We're certainly not trying to find some brand new undiscovered genre of music that's never been heard before! That's almost impossible to do in this day and age because everybody's already recorded almost everything, so we're just trying to find music that we like and then make an album that people really want to listen to. Right now a younger generation probably don't know about a lot of the 60s folk bands, so if they enjoy our record maybe that'll help them to discover more music in that vein, that would be cool."
And it's not just the influences and tone that lend Midlake's second and third albums to sounding like very different beasts. The band have toyed with ideas of narrative and story telling, resulting in a record that's coming from an entirely new perspective. Gone are the mythical characters of Van Occupanther, the troubled scientist, and Roscoe, the pedantic craftsman, favouring a much more personal lyrical approach.
"There's no doubt that the lyrics have changed into first person," says McKenzie, "it gives the music a different feel to the story telling of the last record; there's a more complex element involved. The lyrics of the new album have more weight."
"Any time you say 'I' instead of 'he' it really it puts yourself out there. You're wearing your heart on your sleeve and it makes you more vulnerable. When you're telling a story, you say 'this guy really feels this way' but to say 'I feel this way' can only be a positive thing because you're letting people connect to you on that level."
Stylistically, The Courage of Others has an autumnal, fluid tone and retains Midlake's organic, holistic approach to recording and production, leaving rusty guitar slides exposed and letting the heavy strings ring out as nature intended. As with their past work, it's self-produced, but this album found the band in a "proper" studio for the first time.
"We made the first two records in the living room of our house. We all had day jobs back then, so when we finally got our own studio and quit our day jobs it felt so weird to leave the house to go to work to make music. The first album (Bamnan and Slivercork, 2004) feels like a lifetime ago."
"The press and fans always say that we spend too long between albums but it couldn't have been any other way. I guess some bands pop out records once a year, but that doesn't allow for much of a journey. There's no way we could be the kind of band who quickly write album after album, the journey is too important."
The Courage Of Others is released via Bella Union on February 1st. Download one of the albums standout tracks "Rulers Ruling All Things" below.
mp3:> Midlake: "Rulers Ruling All Things"