"I don't know what question I'm answering now, I'm just babbling on," laughs Fyfe Dangerfield, sitting cross-legged in his dressing room at London's Scala, staring at the wall as he muses about the English music scene. Dangerfield is playing his first big show in London since the release of his debut solo album, Fly Yellow Moon, and is understandably nervous. The album, his first in over one and a half years, has received its fair share of decent press in this country, but later on, when he teases the audience – "I bet you're dying to hear the top 200 single!" – it becomes obvious that he is completely aware of the difficulties of staying relevant in a culture where fleeting, X-factor fame seems to be more appealing than genuine artistic merit.
"I haven't thought of it ever being damaging to the culture – I haven't really thought of anything in those terms – but I think it's definitely interesting how in different times, different places, how an album like this would be perceived as much more alternative in America than here", notes Dangerfield, on the success of artists like La Roux and Florence and the Machine, who are ever present on the radio and somehow deemed the most forward-moving of artists by the mainstream media. "It's kind of weird. When Guillemots first came along, we were constantly getting all these things saying, "Quirky bunch of people because they use typewriters!" It got on our tits, the whole quirky thing, because we didn't see ourselves as a quirky band. It was just because we all really love trying to make things sound a certain way and obviously you've got more chance of making something original if you look to slightly less normal instruments."
Things have changed a lot in four years though, and Fyfe has inadvertently adjusted his style to remain on the other side of the trends. "At the time, the response was just everybody going on about this quirky thing and now it seems to have changed a bit and it's pretty expected, almost. Every other band has a string player or a brass player, or there's people like Florence, with her harp. It's funny how things change like that. It's kind of ironic because now, with this record, I decided I wanted to set myself the challenge of making something that wasn't really about the way it sounded. Well, it was, in the way that I wanted it to sound a certain way, but that was just a very, under-produced kind of "demo-y" sort of sound, except for 'She Needs Me'. Sonically, it seems like we're in an age where that's sort of the main thing (being "experimental") but I'm absolutely terrible at moving with the fashion, so I've come out with a really traditional sounding record . It just felt like the right thing to do, it's not like I've suddently got bored of making sound-based stuff. I kind of like the idea of doing something either really out there or something that's not quite… it just happened very naturally really."
Although Guillemots received their fair share of radio play (it came as a surprise the other day to walk in on a housemate playing 'Pro Evolution Soccer' with 'Trains to Brazil' blaring behind the commentary) and 'She Needs Me' seems to be in regular rotation on the radio (a walk past Topshop last week was soundtracked by the album's first single) Dangerfield has always expressed an interest in writing universally known pop songs, like Justin Timberlake's 'SexyBack' (which he covered during a BBC radio session in 2006.) "There's not a specific artist I have in mind, but I would just love to write it. I really love that Kelis single that's around at the moment, that 'Acapella' song. It's just strange to me that when you sing, the thing that people focus on most is your voice and the lyrics. I've always just loved songs. It was kind of natural that I started writing songs. Initially, when I was a teenager, I was like, "Oh, I'll probably find somebody to sing my songs. I'll be a Johnny Marr type figure in the background." Gradually, in my twenties, it got to the point where I started getting more confident about my voice. Still, that's not the thing I see myself as doing. I don't see myself as a singer, I just sing my songs."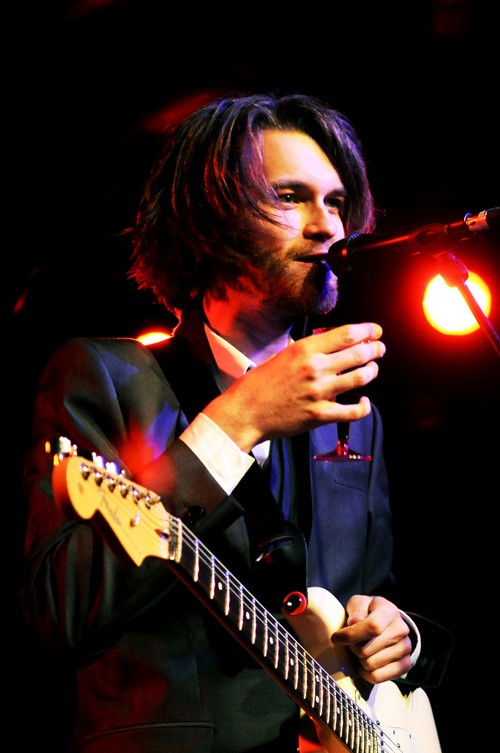 "The way that I sing, the way I write lyrics, it completely puts a different slant on everything. I feel like I've got a lot to offer, musically, in so many different ways. As soon as I put my voice to it, there'll be a lot of people who say the music's interesting but they just don't like that style of singing. One part of me wants to just keep working at this, and keep improving it. I mean, this is the main thing I do. The other part of me says I really need to do some stuff where I'm not using my voice and my lyrics, I need to work with someone else's presence because then you can open up a whole other world of what you do."
Those who have been following Guillemots since their first EPs will be aware of just how prolific they are when it comes to releasing material. Although he finds the process of recording and releasing albums frustrating, Dangerfield admits, "It's not nearly as frustrating as if I didn't have a chance to put my records out." The Guillemots frontman's solo record has long been rumoured, ever since he first played (relatively) large solo shows at the end of 2006, although it has taken a while to finally see the light of day. "With Fly Yellow Moon, I got so used to the mixes that I found mastering quite hard, because it changed them slightly. So I was trying to get that right. It was going to be a bit tight to get it out in time for July so then it was going to be September but the record company said if we put it out in September it wouldn't get looked at because everyone's releasing then, so we just put it back to the new year. So it's weird… most of this stuff is already over a year old. I'm just delighted it's coming out."
Speaking of the highs and lows of recording, Dangerfield is highly enthusiastic about the lesser known songs the band have released. "We always love it in Guillemots whenever we get a chance to do b-sides because it's like, "Great! We can do some more stuff!" Some of the b-sides we've done are our favourite pieces of work. I guess, song-wise, they're not strong songs. In a way though, it's more honest, because the albums are where we were consciously trying to construct something and you're thinking, "I'm going to be judged on this." Whereas with this it's like, let's get a bit drunk and see what we feel like doing."
"Two of the happiest times have been when we were making the first record and we took this weekend in the middle and made that Of the Night EP and then after we finished making Red we had four of five days in the studio and did all the b-sides for 'Get Over It' and then the next single as well. At the time, we thought we'd put out an EP, but then we needed b-sides so it made sense. I've got really happy memories of that. It was much happier than making the album, actually. There's a lot less pressure. I think that probably comes through – to the few people who do hear our b-sides – that we had fun doing it. I hope that comes across."
"There's stuff that we're really proud of on Red, but I think maybe because we struggled making it, you can pick up on that as a listener. I think there's something slightly cloying about it, as a whole. I was really paranoid with this record, when I did spend a bit more time on tracks, because I didn't want to make it start sounding laboured. Five or six of the tracks are just rough mixes from the first week and that's really important to me because there's no fucking with that. It's just – you record something. Let's take a copy home. That's what you use. It's very "true.""
Based on what the band have learnt during their time apart, Dangerfield seems certain the next record will be less of a struggle. "The main thing is that we've consciously really wanted to take our time writing this new record. I mean, we're still writing. We're going to start recording in a couple of months. We've been very aware that we wanted to start playing as a band, live. Just get back to being a band in a room. With Red, we finished touring Through the Windowpane and we had two weeks to relax and then it was like, "Right. Why don't you guys have three or four weeks playing and writing?" Two weeks. That was when we had our own space so the recording equipment was being moved in. Already, within about the third week, we started to record things. That kind of set the tone for the record because we were recording things that we hadn't finished writing. Really, we just wanted a few months away from each other, just not doing that. We had that after we finished touring Red at the end of 2008, and that was when I went and did this. Then January, February, March we had off, and we started again in April."
Having blogged quite a bit during periods of high activity on the Guillemots front, Dangerfield is now a fairly active member of the Twitter community, mostly writing amusing anecdotes rather than using it for promotional purposes (January 16: "just used the fly yellow moon vinyl booklet to check lyrics of a song. that's my bono moment for the day.) "I still feel weird about Twitter. I sort of got joined onto it by my ex, for decent reasons- I think she knew I'd get into it but I'd never join it myself." On the loss of mystery that the website elicits, Dangerfield says, "I think there definitely is some of that. I think the mystery of performers being distant and you not knowing much about them is a great thing, and that has been completely lost with the internet. I also think it's to do with the kind of person you are, because there are plenty of people who do manage to be enigmatic and distant. I always want to be like that but as a person I'm just not. I'm a bit bumbly and I don't know, there's no point trying to be something you're not."
"With Twitter, completely understandably, my manager and my label are like, "Can you just put that the album's out!?" and I'm like, "Really?" I just tend to prefer putting up weird conversations I heard on the bus or something. It's not that dissimilar to when people email you but it's nice, it's sweet, when you've done a gig and look up the next day and ten people have said they enjoyed it. It makes you realise you can get very caught up in your own assessment of the show but people were there and were into it, even if there were mistakes. And that's quite reassuring."
Fly Yellow Moon, the debut solo album from Fyfe Dangerfield is out now via Polydor Records.