Just about top of my list for a good night out, DeVotchKa present an effervescent, eclectic mix encompassing everything from Romany, Greek and Polka to Latino and Mariachi. All this bound together in an American melting pot with punk and romantic folk roots; and played with a combination of reckless passion and top notch musicianship. Delirious joy and sweaty armpits guaranteed.
After last year's album A Mad And Faithful Telling, they're back in the spotlight with calling card track 'How It Ends' being chosen as theme music for the trailer of Gears Of War 2. Games have themes now? Who knew. The same track featured in their breakthrough scoring of the Oscar winning film Little Miss Sunshine. It's been a long journey from busking on the streets of New York and Chicago to a night at the Grammy's for main man Nick Urata. We'd like to think stopping off at TLOBF Towers will be another significant memory in his musical career.

Welcome DeVotchKa.
Hi this is Nick.
DeVotchKa's sound is definitely not the type of music that you would have started out playing when you first picked up an instrument or formed a band. What were the influences along the way for each of you, and what styles of music were you playing in the past?
When I started the band, I just had a vision of where I wanted to go, and in many ways it looked exactly like what we are now, but you are right, I had no idea how to get there, I have always been drawn to songs from other countries and cultures, and I loved rock and roll, but I knew we would get no where if I couldn't sing so that was a big hurdle for me. When I met each member, Jeanie was experimenting with Balkan brass and Victorian music, Tom was trained in the classics but loved the Cure and Joy Division, Shawn was learning Afro-Cuban and mariachi rhythms; so it was a great place to start.
For better or worse, Europe certainly seems much less exotic without Communist regimes only a few hundred miles away from us in the UK, and 'McDonalds and MTV culture' continues to bleed across the world homogenizing our experience and specifically our music. What have you found as you travel – do you fear and/or regret the loss of separate identity that has been the very inspiration for some of your music.
We have been very fortunate to travel around the world with our music, but I'm glad you brought it up, because I find the homogenization very discouraging. I guess The reality of life never matches your romantic expectations. I can only hope that maybe this economic downturn will stop the runaway growth and power of corporations and people will become territorial about their local economies, and thus their uniqueness, But I digress. I can share one experience that sums up the point. We finally made it to Budapest and were led to an ancient cavernous nightclub that had been there for hundreds of years, it was candle lit and just like I had imagined in my wildest gypsy fantasies and what was blaring out of the speakers? 'What's Love Got To Do With It' by Tina Turner.
Your albums usually feature an instrumental or two, and a common characteristic of all your songs is their sweeping scale and intricate musicianship – such that almost any track could be a wordless theme. Do they all start off that way and the final instrumentals are simply the songs that never get matched to lyrics?
We usually know if a song needs lyrics, I like to give people a break from my voice as much as possible. Everyone brings a little something unique to the writing process. We do have a habit of writing themes and forms that don't really work in the traditional song writing sense but it becomes interesting to force them into that mold.
Style, visual spectacle, and theatre are a big part of the DeVotchKa experience. You've even been known to appear in full Japanese kabuki makeup for a Halloween show. Did all this extravagance develop from your stint as the house band for a burlesque show or were supplements to the music always something you wanted to incorporate?
One of the reasons we were picked up by the Burlesque show is we were already experimenting in that area. I always envisioned putting on a circus of sorts. Guess I always thought, even your favorite band in the world gets boring after 9 songs so I wanted to give the people something more to look at. It seemed like such a great opportunity to show case other art-forms. It is also a great excuse to wear your best clothes. We are sort of limited by the space we are performing at but if we have the chance we have incorporated more elaborate acrobatics and visuals.
Also, as far as 'image' goes, just how mad do you get if DeVotchKa is spelt without the capital "V" and "K"? I suppose that's another way of saying "Are you anal"?
I don't care about the spelling.
Tell us how you got to soundtrack the Oscar-winning Little Miss Sunshine. How much work was involved making existing songs fit? At the time you were pretty much touring in a hand-to-mouth existence right? How surreal was all that attention so out of the blue? How was Grammy night for you? Given the cinematic quality of your music, is it the kind of work you would like to pursue further? Anything currently in the pipeline?
It was a great stroke of luck, the directors heard the track 'You Love Me' on the radio. We soon realized that it would be a good match and we started working together. It was a challenge but it was such a thrill to work on such a great film that it was a labor of love. We were extremely under the radar at the time so it was a beautiful thing to be exposed in that way. We just worked on a great film called I Love You Phillip Morris. It will be out this summer. The Grammys was a once in a lifetime kind of experience. We just drank it all in, not just the free booze. The highlight was seeing Gnarls Barkley, sing 'I Think I'm Crazy' it made the hair on my neck stand up, then they proceeded to give every award to the Dixie Chicks, that part was pretty lame.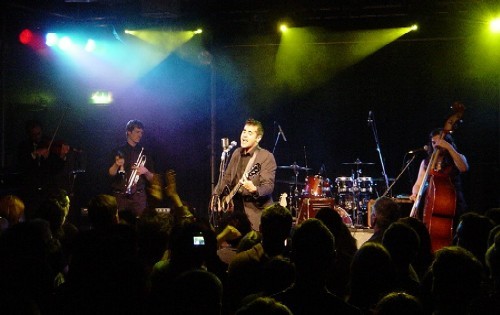 When I first saw you at a 'cosy' club in London, I could hardly believe that I was watching Grammy nominees in such circumstances – is the success of something like that film liberating or can it be daunting as some kind of benchmark to continue to aim for. You have admitted a kind of writers block following the How It Ends album. Do you think in those terms or just concentrate on whatever you're currently working on?
For me it was completely liberating, music is such a crap shoot and I was facing a total failure, so to see it saved at the 11th hour in such a way is amazing, a slice of redemption. I only think about this crap when people ask me, not when we are making music. I just want to keep putting out good tracks that resonate with people.
If I had to pick two words to characterize your performance on stage it would be 'passionately possessed'. What kind of person are you off-stage? Is the famous bottle of wine Dutch courage for a shy man?
The wine is for courage and spirit, I guess I want to be somebody else when I'm up there.
Your lyrics are romantic, heartbreaking, often spiritual, and escapist. Do you ever feel inclined to use your music to convey your ideas on politics or issues in the real world?
Yeah I do all the time and it has a huge effect on the writing, I just try to be a little more ambiguous about it, I decided a long ago that music is a place for me to escape and I definitely want the audience to escape with us. I read the papers and listen to the news everyday. I consider us to be a very informed group of people but I'm starting to think it does more harm than good. You just walk around all day thinking the world is fucked up human nature is never going to change, what good does that do? When I look at my own experience, the only times I felt like all tinglely inside and thought there really is a benevolent spirit binding us together, was at the receiving end of a great record or performance. The last thing I want people to think about when they listen to DeVotchKa, is current events!
DeVotchKa have played with everyone from Belle & Sebastian to Marilyn Manson. Is this another facet of your mentality of not sticking to any bounds in music? What have been the best/worst or most unexpected reactions? Who have you particularly enjoyed playing with?
Early on we had to take any booking we could get, so more than once we were thrown in front of hostile crowds, and much to our surprise music is a force of nature and it breaks down barriers with people, as long as you are being honest, people will generally, give you a chance. One of my favorite times was touring the southwestern United States with Calexico and a 6 piece mariachi band. I grew up in New York so the music and the scenery were so romantic, it definitely had a big influence on us.
Last year you appeared on Jools Holland. How was it for you?
I love that show, although it was quite terrifying, It was our first TV show. Portsihead was standing 10 yards away the whole time, for gods sake, talk about pressure. Then we were told it would be live all over Europe so if you fuck up….. I was familiar with the show through chance reruns on obscure cable channels over here, which is a crime.
What shows and events/locations stand out in your memory? Does that burlesque show work with Dita von Teese feature? Any cases of fluffed notes, dropped drumsticks, etc.? Is headlining Red Rocks a significant notch on the bedpost for any Denver-based band?
Yeah for a young musician playing for a striptease is kind of a dream gig. We tried to play it cool but it wasn't easy. I'm sure we looked like 12 year olds. I used to have a job at Red Rocks where I had to get towels and run errands the visiting rock-stars. So to headline there was an especially sweet tasting gig.
Your covers mini-album Curse Your Little Heart is one of my favourite EPs (of any kind). Again it demonstrates your range – everything from 'Somethin Stupid' to 'Venus in Furs' (a particular live treat). Leonard Cohen's 'Hallelujah' was recently a massive selling single for this year's UK Pop Idol winner in the UK (with Simon Cowell actually owning the rights to the song believe it or not). The consensus is that the vanilla treatment it received devalued the song in a larger sense. I mention this because I heard that when in an earlier band Nick actually opened for Jeff Buckley. Did you have any prior worries about doing the songs you picked justice?
I'm glad you brought that up. That makes me want to puke because nobody ever played Jeff Buckley's version on the radio, I always thought that was a crime. they just kept playing the same crap over and over again , Now you will think of some American Idol douche when you here that song. So yes, a classic has been ruined , for the time being, but, I'm sure Jeff Buckley's version will be rediscovered and adored by our grandchildren.
I would hate to think that we would have the same effect on our covers, but . I was very conscious of that when we recorded those songs and I'm sure some people hate it, but we approached them with great reverence. More importantly, American Idol and an indie EP are two very different species. We only sold like 13 copies so nobody got hurt.
'How It Ends' has been chosen to score the trailer for Xbox game Gears of War 2. You don't strike me as hard core game console types. What's your take on music used for advertising in general? You did once turn down a McDonald's commercial. Where do you draw the line? If such money can help keep the wolf from the door and liberate you to pursue your own goals, plus bring even one new listener to the rest of your catalogue, do you have any cares for or against?
We grew up with video games, I was a fan of the first game Gears of War, it is quite amazing, so this was something I could get behind. Times have changed and we are seeing the Flaming lips with salad dressing, and again, nobody got hurt. You can't really begrudge any band for doing it, You said yourself it keeps the wolf away, Nobody wants to pay for music anymore and I don't want the Flaming Lips to have a day job! So what are you going to do?
Jeanie's biog refers to a stint in a Civil War recreationist band. More details please! Was it the only thing to do with a sousaphone after being in a high school band or you have a real interest in the history of those times? Did the Rebels have all the best tunes?
[Jeanie]: I do have a real interest in the Civil War and this band was one of the only places I could play my helicon, a forerunner to the modern sousaphone. The band (called the 4th Artillery Regimental Brass Band) was one of the many bands I was involved with before playing in DeVotchKa. I played on the Northern side, though we performed music from the era, not necessarily only Northern music. Some of the tunes were played on both sides, but had different names/lyrics depending on the side you were on. I also enjoy the costuming aspects of that kind of band, and can use some of that interest in DeVotchKa. I suppose all the types of music I've been involved with inform my part of the music I play with DeVotchKa.
Tom appears in some sort of caricature summary to me as a slightly dishevelled actuary who has just spent the night sleeping at the crossroads to gain demon violin/accordian skills in return for selling his soul. How or what encouraged you to move over to 'the dark side' after a classically trained start to your musical career? You arranged the strings on the last album. How do arrangements differ live? – I'm always surprised at the seemingly rich sound coming from just four people on stage with diverse instruments – largely I believe because of your contribution.
[Tom]: I've been playing in bands since I was 17. Mostly bass guitar and mostly goth. I used to dye my hair blue and wear pantyhose and shit. I don't think DeVotchKa was necessarily a turn to the 'dark side' for me. If anything, I guess at some point I actually grew up a little. I've got a lot of friends that are amazing string players. It is easier for me to write up some strings parts and call my friends in to play them then the average band guy just because of my history with music school. Likewise, at live shows I've got friends around the country that play in symphonies or freelance that I know and trust. Obviously in a studio you can do over dubs and that sort of thing to get a fuller string sound, there is a lot of control in that environment which is fun to have. In a live setting you have to arrange the parts for a limited group of players due to lack of rehearsal time and finances. There is a lot more pressure to get the written parts right on paper, because there isn't a whole lot of time to fix mistakes on paper when the musicians are seeing the music for the first time that day, you have an hour to rehearse, and you have to perform it in a couple of hours. Luckily they're usually my friends so they're very forgiving.
OK, that's it. There could be a lot more, believe me. Thanks again, and come back to the UK soon.
Thank you for the thoughtful questions.