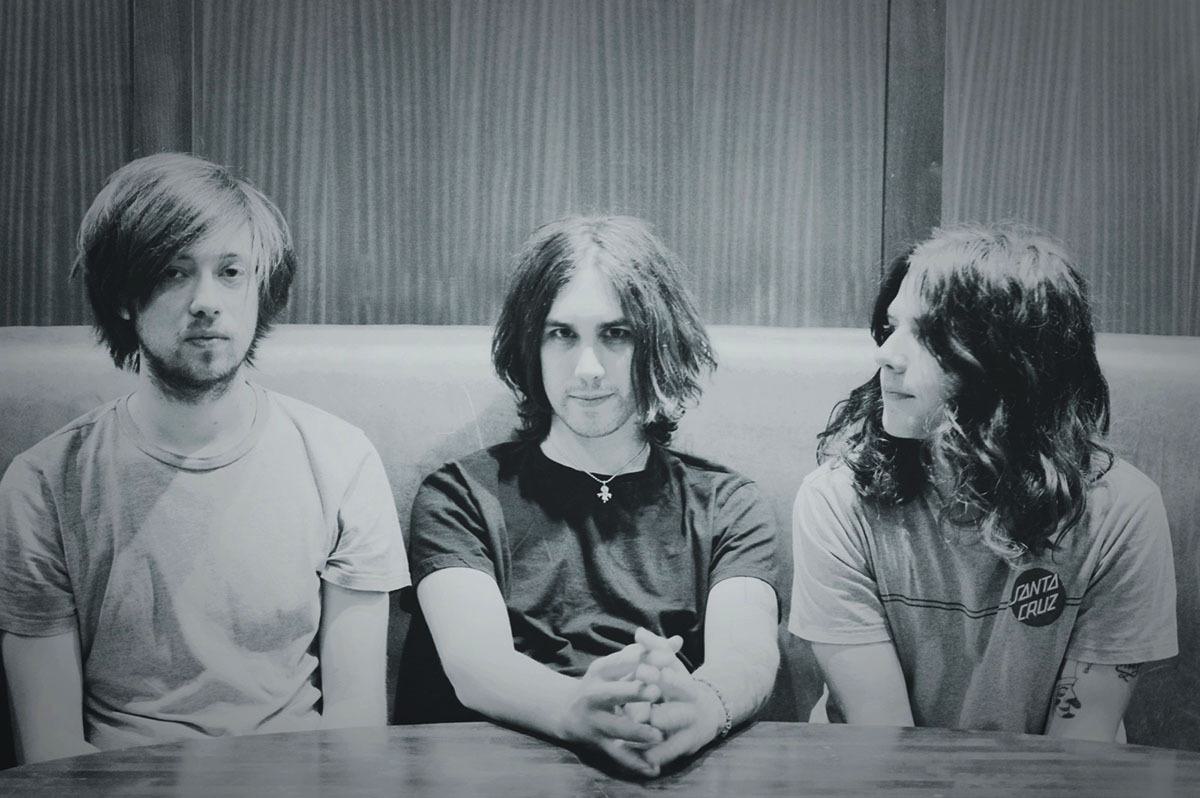 The Wytches: "This is just the sound of our entrance into the music world"
28 August 2014, 09:30
Having been rattling the DIY scene with their distinctive distortion, The Wytches are the latest guitar band on the block. Currently getting familiar with Fat White Family, The Growlers and Blood Red Shoes supporting their joint UK tour, the band have been busy casting their spell far across the county for the release of debut LP Annabel Dream Reader, which dropped via Heavenly this week.
The Brighton via Peterborough trio have made their trademark heavy guitars and raw recordings that go some way to capture the DIY power of their live shows. The live to tape production favoured by the band can't help but transport you to those dark, thrashing toilet venues where only this kind of music can be conceived.
Lauded as being one of the highlights of Reading and Leeds Festival, the band is looking to be the favourites at the End of the Road festival this weekend. But before they fly off again though, frontman Kristian Bell let us in on life on an independent label, being on the road and how their album was recorded entirely on tape in just two days.
Hi Kristian, how did The Wytches come about?
We started in 2011. Our drummer Gianni and I just decided to move to Brighton because there was nothing going on for us in Peterborough. We both upped and went to university in Brighton. We started in the band in Peterborough with a guy called Mark on bass, but he didn't want to move with us so we just went.
Was there much difference between the music scene in Brighton and the one in Peterborough?
Basically everything is different about it really. It's got a culture in Brighton, or several cultures in Brighton, and in Peterborough you are kind of limited. There is not much to do and you are left to your own devices. I guess that can be a good thing but in Brighton you are spoilt for choice.
How did you come up with the name The Wytches?
When we first started we were just called The Witches. I just thought it was quite funny that it was so average. I liked the idea that there were probably a million bands called The Witches. We knew we weren't significant to anyone back then, as we had just started and we weren't trying to come into the music industry with a big bang. We were just up for making music and having a really simple name. It kind of fitted.
Is it true that the Y was added to make your name more easily found online?
We got management and they said if we wanted to get things going a bit more, it might be easier. I liked how it was written down when it was spelt with a Y too. We recorded about three EPs under the name The Witches but we didn't do too much with them. We hadn't amassed a following so we didn't feel it was going to harm us to change it.
You have described your sound as surf-doom in the past, do you stick by that?
You know you get really silly genres like 'moderate-funk', we said surf-doom as it was a really obscure genre and I found it funny. I think people thought I was being serious. The stuff before the album was a lot more thrash. Now it is more rock music or just songs. Songs played in a disgusting way, hard, loud and unlistenable.
What music influences The Wytches as a band do you think?
This sound particularly is influenced a lot by The Birthday Party and bands like that; old fifties surf music too. This is just the sound of our entrance into the music world though. We jam all the time and it's not always like that. This is just how we wanted it for this particular album. I have many influences and I wouldn't want to be one thing. I mean, it will always sound like The Wytches and a lot of noise mainly.
You have an artist called Sam Hull who does all the band's artwork, is that visual side of the band important to you?
Yes it is. Every band needs some kind of visual side to it and with Sam it is always of a good quality. I know he'll come back with something great, which is his own interpretation of the music. It's always his wacky interpretation. He is a really close friend of mine so it always nice to work with your close pal.
How does your creative process work within the band?
I normally record songs at home. I can play the drums too so I can demo stuff myself and then show it to the band. Then sometimes, I won't demo them and leave them guys to add their own parts to it. It is equal parts collaborative as much as it is me bringing it to them.
The Wytches have moved from being on a small independent label with Hate Hate Hate and then moved to Heavenly as you got bigger, how has it been moving on to different things?
It is weird because you get a manager and they are supposed to promise you that there is a record deal, and that is why you are doing stuff. You are always preparing yourself for it and you try to stop that from happening. It is weird; you get in several different mind-sets about being on a label. Sometimes you feel like you've damaged yourself and other times you feel like you've really done yourself a favour by letting it happen. You can't go about it like you used to once you have a record deal. You can't just start throwing out songs to the public whenever you feel like it. That's something we used to like doing. We used to record something and then be putting it out on the Internet but we can't do that now. It was confusing at first because I'd never experienced signing a record deal but we get on really well with the guys we work with.
Lets talk about the new album, Annabel Dream Reader. What's the name about?
The name was just something that I just thought of when I was in school. I used to be into creative writing; where music isn't involved. Where you are just writing for the love. It always stuck with me. I don't know the significance of it. I just knew I liked it and it made me think of certain things. It felt cool for the album.
Is it true you recorded the whole album in just two days?
We knew the songs and they were really old when we went to record them. We built those songs properly from playing them live rather than figuring them out in the studio. Most of them came together in their complete form. It just happened to not take that long at all.
Why did you decide to record it all analogue to tape?
All my favourite bands recorded on tape. We tried recording on digital loads of times before but it just never really worked. Digital is cool when you are tracking everything so you can isolate things and put it together that way but tape for me works better when you do it all live, when everything is bleeding into one another and all the instruments are blending.
Do you think that will that always be how you capture your music?
I can never imagine us doing anything on digital. When we first started it was so much stress trying to get it right. I record on tape myself as well so I am always able to have a hand on approach.
Do you have a favourite track on the record?
There is one called "Weights and Ties". It's the more recent song. A lot of these songs are about four years old now but "Weights and Ties" is a fairly recent recording. It was only a few days old when we recorded that for the album so it has an element of freshness. It feels like a spontaneous thing.
Is there any concept behind the album?
I guess 75% of it is just your average break up stuff. I just happened to be in a position where that happened. There is and there isn't really. You can link the songs. I've spoken to people where they write something, and it is all coming out subconsciously, and then you breathe some meaning into it later on. That is what happens a lot with my lyrics.
It's been a busy summer for The Wytches, what's been the best festival moment so far?
We played a festival in France a couple of weeks ago. The Growlers were on right after us. I am a massive fan so I got to watch them on a huge stage where there was not many people watching. I was right at the front.
Speaking of The Growlers, how is the tour with them, Blood Red Shoes and Fat White Family going?
It is great. I love Fat White Family; they feel like they are doing good things for music. I support them in what they do. They are into playing in a band for all the authentic rock and roll reasons. It is really refreshing. It really went off in Bristol and in Liverpool. Everyone was going mad.
Do you like life on the road?
I do sometimes but sometimes I really hate it. When you aren't in a great place and you are touring, there is a lot to be said about playing the same songs, in the same manner, every single night, for ten months out of the year - it's just weird. We started playing new songs and then we had to stop because it is a bit silly of us whilst we are only just touring our first album. I like making friends with other bands as well though and seeing their outlook on it all. Sometime it just isn't where I want to be. This is the most fun I've had on a tour for a long while though.
The Wytches seem to be gigging straight through to December now, do you know where are you are headed?
We have a few headline shows in October. September is just promo stuff with a few shows in between. In October, we also go to America again. November and December is headline stuff again – we're just generally touring.
Can you give us any hints about the rumoured secret gigs for the album launch?
Yes, plenty of them going around. I don't know what is secret and what isn't though. I don't really get it but we're doing loads of in-stores and some of them are secret and some of them are top secret, and some of them are acoustic and some we won't even be there. Ha. I can't keep up with it. There is a lot going on.
The Wytches play End of the Road festival this weekend. Their debut album is out now via Heavenly.