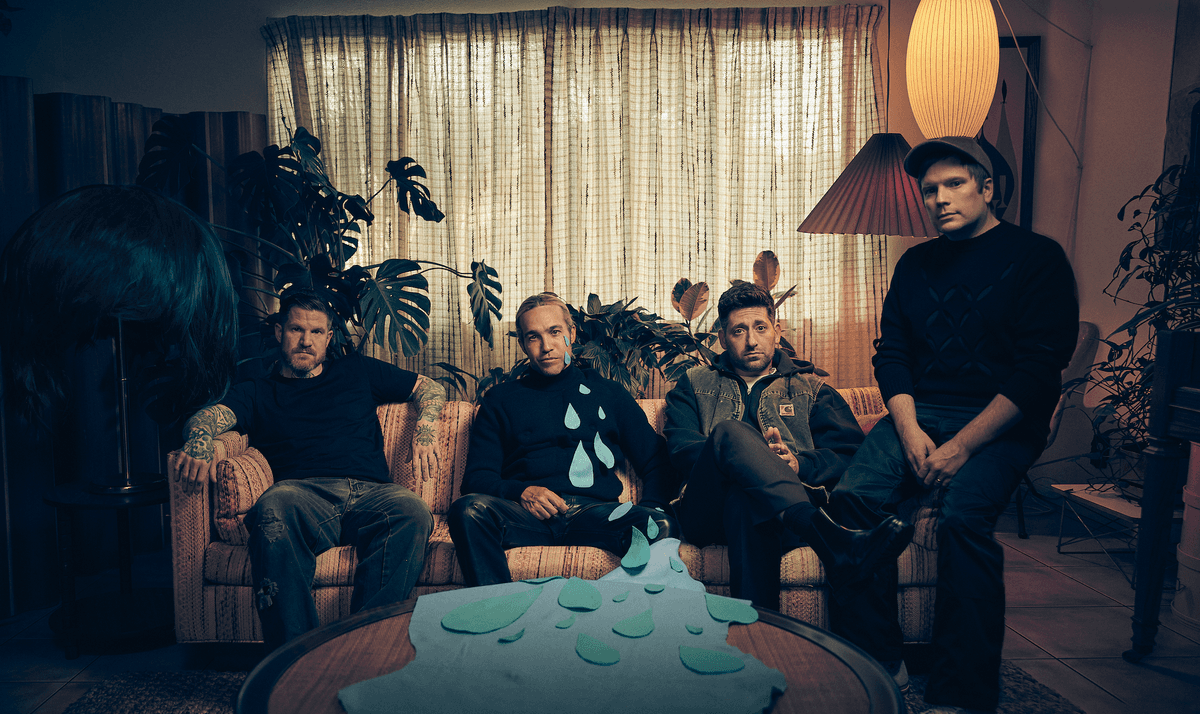 The meteoric restoration of Fall Out Boy
23 March 2023, 09:00
As Fall Out Boy make a long-awaited return with their eighth studio album, the legendary band tell Jasleen Dhindsa about their ambitions for the third act of their career.
In December 2022, Fall out Boy started sending postcards to fans from the fictional land of Pink Seashell Beach, and, in the coming months, the postcards turned into cardboard boxes, containing individually numbered seashells.
A box appeared on the location of the 1989 baseball fantasy movie Field of Dreams in Iowa, with more finding their way to Boston's Fenway Park, London's O2 Arena and Elbphilharmonie in Hamburg. Bring Me The Horizon's vocalist Oli Sykes received one, as did Fall Out Boy's guitarist Joe Trohman, who in January announced his "stepping away" from (not leaving) the band, citing mental health reasons.
The band's lyricist and bassist Pete Wentz was soon revealing in interviews the meaning behind the pink seashells – a quick Google search and you'll actually find the first references of the shells to be in a 2020 interview with NME. The shells were a homage to Ethan Hawke's monologue in the 1994 romcom Reality Bites. Hawke's character explains that when his estranged father was dying of cancer, he gifted his son a pink seashell that was meant to contain life's answers. But upon seeing that the shell was empty, he realised life might be too: 'There's no point in any of this, it's all just a random lottery of meaningless tragedy and a series of near escapes.'
Hawke's monologue appears on the tracklist of So Much (For) Stardust, set against a celestial soundscape that feels moments away from the final frontier of an epic sci-fi film. Even in the lead up to release, Fall Out Boy have been sharing animated movie posters dedicated to various tracks on the album, the work of a band whose visions are just as big as the beloved stories they grew up with on screen, having incessantly embedded pop culture and movie quotes throughout the fruits of their 20 year-long career. With orchestras akimbo and an immensely nihilistic lyricism driving the plot, So Much (For) Stardust is the cinematic unfeigned; defiant, dramatic and all-encompassing. This is Fall Out Boy's falling action, the part in the film where the tensions and conflict have finally started to resolve.
So Much (For) Stardust marks Fall Out Boy's return to Fueled By Ramen, the label which released their 2003 debut full length, the pop punk celebutante Take This To Your Grave. Stardust also sees the band reunited with Neal Avron, the producer of Fall Out Boy's sophomore and generation-defining From Under The Cork Tree released in 2005, as well as 2007's zealous successor Infinity on High, and 2008's polarising Folie A Deux, which ultimately led the band to a four year hiatus.
Having been under contract for their entire career, Wentz explains that the decision to work with Fueled By Ramen came about through him already working with the label via its imprint DCD2, which Wentz co-runs with Fall Out Boy vocalist and guitarist Patrick Stump. "I've seen how they work," Wentz explains, "it's a very nimble pirate ship that does stuff without a lot of red tape. When we got out of contract finally… it just made the most sense. It's back on the label that we did Take This To Your Grave, but at the same time [it's] a completely different label now..."
"To be entirely honest, it's kind of a coincidence that those things lined up," Stump offers, sitting in between Wentz and the band's drummer Andy Hurley in a conference room at their central London hotel. "But I see [that] it's also 20 years since Take This To Your Grave, there's a lot of things that line up that could look [like] nostalgia, which is a concern that I had. I keep saying 'it's not a throwback record I swear!' because I want people to know that wasn't a marketing ploy. The main thing for me with Neal was that he has a very specific style of production, it's very detail oriented and very sound-oriented. Sometimes you'll hear the demos that we did before him, and the first songs that he's done, and they sound remarkably similar, but not as good."
Stump says that he had many palpable ambitions for Stardust, partly in response to the pandemic, but broader in the sense that life was becoming less tangible, "everything is Zoom meetings and NFTs, these things that don't exist in the real world. I wanted to make a record that was very tactile, that existed," he says, and it's a sentiment also echoed by Wentz, who in an iHeartRadio 'Ask Anything Chat' explains that the artwork for the new album features an oil painting and clay font, in light of a "relentlessly digital world."
Neal Avron's approach to the recording process lent itself to the tangibility the band were striving for, "I wanted somebody who had the capacity to mix orchestra, brass [and] synthesisers in addition to dialling in guitars perfectly," Stump says. "Neal is it, I don't know anybody else that can do all those things. Also I just missed him, he's a good friend of ours and we keep in touch, and I've seen him on other projects, but we hadn't gotten to record [together] in a long time."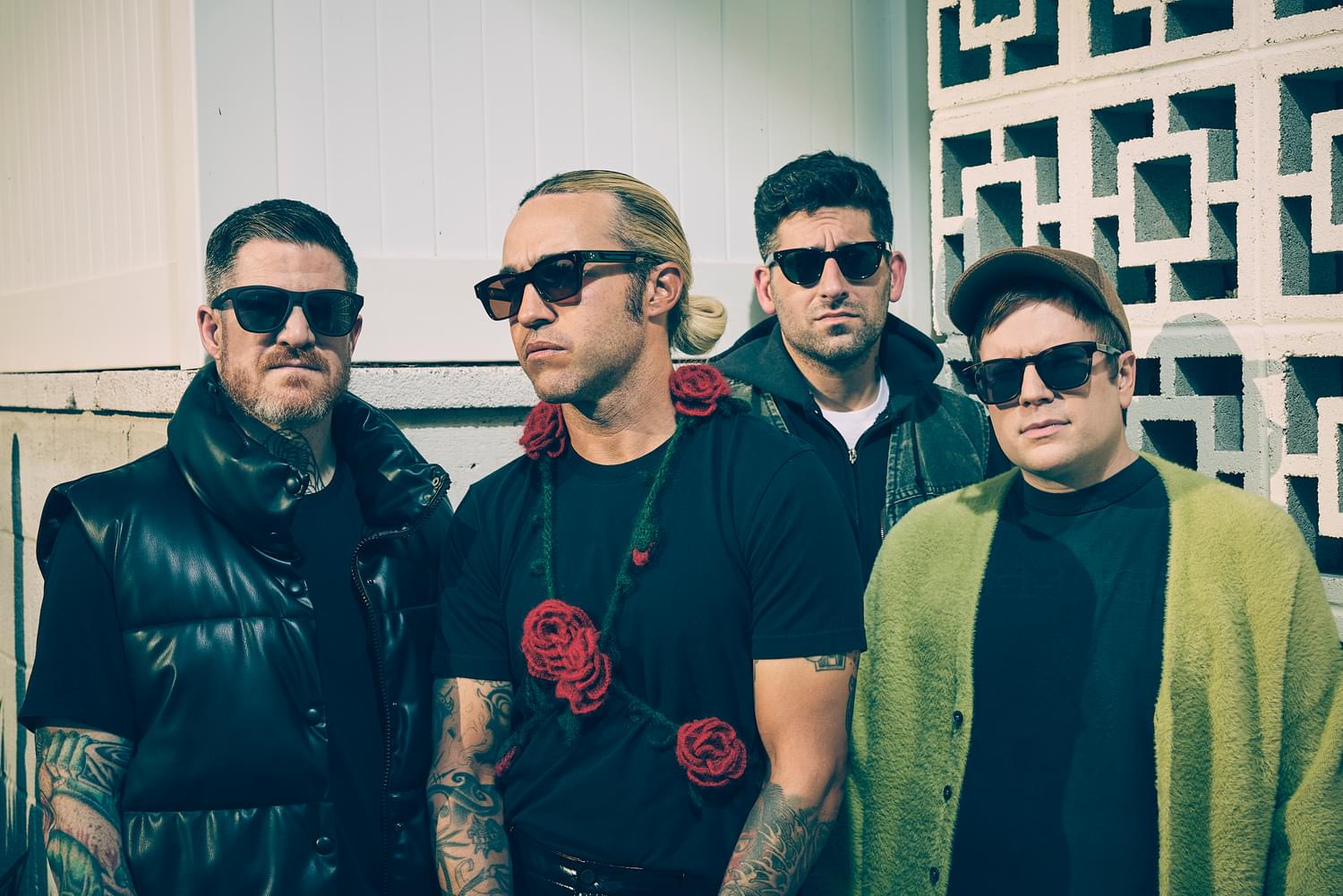 "I was very nervous about recording with him," Wentz quickly admits, "because somewhere in me I thought maybe everybody wants to do a throwback record except for me." After encouragement from Stump, Wentz called Avron, who ensured that the new album "cannot be an old Fall Out Boy record".
"It was a hard sell," Stump follows. "When I was like, 'we've got to go with Neal', I think Pete was like, 'why? Do you want to do a 2003 record?' I'm like 'no, I swear I don't', and then Neal said the same thing. He was also very busy, he's won all these GRAMMYs as a mixer, he doesn't have time for a Fall Out Boy record, so it really had to validate its own existence."
"Make us poster boys for your scene / But we are not making an acceptance speech," Pete Wentz writes on the Jay-Z co-signed "Thriller," the wailing post-hardcore opener from the band's revered third album Infinity on High. Fall Out Boy cemented themselves as exactly that in their pre-hiatus era; as the reigning bittersweet champions of 00s emo, a weighted blanket personified. However, as the plights of fame that Wentz had always detailed in his lyrics materialised, the band went on an indefinite hiatus in 2009. The break saw the members of Fall Out Boy indulge in passions that attested to their varied tastes: Wentz formed the electropop duo Black Cards with a then pre-superstardom Bebe Rexha, Stump bleached his hair and released the Prince and Michael Jackson soaked vanity project Soul Punk, and Trohman and Hurley joined forces with Anthrax's Scott Ian, Every Time I Die's Keith Buckley, and Alkaline Trio's Dan Andriano for the hard rock supergroup The Damned Things. While the band may have been channelling their efforts into artistic creative pursuits, the hiatus proved much darker under the surface. In hindsight, Wentz was battling substance abuse during his high profile divorce from Ashlee Simpson which he spoke with Rolling Stone about in 2013, and in the same interview, Hurley cited the hiatus as the darkest depression he ever felt in his life. Trohman was addicted to opioids which he revealed in his 2022 memoir 'None of This Rocks', with Stump detailing the torments of fame in a 2012 blog post titled 'We Liked You Better Fat: Confessions of a Pariah'.
Excruciating growing pains proved necessary for the band's grand return in the form of 2013's buoyant and collaboration heavy Save Rock & Roll. The record marked a refined, more inoffensive version of Fall Out Boy, and together with the sample driven, crystalline follow up, 2015's American Beauty / American Psycho, the post-hiatus incarnation of the band spawned some of their most successful, albeit commercially, material to date (not forgetting blockbuster features on the soundtracks for Big Hero 6 and 2016's Ghostbusters too). Fall Out Boy regained their rightful place in the mainstream consciousness in the 2010s, outgrowing arena-sized hits in favour of stadium behemoths, scaling up the ladder and shedding the troublesome exoskeletons of their former selves on the way up.
Fall Out Boy's last full length record took the form of 2018's moderately successful MANIA; an abrasive conundrum that had huge choruses, tropical beats and dubstep in a breathless headlock. The album echoed the restlessness of Foile A Deux, and became the most extreme example of how Fall Out Boy had shifted post-hiatus. It's notable then, that So Much (For) Stardust arrives after the longest period in which the band haven't released an album; a year longer than the hiatus. "We finished MANIA, and if Stardust is very tactile, MANIA was the exact opposite," Stump reveals. "Unconsciously, I wanted it to be more experimenting with what you could do with sounds [on] the computer. Andy would play drums and I would cut it up, speed it up, and slow it down in all these really unnatural ways. We did that record and that whole experiment, and I was tapped. I was tired and I didn't want to do a record."
Following a breather, Stump felt ready to commence the eighth chapter, but the pandemic was hitting and Wentz was feeling it. "I was living this weird retired life, where I'm just with my family all the time and I'd do leisure activities. We would do ceramics, and I was like 'maybe this is just what I'll do the rest of my life', because it was living at 50% speed with a lot of happiness, a lot of joy…it really just needed to lead from the songs, and so Patrick sent some that were just really good, and really compelling, and that's what got it going." Nodding in agreement, Stump continues "it had become this thing of trying to make something that got everybody out of bed. That got everybody to want to do it."
Read the fan forums, Twitter threads and YouTube comments regarding Fall Out Boy's return and latest singles "Love From The Otherside'' and "Heartbreak Feels So Good", and you'll be flooded with thoughts on how the band are returning to their roots. It's a feeling only exasperated by the group working with their previous label and producer, and open letters they've been sharing on social media, embossed with A HOMEBOY'S LIFE, the name of Pete Wentz's personal blog that hasn't been active since 2016. Nevertheless, to call So Much (For) Stardust a homecoming is a lazy dismissal of Fall Out Boy's post-hiatus work, the undeniable abundance they achieved during this time both personally and professionally, and discredits the wider picture and scaling of the mountain they are still very much climbing.
So Much (For) Stardust is the result of an arduous journey, a complex listen that inflicts dynamic, theatrical and intense production values onto power pop and symphonic rock. The latter stylistic approach is the newest custom, appearing on "Heaven, Iowa", an astronomical piano ballad that transforms into a stadium rock purging, "I Am My Own Muse'' which twinkles behind a Danny Elfman-esque orchestra (Wentz has a The Nightmare Before Christmas tattoo sleeve), and the real show stopper of the album's title track. It's possibly the most ambitious song Fall Out Boy have ever released, feeling almost akin to trip hop in its brooding intensity, but evolving into something incredibly monumental and tumultuous. So Much (For) Stardust is the sound of a band detonating their imagination into a universe uncharted.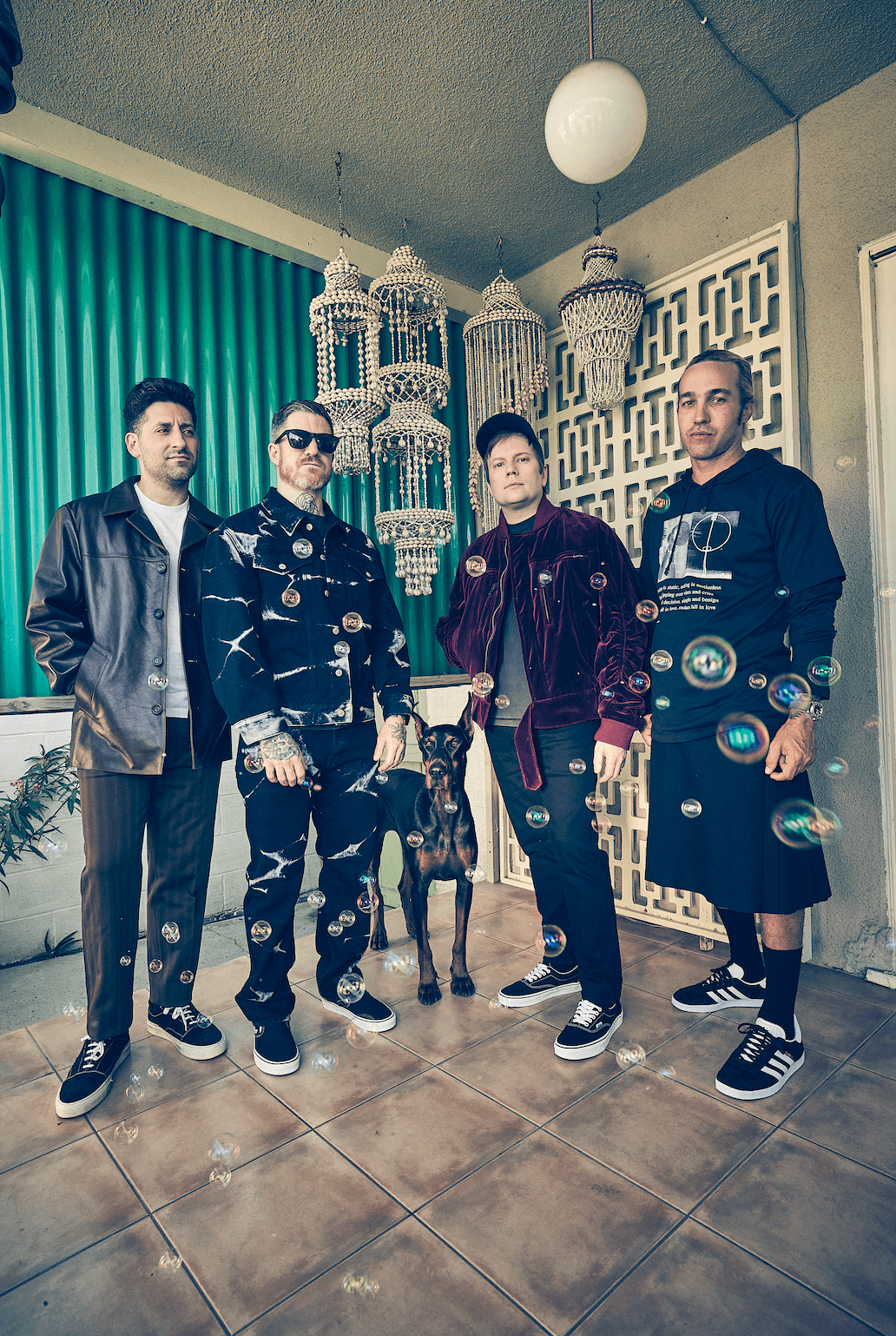 Having come so far from their beginnings in the hardcore scenes of Chicago to becoming a GRAMMY nominated, multi-platinum selling band with worldwide chart topping albums, the legacy of Fall Out Boy is searing, branded onto the hide of alternative rock music in the 21st Century and uncomfortably so for both artist and audience. Wentz's lyrics on So Much (For) Stardust are a testament to the uneasiness, steeped in a type of suffering that is no longer bitter or begrudging like his pre-hiatus work. Instead, he is finally getting to grips with life's flaws and fate, through a type of nihilism that can only be exacerbated by his lived experience under the very watchful eye of the world's stage.
Wentz's lyrics have always brimmed with metaphors that are both elaborate and direct, often in the same song, providing comfort over resolution. They've moulded Fall Out Boy songs into fables for lost souls, inadvertently cementing the band as a lighthouse for whoever gets drawn in. In a 2019 interview with Zane Lowe, Taylor Swift stated Wentz was her favourite lyricist.
Today Wentz is a far cry from the side-fringed, eyeliner wearing teen idol of the mid '00s, whose face was plastered across Tumblr and tabloids alike. The once blinding beacons of fame have muted themselves into the refined glimmers of an ordaining rock star; he's now 43, with poker straight bleached blonde hair and greys crowning through. His California glow and chunky platinum rings detail "P" and "W", signifiers of the L.A life he leads, in contrast to the more bashful Stump and Hurley who are sitting to his left.
Detailing the origin of the grand existentialism explored onSo Much (For) Stardust, Wentz makes a comparison to Infinity on High: "I feel like [on that album] we wrote a tonne on 'this is all blowing up, but we're not these people, but we're living this'. I was like, fuck..." he exasperates, "when I look back on those lyrics, I'm like, 'are these relatable to anybody?'"
Wentz refers to Infinity on High as So Much (For) Stardust's companion record, as both retain a "bombastic cinematic quality" as well as a feeling of overindulgence in the lyrical outpouring. "[On Stardust] I [wanted] to dig in, because Neal was like, 'what are we writing about?' He looked in my soul and was like 'what is this?'"
"I feel so much dread, every day…." Wentz admits, and you can hear the ache in his voice. "Like when I think about not existing, and I think about the idea that my parents look like my grandparents, and my kids look the way I look when I think about my family, and the way we're just slowly all marching to the inevitable, so what's the point of any of it? I really wanted us to dig into that, and the loneliness that you feel as an adult, and the sadness you can feel as an adult. There are people there to comfort you, but not in the same way as your parents, when you fall asleep in the car and they carry you in like your bodyguard…" Jumping in, Stump notes "no one has the power, it's impossible, that thing of 'you're okay'. There's nobody. Now you're the guy, you're the person."
Wentz continues, "there's a little trepidation because I don't know if it's relatable to people. I guess a lot of people have similar feelings of dread, but some of it's a little specific, and some of it feels like…not a sadness of, this person broke up with me, it's more general. Neal, Patrick, friends of mine, have been like, 'that's what you need to write about, because that's what you feel about, so that's what it should be about,' facing all that shit you don't have the answer [to] feels a little weird to do."
"I never thought of this until you just said that," Stump remarks inquisitively to Wentz, "but on… Cork Tree, I had famously…I didn't know how to sing and I'm also singing somebody else's lyrics, so it's very mushmouth. It's very unintelligible listening to me sing, you don't always know exactly what I'm saying. Around Save Rock and Roll I had become very self-conscious of trying to be as intelligible as possible. I wanted to pronounce, I wanted to enunciate everything very clearly. As a function of that, everything got short, and I would take Pete's shortest and quickest thoughts and make them as succinct as possible, and I think to some positive effect there's some songs it works on. But as part of that, I shaved off a lot of his content, a lot of who he was. Possibly a lot of who I am too because I didn't really get to find those melodies when you're playing with two words versus 12. I think it's a similar thing, you were worried about 'well is this relatable?'," he turns to Wentz, "it's like no, that's the thing. It's more relatable because it's so specific, it's more intelligible because it's unintelligible. Maybe I should have just let that happen," he sighs.
So Much (For) Stardust contains some of Pete Wentz's greatest lyrical work to date; his entrenched-in-the-psyche parables have been deepened by biblical recurring themes of apocalypses and treacherous weather. "I spent ten years in a bit of a chemical haze / And I miss the way that I felt nothing", he writes on the defiant and saccharine "The Kintsugi Kid (Ten Years)", and "I dont have the guts to keep it together / Stuck in the permafrost" on the album's title track. Though the record capitalises on gloom, there are moments of humour on Stardust, as is characteristic to the band. On the brazen swinging head spin "So Good Right Now", Patrick Stump sings the title over and over again to the point where it becomes manically ironic.
Stump, who in recent years has been establishing himself as a composer for film and TV, has always been the catalyst for Wentz's lyrics. Once the awkward whizkid of yesteryear, he's still got the dorky charm that humanises his incredible virtuosity now fully fledged. Stardust is his most ambitious creation, and it's appropriate that the scale of the lyrics on the record are mirrored by the sonics, as Stump confirms, "when I'm reading these lyrics of Pete's, [I think] what does that make me hear? And how big is that sound? When it's massive, I want it to be massive, I want it to be literal mass, I want to take up a whole concert hall. It needs to have that grandiosity that you're not going to get from a guitar."
"There's parts on the record that are fairly stripped down, but I let the lyrics lead when I compose for the band. What I'm doing is passively reading Pete's lyrics and seeing what I hear," Stump says, before hesitantly disclosing the role ADHD plays in the composition process. "Part of [ADHD] is that you don't really get to control what you focus on. I can't read novels because as I'm reading, I'll read a paragraph and all of a sudden it takes this different shape, all of these ideas come at me really fast. It says one word and it reminds me of all these things, it cascades from idea to idea. It happens to me every time, and I'll have to read that same paragraph 12 times before I actually retain the information. When I read Pete's lyrics, it's all music jumping at me. It just writes itself [and] that really dictated the sound to me [and] all of it."
I ask Wentz, Stump and Hurley if they found So Much (For) Stardust to be an easy album to make, to which Wentz reflects on the more difficult creative periods the band has experienced. "The process of MANIA reminds me a lot of Folie" he admits. "There was a lot of frustration. Frustration where we'd backed ourselves and been backed into a corner where there weren't a lot of bands in the pop culture scene in America, and worldwide. We felt like we were barely surviving, and then we made this really frustrating record. Folie also felt like a kitchen sink record, where we kind of did everything, but there was a lot of frustration there too, artistic frustration. Once we started making this record, it was a very easy record to make, there was not a lot of frustration…"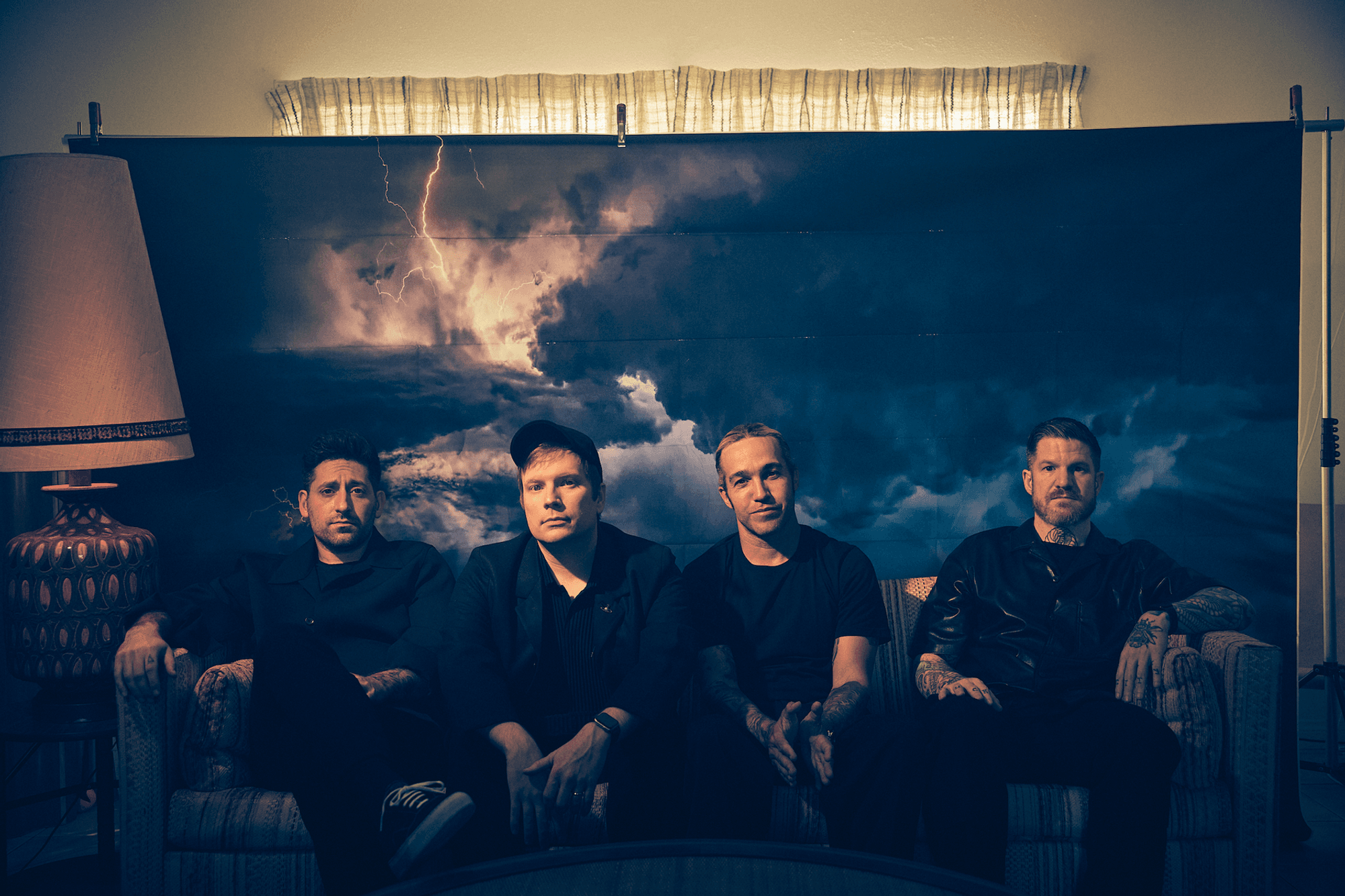 "You know what it is?" Stump interjects," Folie was, you go on a family vacation to Hawaii, and everyone fights the whole time and it's kind of a nightmare and a disaster. Then you go on another family vacation to Spain, and everybody fights and everybody's miserable, and that was MANIA. You're like, 'oh well maybe these places are cursed'. Then you look internally, and you're like, no, maybe we carry that with us everywhere. Maybe that's what that was, maybe we're the problem. So you talk it out, you figure it out, and then you go back to Hawaii and you're like, 'this place is great, this is really pretty!' That was Stardust, that was going back to that place and actually being present to enjoy it. Literally that place, we went back to Neal's studio, it looks exactly the same, the upholstery is in the exact same condition, it's the exact same room. It was like no time had passed, but we as people were completely different."
The week before the release of Stardust saw Fall Out Boy play two underplays at Manchester's Band on The Wall and London's Heaven, with Wentz hailing the UK as "somewhere that's always felt like a second home." During the shows, Fall Out Boy played fan favourites that had not existed in the live space for years, including "Headfirst Slide Into Cooperstown On A Bad Bet", "Hum Hallelujah" and "Chicago Is So Two Years Ago". Even arena post-hiatus crowd pleasers "The Phoenix" and "Uma Therman" grooved in their own way in the smaller space that they were not written for.
Having witnessed Fall Out Boy during the HELLA MEGA stadium tour (which they embarked on with Green Day and Weezer in summer 2022), the Fall Out Boy on stage at Heaven had cracked out of their default and bored stadium poise. Here, they are wholly at ease, obviously grateful for the rare moments like these in which they can play a venue this small. Wentz's smile beams throughout the set, and the band exude genuine happiness.
The setlist for those shows exemplified the contrast between pre-hiatus and post-hiatus Fall Out Boy. "We think about it in these two completely separate tabs," Wentz says of their careers, "sonically the world had changed. We kind of grew up…"
He continues, "[During the Heaven show] we went from [2003's] 'Calm Before The Storm' to [2013's] 'Light 'Em Up', and [going] through those songs I was like 'this is bananas', because they're so different, but live we can make them kind of similar. I think on this album there is an attempt to marry those two eras, because we've never done it before."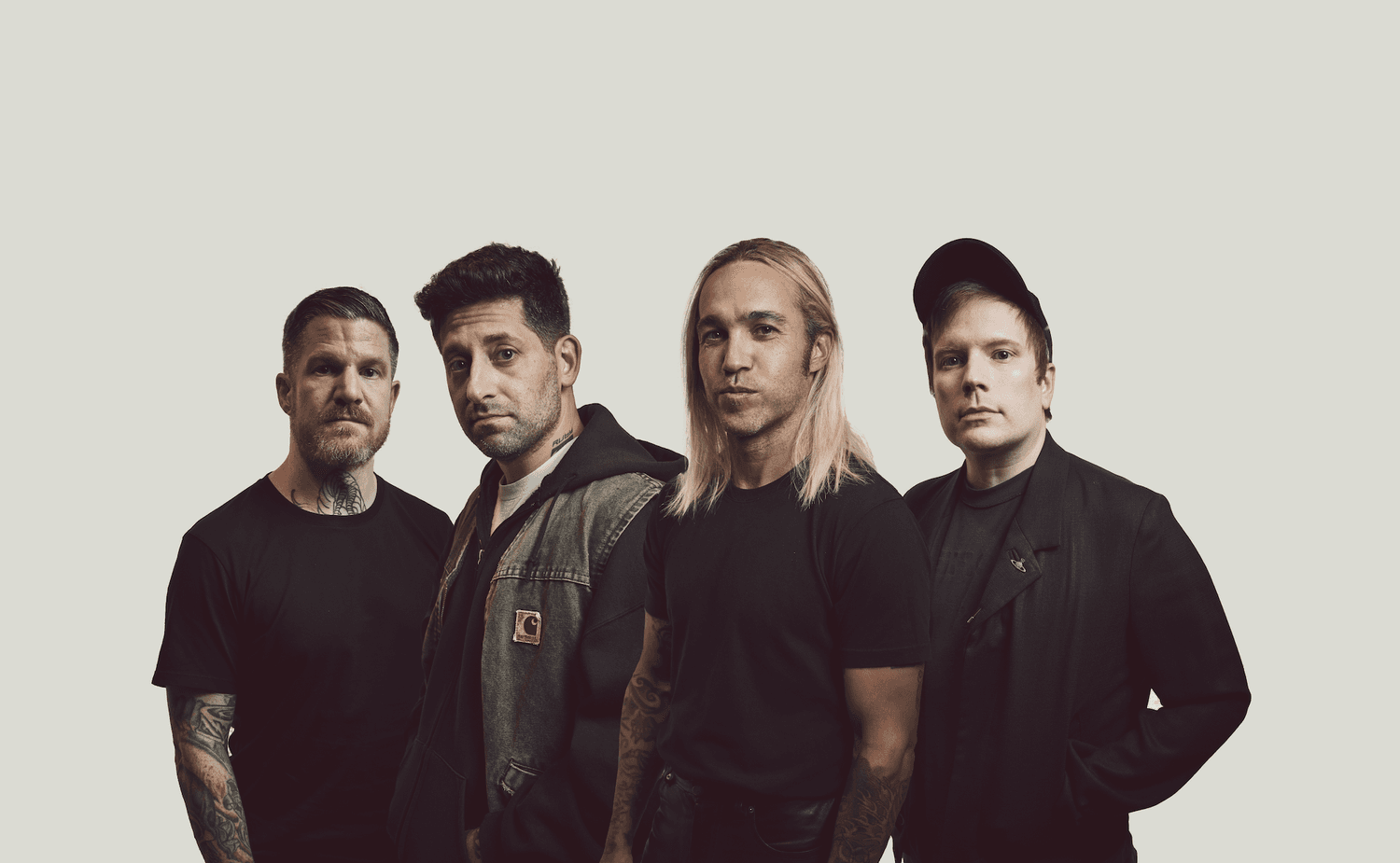 Stump agrees, but affirms that it was only until the record was finished that they realised this, "we left space and we just saw what shape it took. One of the great sculptors said something about chiselling a statue out of stone, where you see the man in there and you have to dig him out. That's what this was like, there was something in there and we just had to find it."
Pete Wentz told Zane Lowe in a recent interview that to do another Fall Out Boy record he had to be doing it for the right reasons. Expanding on this remark he says "I don't think that we've done the band for the wrong reasons, but I do think, especially from Cork Tree, Infinity, maybe Folie, we didn't really know a lot of stuff we were supposed to do, or not supposed to do, as far as promo and marketing. It would be like, 'you guys need to go do this', and we would just be gone all the time." Stump and Hurley nod in unison, "we would be gone for like, 300 days out of the year, and you don't have kids, you don't really have a mortgage, so it didn't really matter. But now we do, now to just go somewhere, just because someone's like 'there's a chance you need to hype this thing,' that feels like the wrong spirit of it."
"I don't think we would make a record if we didn't want to make it, but at the same time, there's things like us not having a producer on MANIA, and putting out some music on MANIA that we knew was going to be polarising and abrasive, but we were frustrated. I think it's fine, art should be polarising sometimes, [but] in the pandemic, I felt like I was pretty happy, I wanted to make a record that comes from a good place, that's trying to bring connection for people. I don't want to try to make something as abrasive and polarising right now."
Stump continues Wentz's thought, "I've never really been too impressed by records that feel like they're going for, being 'big'. It's never really the kind of thing that I ever get attached to, it's never the thing I wanted to be a part of. That's not motivating to me. I don't really care."
"I've been bothering these guys a lot with my anxiety about this record," Stump says, looking at Wentz and Hurley, "I hope people really like it, because I feel like it's something that we put a lot into. That's more important to me, if the people that hear it like it. If it's 10 people that it really means something to, that means a lot to me versus…" his voice trails off as it often does, magnetising to another profound point. "Hits are fleeting and big is fleeting. This band has gotten to do so many incredible things, astounding things. How greedy do you have to be to want more incredible experiences? People talk about big, you know, 'this record's big'. At this point, we've gotten to play [Chicago baseball stadium] Wrigley Field, what's bigger than that? We're going to play the moon? I just don't care. I think that's one of the reasons why we're a band still, is that all four of us are fairly united on that front, that we don't really do things because you're supposed to. We do things because you're motivated by it, it keeps you going. To Pete's point, there are records that I wish had gone differently, I wish we made MANIA differently, I wish we found the right centre for that record, but that was the record that we wanted to make at the time."
"I think you needed to make it to be able to make the next thing," Pete notes, "and to speak to the music, when Patrick played me the demo for "Love From The Other Side", I was like, everything about this song is right for the first song for people to hear off this record. It feels like so something only Fall Out Boy would do, and it feels like it's something we would have done on Infinity on High, if we could have done it, but we didn't have access to the tools to be able to do it. So everything people [are saying] about 'it reminds me of this, but it also feels like…', it all makes sense, because the first time Patrick played it for me I thought the exact same thing. When he played that song, I was sure that this record was the right record, and it was the right record for us to go around the world on."
Stump replies, "this is exactly it. When The Who did their first first rock opera A Quick One, they had this section where Pete Townshend envisioned having an orchestra. He wanted an orchestra on the whole thing, but they didn't have budget, they didn't know how to talk to an orchestra, they didn't have any concept of it. So there's this moment where it's like 'cello, cello, cello, cello' because that's what they had, they had themselves. Fast forward a good 10, 20 years later, he's doing all of these very big things, and now he knows how to actualise those ideas. There was something about that song and this record, where it was like, we finally have the capacity as musicians, composers and thinkers, to express these ideas. It's stuff we literally wanted to do on Infinity on High, but I had no idea how to describe it."
So Much (For) Stardust then, in all aspects of its formation and execution, truly demonstrates the cyclicality of life. Fall Out Boy, once the target for toilsome celebrity, are now humbled role models who are still trying to grasp the meaning of it all, through immense reflection, heaps of nerdy banter, and genuine bewilderment.
"I feel so lucky to even be sitting here at this table, and talking about new Fall Out Boy music," Wentz says. "We started our band, and it was basically like the Wright brothers and a little plane that could barely get five people. Two years later they were like, 'we're sending you to outer space'. We were still in the overalls with straw hats on, and we weren't ready to do that yet, and we went anyway. I feel so lucky that we came out the other side, and are still friends and still make music."
"It's so surreal," Stump professes, "but I wonder if there's anybody in our position who's going, 'yeah, I deserve this, this should happen to me'. I'll be in an interview and some people go 'you did this' and I'm like that's crazy, it just feels so surreal and distant. You hear people say these things, you'll see some interview with somebody and they'll [say] 'I'm just some kid from wherever', and it feels like this cliche. Then you live it and you're like, I'm just some kid from the suburb of Chicago, I don't know why I'm even in this. Contextually, I'm a few years younger than these guys," Stump points to Hurley and Wentz. "When we were starting the band, I was blown away that I could be in a band with them, because they were in bands that actually toured. I was like, why am I here? I don't know…" With a smile, Hurley perceptively drawls, "good point, but I think we need to move on", and both Wentz and Stump cave in to boyish laughter.

Get the Best Fit take on the week in music direct to your inbox every Friday