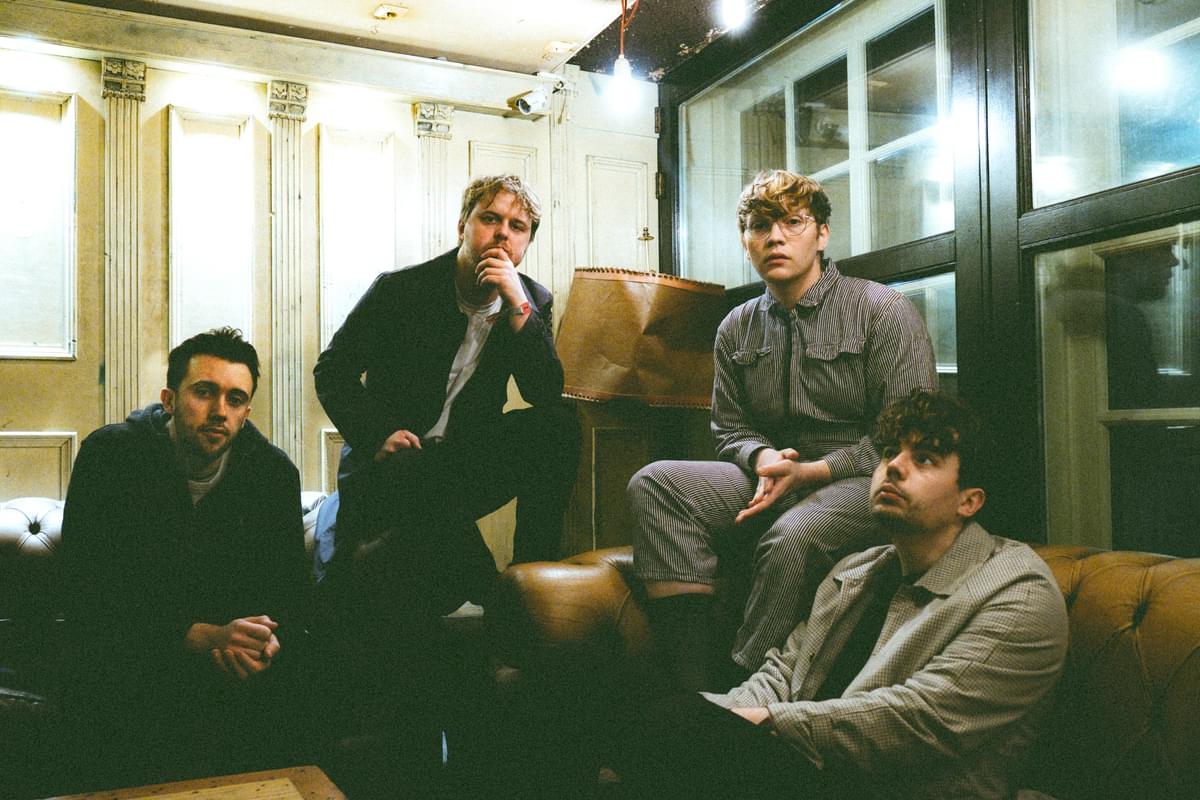 The Howl & The Hum ruminate on the importance of Human Contact
20 May 2020, 08:19
During lockdown, alt-rock quartet The Howl & The Hum have been isolating separately, spreading themselves between their home town of York, and the nearby city of Leeds.
The band are anticipating the release of their rather amusingly titled debut, Human Contact, and frontman Sam Griffiths has been joking about its potential as a "one-liner marketing tool."
After moving from Colchester to York in order to study English and Philosophy, Griffiths began paving his musical career in the North through performing at open mic nights which is where he met his band's counterparts, guitarist Conor Hirons and bassist Bradley Brackwell. Hirons later introduced the band to Jack Williams, a drummer who went on to complete the line-up. Quickly becoming one of York's most treasured talents, The Howl & The Hum released an array of singles including the peculiar "I Wish I Was A Shark" and their anthem "Godmanchester Chinese Bridge".
Over the past three years, The Howl & The Hum have toured up and down the country including performances at a wide range of UK festivals such as The Great Escape, Neighbourhood Festival and Live At Leeds; even venturing across the pond to Austin's SXSW in 2019. Recently, they've been set on preparing for the pinnacle of their career thus far with the release of Human Contact which, oddly enough, now rests amidst a dystopian context of social distancing and global civil unrest.
Produced by Jolyon Thomas who has worked with the likes of Slaves, Royal Blood and Daughter, and recorded in three divisions over the past year, it's almost as if these guys knew something we didn't.
Human Contact presents a thrilling collection of profoundly honest short stories echoing past relationships, regrets, and anxieties that are seamlessly woven into the present realities of the digital world.
Heartily underpinned with narratives of ego, pride, loss, loneliness, and love, Human Contact plunges you deeper into introspection as well as forcing you to face the consequences of solely relying on technologies to communicate in the modern age—though Hirons now points out the irony in that it is: "the only thing we're able to use to stay in contact."
The Howl & The Hum offer their fans a breath of fresh air as they uproot their guitar-led tracks to replant them amongst a plethora of further electronic experimentation. Kicking off with a potent start, "Love You Like A Gun" and "Hall of Fame" present themselves as onslaughts of grandiose perceptions, blurring the line between fantasy and reality.
Brimming with cautionary one liners, seductive riffs and stylish synth beats, from the offset, the album unravels in beautiful glimmers of vulnerability, loneliness and nostalgia. It's almost as if its protagonists break free from their remaining inhibitions, shifting its momentum and finally settling with the album's crescendo, "Sweet Fading Silver".
The mystery of the tales in Human Contact are what makes it so captivating, and Griffiths quotes an old English literature essay called Death of the Author as the inspiration behind some of them.
BEST FIT: How does it feel to be releasing your debut album during a global pandemic? It seems like you guys knew something we didn't.
Griffiths: Well it's definitely a one liner marketing tool isn't it? We never really intended for the album to be taken as a wink to the current situation, but it seems that's happened. In some ways it's great because it goes to show the importance of human contact. The album was written in a state of loneliness and isolation, then real life has almost turned and said, "fuck you, actually, I'll show you what isolation is really like." It's a stranger than fiction lifestyle, it's gone: "hold my drink!"
Hirons: It's mad that part of the theme is that human contact through the use of phones and technologies was actually stopping true connections before, when literally it's now the only thing we're able to use to stay in contact. Technology can be such a negative thing but, in this circumstance, it's been very positive. We'd all be going mad otherwise.
What was it like working with Jolyon Thomas?
Griffiths: Jolyon works with bands who have quite a good live presence, and hopefully we also have quite a good live show now. He's recorded a vast array of musicians such as Nilüfer Yanya's earlier stuff, the Daughter EP, U2's latest album; so he's got quite a broad spectrum of stuff in the guitar-based arena. But he's also got quite a strange taste in music which we really enjoyed, like weird dance music and nu-metal which we've never really listened to.
He plays Korn in the studio and explains that they're coming from an anarchic and animalistic viewpoint. If we approach the album in that way, there's something true and real about it. I really like that because you're ignoring a sense of cool that's been built around a lot of indie music. Fuck being cool, we might as well make something that sounds good.
Blackwell: You would hope different members of a band would bring different ideas, tastes and sensibilities. You've got to have enough in common, but it's also got to be different. Jolyon [being] thrown in the mix meant at points, it was like there were five people in the band. He was challenging us to try and do things in different ways, and his sensibilities were so different to ours that we've built up in our little space in York that I think it was incredibly helpful.
Griffiths: He's a bit of a gateway wizard in terms of technology. A lot of our live set and album are reliant on the technologies he's introduced us too.
Your album shows more experimentation with electronics, certainly compared to your earlier material. Was this something you wanted to do prior to entering the studio or did it emerge as part of the creative process?
Blackwell: We always dabbled around, but struggled. When we went in with Jolyon, he just knew how to use these things and make it sound amazing. It's opened up a whole new world. I've returned to my nerdy world of modular synths, but he introduced them in a way that still felt very musical rather than just technical.
Hirons: An overarching thing was an attitude of 'just do it' or 'try it at the time'. Don't put it on the back burner to put on guitar later. I found that quite liberating. Rather than feeling that you had to be refined with everything you did, he's just like: "go for it". I like Jolyon's thing which is capturing the immediacy of something.
Looking at the order of track listing it's almost as if there could be an overarching protagonist. It appears the album begins with a character filled with pride, ego and confidence before some sort of revelation or ego-death hits mid-way leaving the remaining tales more profound and introspective...
Griffiths: I'm honoured by that reading, I think that's great. It can totally be read as one protagonist; it can be read as thirteen but there's a lot of things connecting this person. The main thing is the strands of memory which also show it all may also not be occurring at one time. I think the album definitely has a momentum behind it that shifts halfway through. Our only experience with ordering tracks is for live shows and we want to excite at the start, we want to be able to tell a story, and we want it to make sense as a whole. I think we've done that.
There's an old English literature phrase called Death of the Author which is as soon as I've finished writing the lyrics, I've died and now they can live on in everyone else's understanding. You can interpret it in any way because I no longer matter anymore.
Blackwell: A lot of my favourite bands have a structure to their albums. I've always thought of albums as records with side one and side two. In my head when we were looking at 25-30 tracks, "Love You Like A Gun" was always the opener from the second I heard Sam's demo. I also always thought the album should close with Sam on his own. They were the book ends.
"Love You Like A Gun" kick starts the album and is particularly different from what we've heard before which perhaps speaks to the wider idea of the album unveiling a new dimension of the band, which in many ways, is exactly what you want from a debut album.
Griffiths: That's exactly what we wanted.
Hirons: We wanted to blow the preconceptions out of the water because it gives you the licence to do whatever the fuck you want for the rest of it. If we opened it with "Godmanchester Chinese Bridge", everyone would be like: "oh here we go". I think "Love You Like a Gun" is like [if] Beyoncé and Thom Yorke had a child. If we play it live, I'm going to wear platforms.
Then whip them off for the sadder songs?
Griffiths: Yeah, we'll do a costume change for each song.
Hirons: I also think opening with something we've not really done before and closing with "[pigs]" which I think is our most classic song writing style also is mad. "[pigs]" is much more familiar with it being Sam on his own like the way he started music with playing open mics. I think having that as the closer turns it upside down again.
Given the clear synchronicity between each track brought under the overarching theme of Human Contact, did you set out to create a particularly modern take on a concept album?
Griffiths: We didn't enter the studio knowing it was an album on human contact. Instead, we went in with six or seven songs, thinking these are some good songs that manage to express a vague idea of loneliness. Conceptually in a sense that what we'd already written for the album also inspired the rest and as soon as I heard the lyrics back, you continue to teach yourself in a sense. The music sorts to swirl around your own head and the characters unfold themselves. As Leonard Cohen would say, "you've no idea where the muse will take you." I don't think we'd set out to make a Dark Side of The Moon or a Kendrick record but there's definitely unification in these tracks. They're all bonded by something.
"A Hotel Song" stands out as a sort of summation for the range of themes i.e. loneliness, pride, ego and love presented in Human Contact with the importance of mental health added. What were the particular influences of this song?
Griffiths: I wrote the opening line in a hotel room when we were in Scotland on the Highlands Tour and it was just a little poem that I kept in a book. I was flicking through the book post-tour, saw it again and decided to put it to music. I always had this idea that someone would have a divine intervention in a hotel room because it is such an oddly non religious place, it's so lonely and very modern. The fact that there's a Gideon's bible in pretty much every bedside table drawer...
Mental health - especially in young men - is incredibly important. That song in particular is certainly a man singing, I hope it'll be universally relatable. The choice of the pronoun in "goes the song of a million men now" was purposeful. That's the image I had of someone crying out to emptiness. I wanted there to be a sense of unity, even if the character doesn't believe in a higher power, with at least a million other men sort of birth a God.
"Sweet Fading Silver" is a track you've been playing live for a little while but has remained unreleased until now. After your BBC6 Tom Robinson live session, I know there was added pressure from you guys to record it in the same way, do you think it has paid off?
Griffiths: Except from "[Pigs]" it was the only one we recorded in just one take together as a band in a room. That one is just totally about the song. It does differentiate from the album because it's so pure, but this song has the soul of the album on it. It's about someone longing for a life they're no longer living.
My favourite band when I was younger was Radiohead, and they have a song called "True Love Waits" which Thom Yorke did as a live acoustic song, which existed as a fan favourite, and then they put it on their last album. It was fine but it never quite hits home in the same way. There's something so pure and innately romantic about the original version. Also, we had Jurassic Park playing on a projector whilst recording that one.
Blackwell: I'm sure we'll do some other versions, but we did do a more layered Bon Iver-esque version of it with vocal effects which felt great, but when we played it back, we realised there was no emotion in it. We've nearly released it before, but we just couldn't get it right.
Hirons: We all saw it as the centrepiece of the album.
The final single to be released from Human Contact is the penultimate track "27". Could you tell us a little bit more about its placement?
Griffiths: I really liked the idea about an "ego-death". At first, we expected it to be a bigger, dance song but it worked better being able to tell the story from a more subdued standpoint. I like the way the album winds down, but I hope it doesn't end on a depressing note. I'd like to think it ends on a calm note.
Blackwell: In my head, the album ends with "27", and "[Pigs]" almost comes after that as a hidden track. It's all synth and it's completely different to us leaving us to be able to do whatever we now want to after. We don't have to be a guitar band; we don't have to just do synth. I see the band as a vehicle for Sam's words and that's more important than being a particular genre. That's why the album ends with just Sam in a room on his own.
From Bond-esque cinematic choruses towards the likes of 'coming of age' dramas, The Howl & The Hum perfectly capture their art in spine-tingling storytelling.
Human Contact is out on 29 May via AWAL
Get the Best Fit take on the week in music direct to your inbox every Friday