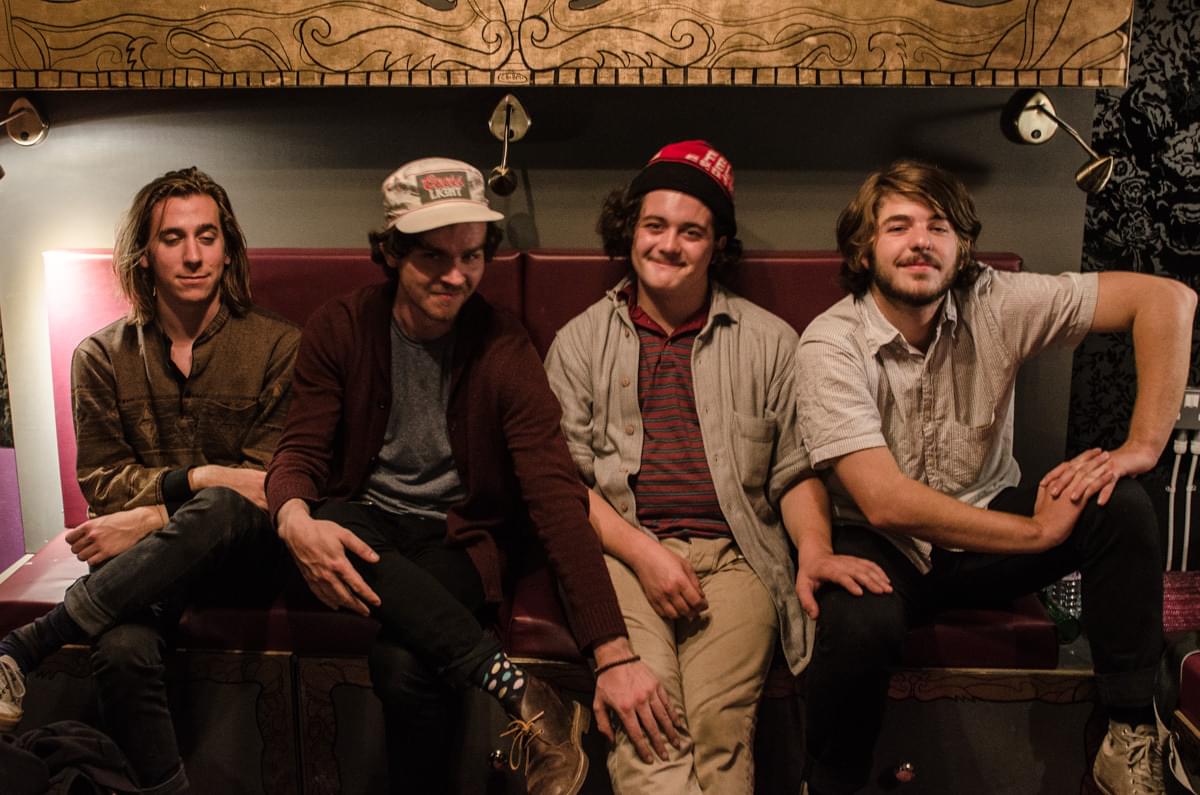 The Districts: "We like to experiment with the original idea"
17 February 2015, 09:30
Guitar bands this, guitar bands that. It's a seemingly unavoidable discussion, and one that shows little sign of letting-up. With our charts and airwaves still dominated by often over-produced, under-emotional music, the thirst for something more visceral and organic is gathering pace out of our online world and thanks to eager industry adopters on the hunt for the next Alex Turner; a search that's getting pretty vicious on the wallets of major labels.
However, away from Radio One the resurgence continues to gather pace: The War On Drugs are blazoned across tube tunnels with a Brit nomination under their belt; Royal Blood - although they arguably fall into the aforementioned over-produced category - shifted a serious number of records with their debut and albums from the likes of Hookworms and Ex Hex, not to mention Alvvays' lo-fi masterpiece or Palace's extremely noteworthy EP, were impossible to ignore from the past year.
And then there's The Districts. The peculiarly youthful Pennsylvania quartet (flirting with the legal drinking age in their native US) were the first name on everyone's lips following last year's SXSW - an experience we're told was "pretty hectic but very cool" - and remain one of the most exciting rock outfits around. Their mature-beyond-young-years, emotionally-charged blues-rock is fist-clenchingly raw and translates into a visceral live performance as exciting as it is instrumentally impressive; indeed at their August Lexington show frontman Rob Grote threw down his microphone stand in a moment of perfectly executed rock n' roll for the 2014 week-night London crowd.
Something as small as this hardly shocking but somehow powerful gesture pinpointed one of the best things about The Districts; quite simply, it's real. Their 2012, pretty much self-produced album Telephone caught the ear thanks to its cutting lyrical content (see "Lyla" and it's almost Shakespearean morbidity), crunching, Americana-leaning guitar tones and a growling vocal that epitomises the truth that runs through their work. Indeed, as we sit in the back of the Leicester Square Wetherspoon's surrounded by beer and (predominantly veggie) burgers they explain the DIY reality of making this record.
"Telephone was just us in high school," Grote recalls in between chomps on his not-so-veggie burger. "We did our EP with Fat Possum but for Telephone we borrowed money from our parents to put it out. We recorded it with our friend Taylor Rice (Local Natives), printed 1,000 CDs and put it on Bandcamp."
That self-titled EP which followed, cemented and clarified the growing excitement around The Districts. So long guitar lines on "Rocking Chair" nod to Radiohead, while "Funeral Beds" has something of the, dare I utter the words, Mumford And Sons about it, thanks to its wonderfully rousing build, and reeks of sunny, festival singalong potential. But the sincerity and inspiration comes from far more interesting places than the oh-so-easy to hate waistcoaters. "I would take The Heart Of Saturday Night, Tom Waits to a desert island," explains Branden Lawrence, who is responsible for the thundering drums that power through all they do (explosive album highlight "Young Blood" epitomises his importance), and the mention of Neil Young's Harvest also sparks knowing and appreciative nods above the disappearing plates of food.
Lyrically too, nothing is accidental; "I usually write lyrics and basic chords first," explains Grote, who it wasn't surprising to learn was set to study English had they not signed to Missisippi label Fat Possum in the run-up to college - "They were just the right fit; The Line Of Best Fit!" Grote smiles goofily. "We get a basic idea for the direction of the song and it morphs from there. We had an idea the other day and then you (with a glance at Lawrence) added a cool drum beat and it changed the direction completely. We like to experiment with the original idea."
As a band they have morphed too, replacing original guitarist Mark Larson with Pat Cassidy, but they come from a typical band background, growing out of a high school covers outfit playing at local restaurants into the beautifully brash live outfit they are today. "Me and Connor wanted to start a band. I played guitar and I knew he played bass. We did have one original right off the bat but then it was mostly covers: Hendrix, REM. We had three guitar players so there were a lot of solos." I mention The War On Drugs; "Ah we weren't nearly as cool as that! It was like stupid soloing, really lame."
A fair bit has been made about how The Districts are a "small town band". Sure enough their move from hometown of Lititz, Pennsylvania, east to Philadelphia has clearly been influential, and the four all speak highly of their new surroundings but assure me their original setting was "not quite as small as people say - around 11,000 people there with a decent size city - Lancaster - nearby; we played there a lot."
However, the album's title and running themes do hint at small town life and the concerns that come with growing up. Prying into the records meaning and it becomes fairly clear that Grote does his real talking in the wonderfully poetic lyrics of his songwriting: "It's called A Flourish And A Spoil, so it's all about youthful things and their inevitable…like, spoil! And how it's not necessarily all a bad thing but it is inevitable."
Within a few listens of A Flourish, produced by "our first choice" John Congleton (St. Vincent, The Walkman, Angel Olsen), it's clear that The Districts are a band for the longhaul and their hefty touring schedule proves the four are built for the road. "The last few days have been kind of exhausting. This guy (points at tour manager) drove but we had to catch the Euro Tunnel at 3:30 to Paris, then we are up early to get get back here. Sometimes you're exhausted and sore." There's a sense of adventure in the eye here though as Grote goes on, "you kind of learn to keep it up even when you feel like shit, then you'll get a moment and you realise it's all worth it."
And thank God for that. They were back in London for a brilliantly suitable NME night at 100 Club at the beginning of February, play Scala in April and will undoubtedly feature on festival bills throughout the year, a part of the life they embrace and "look forward to seeing other bands; that's really cool." A band's band, then.
And to the future? "We're working on writing new stuff, working out the new songs with different ideas and incorporating things into the live show - technical nerdy stuff to make the live show more interesting." Bassist explains. In reality the live show needs nothing technical to make it a blow-away experience; there's nothing technical about sweat.
The four give off that exuberance and shabby excitement you would expect from a group of friends playing rock n' roll for a living and, I can't be entirely sure how we got onto this but, chatter of premiering music on YouPorn brings low-pitched chuckling; "Haven't they started a record label?" Says one. "Yeah, it's like sax and ambient jazz." Cassidy looks bemused, "What's YouPorn? You know my go-to is, what's that magazine called? Good Housekeeping. That's what we had in the studio."
Similarly talk of Branden's champion body-builder brother and the chasm of difference between the two occupies much of the end of our increasingly juvenile conversation. They may not be winning competitions but their muscular, refreshingly real blues-rock deserves a medal; The Districts are truly flourishing and are ready to spoil the mainstream's party.
A Flourish And A Spoil is out now on Fat Possum. They return to the UK in April.
Get the Best Fit take on the week in music direct to your inbox every Friday