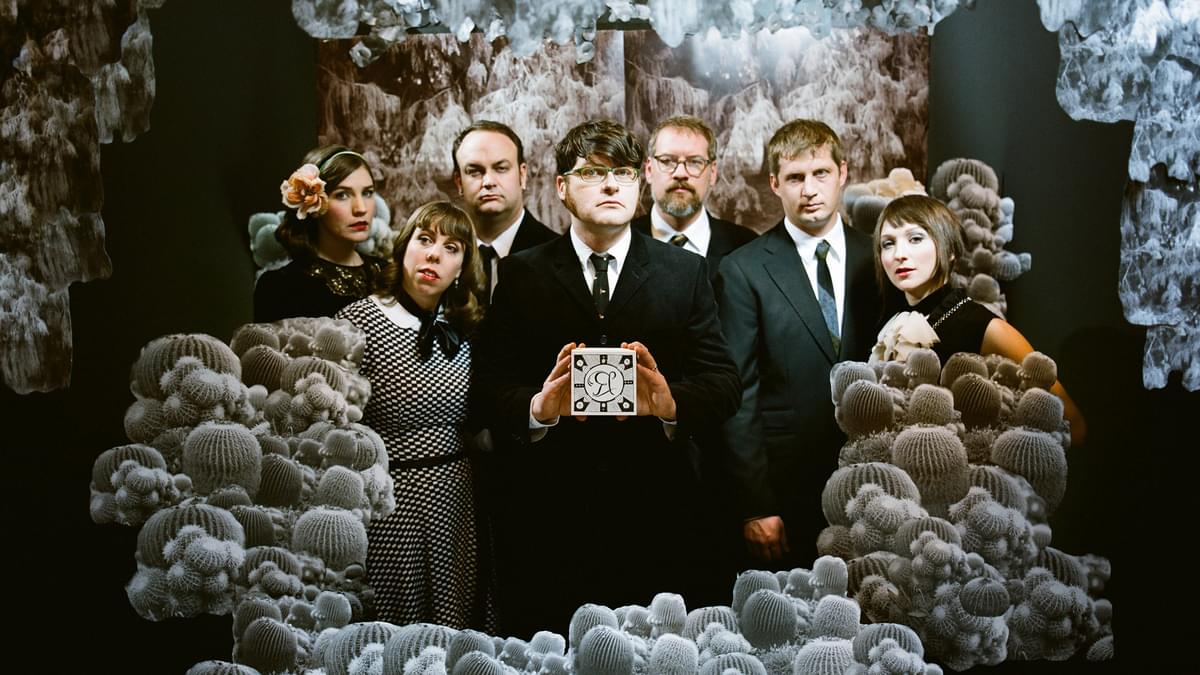 The Decemberists have made their most varied and personal record yet
03 February 2015, 02:20
When The Decemberists released their last full-length record, The King Is Dead, in January of 2011, they'd already made their mind up about what was coming next - nothing.
The plan was to take a break once they wrapped touring, and the reception that the album met with probably would've suited them down to the ground in that respect; there was praise, but it was often lukewarm, with a lot of the same outlets that commended previous LP The Hazards of Love in similar arms-length fashion - on account of its complexity and ambition - suddenly bemoaning the fact that The King Is Dead delivered quite the opposite; songs that were straightforward in both theme and construction.
What that album actually demonstrated, though, was that a bare-bones approach flatters Colin Meloy's songwriting style, even if, for some, it felt like a little bit too much of a departure for a man with a notorious predilection for referencing his literary influences in a manner that makes Will Self seem positively monosyllabic by way of comparison. Gone were the epic crosses between tales of the high seas and Old Testament verses; cast away, too, were the graphically murderous folk stories, replaced by blissfully easygoing Americana and homages to R.E.M. so authentic that Peter Buck even played on one of them.
It seemed like a good place for The Decemberists to step back and take stock, though; their penchant for dramatic stylistic swings had been stretched to its limit between Hazards and King, and a recharge of the batteries was the next natural step. Whilst Chris Funk, Nate Query and Jenny Conlee might all have managed to put their main band on the shelf for a while, though, whilst touring and recording with bluegrass side project Black Prairie, frontman Meloy continued to - slowly - chip away at new Decemberists material in between penning a series of children's books, The Wildwood Chronicles.
"I'm not quite sure I stuck to my word," he laughs. "We played our last show for The King Is Dead in August or September of 2011, so on the live front we were pretty quiet, but there probably wasn't much of a time lapse between then and me starting to very gradually begin coming up with more ideas for The Decemberists."
The result, all this time later, is What a Terrible World, What a Beautiful World; it's probably not entirely accurate to say that it splits the difference between the extremes of its two predecessors, but it's certainly the most diverse record the band have ever made; bookended by two of the most anthemic tracks they've yet recorded, the album is seriously impressive in its stylistic range. "Hopefully, it's still cohesive," says Meloy. "We spent a lot of time making sure each song belonged, for sure. We came at it, to begin with, with pretty much no idea of a concept; the idea was just to have the songs dictate the structure of the record. They were written over a long enough period that there was bound to be a lot of variation in there." His tone, suddenly, is serious. "It just goes to show the breadth of our abilities, don't you think? I'm kidding!"
If there's a common thread the album shares with King, it's that it continues Meloy's recent lyrical trend of treading a less oblique path than, say, Picaresque or Hazards had him going down. He's still eloquent, of course, but these songs are evidently his most personal yet; 'Make You Better' is striking in its simplicity, a by-the-book love song, whilst '12-17-12' was inspired by real world events. "In some ways, that's just a natural progression, something that's slowly come along with getting older," he explains. "But, at the same time, I was working on these books whilst I was writing the songs, and I think I was working on the songs primarily just to be working on music. There wasn't necessarily the intention there for them to end up on a record; there wasn't any kind of deadline looming, and so I think that's just naturally where my head was at. The books were taking care of the side of my writing that needs there to be a narrative, so the songs just came straight from the first person. I didn't need to be writing sea shanties, or anything especially fantastical, because I was already telling fictional stories by writing the books."
That, in itself, torpedoes the idea that Meloy has often leaned towards weaving his own folk tales purely to avoid having to shoot from the hip with his songwriting, something he further insists hasn't ever really been the case. "I've never been uncomfortable with the idea of writing a Decemberists record that was totally personal; that's the honest truth. The last record was fairly autobiographical, for sure - 'Rise to Me', about my son, was probably the most personal thing I'd written to that point - but there's been plenty of those kinds of songs in our body of work, from the very beginning. It's just that, in my opinion, the more 'narrative' songs tend to get more attention. Nothing on this record feels out of place to me."
The track that Meloy's alluding to having topped 'Rise to Me' is surely the one from which What a Terrible World, What a Beautiful World takes its name: '12-17-12', named for the date on which it was written. Three days after the Sandy Hook elementary school massacre in New York state, Meloy - especially affected by the atrocity as a father of two - conjured up a gorgeous ode to his own wife and children, framed by that horribly blunt reminder of the fragility of life of three days earlier. "It was the day that the President had read out the list of names," he recalls. "I didn't think writing a song about the shooting itself would be helpful. It's not a song about the President's address, either; that might have been too straightforward. It's really just me trying to make sense of the shooting itself in the wake of everything, in terms of everything that it made me think about."
Elsewhere on the album, there's no shortage of evidence that the razor-sharp wit that's characterised so much of Meloy's writing down the years remains intact; 'The Singer Addresses His Audience', which opens the album, is a case in point. Beginning in gentle fashion before exploding into an arena-ready breakdown late on, it's a gloriously tongue-in-cheek exploration of the pressure to balance the expectations of an adoring fanbase with the ever-present temptation to trade in credibility for cold hard cash; "so when your bridal processional is a televised confessional to the benefits of Axe shampoo / you know we did it for you" is a particularly delicious summation of the situation. "It's not written from my perspective, as I'm sure you've figured," he laughs. "I'm not opposed to people licensing songs - it's an inevitable part of the business - but I thought it'd be interesting to think about that type of thing from the point of view of, say, the singer in a boy band or something. I'm sure I draw from my own biases and prejudices to some degree, but it seemed like one of the potential issues that might crop up for somebody who made music that was obviously commercially viable. It's totally non-judgmental; I wasn't trying to draw a line between ourselves and bands who do go down that road."
A recent Instagram posting of Meloy's suggests that the song will likely feature on the setlists when The Decemberists undertake their first UK tour in four years later this month; the shows look set to be career-spanning affairs, but Meloy is evasive on the topic of whether the layoff between these last two albums will become the norm for a group once defined by their prolific rate of return. You might argue that their career peaked last year, anyway, when they shared the bill Jeff Tweedy, Yo La Tengo, Ginuwine and the legendary Mouse Rat at the Pawnee/Eagleton Unity Concert on Parks and Recreation.
"We have some fans amongst the people who work on the show, and Michael Schur, who's the creator, directed a video that we made for 'Calamity Song' that was based around Infinite Jest. They asked us to go along when they were putting together a festival lineup for the season finale, and we did; I think we were a pretty good fit. If ever there was an appropriate band to play in a fictional town, it's us."
What a Terrible World, What a Beautiful World is available now via Rough Trade.
Get the Best Fit take on the week in music direct to your inbox every Friday