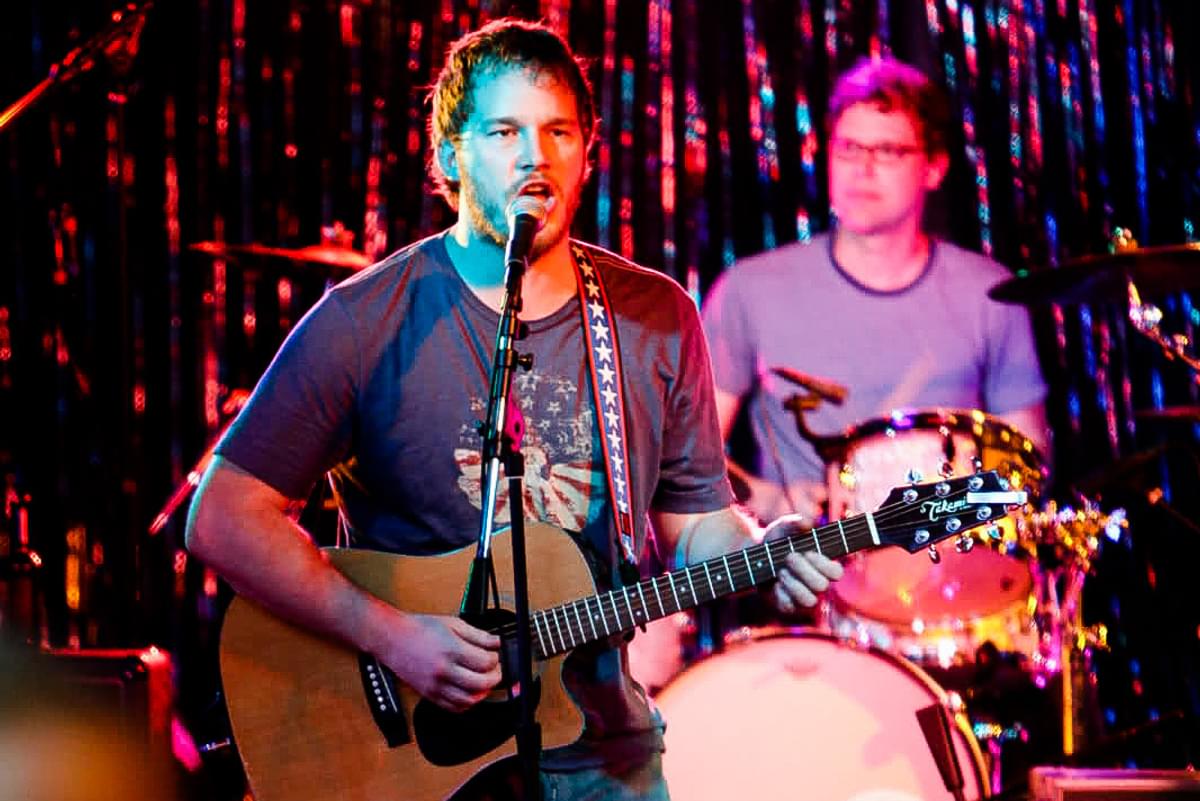 Mouse Rat: A History
13 January 2015, 13:57
It's been over a year since I was fortunate enough to catch Indiana garage-band stalwarts Mouse Rat with the reformed Land Ho!, The Decemberists, Letters to Cleo, Ginuwine and Bobby Knight Ranger.
But we're getting ahead of ourselves here. This story starts back in 2008, when at downtown Pawnee, Indiana bar Paladino's, the band - then known as Scarecrow Boat (also one of the quartet's many names, including Puppy Pendulum, Muscle Confusion and Ninja Dick) - managed to win a fiercely contested edition of WKKR's annual Battle of the Bands (for the first in its history, more than one band was competing), beating off rival local three-piece The Sprinklers - the former band of Mouse Rat drummer James Pierson. Local sources attributed the shock victory to the mysterious no-show of noted saxophonist Duke Silver, who was mysteriously absent due to illness.
The four-piece originally started as a duo of singer Andy Dwyer and bassist Michael Chang in the late 90s with a craze swing project The Dizzy Dames (later The Daddy Fellas), before later being joined by James Pierson and former-roommate Wyatt Burlinson on guitar. Dwyer has since stated that Burlinson was added to the band to apologise for Dwyer turning their apartment into a real life Road House (Patrick Swayze, 1989), while hospital doctors urged Dwyer to hire a drummer due to the band's percussion section mainly consisting of his head and any nearby hard surface.
Their guitar-led rock sound has been described as everything from Hootie and the Blowfish to Dave Matthews Band and Bruce Springsteen, via the cock (country-rock) stylings of seminal San Francisco band Train; all held together by Dwyer's back-of-the-throat vocals, definitely a graduate, or possibly a drop-out of the Eddie Vedder school of singing. Dwyer's influences are often attributed to his everyday life, with hits such as "The Pit" - allegedly based on a difficult housing situation, to heartfelt dating songs, such as "Remember" and "Ann Song" and "Menace Ball", the latter with its overwhelmingly original chorus line "spread your wings and fly". The later songs in the catalogue, such as conceptually stunning "Two Birds Holding Hands" (supposedly performed at his wedding), expertly pull in cultural references from everything from Arby's to bowling and eating bacon, while also raising the important question "do birds have hands?", whereas the classic "5000 Candles in the Wind" was the birthplace of the immortal verse "Humans cannot ride a ghost".
Having established themselves on the local scene after the battle of the bands win, they played regular shows, often with the up and coming alt-rockers Flannel Grunge, notably at the start of 2009, before booking dates at the Edward Phillips Senior Center Valentine's Dance, which led to a major television appearance on Pawnee Public Access Channel 46 in May 2010 as part of the "Pawnee Cares" Diabetes Research Telethon. The Channel 46 set, which featured a rousing performance of fan-favourite "Sex Hair", was a break-out moment for group, sparking much talk of a coveted record deal with a major label. However, the proposed record fell through, with the band working on personal projects, while Dwyer married long-time colleague, and now manager, April Ludgate in the Spring of 2011.
However, a month or so later, the Pawnee four-piece resurfaced to play their biggest show to date, a headline set at the Pawnee Commons Li'l Sebastian Memorial Concert, unveiling the newly-penned ballad "5000 Candles in the Wind". The heartbreaking tribute to the deceased mini horse finally pinned them on the music map of Indiana (located on the fourth floor of City Hall), and a debut LP, The Awesome Album finally appeared. Though it fell under the radar of most music publications, the eight-track record was met to local acclaim, including a rare, exclusive endorsement by Duke Silver.
With the band's rise in stature, fan groups began to form, with aficionados dubbing themselves as 'Rat Tails', starting a dedicated fanzine, Mouse Bait and successfully campaigning for Paunch Burger to release a limited edition Vermin Shake. Despite the groundswell of support, after dabbling in some political campaign songwriting in 2012, the band went on what appeared to be an indefinite hiatus, with Dwyer reportedly directing his efforts towards releasing a novelty children's record under the persona 'Johnny Karate'. It was rumoured that it was in fact a side project under the pseudonym Grimes, but this was hotly denied by both their agents. Some years later, in early 2014, Mouse Rat resurfaced with top billing at the Pawnee/Eagleton Unity Concert, playing their now-classic "5000 Candles in the Wind" to a packed crowd of possibly hundreds, along with famed artists like indie-trio Land Ho!, folk-maestros The Decemberists and 90s alt-rockers Letters to Cleo. Dywer later revealed that while he'd been instrumental in organising the reformation of Land Ho!, managing to persuade long-time hold-out frontman Scott Tanner into performing one last time.
Will this show be the last time for Mouse Rat too? We're unsure if we've seen the last of Dwyer, Chang, Pierson and Burlinson, but if that is the case, I think it's safe to say, Indiana is unlikely to see another group of their stature for some time.
The final season of Parks & Recreation kicks off tonight in the US on NBC.
Get the Best Fit take on the week in music direct to your inbox every Friday