Following the release of her major label debut EP, All the Things I Never Said, and off the back of her sold out European tour, the teenage YouTube sensation who is ready to become the performer she was always meant to be.
There have already been quite a few different phases of Tate McRae, and this is something that can only be said for few 16-year-olds ever. Macaulay Culkin rose to fame as a toddler, and was then shot to superstardom in the Home Alone films, before deciding he wanted to trade it all in for a "normal life" at the age of 14. Drew Barrymore played Gertie in E.T. when she was seven, was in rehab by 13, bought her own apartment at 15 and settled down before enjoying a rebellious life on and off-screen later in her teenage years. And that's just to name two— both in films.
Even now, with the internet's capability of documenting the life of just about anyone; teenage stars are normally just for being famous teenagers, but not always. Michael Jackson had the greatest pop voice in the world before he was even allowed to drink in America, when he released Off The Wall, an album that proved to many doubters his vocals could tackle more complex material than the bubblegum chart music he had gained fame doing as a teenager; just 19 days before he turned 21.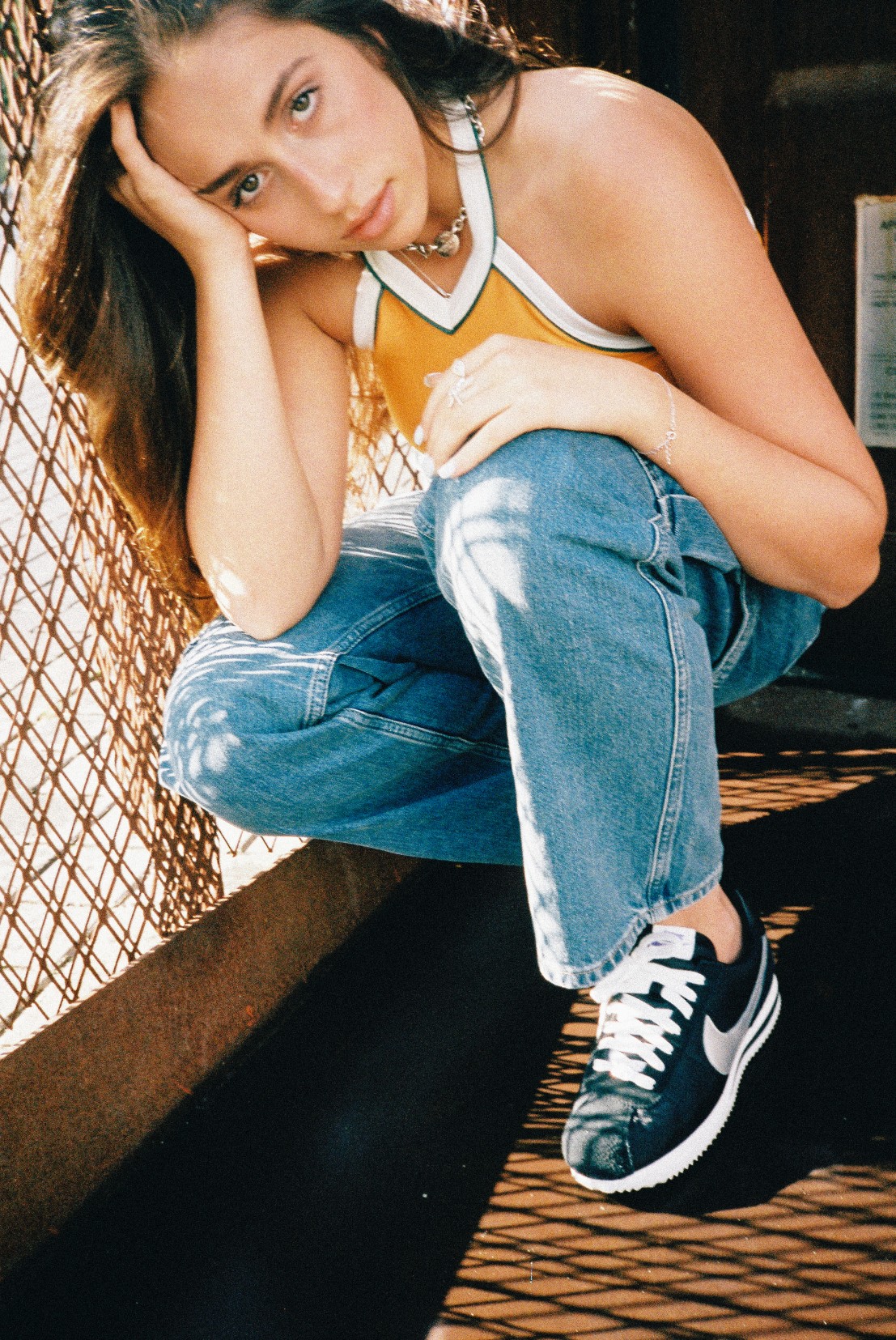 Even your Honey Boo Boos or your Zoellas are only really known for one thing: being teenagers... Just kidding! The same can't be said for Tate McRae. Before turning 16, last summer, she had been Tate the Dancer, Tate the Reality TV Star, Tate the Vlogger, Tate the YouTube Singer, and now she is becoming Tate the Performer.
"I've been doing this, like going out and competing and working and doing random things my whole life," she tells me as we chat in Camden's Holiday Inn, the day after the London leg of her sold-out first European tour. "There's a lot of things I could do but I am prepared to do it in order to do things that I enjoy, like come out here and actually live something I've always wanted to live," McRae continues after telling me she has eight assignments due for the public school she attends in Calgary, Canada, or actually doesn't get to attend much, as she says herself.
This tour was in support of her first record, released on 24 January of this year. It's a five track EP which saw McRae add more production to the sound she was known for on her personal, heavily-subscribed YouTube channel. Three of the five tracks are previously released singles, "tear myself apart", McRae's epic ballad and breakout hit, co-written by Billie Eilish that saw her leave her house to record a video for the first time, "all my friends are fake", which established her burgeoning pop position, and "stupid", her catchiest song to date. One of the new ones, "that way", is a return to McRae's musical beginnings, with just her voice and a piano for the most part. It's a return to the raw, emotional and personal songwriting she originally became a viral hit for.
McRae was born on 1 July 2003 in Calgary. Her mother was a dance teacher and her father a lawyer. At the age of three, she moved with her family to Oman, in the Middle East, for three years on account of her father's work. Two years after the return to their native Calgary, she began dancing ballet, and she was also competing locally. By the age of nine she was travelling to many regional and national competitions all over the United States and building a name for herself as an impressive and flexible young dancer.
After winning medals in a number of national tournaments and spending two weeks at the prestigious Berlin State Ballet School, McRae auditioned for the kid's spin-off of a popular American dance competition, So You Think You Can Dance. Less than a month before her 13th birthday, McRae's audition was broadcast to three and a half million viewers on FOX. She showed elegance and raw talent with her contemporary ballet piece, with one move rendering Jason Derulo completely speechless. Paula Abdul called her a "gift from God" and everything changed that day. Everything that was possible for McRae.
Only because whilst carting around America from Canada, taking her dancing career very seriously, placing third on an internationally televised dancing competition, she had begun to teach herself how to write songs. "I mean, I've kind of been obsessed with writing songs and dancing round the house since I was like two, so this whole singing and music being involved in my life has just never gone away," she says.
The first time McRae shared her singing and music with the world, on 20 October 2017, everything changed again. It was only done because she couldn't get into a dance studio to post a video to her YouTube channel, Create With Tate — a channel for McRae to share her choreography and dance videos. Instead, she wrote and recorded a song in 20 minutes and uploaded that instead. "I wrote a song... one day", was uploaded to YouTube, and has since been watched by 31 million people.
So powerful, personal and stripped back is that performance of her original song, written when she was 14, that the attention it gained inspired McRae to never really stop uploading solo renditions of the newer ones that she writes, or covers from every era of pop. At times, these uploads would come out weekly, and even three days before the release of All The Things I Never Said, on RCA records, a video was uploaded.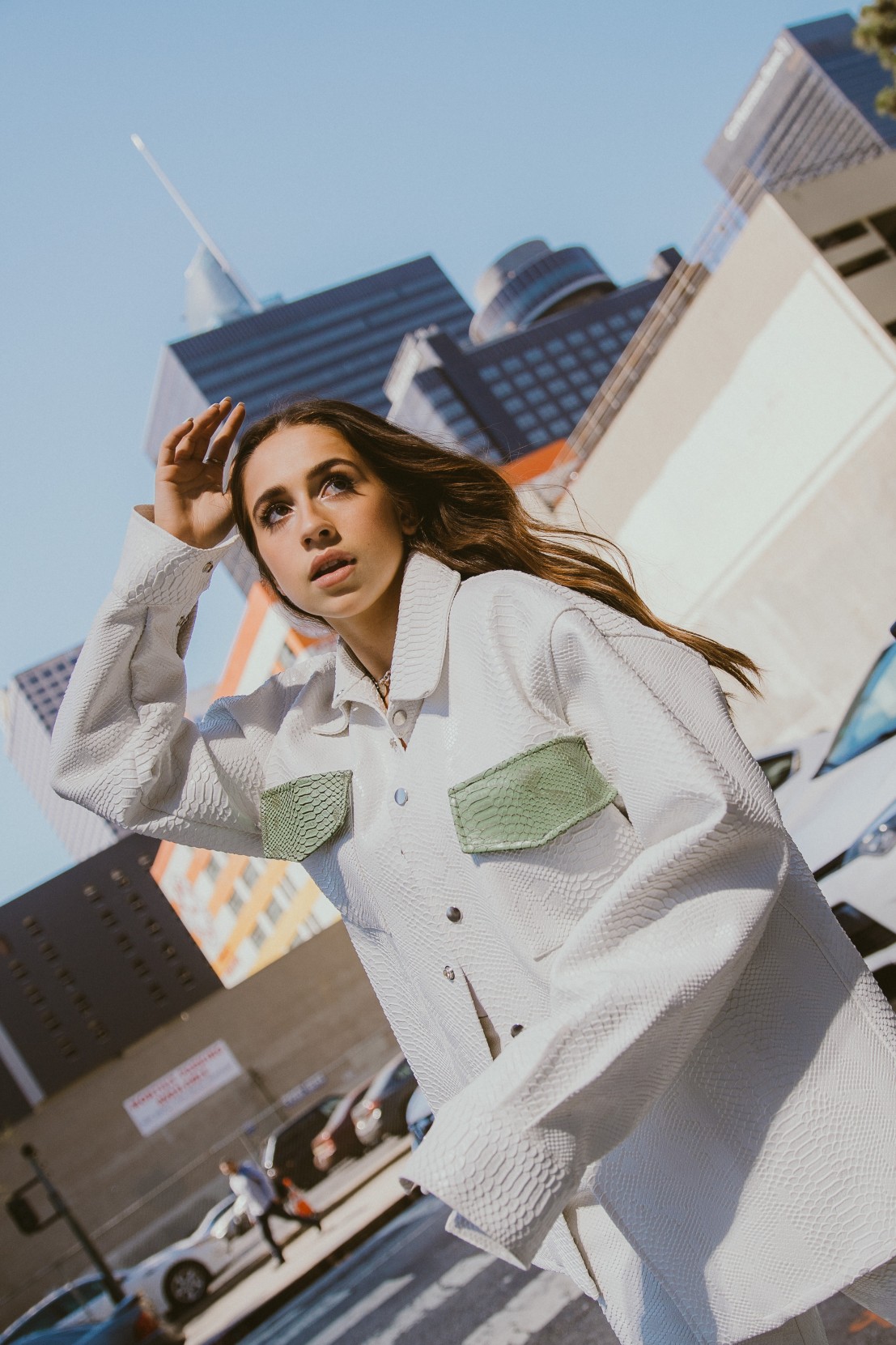 Music is somewhat of a relaxant for McRae. It's a way for her to talk about her emotions in a way that she has never really had before. "It's weird because I'm a super open person. I'm literally an open book, I'm very straight up. But I have a very hard time talking about my emotions, like my deep rooted emotions," she divulges.
"My only way to actually know what I'm feeling is if I take an instrument and just start splatting out words. It's so random. It's very much like my subconscious speaks; otherwise I have no idea what I'm really thinking and I'm like, 'what is going on in my brain right now.'" Even now, McRae could never have guessed at how much those words would mean to so many people, proven by the schools of teenage girls belting every word of every song back to her during her London headline show at The Camden Assembly — including the not-so-popular YouTube ones.
"When I put things out on YouTube, I was just like, we'll see what everyone else thinks. At the time, when I released my first group of songs, I had no idea people were actually going to listen to them. I just randomly put them out there and didn't really expect anything from it," she tells me. "The fact people were like, 'Oh my god, this is my life', I was like, 'What?' That's crazy to think people are feeling the exact same way that I am. I didn't expect it at all. It's pretty cool to see people connecting so much."
Regardless of the fact she's backed by a strong choir of devout fans at each gig, it's still pretty impressive that a 16-year-old can be okay with playing sold out shows in a place she is not too familiar with. This is owed to the dancing, according to McRae. "Dancing definitely gives you a very strong, thick skin. I feel like I've been under really high pressure situations. I was on So You Think You Can Dance when I was 12. It's like, I am very comfortable in front of audiences. That definitely helps coming here now," she says. "I have never really gotten super nervous for dance before so I don't think I would for singing either. Obviously you get some nerves because it's like you want to do great, you want to do your best, but I've never really been one to get nervous about things."
While McRae started with just a piano and her powerful voice, she found that adding more instruments and working with other writers was an important step in her career. "I mean, I think that more instruments, different instruments, different producers, writers, I feel like it definitely just sparks your inspiration," she says. "With a piano, I feel like there's only a certain amount of things that can inspire you to create new melodies and lyrics. And then at a certain point, you write so many songs on a piano that you need to move to a studio to get inspired by something else." The studios that she is working at are spread across LA, where she spends almost every second week of her time at the moment, as well as New York.
"Right now I'm starting to settle on my group and find a whole bunch of writers and producers that I love, so that my songs are more cohesive. Obviously, when you get into a room you don't want to work with a million producers and then a million random different styles of music; you want to be able to find your people, and then grow off of that," LA seems to be the spot, as she is adamant she will move there in a year and a half. "I'm going to move there as soon as I'm 18, for sure. As soon as I get out of school, I'm going there." This decision is entirely a career-based one.
When asked why she likes it there so much, McRae says: "I think just because the industry is there. It's right there. I've heard LA is crazy at points, and there's a lot of toxic people there, like there's a lot of different personalities. I really want to go there for the work."
As McRae explains, things can change. Even a year and a half is a long time when you're growing everyday... "My perspectives on life are so different to how they were a year and a half ago…. "At 16, I have only lived through so much. I've only had so many relationships, I've only been through so many dramas." And as McRae believes, this is only holding her back. "I feel like you grow up and you get a lot more experience. You figure out new things and you learn different things," she continues.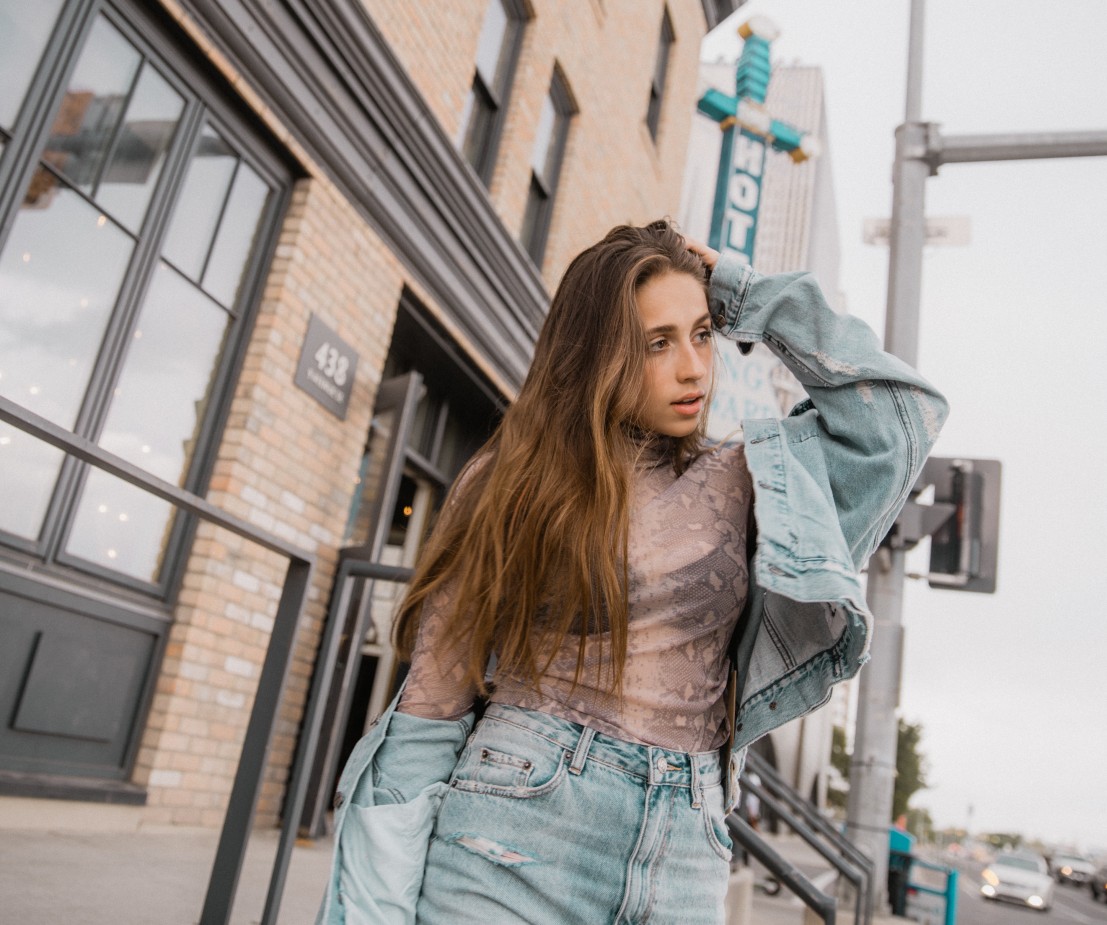 "I feel like the biggest strategy for me is taking a situation that's like small, if you get a glimpse of anything in your life. [If you think] I am this person and you feel the slightest of emotions, you can expand it. Make it into something so much greater than it is, and then turn it into a relatable story for someone else," she continues.
What sounds so easy, doesn't come into fruition without a lot of hard work which is another attribute McRae gained while training for dancing tournaments. "The thing about me is that, I'm so used to just grinding and working until it's done," she says calmly. "I feel like a lot of singers in the industry need a lot of breaks and so I think a lot of people get really confused when I'm in a room and I'm like, 'No we don't need a break. We've been here for only five hours.' As a dancer, you have this persistent energy that you are never going to leave your room until your work is finished. I'll be in that studio forever as long as it's, like, exactly the sound I want."
And the sound that she wants hasn't come without its sacrifices. Since her competitive dancing career began, McRae hasn't really sat still once. This has hindered maintaining friendships with people her own age in Calgary and at school. "I've been living my whole life travelling, and really, really focused on my career. If it's dancing or singing or whatever. So since I was like nine, I've never really got to live a normal life," she says. "I've never really had the same group of friends for a super long time because I go away for two and a half months. I come back and it's like different people; people change. Definitely since I was super young, I feel like nothing's really changed because I've just been constantly working since I was like really young."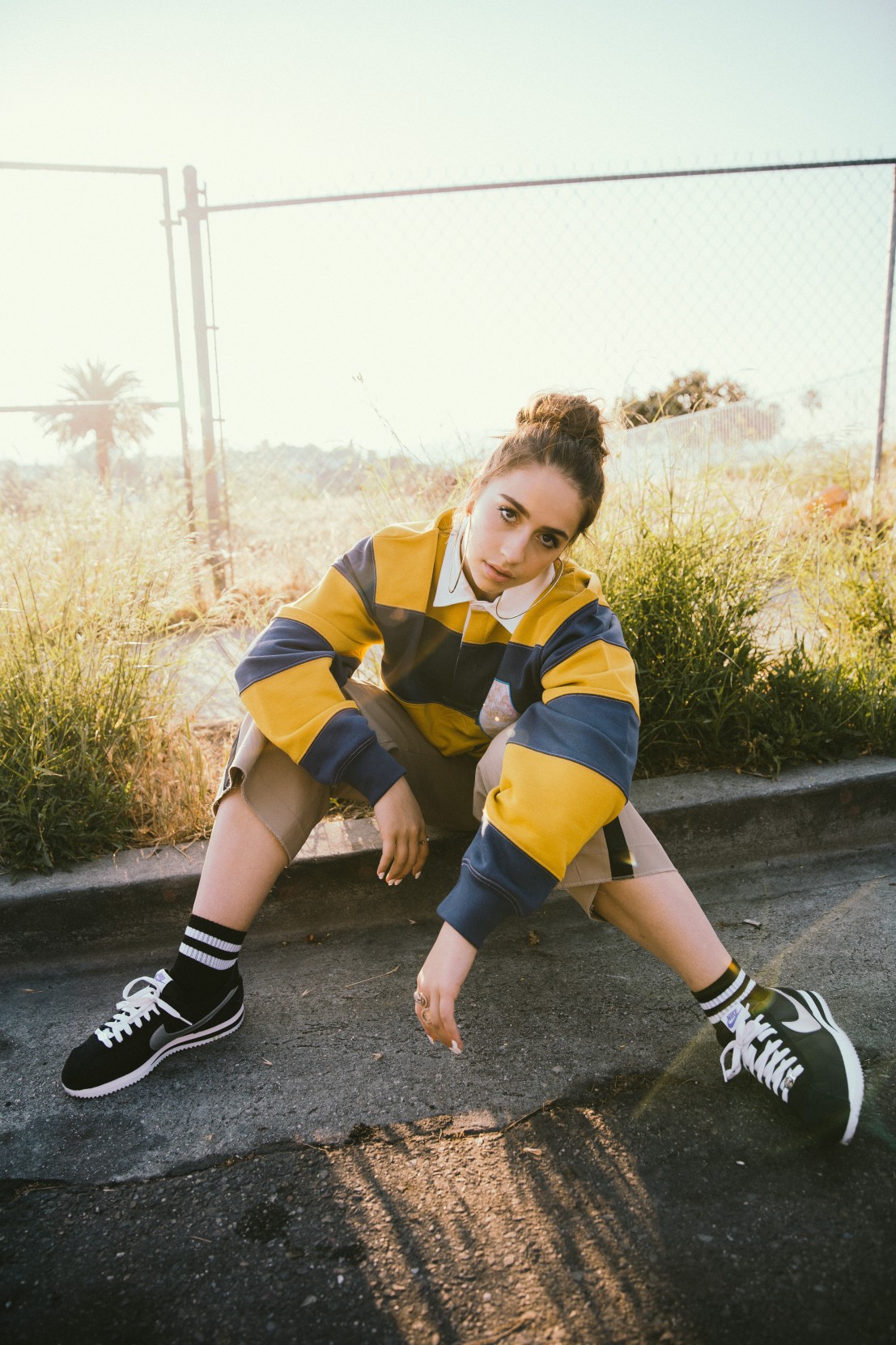 For many, this is enough. The thought of devoting all that time isn't worth their wildest dreams. But for McRae it isn't just about achieving her goals, but also about quenching her thirst to create. She says: "If I wasn't working, I would be so bored. I can't go a day without doing something or I will literally drive myself crazy in my own head. It's impossible for me to do nothing. I can't just sit on my bed and do nothing."
While it's clear sacrifices have to be made and she has only just begun her journey; even though she has travelled and grown so much already, McRae's path is clear in her own mind. "Now it's just become more serious, like me wanting to do it as a career, because I'm like 16 now, I have like a year and a half of school left. I'm kinda like weighing up my options and my lanes and stuff. Basically over the past two years, I've just like narrowed it down into what I want to do with my life," she says.
The path so frequently travelled. The path shrouded in the fickle nature of pop music. But with McRae's work ethic and desire to grow, it is clear she will become a performer who stands out while the others fall away.
all the things i never said is out now via RCA Records