Unwrapped copies of Cosmopolitan sit next to a microphone rig and a fuchsia desk lamp throws a soft glow onto the mixing desk. There are fairy lights, and an air freshener makes a room that should smell of unwashed bodies smell of flowers.
"I'd been working at home for so long I'd always had a bedroom set up. It moved where I moved, but it's always been… bedroom like," she shares proudly. The juxtaposition of windowless hideaway and teenage cubbyhole aligns with what is already apparent about the vocalist-producer (TĀLĀ identifies with one just as strongly as the other). Born to an Iranian father and British mother, TĀLĀ's life is like a swiss roll of cultural influence. "My household was mental. My dad would be playing crazy Arabic music, and my mum would have on cheesy pop stuff. It was a total sound clash".
One of "about five musical ones" at a convent school, TĀLĀ's involvement with music started aged seven. "I wasn't the most technically brilliant piano player. I was better at improvising, and making up tunes. I had all of these ideas, but nowhere to put them". Later a student at the BRIT school, she was passed on Reason by a classmate and started experimenting with making her music. A decade later, she's now two EPs deep into her TĀLĀ 'project' (the name means gold in Farsi), producing a multi layered, multi faceted sound that pulls together Middle Eastern tradition, sultry R&B and atmospheric industrialism.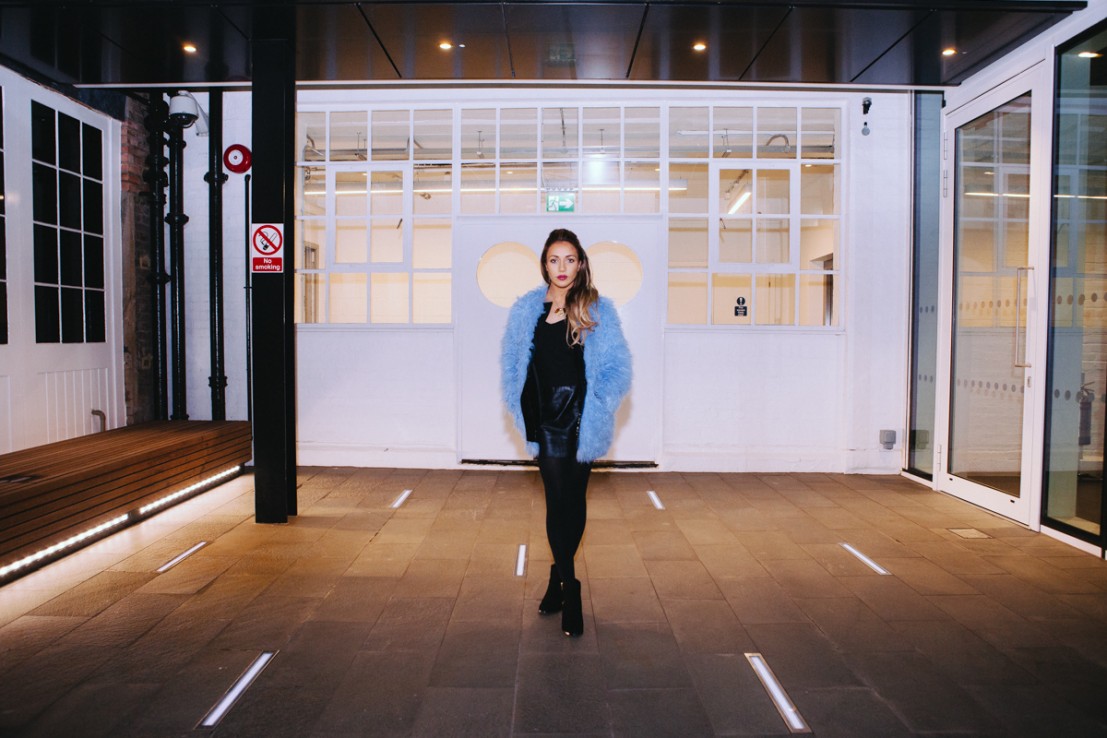 Her three-track debut The Duchess is a predominantly instrumental affair, its life intended as a self released, DIY EP. "I'd had the music on my computer for such a long time. It was just going to be a beat tape, then it was an EP, and then suddenly it was going to be released on Aesop…it was pretty sick." It features a re-working of her first "real release", an edit of T Williams' "On My Own", where she appears as a featuring vocalist. Retitled "On My Own In Hua Hin", it paces down the vocals and layers kinetic drum patterns with wailing horns, opening a musical dialogue with production prominently at the forefront.
An absorbing yet beautifully soporific debut, The Duchess established TĀLĀ's fascination with the cultural diversity. Her Iranian father, himself a "frustrated musician", encouraged her music whilst she pursued jobs in charity street work and a stint managing a barely legal gambling office. "For him, arts were brilliant. It was unusual; Middle Eastern fathers aren't generally pro becoming artists," she smiles. "He was a creative thinker, never considering logistics. He'd say crack on with it, enjoy it, and it'll come to you. He was a massive inspiration."
Slight and beautiful, TĀLĀ looks like an urban Kardashian, creating music that threads a cross-cultural sound pattern stitched with seams of a continent clash. Despite having lived in South London her whole life, she recollects inspiration caught from a trip visiting family in Qatar. Surrounded by the juxtaposition of tradition and extreme wealth, she "found it all incredibly interesting. Such opposing things make such an interesting story". I ask whereabouts in London she goes to revisit it. "All you need to do is go into Starbucks on Edgware Road and everyone will be speaking Arabic. On top of that, Knightsbridge. My cousins from Qatar seem to know more people there than I do".
Sound and visual influences come as strongly from the capital as they have done from abroad. Producers Craze and Hoax make up TĀLĀ's creative team, a pair who have worked with Emile Sande and Mr Probz. Naming them her biggest musical influences, her aesthetics are brought to life by Kate Moross, art director to Jessie Ware and director of music videos from the likes of Wild Beasts and Simian Mobile Disco. Moross's magic touch has helped mould TĀLĀ's own personal branding, an intriguing script-like typeface that uses emulsion like colours to explode over her EP covers. "I always wanted to work with Kate, I thought she'd get the ideas in my head. The stamp that became the artwork had everything I wanted - it was modern but traditional, it had that cultural aesthetic".
It's not long now until TĀLĀ will bring what appears on screen to stage, the gold pot at the end of a journey through city and sound. She promises her debut show will be "a sensory experience", though she's giving nothing away. It'll be her first ever live performance, and one that she's been working hard to rehearse - now the EP is finished, the live phase is apparently quite "intense". My suggestion of the audience being covered in petals on arrival is answered with "you're not far off", and I doubt that she's joking.
The tail end of 2014 has been a frantic one for TĀLĀ, though the adrenaline keeps her going so late into the night that the fragrant bunker frequently becomes an overnight rest point. As we forecast the coming year, talking resolutions and impending plans, she's coy with details. For certain she's excited, and even a touch impatient. "For me, it's more 'where is it going to go next'. I'm always thinking about the next thing, I'm always excited about the next project". TĀLĀ keeps her cards close to her chest, though with passport firmly in hand, she knows, possibly better than anyone else, that the voyage through 2015 will be plain sailing.