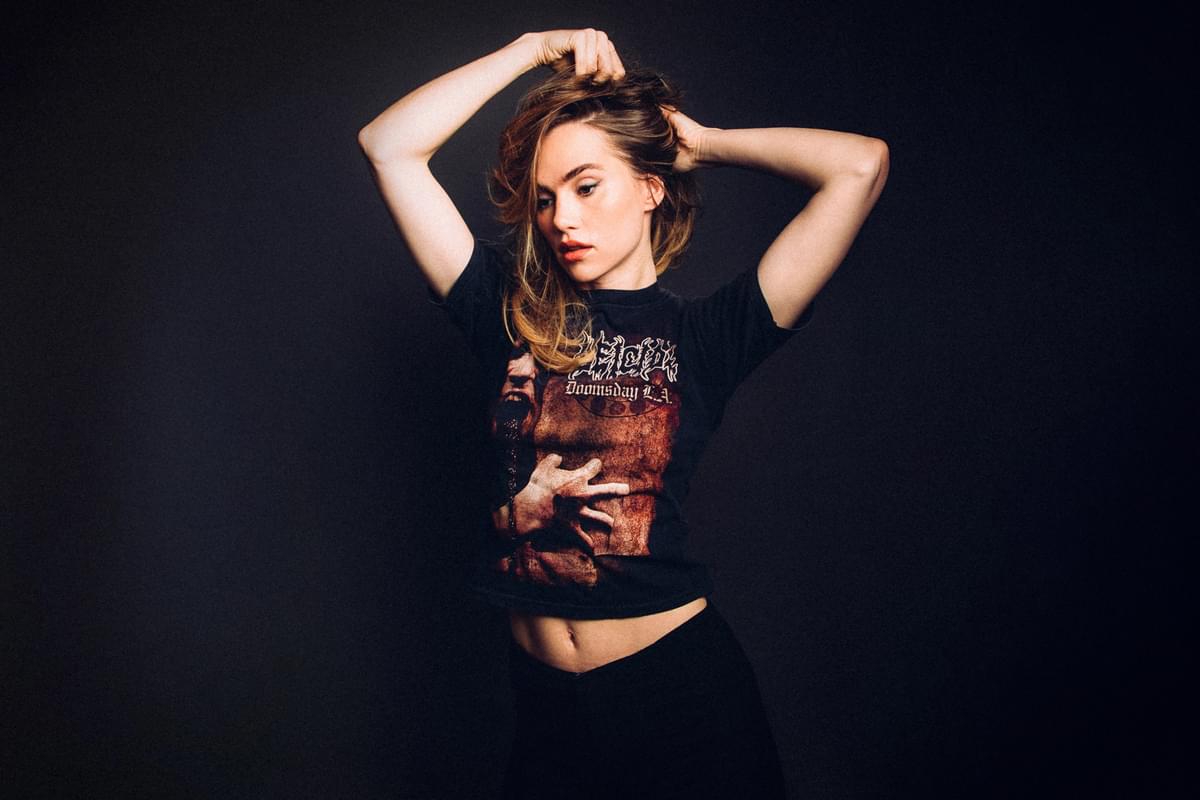 On the Rise

Suki Waterhouse
27 April 2022, 09:00
As a model she conquered the world, but as a musician Suki Waterhouse is just trying to make sense of the past and take control of her story.
Suki Waterhouse steps before the camera, and, as a skilful painter would, plays with shadow to draw light to high places.
She's no stranger to performance: instinctively, she moves her hand to her hair to create clean, sharp angles; tilting her head this way just a little so that darkness pools in the contours of her cheeks and gathers in the shade of her eyelashes. Since the age of 16, she has tried on and discarded costumes as a model and actor, primed herself as a blank page for someone else's vision, but with the release of her debut album, I Can't Let Go, for the first time, she is in command of her own.
After being plucked from obscurity as a teenager from a London clothes shop, at a whiplash-inducing speed, Waterhouse became synonymous with the last decade of British fashion – the epoch of the 'it' girl – where she, alongside the likes of Cara Delavigne and Alexa Chung, crafted narratives of cool. She became a poster girl for the likes of Burberry and Tommy Hilfiger, gracing global covers of Vogue and just about every glossy surface in between. The camera has proven to be her greatest ally: her film debut in 2012 felt like a natural pivot, having since appeared in the likes of Love Rosie (2014) and Assassination Nation (2018), with an upcoming role in the Amazon Studios adaptation of Taylor Jenkins Reid's bestselling novel, Daisy Jones and The Six.
But this is not a bolt from the blue, not the product of careful strategy calculated at a boardroom table. Her love affair with music predates anything else. I Can't Let Go came from a youth spent caught between airport terminals, rare moments of suspension where she could breathe, for a moment, amidst the chaos.
Waterhouse is 30-year-old now, with as many notebooks for as the years she has lived, their pages heavy with the details of experience. She has been penning lyrics in departure lounges since the age of 17, when the first, tentative foundations of I Can't Let Go were laid. "My favourite thing is to be in an airport with a gross orange juice, staring at everybody in this weird, in-between space, dreaming of what it's going to be like when I get there and thinking of everything I've left behind," she tells me after the shoot has wrapped, pulling on a hoodie and swapping her boots for trainers, deconstructing the image as quickly as she created it. "I had a bad habit of just blowing my life up right before I had to get on a plane, quickly leaving people behind."
I Can't Let Go began as one of the few aspects of her life that was truly her own. Waterhouse has often been forced to shrink into the shadow of the man she loves; her own accomplishments were treated as merely incidental among the surgical dissections of her personal life in the press, particularly surrounding her high-profile relationship with Bradley Cooper, and her current partner, Robert Pattinson. It's a reality which had been echoed in the Gossip Girl reboot, when a character said: "When are you going to get it? As far as the press is concerned, he's R-Patz and you're Suki nobody."
For long enough, Waterhouse has been perceived to be a footnote in someone else's story, but through this record, she is telling her own. Despite an enviable career as a model and actor, I wonder how many times Suki has been asked about, well… Suki, and not just how she washes her hair - which, she insists, was never with Coca-Cola. It was just an absurd answer to a frivolous question, to entertain herself, if nothing else. She says, "There's always so much up against you when people see you as just a girl."
"I think I spent a lot of time in subsequent years feeling quite a lot of shame, in many ways," Waterhouse explains. "I had this thing that I did which was very private, making music, and I'd been writing for so long – longer than anything I'd ever done – and I felt so much fear and anxiety around even putting out one thing, because I was thinking everyone would be like, 'Oh, please… just fuck off.'" She is acutely self-aware, a defence mechanism she has adapted to survive unprovoked public takedowns, to which she is no stranger. "I get it, I totally understand it. The best thing I could hope for is that people are vaguely surprised."

"I had a few years of being very out of it, losing any sense of having a life. I have a lot more empathy for that 21-year-old girl."
(S.W.)
This distinctly British self-deprecation and emotional stoicism is a mindset that, through bringing I Can't Let Go to life, she has tried to abandon. "I think it's part of why throughout my twenties, I'd never checked in with myself and how I was doing. Making music has been very important to how I have managed to feel good within myself," Waterhouse shares. "I looked back at everything that has happened in my life and started digging into it. I found I was still torn apart by a lot of things, and I wondered what I'd be able to let go of and move on from, and what would stay with me. It was like the pieces of glass when you look into a shattered mirror: was I going to hold onto all these fragments, or was I going to try and put it back together so I could see myself?"
I ask her why she's now ready to leave behind the modelling world. "Because I'm an old dame!" she jokes. "It's fucking hard. I wouldn't say I am one now, because it just does a disservice to how hard they work. I had a great time, and I'm so glad I did it because it took me on such an exciting journey. But it's not something…" she hesitates. "I don't know, I think anyone who does it to that level, after a few years, you'll notice they crack. I had a few years of being very out of it, losing any sense of having a life. I have a lot more empathy for that 21-year-old girl. I'm still not great at that: life, friends, having people round, the nice, quality stuff that makes you feel solid, I guess."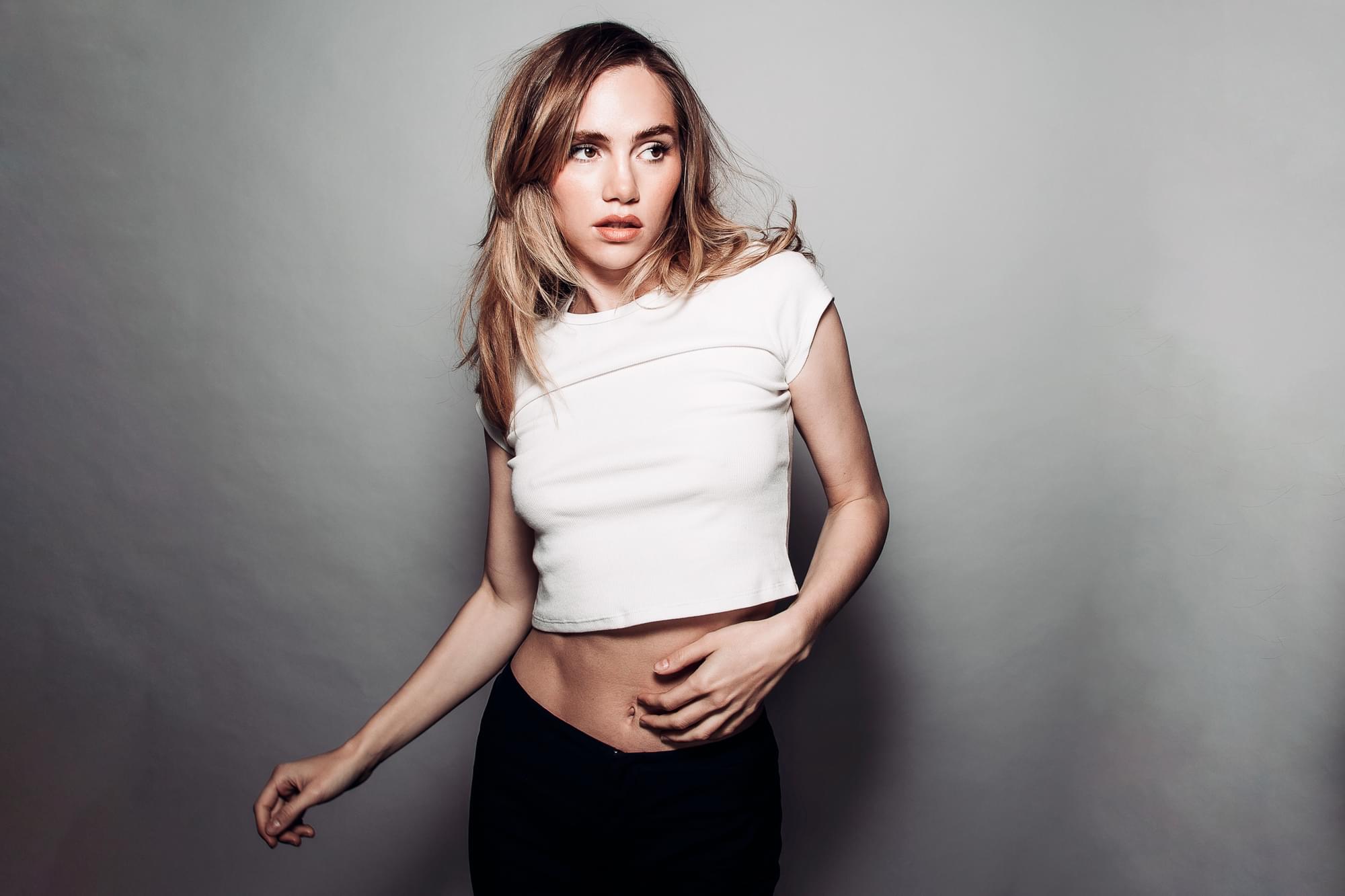 So true to life are Waterhouse's lyrics that each of the ten songs of I Can't Let Go are perfect crystallisations of the moments they're drawn from, like bubbles of air from a different era preserved in ice. She says, "Everything was moving so fast throughout my twenties that the songs I wrote had to be about the something – or the somebody – that imprinted that time. When I listen to it, I know exactly where I was, how I fell in love, and how I tried to fill a lot of those voids. I can connect all of that through my songs: how I destructed, or came together, at different points. They serve as memory cornerstones for times that would maybe otherwise be quite blurry."
"Melrose Meltdown" is a time-defying ballad; a grand finale of unhappy endings, the final, lingering frames of a Hollywood film noir. Waterhouse's voice is at once an indulgence, evocative of the satin gloves and pink, floor-length robe she wears in the visuals, and yet, at the same time, is hauntingly fragile, like the fine dew that bejewels blades of grass in the morning; bold like mascara that stains cheeks. She sings: "Deep horrible blues / Watching you work the room / There's a frequency of trouble / In the car to Malibu / I'll be crying on your milk-white sheets / Hoping one day we're married / In a house you'll build around me."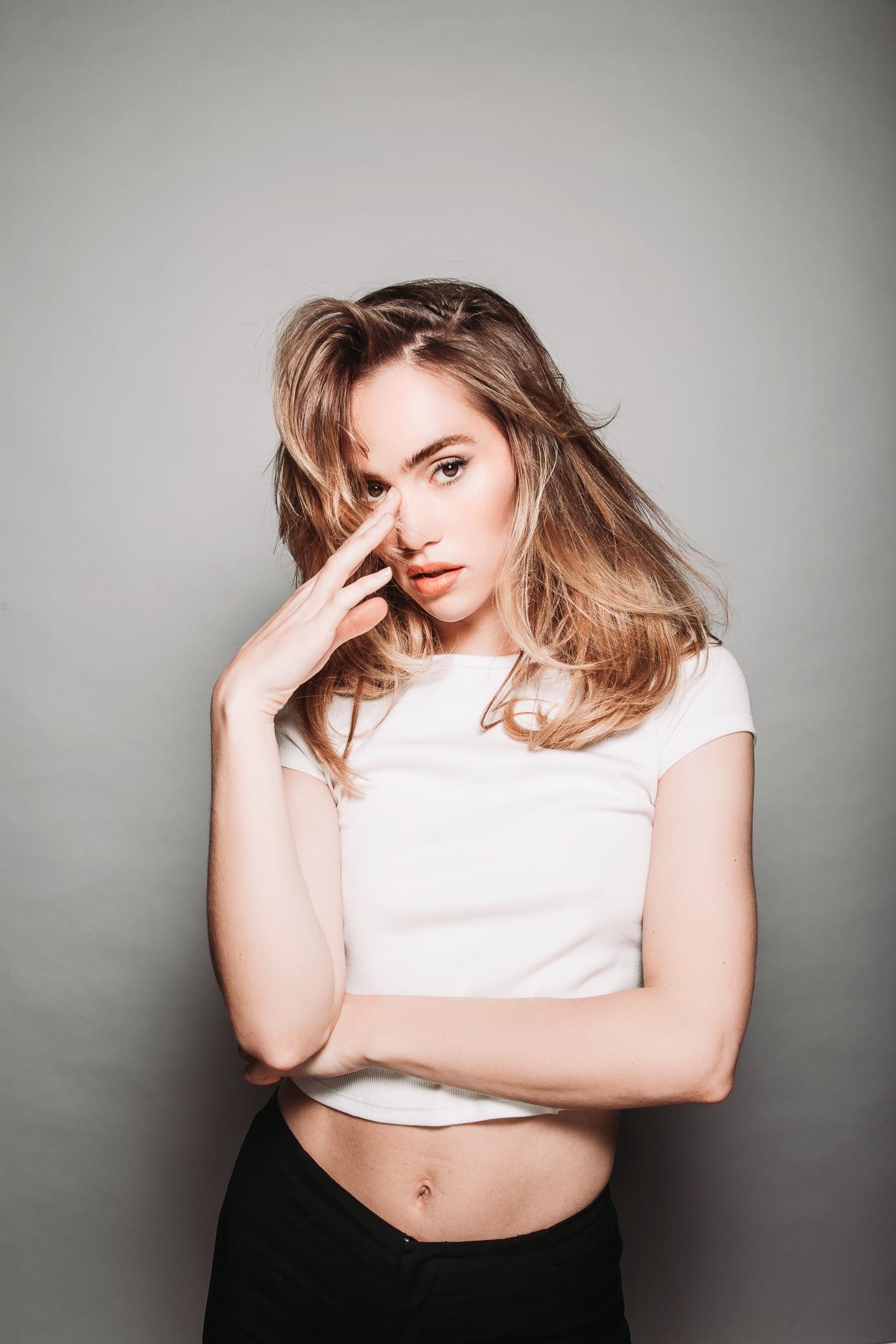 She is sparing in the particulars of the events of her life she draws from, but many have speculated that the song is concerned with the dissolution of her relationship with Bradley Cooper. "I was in the middle of a breakup, in the middle of the Oscars, running away from security covered in diamonds," she shrugs. "What fun. I look back on my 22-year-old self and think, 'What were you doing?'
It would be easy to assume that Waterhouse's lyrics are the product of rose-tinted fantasy and poetic embellishment in the vein of Lana Del Rey, but she insists, "The details are always way crazier than I would say." One of her first songs, unattached to a project and released only to build her confidence as an artist, was "Valentine". Crafted in the image of her idol Aimee Mann with its ethereal, feather-light acoustics, almost every aspect of the lyrics, as well as its artwork, carried reverberations of reality. "'Valentine' was made from a Valentine's Day poem that I'd been sent, and was sending back," she explains. "The artwork was the card that it was sent on to the hotel. I was taking it one song at a time, so it was incredibly detailed. The lyrics have fantasy vibes, but it was actually what was happening." On the track, she sings: "If only you could be here sometimes / Then I could control my symptoms / You could drive from Malibu out to LAX / Take me out for dinner, put me straight back on the jet."
Nevertheless, sharing so much of her life that she once kept like a closely guarded secret still carries a kind of dread. "Obviously, now, there's a very common thing where you're going to tell the public about everything that's ever happened to you, and share every way you were wronged, and all that kind of stuff. But that never appealed to me," Waterhouse says. "I feel like saying anything online is making yourself a puddle to kick – it's fun for them." Her song 'Bullshit on the Internet', a country-indebted ballad, is a documentation of the toxicity of having a private life that people treat as pop culture through the gut-punch of seeing your ex in a new relationship online.
"When I first came into contact with reading about myself in that way when I was really young - you know, people saying I was ugly and fat, even worse – it hits you so hard when it first happens. But I've turned them into my id, in a way, this other part of me that lives and breathes. I think I've found peace with it: this living, breathing animal. But so much of it is not about you. It's okay. It's fine."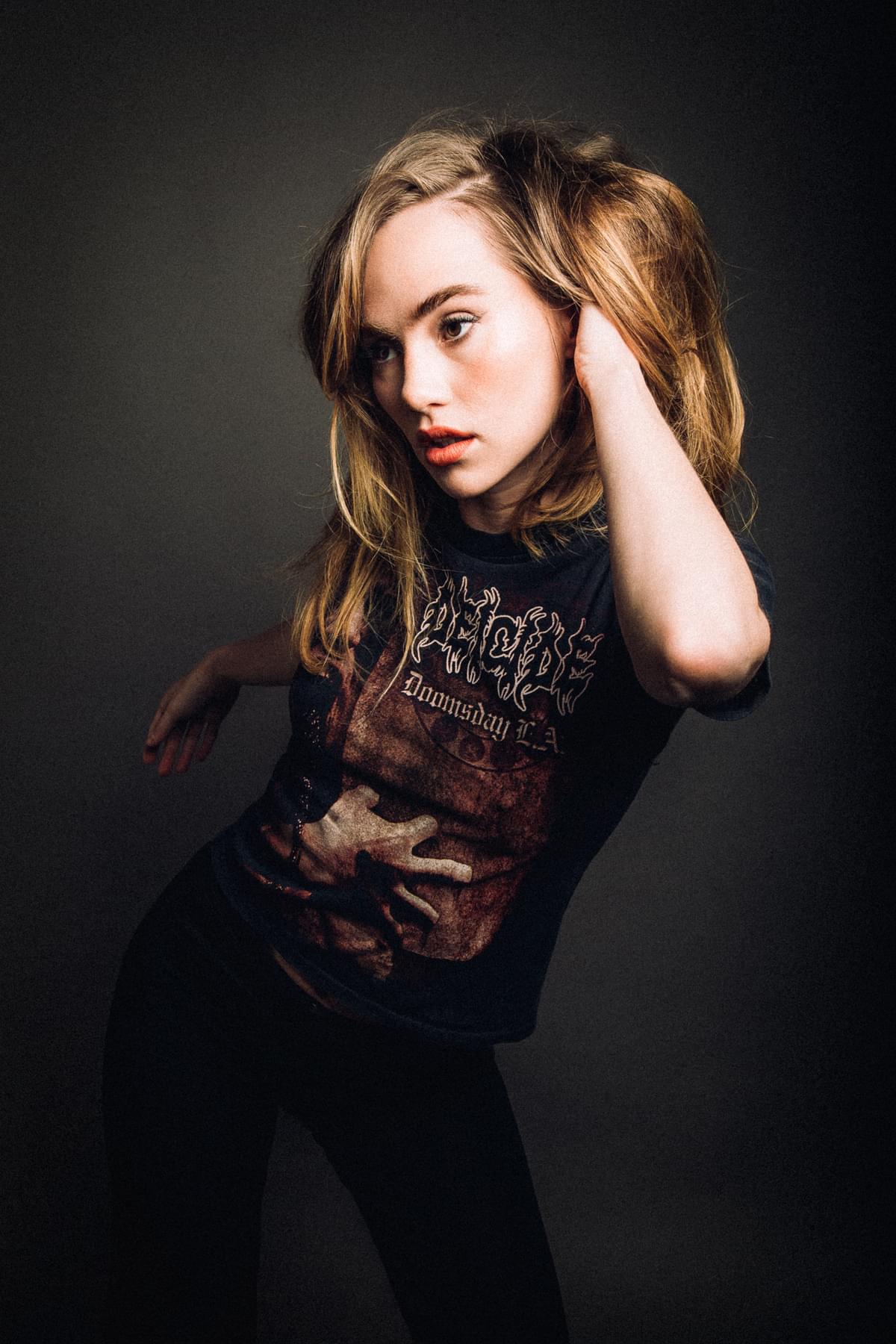 Every musical and artistic choice of I Can't Let Go serves an emotion. In the music she loves, she says, "I always want to feel heartbroken for someone I've never met." Waterhouse finds this quality mirrored in scorched, summer doldrums of Lucinda Williams' "Fruit of My Labour", and Mazzy Star's otherworldly "Fade Into You". But she also finds it in the poetry of Ariana Reines; Duncan Hannah's tales of the near-mythic summer of love in 20th Century Boys, and Natasha Stagg's novel Surveys, about a relationship straining under the glare of fame and social media. "I've written so many songs that I love but don't make it to their final formation, after chipping away, chipping away, chipping away," she tells me. "But the ones that really excite you stick around like an old friend, and you keep giving energy to them."
The opportunity to make this album was not handed to Waterhouse on a silver platter. "People ask how this all happened, and I was writing it down constantly, beginning the world to let me release an album," she recalls. "There were so many blocks: I knew I wasn't going to just get signed; I knew that in order to be taken seriously, I would have to make the album myself. To find a label, I'd have to prove that I was incredibly passionate about it and show them what I could do."
"Sub Pop are not telling me to put on a pair of hot pants... it's more the opposite: they want me to be weirder."
(S.W)
She was constantly seeking friends in the music world to guide her, and found herself spending time with David Sitek of TV on the Radio. A few years ago, they spent a couple of weeks together at Sonic Ranch, which incubated the sounds of Motown legends including Diana Ross, Marvin Gaye and The Jackson 5. With the music she'd created with him, she then had something to present to Grammy-nominated producer and songwriter Brad Cook. For two weeks, she didn't speak to anyone and turned off her phone while they worked together at a studio in North Carolina. "I heard 'Cat's Eye Blue' by Hiss Golden Messenger, the new Waxahatchee record and some of the stuff he'd done with Bon Iver, and I knew he'd be great at making transformative, gentle sonic pushes. I took him the diaries of all the things I'd mind-hoarded and we made them into something really special. It was the best two weeks of my life," she shares.
Now, Waterhouse is signed to Sub Pop, a heritage label notorious for signing Nirvana, Beach House and Father John Misty, who she will be supporting on tour. "They're not telling me to put on a pair of hot pants at all," she laughs. "It's more the opposite: they want me to be weirder."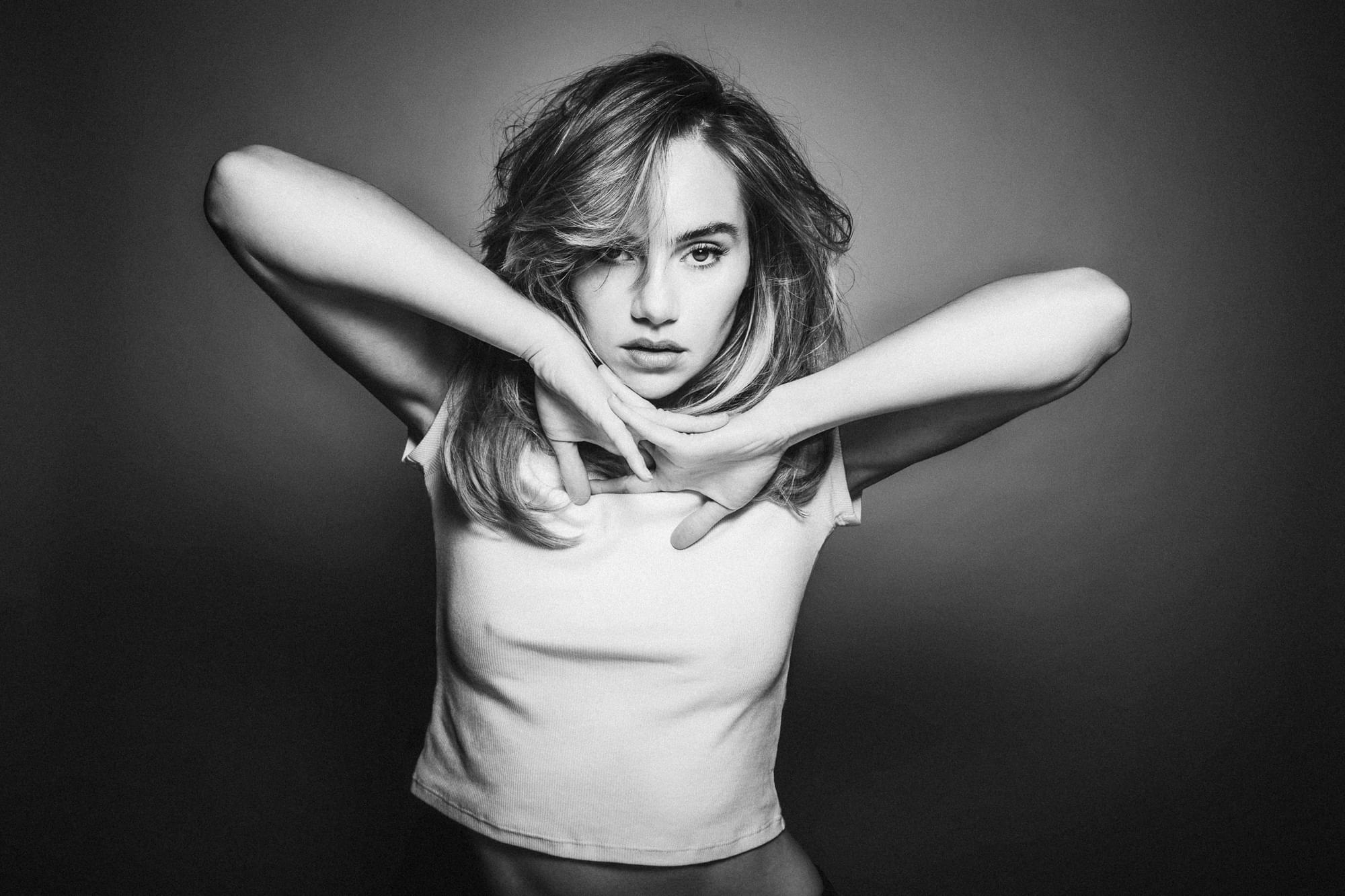 Though people may expect Waterhouse's grip on the past to loosen through making the record, the true realisation she has had is better than that: there is no shame in old wounds. "I think it can be kind of alienating, in some ways, when you appear as though you've moved on from something when you're still working through it. Even if a long time has passed and your perceptions have widened, there's still not a completely closed door. There was a frustration and restlessness with myself for not being able to truly let go of things that had shaped me. It was all about healing myself and moving out of a place that I'd been stuck in for a long time," she tells me. "I'm excited for the part where it feels like I won't own it anymore."
But right now, she's trying to not look too far ahead. The day I Can't Let Go is released, she will wrap filming Daisy Jones and The Six: for this era of her life, it's the final curtain call. "I think it's all about accessing these states and figuring out how to find the words for something you can't articulate yet. I think more time needs to pass, and more life needs to happen, before I think about what's next." While satisfaction is unattainable for Waterhouse, success is a friend: "It's how the voice in your head talks to you, where you can go in your imagination; how you can forgive yourself, laugh at the person you used to be and smile about them. I think with creating anything, there are always tiny slivers of worry, but you have to be there in the trenches with it. I want to have translucent skin, instead of developing a hard shell."
Get the Best Fit take on the week in music direct to your inbox every Friday