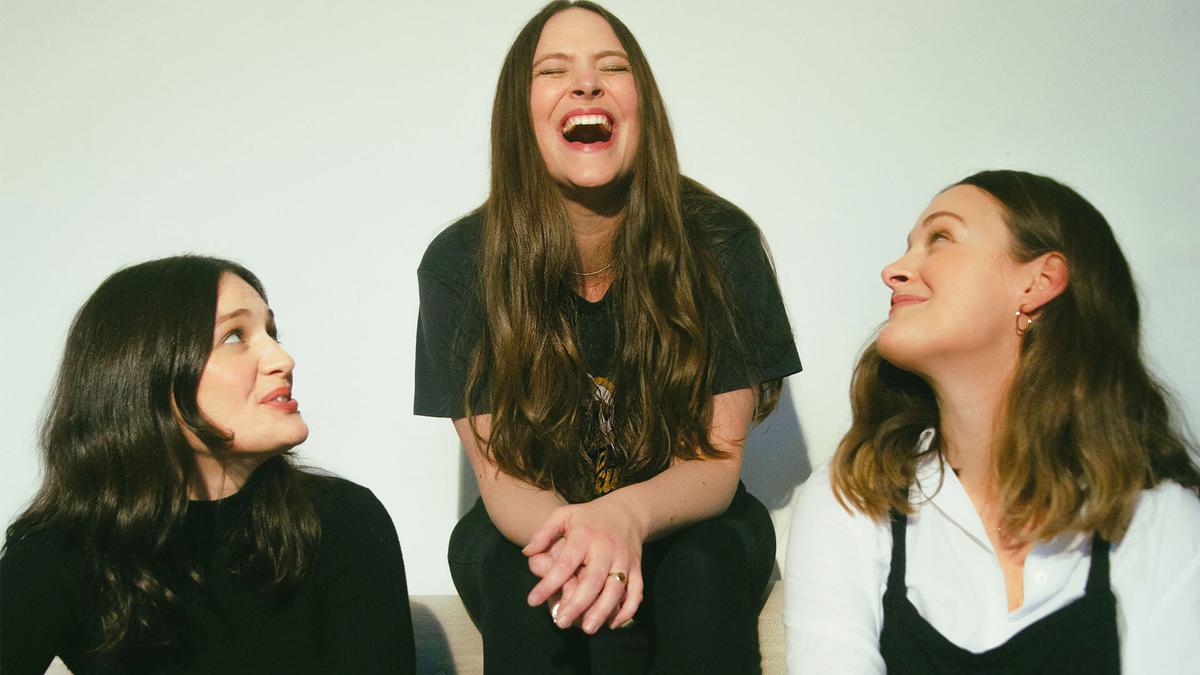 Burnt by grief and break-ups, The Staves are back wiser and stronger
04 February 2021, 10:30
In 2020, The Staves sisters - Emily, Jessica and Camilla - launched a podcast filled with agendaless conversation about everything and nothing. It's quite an insight into the Staveley-Taylor siblinghood which exposes everything from their love of The Man In The Iron Mask to their childhood imaginary friends. "We thought we may as well record some of our inane babble," Camilla laughs over Zoom.
Like the rest of the world, the sisters had spare time on their hands that none of them asked for - a feeling they were sort of used to when the pandemic hit. 2020 followed a year largely spent with their foot off the gas. "It was like we went through a lockdown and we were immediately plunged into another," Jess reflects in the Zoom window above her sister.
The trio faced a tumultuous period in their lives in the years leading up to 2020 which hosted a mix of highs and lows; the unexpected loss of their mother three years ago and the birth of new life as Emily gave birth in 2019 - she's off duty tonight looking after her one-and-a-half year old. "Throw a break-up into the mix and you've got yourself a record," Jess jokes referring to another life-changing event that cast a shadow over the turbulent time.
Whispers of this downtime run through new album Good Woman which was shelved for the best part of a year when the pandemic hit. "I'm in my room and that's all there is", they sing on "Trying" and the agreement to "mark it out as something we should try next year" on "Next Year, Next Time" which now feels strangely prophetic.
"Death and birth have pretty much been the two biggest things, the essence of life itself!" Jess continues. "It was so necessary for us to take the time to be a family and not worry about being a band for a while. If you're going through something like grief, if you go to work, you have your colleagues to pick you up or handle the load, but for us we were going through the same thing so there wasn't that relief from having an extra person around."
If you look at the timelines, there's been a pretty hefty gap since the last 'official' Staves album, If I Was, back in 2015. "It became very clear to us that we were going to have to take a break then it just took as long as it took," Jess nods. "Then Emily's pregnancy brought so much joy and love into the family, we all needed it so much."
There were plans to come back a lot sooner which were quickly scuppered; "Very soon after our Mum passed away, we had a demoing session booked in America," Camilla recalls. "As it drew closer, we thought 'we should do it', there was kind of a notion of 'Mum would have wanted that'. We wanted to do anything that would get us out of that weird dreamlike grieving zone. We very soon realised it was a big mistake. I think all of us together realised it was too soon to be a functioning human again and it was going to take a little longer to tap into emotions as a writer and musician without falling apart."
Eventually what was once a barrier to the song pool became therapeutic and a means to process the events as they tossed ideas to each other while living on either side of the Atlantic; Camilla lived in Minneapolis for a time while Jess and Emily resided in London. "During the writing for the record, I would always feel like I understood how my sisters were doing through the songs they were writing more than when we would speak in normal life," Jess recalls.
"That was the first time I had ever been properly apart from them for a prolonged period of time," Camilla reflects. "We're incredibly close so that was a really big thing for me. On top of that, it's not like there was nothing going on in the UK at the time, but there was a lot going on in America. I could see both sides of the pond playing out. The tension was really palpable there, especially in Minneapolis where there were lots of Women's rights protests and Black Lives Matter marches."
Needless to say, after years of stops and starts, The Staves are raring to go - well, as raring as you can get from the comfort of your living room. "It feels very surreal," Emily says. "It's exciting for us to be able to tie up this chapter, it feels very momentous to get the album out because it's occupied such a long span of time."
Although a six-year gap now looms since 2015's If I Was, they put out an excellent collaboration, The Way Is Read, with NYC-based ensemble yMusic in 2017 which largely went under the radar. "I feel not enough people heard it but I'm really proud of it," Emily says. "It was a real trip to work with yMusic and do something that felt quite different for us but it's one of those things where it doesn't count as an 'official' release so it's strange - people have been like 'it's been five years since your last record' which isn't actually true."
The Way Is Read came about after Bon Iver put the two groups together at his famed Eaux Claires festival and showcased the group's expanding appetite for experimentation which spills into new album Good Woman. On TWIR cut "Take Me Home", their soothing voices soar over the frantic dissonance of yMusic's instrumental unravelling something fresh and inspired. The new LP shows almost zero trace of the twee folky blueprints that surfaced on their debut Dead & Born & Grown.
Being somewhat disjointed geographically, the trio went in different directions musically - Jess was writing more band-orientated songs while Camilla was playing with field recordings and electronics. These two worlds collide across the album's twelve tracks; each finds its rightful place in the sound.
The first sonics that ring out are the sisters' compressed and digitally manipulated harmonies, instantly warping their trademark crystal-clear voices into something intriguingly obtuse. It feels like it wears the changes they've ventured through over the years on their sleeve. "Who will build statues of me when I leave you all behind?" they ask in this celebration of womanhood. Sonic tapestries fade in and out as the track grows to a roaring crescendo that has the trio shouting "I'm a good woman" as the vocal track slips into the red.
Later, "Careful, Kid" builds over a sludgy groove peppered with askew electronics and guitar flourishes that are offset by soaring harmonies. "Trying" goes a step further, stripping back their sound in a different way, stacking their vocals against a doomy synth sequence that feels like it's being ab-libbed; studio notes are exchanged before the track fades out.
Despite the experimentation, an early breakthrough on the album after everything they went through was "Nothing's Gonna Happen", a stark song featuring acoustic guitar and the trio's unmistakable voices. "It was really important to have that song on the record but also in the process as a reset - it brought us back together and anchored us. It really helped us to make sense of everything," Jess says. As they sing on the title track - "a song is a song even buried in the black" - it feels like it was something that needed to be retrieved.
"'Careful, Kid' really reinjected energy into the album for us because we were all writing in the same room for the first time in a long while," Camilla ponders. "Those sessions felt important and really sewed these two groups of songs together - mine and Jess's songs. The song itself is born out of a lot of anger that needed to come out. I had the loop for a long time which is my voice recorded through a distortion pedal and an amp. As soon as I started to sing over it, it all just came out fully formed - it was like 'oh shit, this was really waiting in there to come out' and that's definitely one marked memory where I was excited to make music again, rather than just feeling confused and a sense of impending doom."
Sonic space was an instrument The Staves rolled into their wheelhouse across the record. "We layered up a lot of different voice memos and voice recordings of women on the track "Good Woman". Things that have been sent to us - friends, family or things we had recorded. When you layer up all that conversation and chatter you can't control, particular words jump out at random times."
"It's also like this inner chatter in your mind," Jess interjects. "We were thinking of it like thoughts spinning around - anxieties and worries. Kind of like the sort of feeling you'd get from putting a wire in your brain and then hearing the sound come out."
Not only do The Staves sound rejuvenated with the inventive approach to their songwriting, but the production gives this collection of songs a huge presence. After initial plans to produce Good Woman themselves, they reached out to John Congleton (St Vincent, Warpaint) to helm the decks. "In this scenario it was really really good and healthy to have this fresh pair of ears," Jess reflects. "John really came in at a point when we'd really lost perspective of everything. He came in like a little comet and had really good, really bold ideas and worked incredibly quickly. He possessed exactly the kind of energy that we needed - so encouraging and reassuring."
Previously the sisters had been protective of their unit fearing outside input would disturb the identity of their sound. "We used to be very conscious of wanting to sound like ourselves and be honest to that but John made me feel really great about being open and welcoming other people's input."
Right now the sisters are gearing up to perform a worldwide livestream to celebrate the release of Good Woman tomrrow. "I feel pretty rusty, I think we have to remember how to be a band again!" Millie laughs.
Conversation turns to the post-Covid gig landscape. "I think people are going be fucking raring to go, I want to see a gig so much!" Jess exclaims. "It's a shame there's going to be venues that aren't there anymore after this stuff but I think people are going to be super appreciative of live music, myself included."
The trials and tribulations of being in a band with siblings have been well documented. From Oasis through to Bros and The Bee Gees. While it doesn't seem like the same level tension resides between the Staveley-Taylor sisters, some drawbacks still hang around.
"It's a trade off thing because we know each other so well and share genes so it's easy for us to slot in with each other or be quite intuitive," Jess smiles. "But fucking hell being in a band and a buisness with your siblings is not always rosy. It's very difficult because you can like singing together and enjoy making music but you have to be business partners as well. And someone can be a very good band mate but not a very good business partner and you have to kind of try and learn to be all these different things to each other as well as being sisters."
"Who are you talking about there mate?" Camilla asks laughing.
"It's a strange thing to do though," Camilla says picking up the train of thought. "From sitting in our kitchen singing to each other and just playing acoustic guitar and doing covers of Neil Young to signing record deals, heading to studios, getting on planes to different parts of the world and working with famous people we've admired for years and looked up to."
There's a moment in the Bee Gees documentary How Do You Mend A Broken Heart where Noel Gallagher describes being in a band with siblings as your biggest strength and weakness. After all The Staves have been through, it feels as if Good Woman has invigorated the group's strength and feels like the start of a new chapter, a reset of sorts.
"It's been a crazy journey to go on and I'm so glad I've done it with two of the people I'm closest to in the world," Camilla says. "And like any relationship it's gonna be good and bad, and I know for some people it wouldn't be an option at all to be in a band with their siblings but we're still here - so it's worked!"
Good Woman is released tomorrow via Nonesuch