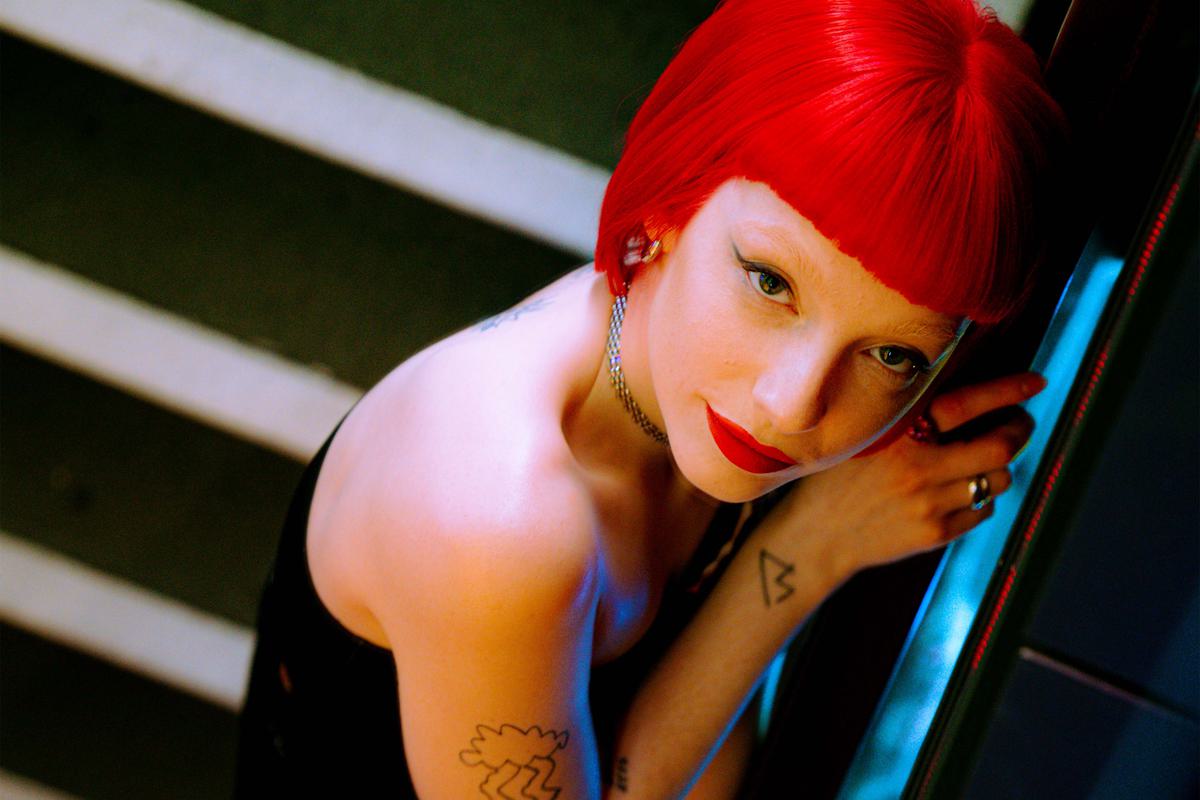 Growing Gains
27 July 2023, 12:00
After years of shifting while in the spotlight, Sophie Scott aka Sophie and the Giants, has finally found the right direction to grow.
"I'm thinking of moving to Italy," smiles Sophie Scott from the other side of a video call. It's a bright summer afternoon and she's phoning in from an anonymous bedroom somewhere in the UK. Following her unprecedented success in Europe with tracks like "Hypnotized," she's temporarily between homes as she considers a move to the continent.
A collaboration between Scott and German producer Purple Disco Machine, the track began to blow up shortly after its mid-pandemic release in 2020. After years of hard touring with her band, the sudden success caught Scott off-guard, but it's something she's learning to embrace. "Every time I go to Italy I stay for longer because I actually want to appreciate the success that I've built and also build up my self-esteem and my self-worth and actually understand what I've achieved," she says.

The track's success was the impetus for not only a genre-switch, but a reinvention that forced Scott to make difficult changes while balancing her burgeoning career. Further singles and collaborations cemented her new direction and for all her struggle, she now finds herself in an exciting and hopeful position.

Born and raised in Staines, Scott was brought up in a musical household. "My parents loved to party," she laughs. "They had really good music taste, they made me listen to a lot of Queen, ABBA, a lot of The B-52s, Blondie, Alanis Morrisette. A lot of disco as well. I feel like that music is so ingrained in me that I think that's probably created who I am in some way or another, because that's my whole childhood."

Scott says she always sang, either putting on family shows with her siblings or dabbling in local theatre productions. While she was at school, she joined a county-run choir and was chosen from over five-hundred children to perform a solo during a charity event at Wembley Arena. "It was this massive, massive show," she says. "I had massive imposter syndrome because I was like, 'Why are they choosing me?' Off the back of that I was like, maybe I can sing. I got singing lessons and started to take it a bit more seriously."

On top of her singing lessons, Scott also picked up the piano, guitar and even had a go at the drums. While the various instruments came and went, in part down to her ADHD, the singing stuck. After completing her GCSE's, she left school and took a place at Guildford's Academy of Contemporary Music, better known as ACM. "I did a vocal diploma, which was a year, and then I did a songwriting degree, which was two years," she says. "I was out of university by the time I was eighteen and then I moved to Sheffield and started my rockstar lifestyle."

Before Scott had graduated from ACM, she had a manager and was out on the road playing shows. Her move to Sheffield was in part to continue writing with Jon McClure of Reverend and The Makers with whom she'd connected and formed a creative relationship.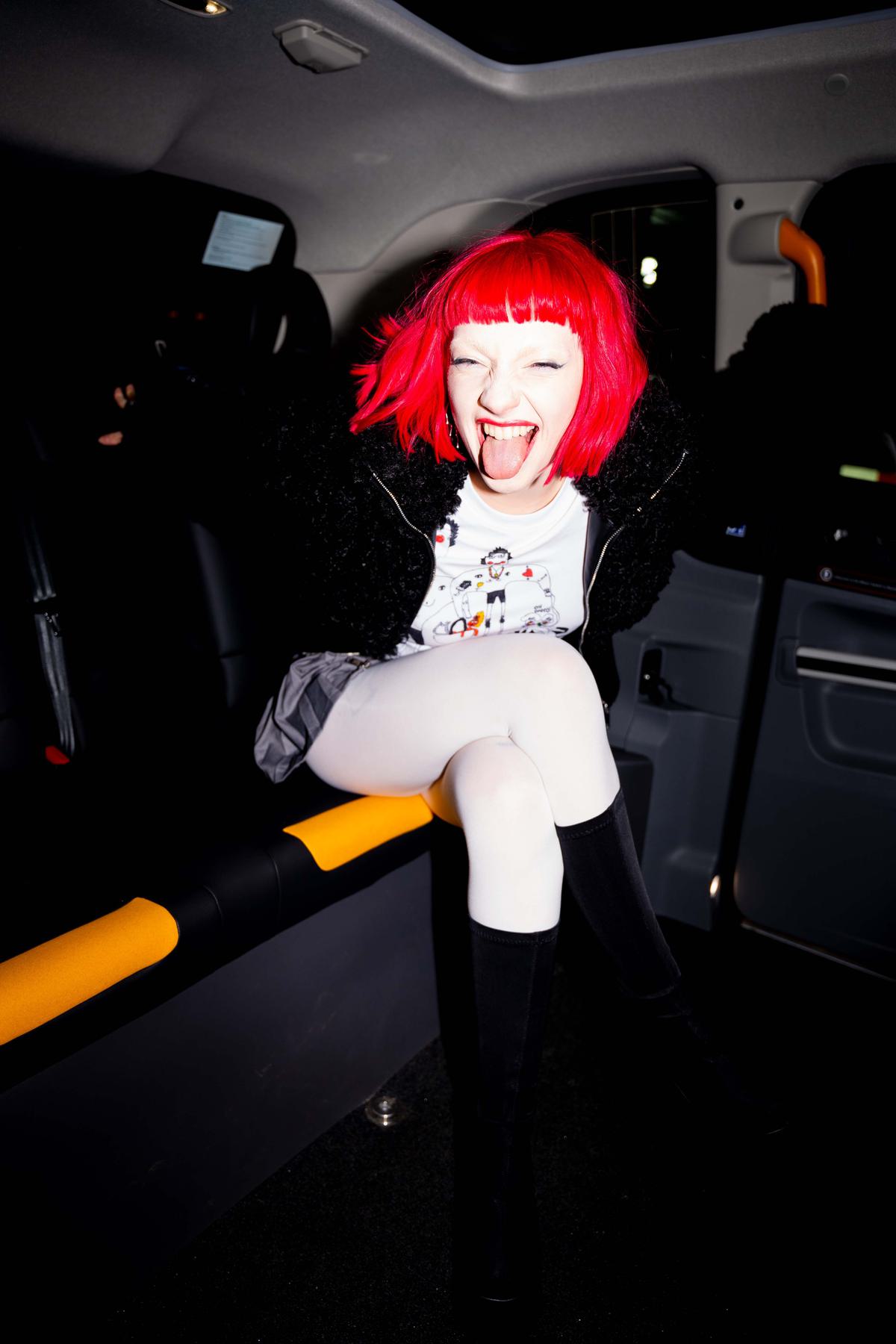 Scott focused her studies on songwriting, to try and develop more of her own personality as an artist. However, she found the lessons to be less about artistry and more mathematical, music by numbers. Taking matters into her own hands felt like the only way to progress. "I think it's very hard to teach you how the industry works because the industry changes every week," she says. "You have to go and be in it. So I just immersed myself in the real industry and playing gigs and touring rather than staying at college. I didn't turn up for my entire last year of my degree. I just did it on the road."

It was around this time that she formed a band. Initially she had been playing with the help of other college friends, a revolving cast who all had their own projects and commitments. But when school came to an end she decided to take things seriously and the first iteration of Sophie and the Giants was formed. They moved to Sheffield together to focus on their music. "It made sense to move there straight after uni because we had no money, no direction, really, apart from just wanting to play," she explains. "I wanted to become a better songwriter and I thought I could do that with Jon. We wrote so much music for the next two or three years after that."

In fact, McClure became something of a mentor to Scott. "He really believed in us and wanted to make sure we weren't doing anything stupid," she laughs. "When we eventually got offered a record deal, he was the first person to be really real with me and teach me about the industry and how it worked for him."

After a solid run of touring and support from BBC Introducing, Sophie and the Giants signed with Universal in Germany. At the time, Scott's songs were jaunty indie-rock gems, radio-ready with a pop edge. Still a teenager, she took influence from those around her who were listening to acts like Catfish and the Bottlemen and Arctic Monkeys. "This was the only music that was influencing me at the time so I think I just did what I was supposed to do and wasted a lot of time," she says. "When you're young and just so heavily influenced by other people, you don't always sit by yourself and figure out what you want to do."

Having been bullied at school, Scott carried her insecurities to college, just trying to fit in as best she could with her predominantly male classmates. "I took a lot of validation from other people because I didn't have that growing up and I didn't have that in school. For a long time I was very much fitting the mould with where I could fit in," she says.

Even after leaving ACM, all the early iterations of Sophie and the Giants were male-heavy. "My band was always all dudes up until I was twenty-one," she explains. "Touring with dudes when you're the only girl really started to take a toll on me. The energy was a little bit toxic at times, like some of the jokes they would make. I don't want to be a part of a group of people who think that way, so I had to slowly try and adapt."

But it wasn't just an external feeling of discomfort that Scott was struggling with. As she grew up and grew in confidence, she realised that the direction her music was taking also needed adjusting. "It turned out that I just wasn't really that into indie music and I wasn't that into that hetero side of music," she explains. "As I realised I was queer, my music just started to become more queer as well. I was in the light while I still didn't know who I was. It was so confusing because it's such a huge leap. I'm just the polar opposite of what I was at college."

Thankfully, both her manager and A&R embraced her experimentation, encouraging her to continue on her creative journey. "They were like, 'It just seems like you're acting as a character that you're not. You don't seem happy and you should try lots of different things,'" she says. "They just had a lot of faith in my voice, which is crazy. To see so many things wrong with someone, but trust them on their journey and finding their sound. It's crazy that people did that with me. The patience!"

The turning point came when she wrote "Hypnotized" with Purple Disco Machine, a bright and melodic burst of electro-disco. "I think everyone was just like, well that's it. You've found where your voice is supposed to be," she smiles.
Shortly after its release, the track caught fire, racking up millions of streams and topping radio charts in Europe. If it was a change in direction for Scott, it was a seismic shift for Sophie and the Giants. To fans who'd followed the band, the switch made little sense. But for Scott, staying in the same lane felt even more detrimental. "It started to affect my mental health because I just knew something wasn't right. Maybe I was doing something that I wasn't completely satisfied with and I needed to do something new, but I was terrified of doing something new," she says. "It's so hard when you're building such a repertoire and then out of nowhere to change your mind. Everyone's like, 'What the fuck? We stuck by you and now you're just doing something completely different.'"

As the sole songwriter, Scott felt a responsibility not just to her fans, but to her bandmates too. "When 'Hypnotized' kicked off I was being flown out to Italy to start doing TV and they were just sitting, not having a lot to do," she explains. "It's like a relationship when you keep arguing and it's getting really toxic but you keep trying to fit a square in a circle. The only time that we truly loved being a band was when we were on stage. That was great, but all the other times it was like trying to make a relationship work that wasn't working anymore and not accepting that it was changing. It got to a point where I was not in a good place."

To add to the tension, the world was shaking off the grips of lockdown and live shows were very much off the table. Scott made the decision to leave Sheffield and move back to London to stay with her family, to think and regroup. "I was like, 'I'm not really in a good place, I have to go just stay with my mum for a bit.' I just didn't trust how my head was all over the place and I just wasn't feeling well, at all. When I was down there and while I was having therapy and just getting healthier again I came to the realisation that I was in a toxic relationship with my band," she says.

"I had to learn to have a voice...Navigating that and being completely on my own with it was so terrifying but I knew that I was doing the right thing, finally."
(S.S.)
While Scott approached the breakup with positive intentions, the act itself was still painful and messy. "They absolutely didn't understand at all why I would do this to them," she says. "It wasn't me doing anything to them, it was me releasing us all from this pain. I was very honest in the way that I broke up with them. I said, 'This isn't good for us anymore, this isn't good for my mental health and it's not good for yours and we just have to accept that it's not working anymore.'"
Evaluating her decision now, with the benefit of hindsight, Scott still struggles with the fallout but is adamant she made the right choice. "Everything just started to feel right, for once," she sighs. "All of the mental health stuff that I struggled with in the past, with my anxiety and getting in really low depressive pits, kind of went away. I was able to start building my confidence and just enjoy my career rather than having to battle with all of these things all of the time."

While Scott was grappling with the past, her future was accelerating. She began collaborating with more songwriters and producers, watching her profile grow and trying to keep up with each new opportunity. "One thing I had to learn to do was to actually have a voice, because I was the only voice now," she says. "Navigating that and being completely on my own with it was so terrifying but I knew that I was doing the right thing, finally."

Despite her burgeoning fame, most of Europe was still in lockdown. Scott had to reconcile her success from afar, watching play counts and filming TV appearances against a DIY green screen. "It was really strange, to say the least," she says. "Doing everything from my bedroom for the first year of the success of 'Hypnotized' was very jarring. Just very, is this actually real?"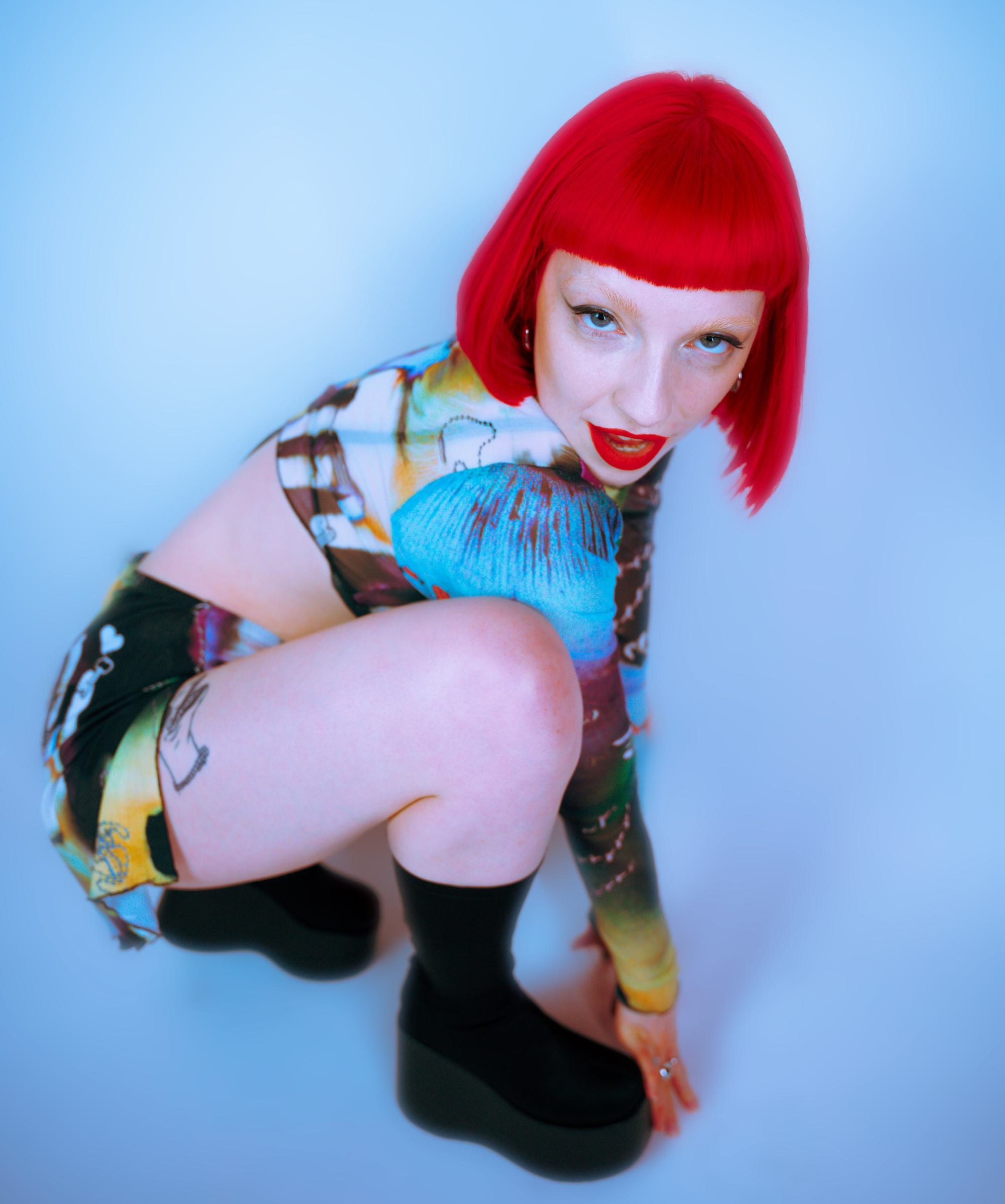 The first show she did off the back of her fresh success was also the first time she met Tino Piontek, aka Purple Disco Machine, in person. Together, they played their hit in an empty coliseum in Italy. "I was in the middle of doing the biggest show of my life to no one," she shrugs. "Just three of the biggest cameras I had ever seen. I felt like I was in a simulation, like, this is not real."

Even the creation of music was done in isolation from her bedroom, working with producers on Zoom and sending music back and forth via email. Despite the impersonal nature of that creative process, Scott was still inspired by the music that was growing from her sessions. "It's magical how you can do that and how you can create a song or understand what a song needs, having no communication, not being in the same room," she says. "Doing your magic on it, sending it back, they make it even better and then they send it back to you. Then you just have this amazing track at the end."

Following the success of "Hypnotized", Scott still experimented with her musical style, releasing a scrapbook of diverse pop singles, trialling and discovering which direction felt right. Her 2021 single "Right Now" is a celebratory summertime kick that still circles the edges of alternative pop, while on the following year's "We Own The Night" she fully embraces dance radio highs and breaks, the production begging a club version.

But it was her collaborations with the likes of Benny Benassi, Dardust and continued creative relationship with Purple Disco Machine that really cemented Sophie and the Giants as a force in contemporary disco. "I love writing with people. I find it so much fun and also, I learn something new every time I work with a new producer," she says. "What happened with 'Hypnotized', making the most of all these opportunities and people you meet, it just gives you so many different directions and I just like learning and working with new people all the time. If I like a producer or a DJ then I'll work really hard to try and work with them and make music together."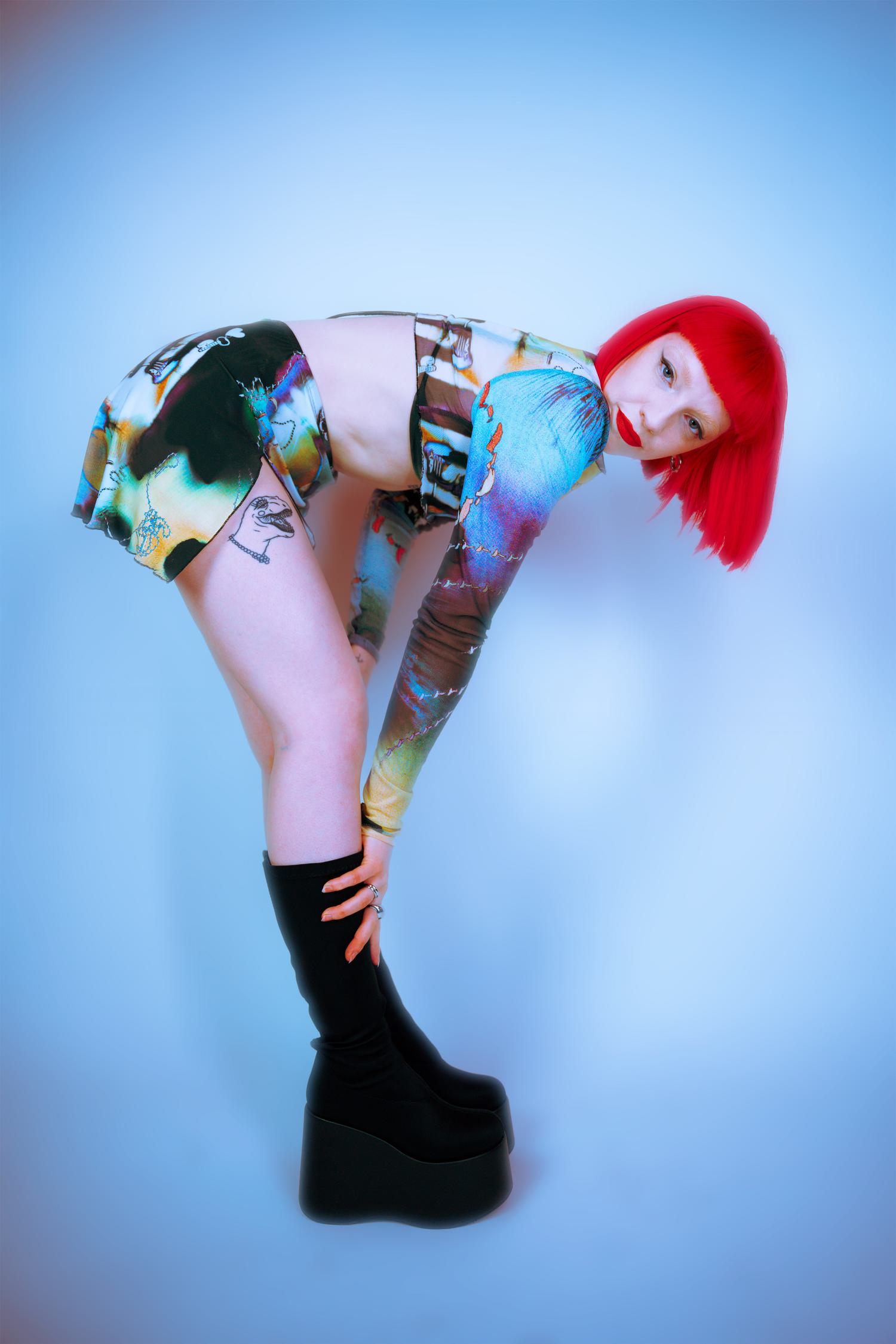 Working again with Purple Disco Machine on tracks like "In The Dark" and recent single "Paradise", the pairing showcases both Piontek's skill at creating effortlessly euphoric and addictively alive productions and Scott's strong and silky toplines. After months of collaborating from a distance, the pair spent last summer on stage at festivals around Europe, with more planned for this year. "The funnest part of all of it is when it comes to life on stage and you have a roaring audience," smiles Scott.

One such highlight was her appearance at 2022's Eurovision Song Contest semi-final, something Scott describes as her "Oh shit" moment. Playing live alongside Benny Benassi and Dardust, the trio performed an italo-disco medley. "When you're in the room, the stage is big because it's very elaborate but the actual crowd is not that big. It doesn't feel like you're performing to millions of people, which is jarring again because then you realise it's actually on TV being broadcast to everyone," she explains. "I don't like to think about how many people are watching me because I would never perform."

For Scott, her new Italian notoriety is hard to reconcile with her life in the UK. "In Italy, I'm like Hannah Montana, then when I'm here I'm just another person walking down the street," she says. "You can't explain to your family and your friends like, 'I just got another platinum record' and they're like, 'You? Really? You're still playing at the pub.' It's hard for me because I already have really bad self-perception. I find it really hard to just see myself from an outside perspective. When I go to Italy I'm surrounded by swarms of people. It's like, how do you explain that and feel like it's real?"

It's also strange for Scott, as a queer woman, to compare that level of adoration with the current homophobic, anti-LGBT+ laws being passed in Italian politics. "People always refer to me as like, their English rose that comes to Italy. I don't speak the language very well, I don't know if they've had the opportunity to properly get to know me yet," she says. "They just know my voice and the way that I look, but they have embraced me and if anything I hope that I can do some good in Italy to bring the queerness, the brightness, the loudness, the female grit. I don't really feel like a rose."

It's taken a long journey for Scott to get to a place where she feels confident in the direction she's taking. Moving forwards, her plan is to just keep doing what feels right. "The success in Italy did come out of nowhere and I feel like anything can happen. I hope that I can make a name for myself in the UK, that would be really great and I know my parents would love that as well," she laughs. "I love where my career is at. I'm so happy. I love being able to tour around Europe and do all these huge festivals and having people just singing my music back is probably one of the best feelings ever, so I would love to keep having that."