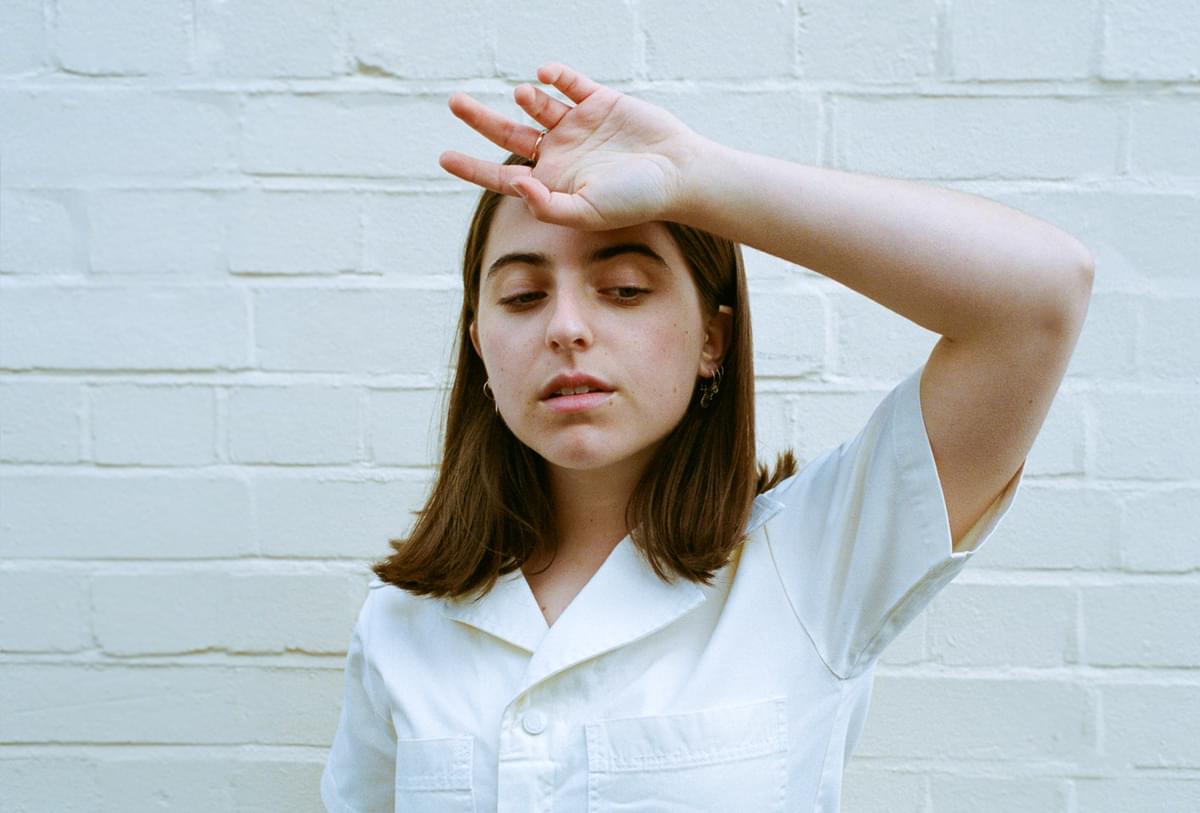 On the Rise

Sofia Wolfson
28 June 2020, 08:00
Crafting deeply thoughtful acoustic ballads, Sofia Wolfson's music channels reflection and introspection.
I meet Sofia Wolfson at Kumquat Coffee near Highland Park in LA, the rain coming down in sheets and obscuring the street outside. She likes this coffee spot and lives around the corner. Having grown up in Los Angeles,she feels comfortable in its art-deco hide outs. Wolfson lives alone and is happy that way - happy sipping green tea quietly in humming coffee bars; happy writing music alone; happy discussing books she references like old friends. "I like spending time with myself: being able to go to a show and enjoy the music and not worry about the person you brought," she tells me. "Although, a lot of the songs are about the dark feelings I experience when I am alone. But at the same time, I think I would experience those feelings even if I was with a group of people."
Being alone and its juxtaposed loneliness is a topic that the 20-year-old Wolfson returns to frequently, although her upbringing certainly wasn't solitary. She grew up in Los Angeles; her father, an English professor at UCLA and rock musician, her Mother a travel journalist and music lover; she was surrounded by sound, words, and live music: "The first album I remember buying was Demi Lovato – that was a really big deal because I had grown up on so much classic older music, so it felt rebellious.
"My Dad was the lead singer and rhythm guitar in rock bands, playing me Tom Petty; and my Mum was showing me Dixie Chicks and No Doubt. I like that I grew up with parents who didn't try to limit what we listened to. It was more like how much can we listen to, instead of, let's just listen to The Beatles."
Tuned into music so early on, Wolfson started playing guitar at age six. She tells me she was practically raised in the Los Angeles music scene and streams off a list of LA venues: the Chinese restaurant, Genghis Cohen with its dingy upstairs room hosting live performances, Room 5 on North La Brea with its calendar of rising artists; Amoeba Records store where she saw her first gig – Pat Benatar, at the age of four.
"I'm still insecure about my music," she tells me. "Even if I go to the UK and do a tour, it's still hard to say, 'I'm going to do music and 100% succeed in this.' I think I'm going to play music for the rest of my life in some capacity or another. I think I first got that feeling playing shows. I'm an introvert at heart, but I'm somehow able to get up there and be what my dad calls an ambivert. There have been a few moments where I thought 'oh I'm actually doing this.'"
To an outsider, there are in many moments from Wolfson's youth that benchmark her career choice. Susceptible only to the most trifling of music, she went to a birthday party aged four dressed up as Gwen Stefani, despite the party not being themed. Five years later, she stumbled into her first small-room singer-songwriter show at the Largo, looked at the musicians onstage and thought, "I want to do that." She gigged acoustically and then electrically in coffee bars cultivating a Joni Mitchell-esque image and laid down her first recording at fifteen. Her intricate portrait of growing up - the Adulting EP - dropped last year and saw her transfer back to LA from Boston to complete her degree alongside her career. "I think you get really categorised and the Boston music scene didn't really know what to do with me," she explains. "When I moved back, I was really anxious that all the venues would have forgotten about me, so I played every show that was offered to me. It was exhausting but I think we had ironed out the kinks by the end."
This approach to making music – playing the songs and giving them space to breathe - is unusual for Wolfson. She's been known to finish songs the night before and record them the next day. Was that the process of writing and recording debut record Hunker Down, back in 2015? "I had been playing gigs for a couple years and had a ton of not great songs that I thought were amazing," she says. "I had a family friend who had a studio, my dad came in and we brought in some family friends who were musicians. I had done a fundraiser on a 'give me money please platform' and raised a lot of money, so I was able to do more songs than I thought. I remember I put a perk on that fundraiser– 100 dollars I'll write a song for you on any topic you want. So many people did it that I spent the summer having to write all these personal songs – like about their baby, about milkshakes and apple jack. I think it's pretty cool that I did that at 15."
Wolfson has a profound sense of retrospective and emotional intelligence – able to see moments and decisions through a lens of understanding and self-worth, which even the most stable of adults still struggle with. Like many artists she still struggles with imposter syndrome: "I wake up every day and think 'everyone in my life is lying to me," she explains. "I think how you combat imposter syndrome is just by doing it, even as difficult as it is. It can be really poisonous and totally debilitating when all you do every day is compare yourself to people. You just have to tell yourself that every bodies doing different things and are on different paths. You have train yourself to look at that person who has what you want and say, 'that wasn't for me.'"
This sense of self-analysing and empowerment even in the most challenging of emotional realms is an ardent feature of Adulting. The six-track EP details the middle age of late teens, when you want to be an adult - and behave like one - but still rely on parents for certain things. The songs illustrates the intricate frustration of this time and cut a narrative of those experiences wrapped up in easy-sliding guitar. The music itself is raw, using shamelessly retro, primary instrumentals with Wolfson's voice and guitar shining through. "Remind Me" offers a slight-of-hand on female societal standards: 'Keep your head up / Keep your eyes open / Keep your legs crossed / Keep your hands focused / You know what they say about you if you slip it up this time / You know what they say about you if you're not the one they have in mind."
"Nothing's Real" peters out into an electric guitar solo, distorted to sound like pedal steel; as if Wolfson has run out of words and just wants to speak in sound. This song, too, tries to capture the experience of comparing yourself to peers who will always achieve more than you. "One of the best lessons is learning how to listen to that but to not reflect on it because then the imposter syndrome and anxiety get the better of you," Wolfson explains. "But I am also a 20-year-old, so I have a long way to go."
There's a lot of anxiety, sadness and heartbreak on Adulting. How does the writing process contributes to her sense of reflection? "That heartbreak was interesting because it put a lot of things I used to write about into perspective – they suddenly felt really trivial. I think what's really cool about song writing is that sometimes I'll sit down and write something and be like 'I didn't even know I was feeling that.' So it'd really therapeutic, it's healing, it's constant."
Her songwriting has progressed in the year since Adulting's release, as she settles down to her alone time in LA. She less afraid than she was before, and there is a hint of withstanding demons in the songs she's writing now. I think of how her music often confronts dark, unsettling feelings of sadness and loneliness - what's her response to an audience that might be disquieted by her words? "I've had people come up to me at shows and tell me 'that was so dark.' I'm not trying to make it darker than it is - I'm just saying what it was like and what I felt in the moment. [But] if I wrote said song six months ago when I was feeling really terrible - that doesn't mean that me standing here and singing it still feels that way. I've noticed that the brain wants to be likem 'Oh god they're going through that right now, I wonder what's going on in their lives, I should speculate about that!'"
New single "Billboard" is the a culmination of a decade of growth musically, emotionally and lyrically; it's a summation of the adulting and what her therapist calls "shoulding." Wolfson tells me that it is also an apogee of a series of dissociative experiences during an in-between phase of a relationship, where she looked up and thought she saw someone she knew on a billboard. In one last emotionally intuitive sentiment, she tells me: "I think the song was admitting to myself that I had no idea what I was doing in this first relationship, and how much I was struggling to figure that out. Also, at the time I was having trouble with figuring out what I wanted for myself versus what other people wanted for me, and how awful it can feel when everybody is telling you what to do. In retrospect I realise it's ok that I didn't have it all figured out, but at the time it all felt very overwhelming."
Soon after our interview - when lockdown is in full swing - I persuade Wolfson to play me at online Scrabble. One of her first words is 'boobs.' She texts me: "I, an intellectual, just played the word boobs." She's sharp, sensitive and acutely self-aware to the end. She wins at Scrabble 138-129.
Billboard is out now
Get the Best Fit take on the week in music direct to your inbox every Friday