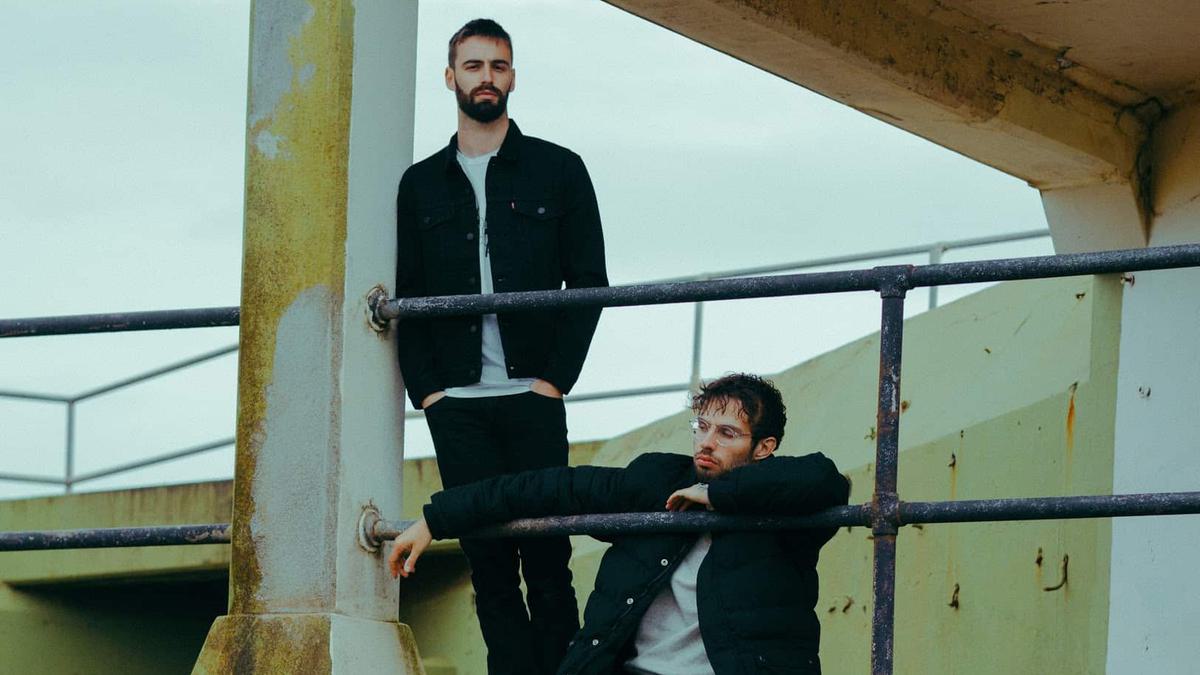 On the Rise

Slenderbodies
19 September 2019, 08:00
Californian neo-dreampop duo slenderbodies bring a producer's craft to their fantastic experiments in music.
slenderbodies float, cushioned and suspended, within their music. Since their emergence in 2016, Ben Cormack Aram "Max" Vehuni's creative partnership has created a thousand textures and a dichotomy of styles: a living contradiction between traditional instruments, melted and repurposed with an electronic sheen. Cormack explains, "There are basically two kind of constructs that we set up when we started the project. The first predominantly falsetto vocals and guitars." The result was a dual identity: "We both come from places as producers where we made a lot of electronic music in the past; we produced for a lot of different genres. The idea of manipulating guitars to sound completely different than their original sound is really fascinating for us."
Their music, as a product of that, comes from a place that is at once recognisable and unfamiliar. The alchemy of feather-light vocals and billowing instrumentals capture the balmy summer nights of their city. slenderbodies' statement of intent was held in the title of their debut EP, Sotto Voce. Aram "Max" Vehuni tells us, ""Sotto Voce" is an Italian phrase that has no direct translation to English, but it means "to speak softly, but with emphasis"". Their first full-length album on the cusp of release, komorebi, draws once more on the duo's fascination with concepts that defy translation. The Japanese word describes the scattered light that filters through when sunlight shines through trees. Much like these untranslatable words, slenderbodies seek to express sensations that most struggle to define.
The duo's experience with komorebi was a seminal moment which would not only inspire, but influence the entire genesis of the album. Whilst on their way to Solaura Festival in Northern California, they encountered "the most beautiful form of komorebi" in the expansive forests. Performing there for a third year in a row, Vehuni tells us, "The album comes out next week and we're going to play a lot of material at the festival that actually gave us the inspiration to make it."
The seed of thought was planted; komorebi began to take shape. Two months later, they had booked themselves a cabin in the midst of the very same verdant landscape that had given rise to the record in the first place. Cormack shares, "We're big fans of taking any space and turning it into a studio. We worked in bedrooms, we worked outside, we worked in warehouses with a limited set of gear, so it has been an interesting challenge for us. But the full-on immersion into nature is really what makes this album special. The underlying current across the whole record is how being close to nature has enriched our lives and enriched our relationship with people and music. It was kind of a natural choice to go out into the woods and have a routine where we'd wake up, get our guitars, go for a little hike, flesh out those ideas, go back to the house, make some tea, put the fire on and just get to work."
"We loved the cabin so much that we wanted to bring the soul of the cabin to the record. A lot of the sound and the ambiences that you hear were actually used, and everything was recorded in the cabin, so we were able to use the little knick-knacks, use the space, use the surroundings of the forest, that really ultimately ended up being used on the album." This experiment in atmosphere would create a record that is considered and multi-layered – rewarding, in fact, for a patient listener whose ears are attuned to the sound of matchsticks, keys and the gentle sigh of the cabin.
"The record is a time capsule to ourselves when we're a lot older," Cormack explains. "Basically, we're discussing our subjective morality and our priorities in life. We adapted those things to be accessible, we put them into stories that were outside of our personal narrative." He is adamant when he says, "I think that it's not just a pop, summer jam that will play in the background – it's something to be digested."
"I want people to also look at it as a time capsule for themselves as well," Vehuni adds. "I want them to look at those moralities and see if they agree with them, or to see if down the line, many years later, they still fall in line with those. It would be interesting to watch people change as they grow, and as the album continues to be a part of their life."
komorebi is, in many ways, a turning point in the approach slenderbodies have taken to their music this far. Cormack muses, "I think there has been a bit more weight that has fallen on the song writing perspective. I mean, I think we've always been really partial to song writing, but in the earlier projects, a lot of it was about creating sonic depth. Over time, I feel like we've gotten to a point with our sonics that we feel very confident in our sound and that we really wanted to dive into what we want to do in story-telling. And so, I feel like this album is the most in-depth story-telling we've ever created. We really wanted to focus on how the songs flow onto each other, why they're ordered in the way that they are, what they all mean and their connection to each other. Personally, before, I think we were a lot more focused on getting the sound to really work together to solidify our signature."
The eleven-track-strong record is a carefully woven tapestry of thoughts and ideas. Songs often work well coupled together, such as "Arrival" and "Departure". Cormack explains, ""Arrival" is essentially about what you would tell a child, if they could understand you, who was just born into this world, about what to expect from this life. And "Departure" would be the other side of that, about what kind of conversation you would have with someone who is about to pass away. Talking about life and death, and the period of time you have on this earth, are all things that you could essentially come across." Then there is the atmospheric coupling of "Heart" and "Dewdrops", both touching on the feeling of home, and meanings that it can hold. "These are things that we hold as important to our lives, and they're all encapsulated in this book, so to speak."
Often, with music, it can feel that style comes at the cost of substance; sonics at the expense of lyrics. komorebi, in that sense, is the closest slenderbodies feel so far to reaching that equilibrium between the two. Cormack says, "I think we're in a really good place where the sonics and the lyrics match each other and complement each other. A simpler song may need more complex lyrics, but there's definitely a balance with this album."
The evolution of the electronic duo, even in this limited space of time, has come on at an almost break-neck pace. They began as producers, who worked often for others and rarely for themselves; they were certain that slenderbodies would be a project that would never work in a live capacity. Vehuni thinks back, "When we started to get a lot of feedback on the slenderbodies project, we decided it would be something really cool to bring out in a live setting and just really see if the music translates to a stage. […] komorebi is the first project that was really written to be played in a live setting versus the earlier projects where almost designed strictly as a listening experience. komorebi is a balance between both; you can listen to it live as well as having an immersive listening experience."
Though they may have mastered the studio, translating slenderbodies' sound to a live setting presented a whole host of challenges that the duo had previously not considered. Cormack tell us, "I'm predominantly self-taught as a guitarist, so this year I've actually had Max as a guitar tutor, teaching me the more proper, technical way to play. We communicate very well on guitars and I'm really lucky to collaborate with him, but there were definitely some things physically, in the way I play the guitar, that have held me back. It's been incredible relearning my instrument in the past year or so, which I'm super grateful for, as well."
With a careful eye for the minutiae of their music, with every element considered and cherry-picked, Vehuni continues, "The biggest challenge that I've had to overcome, for me, as an audio engineer, it's being able to reach a point of thinking something's done when you've been chasing a really specific type of sound. The most intriguing challenge with the slenderbodies sound is it's hard to compare to anything else because we have such a specific sonic signature. Sometimes getting into the mixing and mastering process for our music really takes a long time to dial in the way we want it to sound from a studio perspective. I feel like over the years it has become more and more nuanced - the way that we want to mix our music - and in that sense, it's one of the hardest things I have ever mixed and mastered."
As is the way with all great musicians, slenderbodies has become an extension of Vehuni and Cormack. Their music is their lifeblood; an essential park of themselves. Vehuni shares, "Personally, when I was younger, I definitely struggled with a lot of depression, so as I've grown older music has definitely become a coping mechanism for that. We've tried to dive in to advocating for things like exercise and talk therapy – or I have, for myself. I think vulnerability is coming more to the forefront as far as it being okay in the public eye. I think social media has had an interesting effect on that, but I think people are kind of getting sick of it. We're trying to stay as healthy as we can while being vulnerable, and realising it's okay to not be okay."
"Music has been the largest saving grace in terms of any mental health struggles that I've had. I've always been able to turn to music and creating to allow me to pull myself away from any of the darker corners. That's really been my connection with music and mental health: it's always been on a very positive note. The music industry can affect your mental health negatively, but for me, music has shone the brightest of lights on my more difficult years," Cormack adds.
Though they are only on the precipice of releasing their first, full-length body of material, Vehuni confesses, "I would almost argue that we've already found success because we've spoken to a lot of people who have felt changed or empowered by the music. People tell us, "Your music saved me when I was in a really dark place", or, "Your music really helped me get through this", and that is the largest success in my eyes. I don't know if you wanted a more tangible answer to that. We're really excited for what we've accomplished so far – that's not to say we feel like we've gone as far as we want to go. We want to keep spreading the message, and we want to keep the music and the energy -but I really think every step of the way is a success."
komorebi is released on 20 September via Avant Garden/Island Records