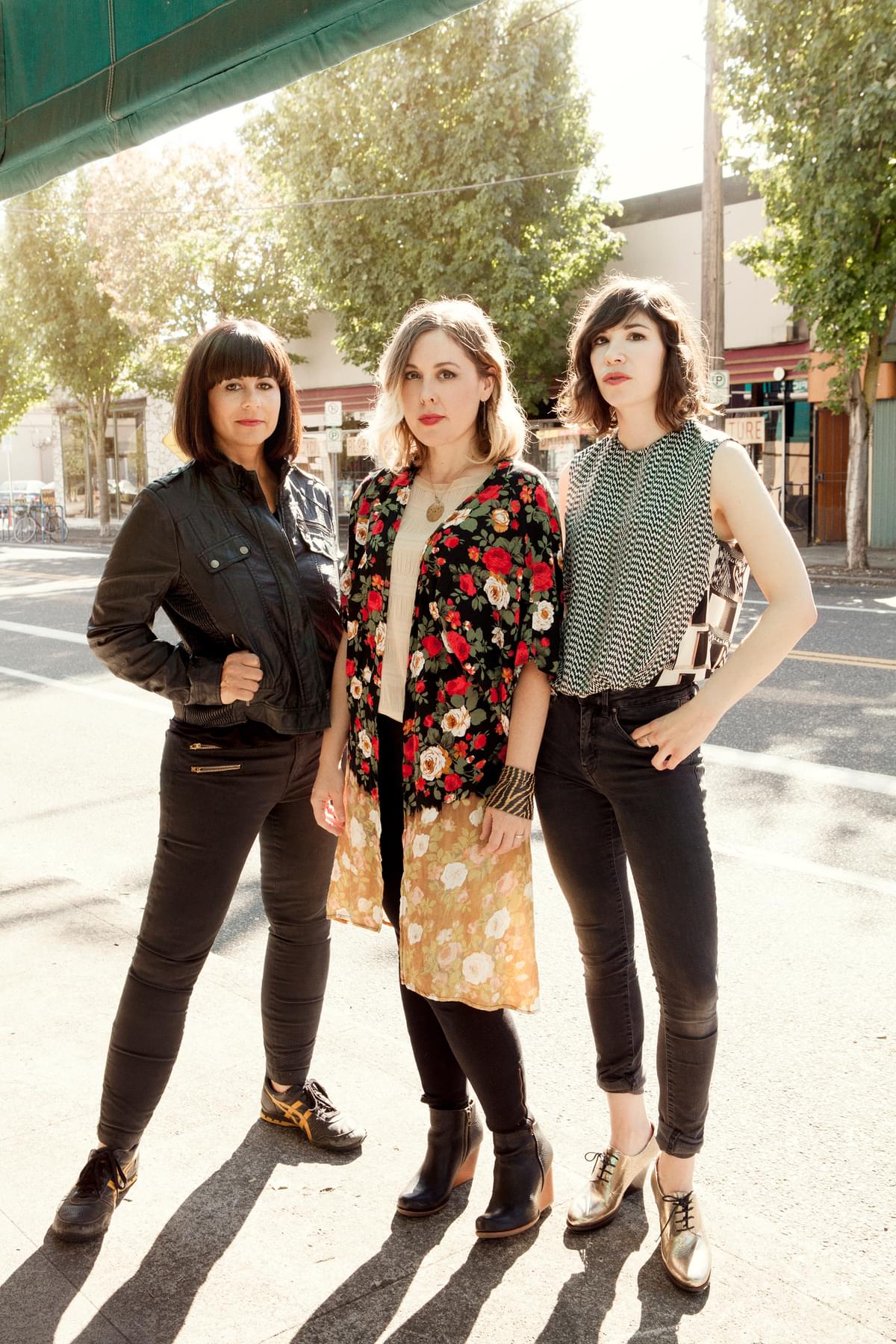 Sleater-Kinney: "We're still a work in progress"
09 February 2015, 09:30
"I'm honestly surprised that nobody found out, that nobody spilled the beans. We didn't do a very good job of keeping it to ourselves."
Last October, Sub Pop released Sleater-Kinney's back catalogue - in its entirety - on vinyl for the first time, as part of a box set entitled Start Together. It didn't feel like your typical reissue, partly because the motives behind it actually seemed noble enough - nine years after the release of The Woods, there was always the danger that they were slowly being forgotten about - but primarily because most bands can't boast a canon as varied, as ambitious and as consistently brilliant as theirs. My review of Start Together for this site was a bit of a labour of love; it certainly read like a love letter, if nothing else..
I finished it on a Friday afternoon, three days before release, and decided I'd proofread it later, when my brain wasn't quite so fried. I'd written it with the overarching narrative that Sleater-Kinney were very much a thing of the past, and that another album was unlikely, which seemed a fair enough presumption; Carrie Brownstein is now an Emmy-nominated comedic actress and television writer thanks to Portlandia, whilst Janet Weiss continued to juggle a slew of other bands and Corin Tucker was balancing a stop-start solo career with raising her children. I even talked about how The Woods - a triumphant exercise in melodic abrasion - should be considered one of the greatest final records ever.
When I checked Twitter a couple of hours later, it quickly became obvious that a redraft was going to be in order. Somebody in the States had woken up to the early arrival of their boxset, and along with the usual trappings - brightly-coloured vinyl, a hardback photo book - was a seven-inch, marked only with a date - 1/20/15. It contained the first new Sleater-Kinney song for nearly a decade, "Bury Our Friends", and I wasn't sure what was more difficult to believe - that they were actually reforming, or that my first reaction to the prospect was one of mild umbrage at the inconvenience.
"What can I say?" laughs Tucker, when I speak to her a couple of months later. "We must have very, very good friends. We really did tell a ton of people that we were writing again." The result is No Cities to Love, an album that - like every other entry in the catalogue to date - very much has its own sonic identity. One Beat was vulenerable and contemplative, The Woods noisy and conceptually thrilling, but No Cities is simply a gloriously sharp collection of the tautest and most danceable tracks that the trio have ever written. If they can no longer claim The Woods to be one of music's finest farewells, there's at least the consolation that No Cities should go down as one of the all-time top comebacks.
"At first, we weren't even sure if we were going to make this record," recalls Tucker. "We weren't sure if we were actually going to be a band again, if it was actually something that was possible. We had so many other things to sort through, so initially we were just trying to figure out whether another album would be workable. We started writing, but we had all of these things that were up in the air that we knew we might have to address down the line - how would we go about recording the album? Would we all be available at the same time? Would we be able to commit to touring it? All of those questions can kind of threaten to overwhelm you when you think about them all at once, so we kept things secret to start with just to see if we even could write again. We took each session as it came, and then once we had some songs that felt good, it just seemed like we could stave the pressure off by keeping things to ourselves for as long as possible."
No Cities was in the works for a good couple of years before the band even went in to record, with busy individual schedules ensuring that writing sessions were sporadic affairs and making it all the more impressive that they kept it quiet for as long as they did. Sub Pop almost leaked the record themselves - accidentally, of course - a month early, just before Christmas, which would have seemed like the cruelest of ironies.
"I know we started work in 2012 sometime, and then got together to write, on and off, all the way through 2013, before going into the studio in January 2014. We would kind of fire through as much as we could before the Portlandia writing and filming started up, because that was obviously very much a full-time job for Carrie, but even then, she'd sometimes still have time to rehearse on the weekends. We definitely crammed as much into those sessions as we possibly could, but it still took a while to piece everything we came up with together. I actually think that's a really useful dynamic for writing, because it forces you to come back to the material with a fresh perspective and revise it as necessary, or just, you know, throw it away if it sucks."
One of the most intriguing things about delving into that Start Together set was trying to understand quite why they'd gone their separate ways back in 2006; from a creative perspective, it seemed reasonable, because One Beat and The Woods was a hell of a one-two to have to try to top, but at the same time, it was only in the early noughties that Sleater-Kinney's sparkling run of studio form finally seemed to be meeting with the unanimous acclaim it deserved. Playing arenas whilst supporting Pearl Jam seemed to be positioning the band nicely for their own next big step up, which lends their decision to call it quits a beguiling air.
"We just wanted a real break," admits Tucker. "I mean, the door was never closed, and I think we always wanted to make another Sleater-Kinney record, but we wanted to take enough time off that we could all focus properly on other things, and, you know, 'doing other things' is a lot more complicated than you might think in the abstract. There's no complaints, because everything that came out of that period was so great; the success of Portlandia, which is amazing, the Wild Flag record, the fact that I had a daughter and put out a couple of solo albums; it's very difficult to view that time off negatively. It's just that it takes a lot of focus to make a Sleater-Kinney record, and it's not something that we've all been able to commit to at the same time until now."
Long-time collaborator John Goodmanson, who was at the helm, production-wise, for Dig Me Out, All Hands on the Bad One and One Beat, returned behind the desk for No Cities; he sat out The Woods, with Flaming Lips associate Dave Fridmann preferred to produce what was essentially an experimental ode to classic rock. You'd perhaps be forgiven for thinking that bringing Goodmanson back was merely a case of the band only wanting to divulge their secret to their closest allies, but Tucker insists it was purely a musical decision. "John's incredibly versatile as a producer, and he's able to do a lot of things really well, but possibly his strongest suit is vocals, and we knew we were writing a really vocal-driven record, and that he could really bring a lot to that. We'd been doing a lot of stuff based around guitars, coming up with these really jammy, freeform ideas, but we kept going back and trimming that down, and then putting a strong vocal over the top to kind of anchor the song. We were constantly rewriting the choruses, too, to make them as catchy as possible; we put more work in to the vocals, really, than anything else on the album."
Even with the seven year gap between The Woods' release and the beginning of work on No Cities not being an entirely unbroken period for the group in terms of songwriting - Brownstein and Weiss, after all, had worked together on the Wild Flag album - there was still a little bit of readjustment necessary in the early stages. "Like anything else, I think you get better at writing the more you do it," says Tucker, "and whilst that's definitely the feeling I came out with, when we were finished, there was definitely some rust that needed to be worked away in the beginning. A lot of the early process was just coming up with ideas and refining them; as was often the case with other records we've done, it wasn't until towards the end of the writing that we really hit a good vein, and were just firing out songs fully formed - that's a good thing, because you can get into the studio quickly and capture them. We wrote far more songs than we used; there was a ton of material. I think we recorded forty songs, and we only used ten, so the editing was a big, big part of the process. We really went for it; just cutting and cutting until we felt we had a really succinct bunch of songs, that could really hold people's attention."
Whilst not quite up there with Kate Bush as far as protracted layoffs go, a near-decade is still a long time to be away in an industry so driven by rapid technological advancement. The internet's sheer ubiquity now means that the decision on which songs to preface an album's release with is more important than ever; after "Bury Our Friends" was included in the Start Together box and uploaded to the web shortly afterwards, "Surface Envy" followed weeks later. "It really is a different world now, and I don't for a minute pretend to be the most savvy internet user around. We did think about which songs would be best-suited to being exposed to that attention, that would best represent the record, and 'Bury Our Friends' was fitting because it kind of tells the story of the reinvention of the band; it seemed like the perfect song in terms of trying to draw people in and say "here we are again!" And then there's the message behind 'Surface Envy', which is about the journey you're on when you're an artist; how rewarding and difficult it is at the same time, which seemed especially relevant to us, given how much of a balancing act making the record was at times."
The thematic side of Sleater-Kinney is something that's been pored over in detail down the years; they've long since shaken off the riot grrrl tag that their self-titled debut earned them, and have gone on to produce some of the most lyrically intelligent rock records in recent history. They've always been political to some degree, even on their later output; "Was It a Lie?" and "#1 Male Model" on All Hands took aim at gender inequality within their own industry, and One Beat was very evidently a post-9/11, pre-Iraq piece of work, scored through with the anxieties of that time. There's evidence of social consciousness on No Cities, too - "Price Tag" presents a stinging critique of consumer culture - but Tucker feels the overriding concepts on the record are largely abstract.
"Thematically, any record we've made is always going to be a reflection of how we're feeling and what we're dealing with at the time, and I think there's some real perspective on this album in terms of us just thinking about what it is to be in a band; for me, at least, I hadn't known that feeling for a while. The broader part of that is considering your own relationship to power, and that's a really big part of the lyrical ideas on this record; how that relationship affects your day to day life. That cropped up a lot, and so did ideas of connection between people and how that relates to being in a band. The feeling of power that comes with feeling connected to your bandmates is something that I don't think any of us had really experienced in the same way outside of Sleater-Kinney, and concept-wise, it's something that's at the core of this album."
The other side to the band - their incendiary live presence - is something that might only be subject to limited exposure this year, with the many plates they have to spin likely to force a relatively modest touring schedule. "It's very difficult for me to be on the road as much as we used to, purely because I have two kids," relates Tucker. "I feel like we've almost...rewritten ourselves for 2015, in that, you know, we have a ton of stuff we have to work around. We have Portlandia now, and these other careers that are happening, and the awesome thing is that they kind of take the pressure off; it's not like it's one of us holding the other two back, or anything. We're still a work in progress, and I think life is a work in progress, really; that's my new mantra! Meditate every day, take things in your stride, and know that nothing's set in stone. It's an important way of looking at the world for this band."
Even if nothing's certain, though, I still have to ask; what does No Cities ultimately mean? Are Sleater-Kinney a going concern again? Is this a last hurrah? There's a long, long pause when I pose these questions. "I don't know," she laughs, eventually. "I'm not sure if I have an answer. What I can say is this: we made this record without worrying too much about what was next. When we started writing, we made an agreement to live in the moment, and that's exactly what we did."
No Cities to Love is availablenow via Sub Pop. Sleater-Kinney play three UK shows in March
Get the Best Fit take on the week in music direct to your inbox every Friday