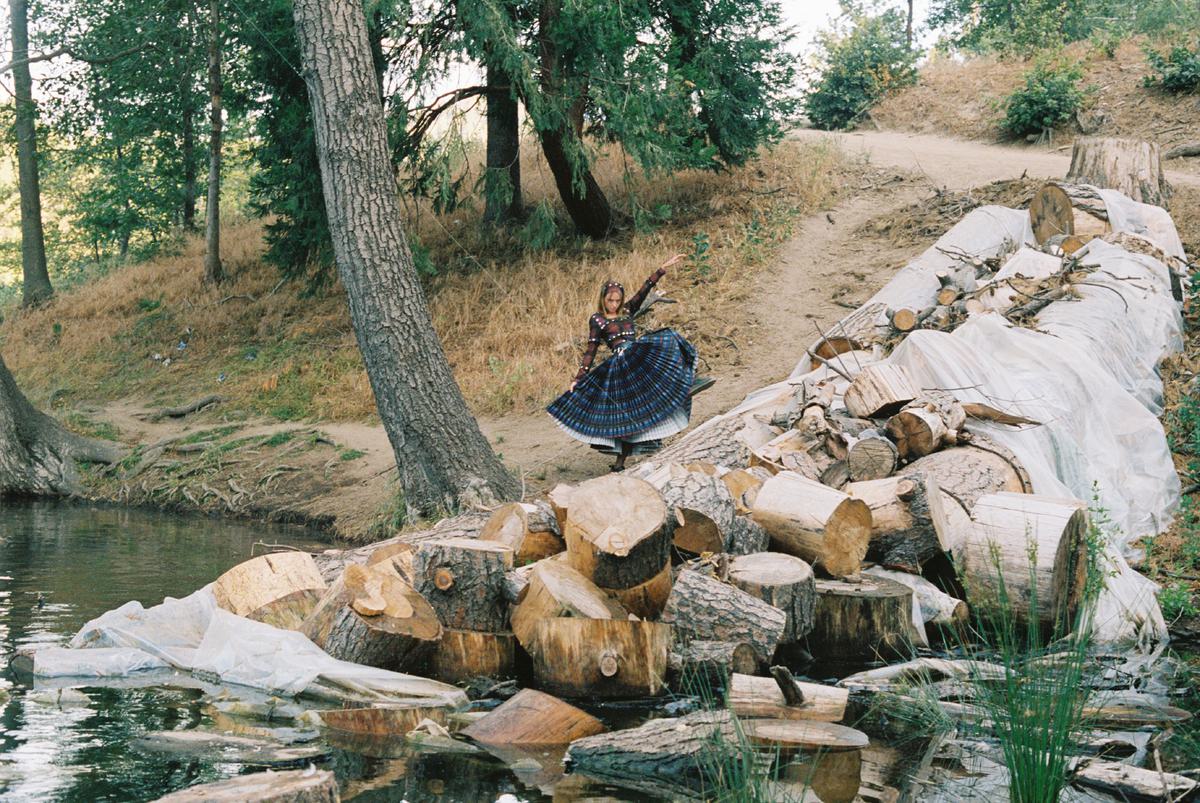 On the Rise

Skullcrusher
27 July 2020, 08:00
As reserved and reticent in real life as she is in her blistering songs, Helen Ballentine is a rebel at heart; she rebelled against classic piano, her upstate New York hometown of suburban Westchester, against studio art, and finally against the commercialisation of the art industry.
When we talk, Ballentine - who makes music as Skullcrusher - is a few months into lockdown. She's spending it in the family house of boyfriend Noah Weinman, of LA collective Runnner. "I remember coming here to his house and having this day where I was voicing wanting to quit my job and I left and feeling excited to do that," she tells me, dirty blonde hair haphazardly pinned back, and a cardigan thrown over floral attire. "Everything happened after that. He [Weinman] was a really influential part of me making that decision. He was one of the first people I played these songs to, he suggested we record 'Places/Plans', so we did. We started working on it over the summer for fun, but by the end of the summer I was like 'oh I could put together an EP.'"
"Places/Plans" was released this January and was promptly followed by a cascade of industry interest. Although by 17 she seemed to be set for a career in studio art, music has always been in the pipeline for the Mount Vernon-raised musician. With both parents working artists - her mother an actress, performing in local theatres; and her father a musician-come-banker – art was seminal to Ballentine's upbringing. While her dad introduced her to the older folk music that permeates her own melodies – Joni Mitchell, Dylan, The Beatles; her mom played Madonna and Beck.
Ballentine began learning piano aged five; starting with classical music, she later moved towards learning the songs she liked – James Taylor at first, then Radiohead and Regina Spektor. She picked up the guitar in high school, playing covers and performing at local coffee houses. Then, studio art in her small private school in Westchester county, pushed into it due to the limited arts programs available at the school. Her father urged her into a song writing class at a local music school that she hated for the extra work, the theory, and the unnatural nature of writing to a deadline.
Her father played an important role in encouraging her artistically. He studied music in college, Ballentine explains, but changed his major halfway through to finance, "for a more practical route. It was an interesting dynamic because he was always sad that he didn't do music." I'm immediately aware of an ominous foreshadowing in this sentiment: the banker, barred from music due to the pressure of career stability, forever regretting his lost love of the art; and his daughter, accidentally in the art world, 23 years into a struggle to commit to music as her own career.
Ballentine moved to LA in 2014, attending USC for studio art, before becoming a gallery assistant for a year in 2017. While at college, she picked up guitar lessons and started song writing again. "I hated the songs I was writing and that made me feel bad," she explains. "I was thinking 'I'm not good at art, and now I'm not good at music, so now what do I do?'"
This frustration and confusion led, perhaps inadvertently, to one summer of depression where she listened to Nick Drake obsessively, and his hum drum fingertips now stain her music. "I was like, 'I'm depressed and listening to Nick Drake,'" she tells me. "It felt like letting myself feel it completely, making it more visceral. I learnt his songs on guitar, and it taught me a lot about open tunings, different kinds of chord voicing. It really influenced the way I play guitar and write music."
Drake certainly belongs to a category of messy muses that are echoed in these delicately dark songs. Laura Marling is also there in the open tunings, and she seems to hide behind the pensive visage of Ballentine herself. Alex Gee, Grandpa and Halfwaif are also on her influences list, for their "Radiohead, electonic-y folk overlay." Despite this ostensibly obvious scene, Ballentine still isn't sure where she will end up in terms of genre, but for now would put herself somewhere between pure folk and cult indie.
A series of uncontrollable circumstances led Ballentine to these pivotal artistic moments. She wrote on guitar because it was practical: "it was more accessible, I could take it with me wherever", and her decision to pursue art before music was for similar reasons. "I think if I had better access to music at that age, I would have focused on that and done it at college," she explains. "Looking back though, I think that it was really good for me to study art in school. I realised pretty early on that I wasn't going to be a studio artist. I just enjoyed talking about art and writing about it and why it's important."
She also discovered that song writing works for her on a fundamental level: "I think that music and song writing pairs well with the way I work – sporadically, throughout a day where there's nothing going on and you fall into a rhythm of picking up a guitar or sitting at the piano. Studio art – you need more of a plan."
Other aspects come naturally for the old soul, including her reason for not continuing with the classical piano. "I was never that good at trying to be the best at something," she says. "I just wanted to play songs that I like. I'm not a competitive person – well I can be, but it's not comfortable for me to be. I'm my own worst critic, I'm very hard on myself. I have to do well or I'm mad at myself."
Toying with music over art came down to a gut feeling that permeated years of uncertainty in her chosen life path. "I was never really sure if I was trying to get out of the difficult theory by telling myself it wasn't what I wanted to do," she tells me. "Maybe I was trying to justify not following rules by saying it wasn't what I wanted to do. Maybe if I had pushed myself harder, I would have achieved more."
We lapse into contemplative silence, both psychoanalysing the pressures we steamroller ourselves into submitting to. We know now, that it took a very specific environment for Ballentine to realise that she could make something complete. This brings us to the most significant part of her journey: quitting her job in art to be Skullcrusher. "I got paid nothing," she explains. "I was working all the time, I felt bad about myself because I was not that interested in the openings and the parties. I think a 9-5 will never suit me, which was concerning because I knew realistically, I had to do that. I kept thinking there must be another way."
And so, realising that the world of art fairs and sales did not excite her like the weave of Pink Moon, Ballentine quit the gallery after a year of work and discovered that it was not only her chosen career she wanted to change: she ended her college relationship, her parents divorced and sold her family home, she spent a summer making friends, writing music, recreating herself. She was stripped away. "I was left with this blank slate that was really important for writing these songs," she says. "I was able to feel like I was creating just for myself, and that enabled me to experiment without feeling like I had any pressures.
"It was definitely a depressive and anxious time, but it really taught me to feel secure in myself without a job or ability or partner. It was a really hard time, but I think it helped me to know that without anything you can be a good person and a good friend, and you can pick yourself up."
So much of the interest around this first single was generated via Instagram. As the wan 23-year-old curls up in the chair in front of me, I wonder how this may have felt for her. She looks just as uncomfortable on a Zoom call as she would on a talk show. When I ask if she feels at ease on Instagram, I finally get a laugh. It tears at her face, ghostly but beautiful: "I get messages telling my manager slyly like 'can you tell Helen to post more on Instagram.' I feel like it's impossible to truthfully express who I am on social media – and I'm not comfortable with knowing that I will never be fully represented. It's hard for me to get into that place without the music. I think lots of musicians, especially female, are expected to have this identity - it's a contemporary thing that we don't know what to call it yet – like not a persona but not real. It's an online identity."
Yet in the newly released video for "A Day of Snow", Ballentine manages to sidestep her unease with online identities, and project an authentic display of who she is. Through a lens smeared with nostalgia, she is captured moving through sunlit days, the brightness clouding the camera, and again as a child, in the dark. The song itself hollows out its listener, leaving them dismantled with its falsetto highs and emotional lows.
And then there's "Two Weeks in December", which is less of a song and more of a meditation. A bold choice for a debut EP, the song has a magically hypnogogic bassline, contrasting wondrously with rising vocals, gentle but stirring textures. "That song was just me specifically writing down what happened and seeing how that could work in a song," she explains. "A lot of the songs I was trying to write in college were trying to out these deep ideas into words. I'd get so lost in trying to put everything I wanted to say or feel into a song. So this was really just me trying to focus on something specific. Then from there I did 'Places / Plans' which says a lot but in a smaller context."
Ballentine, the sunlight now streaming over her pale, upturned face, is already working on new material. She's happy for the album to be an extension of the wandering, meandering folk she's already written. "The songs we're doing here are in line production wise with what we did with the EP. But as things start to open up and I have access to working with other musicians and accessing more experimental instruments – it has potential to grow into something different. Right now, I see it as an extension of the EP, a more complete expression of this phase. I'm trying to go with what's presenting me in the moment. I like to allow these limitations to structure things."
Sitting in her bedroom, talking about her journey, something stirs beneath the cardiganed Ballentine. Something stronger and bigger than the guarded, oblique folk singer-songwriter with her unwashed hair. It's an image quite at odds with the branding of Skullcrusher – a name chosen originally for Ballentine's DJ project. She attributes the name to a close friend who introduced her to electronic music, and the platform shoes they would wear to electronica raves – fittingly named skullcrusher shoes. "In college I got really into electronic music – a lot of IDM, industrial techno. It's a very different direction and I've felt confused because I knew it was something I loved and so I wanted to DJ. I thought it would be an interesting name to use for this project because so much of my life has been back and forth between art and electronic music and folk. But I think in the end they can all come together with this project."
How fittingly escapist, how gorgeously millennial, how effortlessly idiosyncratic.
Skullcrusher
is
out now
on Secretly Canadian