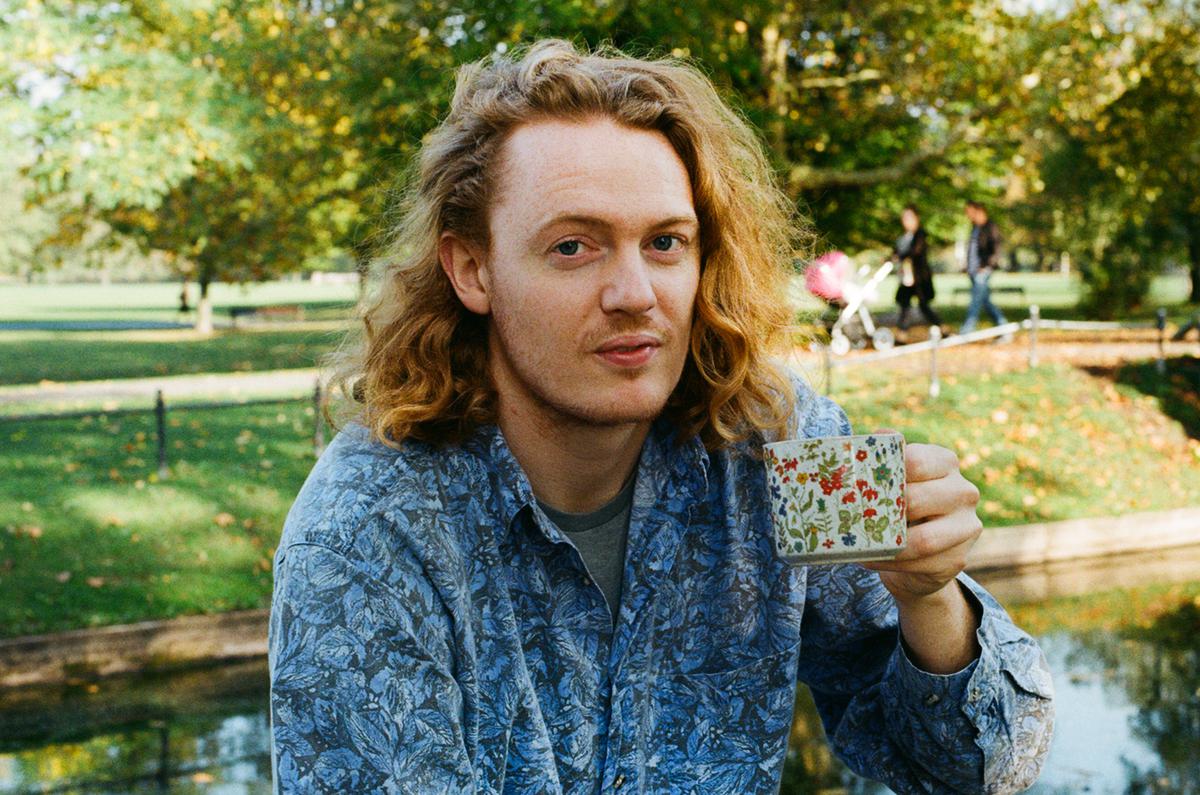 On the Rise

Skinshape
23 November 2018, 11:00
As Skinshape, ex-Palace bassist William Dorey has been slowly building a career as one of the UK's most interesting outlier musicians albums with his fourth album about to drop.
Over the past couple of years I found myself returning to the three rich and delicately recorded albums of Skinshape, despite knowing next to nothing about them.
After considerable digging, I found out 'them' was actually 'he', and we had a mutual friend on Facebook. On a whim of inspiration back in February I got in touch and explained I wanted to know why there was almost no press or hype to correlate to these records of such quality. After meeting a few weeks later in a typically bustling Camden pub, I soon find out why.
"That's how I like it, that's why." Though I'm under no pretense that 26-year-old Londoner William Dorey is the first musician in history to claim indifference to publicity, touring and all the things that come with being an artist beyond the act of creation, his sense of conviction is striking.
The beginnings of Skinshape took form when Dorey was a teenager, enamoured by the records of Pink Floyd and Bonzo Dog Doo-Dah Band and the sounds of '60s British psychedelia, roots reggae, Afrobeat and funk. Captivated by the distinctive feel of '60s production he became fixed on learning it, buying a tape-machine with his student loan and recording drum break samples, upon which his elegant compositions would eventually grow. "It started out as a kind of trip-hop project, but changed over time and moved away from it, and it turned out to be a kind of stoned, psychedelic folk, which is weird because I don't smoke weed," he chuckles.
Irrespective of genre, he has over the years honed and perfected the sound he set out to capture, where the crispest of drum cuts and a deep, tubey warmth radiate with a modern clarity on each record. The key, it seems, was simplicity: "I never used a complex set up. More than a tape machine now is valve equipment. Everything I do I run it through a valve amplifier because it gets that sound, really warm and just fucking great and distinctive. That was a revelation. A few years ago I bought a '60s mono tape machine, it's big and really heavy, but it's got an amplifier on the front and I would run it directly from the computer into that. Really simple, I think people over complicate it when they record. A lot of the recordings that we love were done quite simply with a few microphones and just the vibe."
The psychedelic element to Dorey's music is unmistakable, though. Easy-paced but intricate rhythms, reverb and wah-drenched guitars and basslines with enough curiosity they walk themselves, most tracks sound perfectly ripe for that kind of slow, hazy montage in cinema where the protagonist ingests LSD or takes a puff of a joint as the camera hones in on their vacant stare and their perception becomes blurred and kaleidoscopic. "Detroit", from 2015's Oracolo, was even synced on an episode of Viceland's Hamilton's Pharmacopeia, the documentary series in which the writer, researcher and psychonaut Hamilton Morris explores the uses of psychedelic drugs in micro-communities around the world. It's at its most potent on Oracolo, giving way to a more funk and soul tip in 2017's Life & Love.
Apart from maybe his long and faintly dishevelled hair, though, Dorey is far from the cultural cliche of a hippy or stoner that his music might expose him to. Polite, well-spoken and present, though perhaps a little wary at first, he is quietly charming as he further explains his reasoning for keeping a veil on the project. "It's really personal music," he says. "I want people to listen to it if they want, but it's not about any fame or any shit like that. If it does well then maybe that naturally comes with it to an extent, but I don't want to be a face, I don't want to be anything. That's it."
He stumbles a little, perhaps detecting some skepticism on my side. I believe him, though. It's not the feigned insouciance of an artiste but the frustrated admission of someone who thrives on their own, happily removed from the rest of the workings of the industry. It's reflected in his listening habits, too. I suggest that his sound draws too from Thai funk, the retro Southeast Asian style semi-popularised in recent years by the wide appeal of Texan trio Khruangbin, and I expect him to nod and agree, but instead he's he seems a little miffed: "Thai funk? Well..."
When I ask what new music he does listen to, he gives a resounding "none". Perhaps unsurprisingly given his zeal for world music from the late twentieth century, buying and selling old African records became his de facto day job, and so they're almost all he finds himself listening to. His entrance into the trade was, although a little unconventional, quite organic. He explains how he would go to Afro-Caribbean communities in South London and simply ask people on the street if they had old records to sell. "Maybe one in twenty would have a record collection they'd like to show me or sell me. Once I got the number of a guy who was drumming with some of the main guys in Ghana back in the day. I went to his house and he had all these original drums and records from Ghana. I've met some really interesting people from doing it.'
Dorey also played bass in London band Palace until he stepped down in October 2017. The band had just finished touring their debut record So Long Forever, and in short he felt obliged to devote more time to his own music. It took a little persuading his friends and family that he was making a sensible decision, but it was important to him. Even on the way to see me, he admits, he was listening to the current state of his upcoming fourth album Filoxiny, noting micro-changes along the way. "I listen to each song probably a hundred times, maybe more, changing tiny things. It's very personal music and it's basically an expression of how I feel about life. It's not very positive in a lot of ways, it's kind of sad. It's kind of sombre, you know?"
Admittedly, Dorey's lyrics are often direct and diary-like, burdened with a vague sense of weight and pining; "I see her face on every street", he sings on "The Moment", "I look ahead as I move my feet / Steady as the time goes rhythm deep / Moving on, another day". But as I remind him, there's also this inherent halcyon and soothing feeling throughout that's hard to deny, embodied perhaps by the positively golden track "Summer". "Well," he grins, "see what you think of the next album".
Though Filoxiny drifts with the same ease and serenity of its predecessors, it does trade in some of the dazed psychedelia that characterised them for a more sober expression, albeit still soft around the edges with the comforting warm glow that Dorey captures so well. It's an atmosphere that's reflected in large part by the orchestral arrangements that have a greater agency this time around. Inspired by the rich, film compositions of Italian composer Ennio Morricone, Dorey enlisted a friend to help orchestrate a section of violins, cellos, french horns, a glockenspiel and a flute to create a feel that he hoped would be cinematic and elevate his songwriting; "grander, I think grander is the word I'm looking for."
The gestalt of the record is reflective and certainly cinematic, much in the way of 90s trip-hop stalwarts Massive Attack and Portishead albeit without their James Bond-esque melodrama. On "I Didn't Know", in which Dorey laments how fast time has passed with a loved one, the strings take a back seat to gently reinforce the pure dreaminess of the acoustic guitar before coming to the fore for one last dance; in "Life As One", perhaps the richest example, crisp snare roles get lost in the cut and flit between time signatures above weary and dignified horns, while a glockenspiel cascades above like raindrops. Or there's "Metanoia", whose hypnotic steadiness belies its four-minute duration as a reverberated trumpet croons wistfully. It's sombre, yes, but in the way that sadness can be sometimes be life-affirming and encourage fresh perspectives; for the most part "Shimmer" is soporific and numbing, but out of nowhere comes a bluesy swing section that's irresistibly rousing.
Whilst Filoxiny will be the fourth record, surprisingly Dorey is still yet to perform live as Skinshape. But though the increased instrumentation no doubt hinders the project's live translation, Dorey insists it's besides the point. "To organise a band is going to be a nightmare and a lot of stress, not to say that it's not doable, but I don't know if I want to put in that effort now. I'm trying to record new music whilst I'm young and still capable of doing something that I like."
As he explains his lack of interest for performing to a live audience he becomes impassioned, and again it appears that the sense of anonymity that comes with it isn't for some marketing gain but an extension of his world-view. Touring widely with Palace, Dorey felt the offstage aspect of it all "a bit pointless and aimless and wasteful", and believes that Skinshape sounds the way it does because these elements are removed. "I don't want to feel like I have to tour. It could be cool, but there are lots of other things I'd like to do. I'd like to go and record in other countries. That's actually what I'm planning to do, to go to Mali or Ghana or Nigeria or Reunion Island and find local musicians and learn the language. For me that's what life is for, to go and experience shit."
The process behind Filoxiny seems to prove that Dorey can let others in to the world of Skinshape if needs be, but I get the impression that those that enter are few and far between. "I play most of the stuff because it's so personal that I don't want someone else to have an impact on what it should be, which maybe sounds selfish, but it's the emotion in what's being played". But for all Dorey's multi-instrumental talents, drumming is one crucial part he admits he cannot provide himself. I find something poetic about this, not only because it was the recording of drums breaks where the project began, but they're also where he turns to first when writing a song. "The drums will inspire a certain chord progression. In a lot of cases I need those drums to have something to work with; I'll record about twenty drum breaks and then I'll loop a bit of the sample then I'll play the guitar or keyboard and get some chords".
In a couple of circumstances, Dorey has also employed old friends to borrow the mantle of vocals. "Inside" is one of several catchy numbers on Life & Love, but probably the closest Dorey has written to a soulful pop ballad that might enjoy chart success, thanks in no small part to the powerful vocal control of his university friend and neo-soul musician Aaron Paul. I begin to suspect that there's an element of indulgence in the solitude, at least for the sake of his musical output. "I get cabin fever all the time because a lot if it is bedroom-recorded, and spending too much time at home is not very good for the mind. But again in a weird way it feeds the process because if you spend all your time at home for me at home I get a bit depressed, but that's actually quite good for the music. That sounds a bit sadistic; I'm never that bad, but it does feed the process".
Introspectives aside, we discuss how cherishing a sense of community in both music and societal terms is of far more importance. In that respect, we agree that living in London is both a blessing and a curse: "the amount of amazing musicians here is unreal and the standard is so high. It's so current and there are so many people constantly pushing musical boundaries in the city the whole time and we've got a really big history of that. But we've lost community. I meet a lot of people from around the world because of my work, and their perception of us is interesting. They almost pity us because we work so hard. There's a real balance that we're missing".
Amidst a city that moves at such a pace in its endless cycle of creation and consumption is a continuing rich history of talent, but sometimes it comes at a cost beyond our house prices. Dorey acknowledges that to explore your own creative potential for, primarily at least, one's own self-actualisation is a privilege. "I think I'm lucky because I've always just done what I wanted, although I still feel that pressure or desire to let people know that you're doing well. And then you think 'you shouldn't say that. For me it's all about trying to let go of what people think of you. That's really what it's all about. Comparison to others and your perception of what they think of you is a really bad thing and we're all suckers to that mentality and it's so bad. When you go see an african band they're so themselves because they don't have that complex".
A little generalising perhaps, but Dorey clearly feels drawn to the places whose music has inspired him. He admits he's even begun planning what equipment he'll take with him, though he's still not sure of the destination. "I have contacts in Nigeria, Ghana, Benin and I would consider moving there. Maybe Senegal or the Ivory Coast. Places that have a deep musical culture. I'll basically be doing the same thing but be drawing on the inspirations from that place.
Though we enjoy several hours over several whiskeys getting to know each other, the man behind Skinshape still feels like an enigma. I know he understands and appreciates that my questions will be published and with any luck will gain him a few more listeners, but at the same time seems uninterested, if not chary of that gain. In that regard I myself feel privileged, and am reminded that I am the one who sought the meeting in the first place, and that not all of what we think to be enigmas are there to be unpicked.
Contradictions aside, it's clear Skinshape is about an impression, a feeling, something it's left on both of us. When I ask Dorey all things considered what his perception of success is, he pauses. "It's a difficult question. Successful is ultimately if I'm happy with it... Sometimes I really like music because of the mistakes, and that's why in a lot of cases I've just left it there if there's a mistake in some part I play. Sometimes I just think: 'fuck it, the point of the music is the feeling, not about being Nile Rodgers'".
Filoxiny is out today on by Lewis Recordings