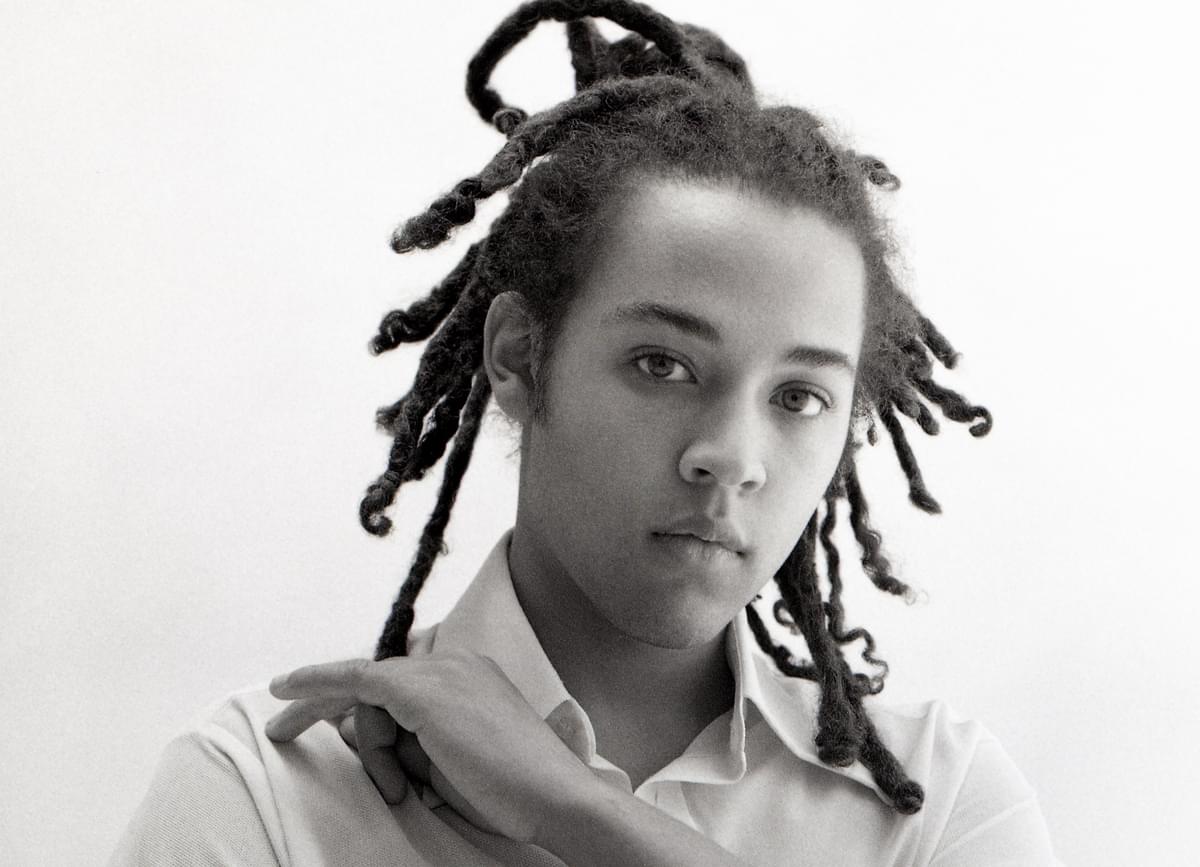 On the Rise: Silas Short
17 February 2022, 09:00
Since his teens, Chicago's Silas Short has been caught between polarities – city and suburb, technique and expression, old masters and avant-garde. Its this contrast that elevates his gentle brand of neo-soul, and finds him the newest jewel in Stones Throw's crown.
In many ways, Silas Short is the perfect 'dreamboat artist' name, with its satisfying rhythm, subtle alliteration and adjective ending. The 24-year-old – who, for the record, is 5'9" – confirms that it's his real name, and I ask if there's a difference between "Silas Short" and Silas Short. He thinks for a moment. "No, it's all me. I want everything I do to be super genuine. Honesty, everything's on the line. The stakes are high."
Short's official studio is his attic, an infinitely TikTokable loft space complete with slanted ceilings and crammed with keyboards, microphones, a drum kit, and a few glowing lava lamps. I also spot tabletop game Settlers of Catan in the background. As we talk over Zoom, Shortshifts around the room, revealing various posters and drawings he's made.
It's easy to imagine him stowed away alone, fussing over chord formations and working through drum patterns. But he's found a family: Stones Throw, the label to which he recently signed, is known for peddling a particular brand of insular, heady, bedroom-built soul and hip hop. Throughout our conversation, he allows me glimpses into his process from this small haven in Chicago's Pilsen neighborhood.
"Grace is something I didn't see a lot in my life," says Silas, who seems, on the contrary, remarkably graceful. As he talks, his left hand sways in mid-air as if gliding up and down an invisible guitar neck. The album Grace – by Jeff Buckley, one of his major musical heroes – embodies the sense of calm he wants his music to instill in the listener. "I want to give people the belonging I never had," he tells me.
This is the fundamental condition of Short's music, which seeks a sort of spiritual resolve that he wasn't afforded in his early life. His mom passed away when he was young, and his dad moved out before Silas finished high school. "I've been fending for myself since I was 17," he reflects. Growing up, he was caught between Milwaukee's suburbs, where he was either tokenised or ostracised completely for his blackness, and the city's north side ("the hood", he laughs) where he was dismissed for being too white. "I've always struggled with 'you act too white' or 'you're my black friend'— never being able to appreciate one side of myself or the other. The music has been the ultimate version of my truth. This last project especially was about bringing multiple sides of myself together."
"Joint Identity," the centerpiece of his debut EP Drawing, makes this often-difficult synthesis seem effortless—over a relaxed, steady groove, soft droplets of piano find their place between washes of ambient synths; nimble guitar lines dart between the mist; a saxophone floats by, occasionally harmonising with itself. It is, chiefly, a soothing experience. But as Short explains, it's the very turbulence of his childhood that informs the prevailing chill that guides his music. "I've never really had a home – I've never had that one place… the real place has been music itself, which obviously transcends reality."
The refuge Short builds on Drawing is spacious and airy, maybe more than his attic might suggest. The 7-track EP is open and uncluttered, with a sparseness that underscores his attention to detail. The smallest touches have outsized effects: the harmonies that sway into "ROOMS"'s chorus, for example (which also features the most tasteful use of record-scratching in probably the past 20 years) or the light guitar that doubles the piano figure halfway through "BOGUS". His guitar work is fluid and playful ("Liquid-style," in his words), full of uncommon chord changes and spry rhythms.
Short has a virtuosic style that could become the crutch of a less mature artist; on Drawing, Short chooses restraint (though is still plenty impressive). Despite his apparent mastery of the instrument, he admits that he's entirely self-trained. "The only one thing I was taught really specifically about music was that there's this inherent magic inside of music – my dad would call it 'the thing', I call it 'soul power' – but you know when you know. And you hear certain things that make it more than the notes."
There's a monastic quality to Short's music that extends beyond his solitary home studio.
In fact, throughout Short's history, music has been inextricably bound with spirituality: growing up, his father, also a musician, would toggle between playing gospel music at church and ambient music at home ("he'd come home from church and he'd play these huge ambient pieces that would drone for hours"). Later, Silas cut his teeth in the Ruby Yacht house band, playing shows with Kenosha rapper R.A.P. Ferriera (née milo) where they would "channel an ethereal, Sun Ra vibe."
Both gospel music and free jazz, after all, are genres that balance rigorous music theory with pure intuition, harmonic complexity with spiritual simplicity, in order to reach transcendence. Short grew up on Pharoah Sanders and John Coltrane, artists who explored this duality for most of their careers. I ask him how he finds an equilibrium between his technical ability and the intuitive soul power he's seeking, and he tells me it's about retaining a sense of presentness, of discovering the music in real time. The more I listen to Drawing, the clearer this is: songs like "BOGUS" or "Joint Identity" follow open, meandering paths instead of resorting to rigid verse-chorus structures. The latter features mumbled fragments of a verse before circling around a refrain –"I've been thinking about you" – and then gives away entirely to extended soloing. He describes writing the first track: ""Cloudy June" is a through-composition. It only moves forward, it always ends somewhere new."
This constant sense of discovery is another guiding force. As a kid, he discovered through his dad's CD collection everything from Brian Eno to Congolese experimental band Konono Nº1. "I'm a huge Bjork fan," he says, putting me to shame by pronouncing it the right way. While Drawing doesn't stray too far from neo-soul, repeat listens reveal the breadth of Short's influences. That he's a documented Radiohead fan is unsurprising; the brief coda after the false-ending of "Cloudy June" should console anyone who's unsuccessfully tried to have sex to "Reckoner," and throughout the EP his falsetto often reaches a Yorke-like purity. Elsewhere, on "Queen of Paisley," he wields negative space like Voodoo-era D'Angelo. Halfway into the title track, he suddenly breaks out in a verse that evokes none other than fellow Chicago transplant Smino; the general breeziness of his music recalls other more recent crooners like Daniel Caesar.
Short is also quick to dispel the image of the tortured artist. "We've fooled ourselves into thinking that art is abuse, that you have to put yourself through some horrible thing in order to make your art good. And it's like, no – people who've experienced terrible hardship just want to be on a level with everyone else. Those people are only working hard to see the world in a way that works." In this way, the music Short makes is both the sound of and soundtrack to healing. "I'm just converting bad energy into feel-good energy. That's what I want – to feel good!"
Short had warned me that both his house and neighborhood have really bad reception, but the Zoom call seems to cut out only when Silas relays a particularly compelling idea. He'll start to drop salient wisdom and the screen will freeze. Perhaps it's only fitting for an artist who lets his most revelatory moments sit back (like the gorgeous horn part that shows up almost four minutes into "Drawing"). Similarly, he describes his greatest asset – his guitar playing – as defined by the journey around the notes. "Because I haven't been formally trained, I won't always resolve to the easiest thing to resolve to… and I play a lot of chords that could be two things at once. They're vaguely determined by whatever is played around them."
This echoes his experiences playing live, which he likens to "playing the crowd, playing the space around you." It demands presentness and the patience to search. "It's channeling the energy of the room. It all depends on where you are and what's around you." We end our call with Short sitting where his Wi-FI is stablest, lit by a small window in the corner of his attic. Through the frame, you can see Chicago's bustling downtown area break off into a vast, open space: the sky and the lake, over which the sunrise is visible every morning. "The music has always been the way out... I don't want the tough stuff to define me," he says. "I want people to know I'm looking forward to a bright future.".
Silas Short's single, "Queen of Paisley", is out now.
Get the Best Fit take on the week in music direct to your inbox every Friday