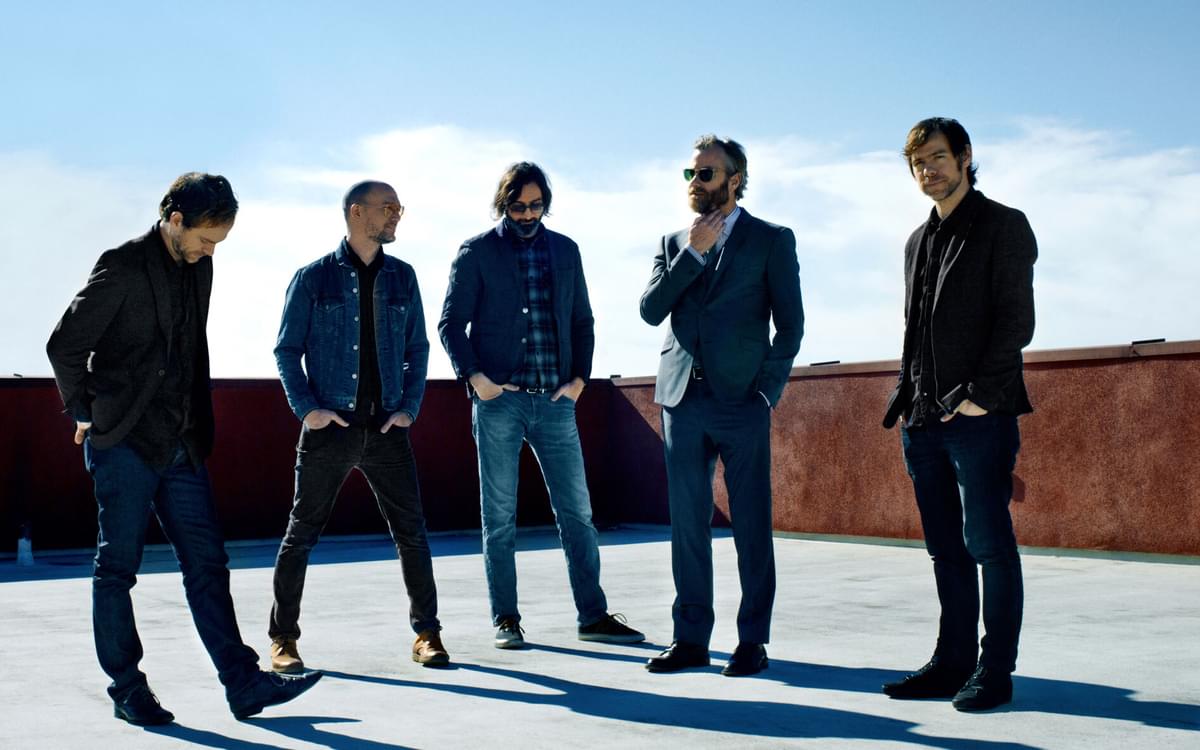 Scott Devendorf talks plans for the National's seventh record
13 October 2014, 11:00
Last year The National released one of their finest LPs – heck, probably one of the year's finest – in the form of Trouble Will Find Me. Upon its release, we slapped a mighty 8/10 on it and said:
"...the difference on Trouble Will Find Me is that everything feels clarified through a decade of wisdom, with volatility frequently superseded by sensibility. While Berninger and co. may not have the party lit up like "a birthday candle in a circle of black girls" as they once did, there will always be people who'd rather throw off the corny dancing and talk intelligently for an hour or two. The National will always have them covered."
They've been relentlessly touring that album almost constantly since its release, and about to embark on the home stretch of gigs before they take a well-deserved break. For their grand finale, the Cincinnati quintet will dive into the expansive O2 Arena in London. A fitting end for what's been their most successful record to date.
We grabbed a few moments with Scott (Devendorf, bassist) ahead of the show in the hope that he'd spill the beans on their plans, what The National's plans are for the follow-up to Trouble Will Find Me and his space-rock side project.
So you've got the massive O2 show coming up in London – how do you feel about it?
It's definitely going to be one of the biggest headline shows we've ever done; the only thing close is Brooklyn's Barclays Centre. For us, ending the tour in London is exciting, were trying to get a few special production and performance things sorted out. We're nervous but very excited that we'll get to play with Wild Beasts. We love them. It'll be a cool way to end the tour. It'll be definitely be big.
Do you have any special plans for the show that you can divulge or is it all under lock and key?
It's a big secret! We wanna make it special. Were in the process of sorting of sorting things out and looking at options... but we don't want to spoil the surprise.
Do you need to change for a show of that size? Other than obvious things like bigger amps, of course. Do some songs simply not work in an environment like that? Are some better?
I think that we definitely have to. Certain things work better than others, and I think the show overall is just so different to plying a club or theatre or festival. First and foremost, it's our own show so we are going to have a longer time to play. We have to pace it out in such a way that it arcs and also you really have to project the show so it can retain the intimacy of the quieter songs, 'cause y'know, we're not really a rock band, but we've got rock songs. It's like a larger festival, but with better sound and environment. We really try to keep the intimate thing going on stage. We don't want to feel like playing in a fishtank, and we don't just want bombast either.
Are you planning to do many more shows before the end of the year?
Not right now. We've got our Madrid and Bilbao shows, and then London. Otherwise... no, we're just gonna rehearse.
Matt said in an interview back in June that you were headed back into the studio in October for the new record. Is that still the case?
That is partly true. We've talked about what were doing next. We wanna take a break! We're interested in writing, or starting writing at the very least, but we want a longer period for the songs to gestate and grow. Everyone's located in different areas as well, so that can make things difficult. There's no formal plans, but [Matt] may have been referring to the process in general as opposed to actually getting stuff recorded. The process is somewhat nebulous. I don't definitely know about October. Early next year we may get down to stuff properly. We all have other projects we want to work on, and it's a logistical nightmare sometimes, but we want it to happen as soon as it can happen. Maybe October...we have no hardened plan for when the next record will come out though. Every three years is our aim.
Do you have any plans in particular you want to try out or explore?
I think this time, personally, we've talked about doing some more writing as a band. There's definitely a desire to. We tend to write in isolation and come together to fit bits together. We should harness the time we've spent playing together as a band. We did this a little bit on Trouble Will Find Me, just playing together as a band versus recording in isolation and adding and stripping away. Sometimes things work, sometimes they don't, but we want to capture the band energy for a more direct recorded sound. Not so much orchestration. At least initially...we've slowly been easing away from the grand orchestration, though we do like it...
How do you think that method might change your sound from Trouble Will Find Me?
It could change it. We did a lot of recording as a band. Some, but not all, was used. It depends how long we develop the track before we studio them; we don't write and play on the road. Maybe a few here and there, but mostly it all takes place after the tour, after a period of time off. It's like we're in a lab. When we're done recording we relearn how to play and transplant it to live scenarios. There's been chatter about working like we did on Alligator. Obviously some stuff has to happen again because we're the same people, and we also can't make a record in two weeks. We never desire to work like that. We want the immediacy though. We don't know how something will work out until we try.
Do you have any idea what sort of shape it could take?
Different but still the same, we hope. We have no desire to repeat and do anything again. It's for our own interest partly, and we also want to develop as musicians, people and a band. Obviously there will be recognisable bits. Matt always wants to get away from the last thing we did, even though his voice is one of the most distinctive things about the band! He's always pushing for the guitars in different ways.
You probably haven't even got a clue who – if anyone – you might work with yet I imagine...?
We loved working with the people we did on Trouble Will Find Me, so we may do that again. It's hard to say. We're bad at hiring a producer because we've never really done that, and to be honest, I'm not sure how well it'd work. We're so opinionated. We've had no official discussion about that. Were also producer-ish in our opinions anyway, so to have someone lording over it may signal destruction. It might work though, who knows? We'd welcome trying it. We've done so much on our own now though.
I've heard you've got a heap of unreleased material, more stuff like "Rylan"... what are your plans for it? Do you have any as of yet?
There's no official plans. We recorded 20/30 tracks for the last record and still have them floating around. We record things and sometimes it becomes something, but sometimes it just falls by the wayside. "Rylan" we do really like, so we could reimagine it. We have tried. It's one of the few songs we played before the record was released, and then we recorded it and didn't really feel it. Sometimes the ones we expect to flourish don't, and the ones we don't end up as something real. It can a moving target. "Rylan" could see the light of day; once we've done something we don't often return to that unless it's taken into a new context. I sometimes forget how much we recorded during the last record. There were one or two that were good songs that didn't make the cut. Maybe one or two things that could turn into something... but then again, we do tend to start fresh. It's hard to say if "Rylan" will ever turn into anything.
What are your plans for winter?
We have a few projects outside the band. We have the one that involves The Grateful Dead music recorded by us and other bands – that's a sprawling project that's been lingering that we're finally gonna have the time to work on. The band'll record something for that...we'll reimagine a song into some bizarre world. Bryce has a bunch of compositions and performances things. He's doing something at the Barbican soon. Aaron is producing... Bryan and I are gonna do some recording for our space-rock/krautrock project where we just jam into these epic 30 minute songs. It's called Lanzendorf. It's something we've done for fun for a while now, but we have the resources so maybe we'll record and play some winter shows... or maybe March. TBD!
The National headline London's O2 Arena on November 26 this year. Tickets are available here.
Get the Best Fit take on the week in music direct to your inbox every Friday