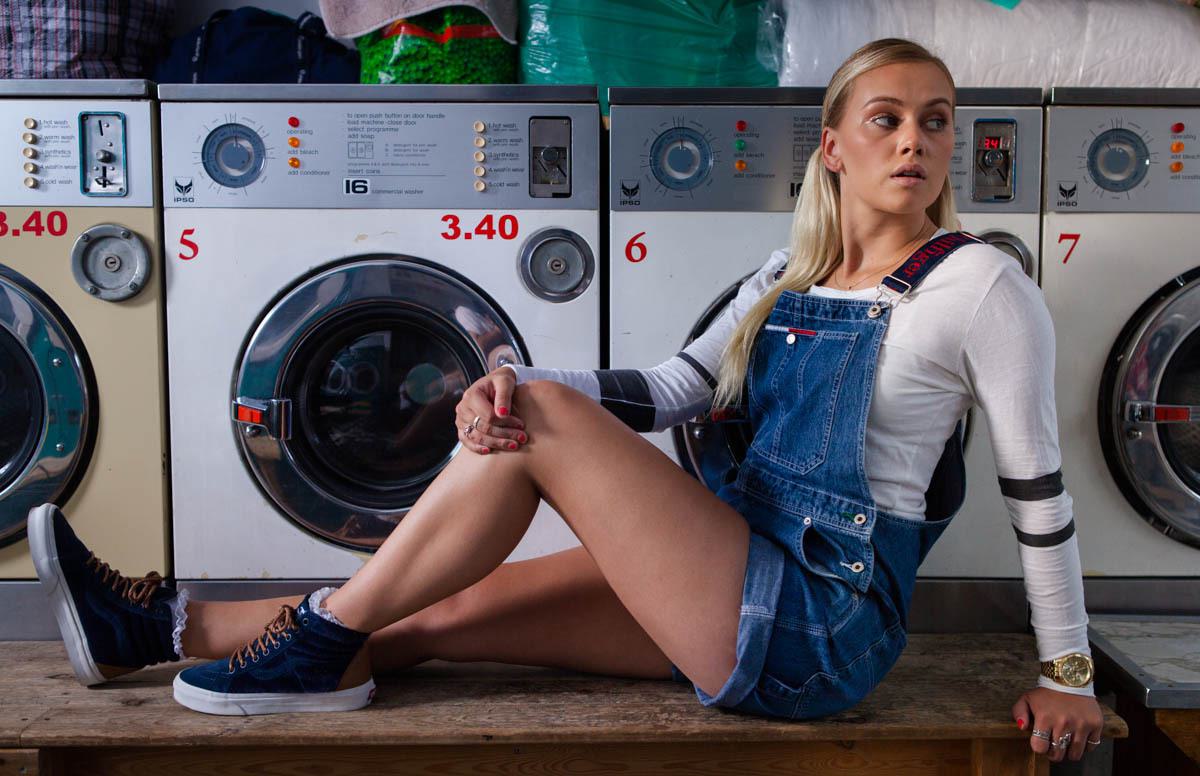 Sasha Keable: "I'm constantly challenging my listeners"
17 September 2014, 10:01
With a five album record deal at 17, Sasha Keable stands at the forefront of London's young and fiendishly talented singer/songwriters with a collaborative ethic and Brit school pedigree. ​
Like Disclosure, MNEK, Sam Smith and Ella Eyre, she's made her mark on mainstream radio and star billings on festival line-ups while still managing to soundtrack every club night the right side of Hoxton
She's dressed today in oversized dungarees and appears relaxed and charming in the laundrette we've chosen for a photo shoot prior to our interview. Extolling the virtues of Peckham to our photographer, Keable's South London lilt adds character to her beautifully husky voice, something anyone who's heard either of her EPs - or "Voices", her breakout track with Disclosure – will already be familiar with.
"The BRIT school is very normal," she explains. "It's not like everyone's running around with jazz hands, breaking into song in the hallways and in the canteen!" She pauses, mulling over her statement. "I'm not going to lie: there are points when that happens, but that's the musical theatre lot mainly, they're very like [she brings out her best jazz hands]. But they can be kinda annoying!"
"Everyone's just really committed to what they're doing you know, people are more focussed from a young age: you decide to go there when you're 13. And they don't just take you on the back of your talent, they look at your grades as well and you have to show that you have a long term-commitment to whatever it is you want to do. No one is going to hand you anything on a plate, the teachers provide you with the knowledge if you want it. You have to work hard to go out and get it, which is why I think more people come out of it and are successful."
It's an ambitious streak that's certainly worked for Keable. Born to Colombian parents and raised in London she credits her heritage with the emotionally raw lyrics that have come to define her music, both on her first EP, Black Book, and even more powerfully on this year's Lemongrass and Limeleaves EP, a collection of songs that describe the pain of a crumbling relationship against a heady mix of 80s synth beats and casually hazy melodies: it's the antithesis of summer love, writhing in the heat of heartbreak that popular culture likes to forget about.
"I grew up listening to Latin music, my mum plays a lot of Latin music I think that it didn't affect me that much in the music I write now, but it certainly inspired me and gave me the ability and the desire to write about heartbreak. Being Latin I think I'm more fiery and passionate, so maybe my songs are overly dramatic because of that," she laughs.
"Song writing has always been a therapy for me. It allows me to rant to someone in my head about all the things that have happened and been said. I suppose it's what comes most naturally to me in my song writing. I like revealing things about myself that people might not know, and telling someone to fuck off in a song when I might not always say to their face. I guess I feel like I can comfortably say things like that in a song."
I mention that all the songs on Lemongrass and Limeleaves feel like they're being sung directly to one person, the delivery stinging with resentment and anger, laced with moments of resignation. Are we safe to assume it was inspired by a break up?
She nods. "Definitely. But it was also inspired by being tempted by other people, during the relationship, and towards the end of the relationship." She runs me through the tracks on the EP, explaining them individually. "Sweetest talk" is about liking someone else and them saying lots of things to you because they know you're in a relationship and they know it's on the rocks. Then "Living Without You" was written right after I broke up with my ex-boyfriend. I wasn't sure if I'd made the right decision and I didn't know if I was going to regret it and if I was being selfish, and it's about wondering whether that's the best you're ever going to get. "6"4" was the last song that I wanted to write about this guy. I mean obviously people only see the songs on the EP, but I've written so much about this guy.
As much as it sounds like I know what I'm singing about, it was a very confused time. I worried that I'd lost the best thing I'd ever have in my life – it turns out I hadn't!"
I'm struck by her honesty: it's rare to find an artist who'll be as candid in person as on record, but it's a trait that typifies some of the most emotive acts writing today: certainly Keable's work has moments of Jhené Aiko's blunt delivery, Sam Smith's passionate sincerity and even, at times, the wounded, pained, angst of Sharon Van Etten.
Sonically, also, she's found herself in a strange middle ground: her music feels incredibly current, and yet she's not fallen prey to the strain of 90s-esque minimalism that seems to be whitewashed across many of the (predominantly female) artists releasing songs at the moment. She puts this down to her choice of influences – pointing out that while many similarly hyped acts working at the moment are friends of hers, she makes a point of not listening to them.
"I don't want to cuss the other girls out there at the moment because they're my friends – but I wouldn't say that I listen to them and try to get inspired by them." She explains. "The music I listen to is very raw: I don't listen to music that's drawn on other music, I try and listen to the originals and use them as my inspiration. When I was writing Lemongrass and Limeleaves I was listening to Duran Duran, Rose Royce, and Mary J Blige, so you can hear they're are all direct influences. But I'm very simple when it comes to my music – I don't like to overcomplicate things. I like space, and if I'm going to try and create an ambient sound, I need it to be perfect, which is why I don't fuck with it much. I'm like, 'you can create that mood with my voice, using harmonies and playing with reverb and shit – you don't need to mess around with the music.' "
Her sound has undoubtedly developed between EPs. Black Book felt indebted to the dance scene from which she got her big break: her collaboration with Disclosure on "Voices" is what put her on the map for most people. I mention how impressive it is that she, like so many other recent acts, appears to have emerged from the ether fully formed: already possessing a maturity of sound that would take most musicians several EPs to achieve.
She muses on this for a second before commenting. "I think from the outside people look in and they only see the final product so they think that's how it appears. But if you could have seen the madness that was going on behind the scenes when I was trying finish my EP you'd have seen I was just going crazy, because everything sounded so different and I couldn't work out what my sound was. I had all these songs that I just knew I wasn't going to use and I thought "what am I doing?!"
"I think Black Book was written at a time when I wasn't quite sure what I wanted to write about, much less how I wanted it to sound. So I just literally did what felt right to me and put together a bunch of songs. With Lemongrass I had a much clearer mind frame about what I was into and what I wanted it to sound like. Now I'm constantly challenging my listeners. I don't feel the need to stick to one genre. I'm not listening to Duran Duran anymore, or at least not in the same way as when I was writing the EP. I'm not intentionally changing my sound, it's just I know I don't have to stick to one thing. I feel more like my own artist since Lemongrass." She continues slowly, as though measuring each word. "A small part of me was like shit, I wish I didn't put out Black Book, but I realised that had I not I never would have made Lemongrass and developed in the way that I did."
At any rate Keable seems to be on the right track, and with her debut LP in the works she certainly has a strong list of collaborators under her belt. Signed to Tinie Tempah's Disturbing London label she's had the chance to have him as a mentor, as well as almost unparalled access to the other artists and producers on the roster, notably the very in-demand duo All About She, who produced several tracks off Lemongrass and Limeleaves. For the album she's also been working with Dev Hynes, the man behind Sky Ferreira's sonic renaissance and the gorgeously laid back neo-soul made famous by Solange Knowles. Given his prominence and the respect he holds within the music industry the childlike enthusiasm with which she describes working together is understandable, and refreshing. "I went over to New York to work with him last year. We worked for four days and came up with four tracks, and then he came over to London and we wrote a sick track. He's really great, we're definitely going to work together quite a bit more. He's a sonic chameleon, but he has a very definitive way of going about things, which you can always hear."
I wrap things up, with more than a hunch that I've got a good idea of what Keable's about, and pleasantly certain she's got plenty more to offer, and a bright future ahead of her. Before leaving I quickly ask one final question – who, out of everyone in music, would she most like to collaborate with?
"Pharrell Williams for sure...Dev, but I've already worked with him. Little Dragon - that should be a thing; and Kendrick Lamar - that would be insane." She stops, and looks at me with a huge, cheeky grin. "But you know who I most want to work with? Justin Bieber. I LOVE Justin Bieber. I had a dream about him once, that's how real this is. His album is so sick, and the stuff he has coming out is amazing."
She lets out a girlish giggle. "I don't even fancy him, but when I listen to him I fancy him; and I guarantee I'm taller than him."
Sasha Keable was photographed for Best Fit by Sonny Malhotra