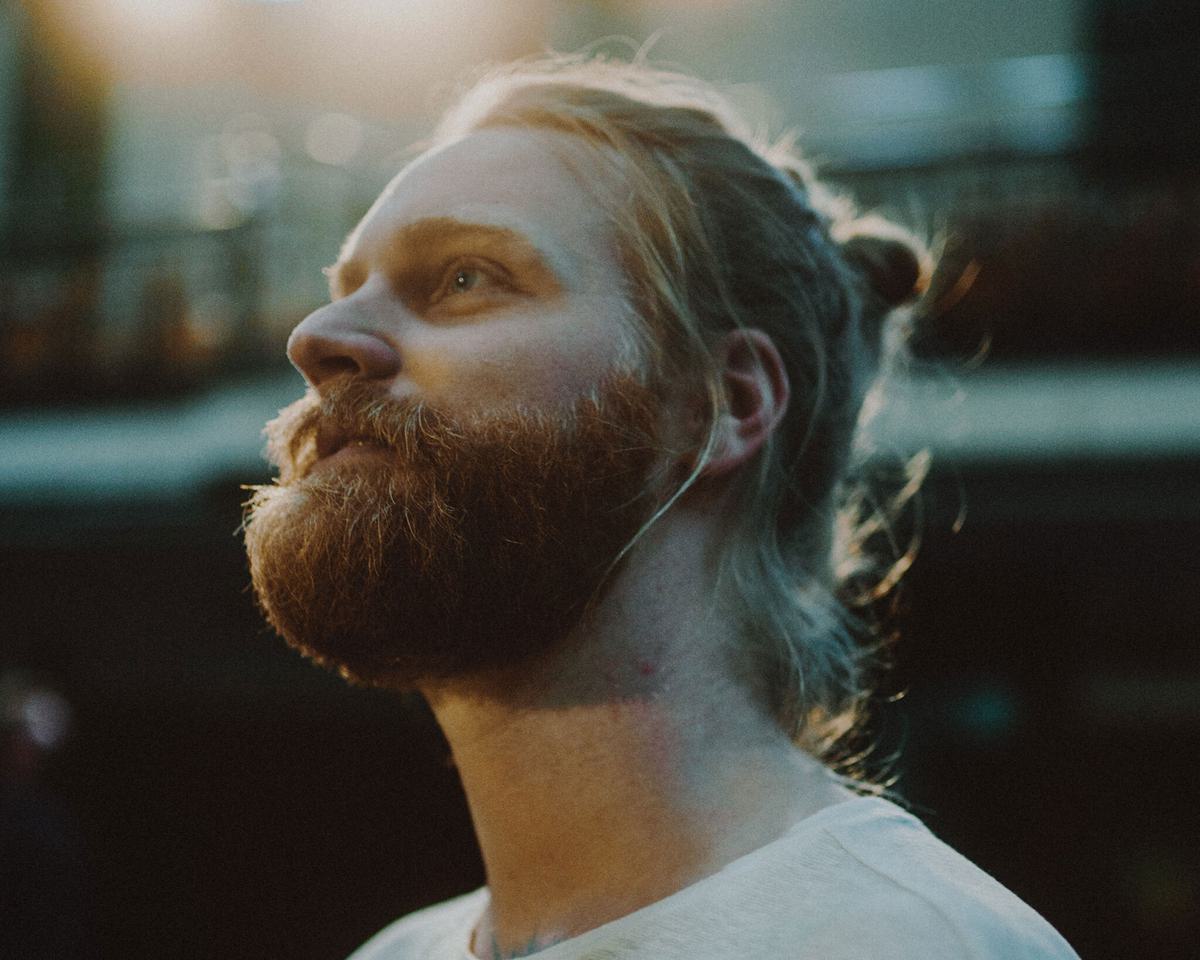 On the Rise

Sam Ryder
26 March 2021, 12:00
After years of chasing perfection, lockdown pushed British singer-songwriter Sam Ryder to let go and live in the moment.
It's been a pretty weird year for us all, but for Essex-raised singer Sam Ryder the last twelve months have been incomprehensible. At the beginning of lockdown Ryder began posting short clips of acapella covers and home studio karaoke to TikTok. By the end of the year, the lad who looks like a viking and sings like an angel was the platform's biggest UK artist.
"The first memory I have of singing's probably six, seven years old, and that was awful, but there must have been something there," he smiles from a studio break room. "Even in the car, I just couldn't stop pestering my parents, like 'turn Queen up'. Some of my earliest memories are when Freddie Mercury released his solo stuff. I remember that in the back seat of my parents car."
Ryder went to catholic school, and during a school trip to a nunnery he found a scratched up copy of Iron Maiden's Seventh Son of a Seventh Son on the bus floor. The only track that still played was "The Evil That Men Do". "You know when you hear that bit of music that just absolutely blows your mind?" He asks, grinning. "That was it for me. It's been so important for me as a singer, basically trying to mimic that kind of power in a vocal."
Shortly after he began to learn the guitar and write his own songs, desperately trying to emulate his pop-punk hero, Sum 41's Deryck Whibley. But Ryder soon realised that his vocal talents outshone his six-stringed abilities. "I loved guitar and I still do, but my musical purpose is to sing," he explains. "I just really feel connected to the whole spirit of music when I'm singing. It's funny how it's such a clear difference in feeling to me."
He spent a few years playing in rock and metal bands, an experience he values for the lessons it taught him. "I was a flea on a dog. I was just hopping between bands," he says. "It was valuable to learn that way, the tours in transit vans. I feel honoured to have been a part of that and learnt my craft."
Through his time touring in North America, Ryder felt a connection to Nashville and began trying to move into the world of songwriting. "I was back and forth to Nashville, trying to weasel my way in, which didn't work because you need to be a lot better than I was to weasel your way into Nashville," he laughs. "But I tried and I wrote with the people who were at my level, but again, it was good to learn."
In 2016 he booked a month in the city, recording an album with Canadian producer Bryan Wilson in a friend's living room before flying to Hawaii to create the accompanying artwork and videos. However, returning home three months later with a finished album, Ryder still didn't feel that his music was ready to share. "I was so bad at overthinking and procrastinating," he sighs. "Perfectionism, I think, is just arrogance in disguise and I can now look back at it and know that it's true, in my case at least."
He sent his music to labels, but received little or no response. Instead Ryder opened a health food cafe with a friend, performing on the side as a function singer. "I always think of the music world as these rooms inside rooms, and I felt I was deeper in than I actually was," he explains. "Really I was jumping up and looking in a window."
And then the world changed, and so did Ryder, swapping perfection for spontaneity. "It was something that I'd been wrestling with for years, and for whatever reason, the day lockdown started was when I defeated it and picked up a phone and just sang into it," he says. I'd spend a month working on videos in the past, it was ridiculous. But I was just creating boundaries and excuses."
"May 15th is when it all changed...Sia had reposted my video and Justin Bieber DM'd me. It was like this wall had fallen down."
He began singing short covers from artists like Britney Spears and Zara Larsson and uploading them to TikTok, his visceral joy and natural charisma the perfect antidote to the anxiety and darkness of that moment in time. "I remember the first time a video went viral and I was just like, oh maybe I'm onto something here?" He smiles. "I think it was a million views overnight, which is an astronomical number, please don't get me wrong, but in TikTok terms, it's not crazy. It happens all the time for many people, but back then it had never happened for me."
Ryder let his excitement lead him, posting with consistency and an enduring enthusiasm as his profile, followers and views began to fly. "It was May 15th when it all changed," he grins. "I remember that day and saying to myself, this is the day where things have changed. Sia had reposted my video and Justin Bieber DM'd me. It was like this wall had fallen down. The window that I was jumping up to look in for so long, I don't know, I finally just realised that there was a door right there in front of me."
With his new found fame came industry attention and Ryder signed with Parlophone, thankfully one of the few labels who hadn't previously ignored him. "I never actually sent my stuff to Parlophone, for some reason. I think like maybe there's something serendipitous about that," he muses.
He released the single "Whirlwind" this February. Written with renowned songwriter Jamie Hartman, it offered a thematically apt introduction for his new audience. In stepping into the inner circle of the industry, Ryder discovered access to a new world of songwriters, finding a perfect synergy with Amy Wadge and Max Wolfgang. "They are a powerhouse. Me, Max and Amy are like a little team," he grins. "It's so amazing when we write together, it's so beautiful, and everything just clicks straight away."
Together, the three wrote Ryder's new single "Tiny Riot", out today. It's a belter of gut-kicking chorus, as Elton-esque crescendoing chords clash with explosive studio production and a euphoric energy that certainly exceeds its namesake. "Amy sat down at the piano and she was like, how about we do something like a tiny riot? Literally just said that phrase. I was like, I love that," he beams. "She was just playing these chords on a piano and the words just absolutely fell. I've got the voice note of when we wrote that song and it's like fifteen minutes long and we're just laughing at the end of it going, did we just finish that song?"
For Ryder, the song is symbolic of his own inner battle, and the personal victory that it set in motion. "I guess my tiny riot would have been facing up to procrastination or using perfectionism as an excuse," he explains. "The purpose of it being tiny is to just disarm the word riot, and I love how it does that. It shifts the energy completely and instead of it being an outward expression of violence or force, it turns it into an inward act of revolution."
"Tiny Riot" is out now via Parlophone