Bingham has won an Oscar, a Golden Globe and a Grammy for his song "The Weary Kind" from Crazy Heart and has had multiple, critically acclaimed albums: isn't he used to playing such iconic venues by now? "I guess I'm still humbled and appreciative of it all. I can still never really quite believe I'm here," he says, almost overwhelmed by his success. "When I began all this, I was playing road houses around America, the kind of places where most people didn't go to listen to music: they went there to get drunk and fight. I often sang over the sound of smashing glass."
Later, at the Union Chapel, there is happily neither smashed glass nor fights: people are instead captivated by Bingham's emotive performance. Delivering a largely acoustic, stripped-back show, the poetic lyricism of Bingham's latest album, American Love Song, resonates with many thanks to its universally relatable themes of loss, isolation and belonging. Like the majority of Bingham's albums to date, his song-writing is predominately autobiographical. On American Love Song, he returns to his nomadic childhood for inspiration – a time which saw him moving frequently across states in America. The album, he says, set out to tell "the story of my life, and of the things that shaped me and continue to shape me," whilst all the while relating this past time to the here and now in Trump's America.
"I moved around a lot and lived in a lot of different places," Bingham explains of his childhood, which saw him variously live in West Texas, Fort Worth, Dallas, Houston and Laredo. "I always struggled with a sense of identity growing up and moving to all these different places where I had to kind of adapt to different cultures and language and ways of living. It's taken me a while to realise that I'm not just one of those places," Bingham says, his strong Texas accent masking a much more complex story of his heritage. "I'm a mixed bag of a lot of different places and I've had to learn how to wear many different hats over the years. That has really made me who I am today and I'm sure it's the same for a lot of people who've grown up this way. We're all a mixed bag of a lot of different things and it was something I was trying to be conscious of and address for the first time on record."
Bingham explains that he initially struggled mentally returning to his childhood and some of the memories he'd buried there. He is certainly not used to shying away from the personal, often tackling a range of difficult and challenging topics through his music as was perhaps best epitomised on 2012's melancholic Tomorrowland. Dealing with the bleak aftermath of losing both of his parents, his mother to alcohol abuse, his father to suicide, it was a gut-wrenching, candid and bleak exploration of grief – but one that ultimately brought him catharsis. 2015's Fear and Saturday Night, meanwhile, was wildly bright and hopeful in contrast, recounting a journey of going from darkness to light after becoming both a husband and father. Returning to his childhood felt somewhere in between the two extremes, Bingham says.
"It was definitely a difficult album to write and difficult to even explain what was in my head initially because they were so many layers to it. They were just highly personal things I experienced growing up and a lot of it was a reflection on that time and relating it to what I was seeing around me now. It was cathartic but over the years, since Tomorrowland, I've made a conscious effort to go back and deal with stuff from that time, not continuing on regardless or running away from it." Bingham explains that in the past, he did just that, avoiding speaking about issues or addressing them to the point he had frequent "dips in health" and "struggles" until he found catharsis through conversation. "I've really tried to work on it. I've really tried to understand how you learn to live with [trauma] that is always going to be there. It helps me now a lot more to talk about it and writing songs has been therapeutic, a way of expressing those difficult emotions and getting them off my chest. It's not always easy."
Bingham describes some of the difficulties of his childhood, one of the worst being the bullying he experienced at several schools as he moved around. He explains how he was bullied continuously, something he explores on the affecting song "Wolves". He takes a pause before illustrating what he went through by recounting the songs opening verse: "I was just a child / I knew I was afraid / There was nothin' to gain, I found / By runnin' the other way / I had to stand my ground / And keep the wolves at bay." He takes a longer pause, the memory still clearly stinging, before elaborating some more. It's clear the memory is still hard to recount. "It wasn't easy for me for sure. It made me grow up really fast when you're moving to a new town every year or so. I went through a lot of different schools, always dealing with being the new kid in town and always dealing with those guys who wanted to pick on the new kid. 'Wolves' is about growing up and having to deal with that, having to fight a lot, having to stand my ground to survive."
"Knowing what I felt like as a kid and growing up and dealing with that helped me put myself in the place of so many kids out there who are still trying to figure out who they are and deal with those who sometimes make that as difficult as possible"
Like many of the tracks on American Love Song, "Wolves" roots itself in the past but aims to convey a message for the present, as reflections on the past being used to help us understand the here and now. After seeing the March for Our Lives movement in response to the Parkland school shooting, Bingham was struck by the oppressive language many of the adult peers were using to question the integrity of the student protestors. It reminded him once again, he says, of the language used by bullies.
"'Wolves' was about my own experiences of course, but it was also inspired by things that are happening today like the epidemic of gun violence in our country as well as school shootings, specifically the school shooting in Parkland, Florida, which happened at the time I was writing. The way that grown men and women were talking down to those kids and the organisers of the March For Our Lives movement, I was really taken aback by the kind of rhetoric people were using to those kids and it reminded me of when I was dealing with people like that. It doesn't matter with bullies – it can be about where you're from, your origin, your sexual orientation – people are discriminated against and we need to collectively find a voice for those people."
Traversing politics was not something Bingham has always comfortable with, particularly the idea of being someone who came across as what he describes as "preachy." He explains: "I'm not saying that I'm the voice of those people at all, but I think a lot of it is just having empathy and trying to put yourself in other people's shoes. Knowing what I felt like as a kid and growing up and dealing with that helped me put myself in the place of so many kids out there who are still trying to figure out who they are and deal with those who sometimes make that as difficult as possible."
Politics is something he does deal with more overtly on "Situation Station", a song which explores the polarisation of current political rhetoric in America amidst a vision of broken American dreams. After Trump's election, the division caused across America angered Bingham; the lyrics on 'Situation Station leave little doubt as to his feelings: "Well I been thinkin' bout the situation / How the world is full of frustration / As the president shits upon the nation / Wipes his ass with all denominations / Turns around and begs for donations / Ridin' on the back of a poor man sellin' them lies." The song closes with a poignant image of unity: "We're all waitin' in the same station / We're all standin' in the same situation." The political protest songs of Woody Guthrie and Bill Withers, Bingham reveals, were an inspiration for American Love Song – artists who he discovered in childhood. Once again, Bingham was able to use his youth to help him comprehend the present.
"I think 'Situation Station' was one of the hardest songs to write," he explains. "I definitely didn't want to alienate anyone or come across as patronising. I've always looked up to musicians like Woody Guthrie who wrote a song called 'This Land is Your Land' which we'd often sing at school. Another was 'Lean on Me' by Bill Withers. I always think about those songs and how profound they are, but at the same time, they're accessible for children to sing at school. Those songs did something to me [in childhood] for sure and they made me think in a way that maybe I wouldn't have and help to make sense of things that are going on now. I try and be aware, conscious and [sensitive] when I approach topics like this…I didn't want to be patronising or anything like that with bringing up political issues, but at the same time, I wanted to bring them up in a conversation and [explore] all these different places and people that make us [as a nation] who we are."
Recently, Bingham curated a music festival – The Western Music Festival – in Texas, an event which aimed to marry the social and the cultural, offering opportunities for people to unite through music. The event brought together artists from many cultures and matched the message of unity at the closing of 'Situation Station.' "It was the first time I'd done anything like that," Bingham beams, clearly proud of the response the festival received. "It was so great and so much fun. We want to keep doing it every year and building on the success as we go. It brought people together, as music should. We're already planning next year's festival."
Next up for him in the UK is another event with a clear ethos; Black Deer Festival aims to bring real roots-inspired music to the UK alongside Americana culture - everything from food and drink to artisan wares and even custom-built motorcycles. Bingham sits neatly on a line-up that includes the likes of Band of Horse, Kris Kristofferson and The Staves.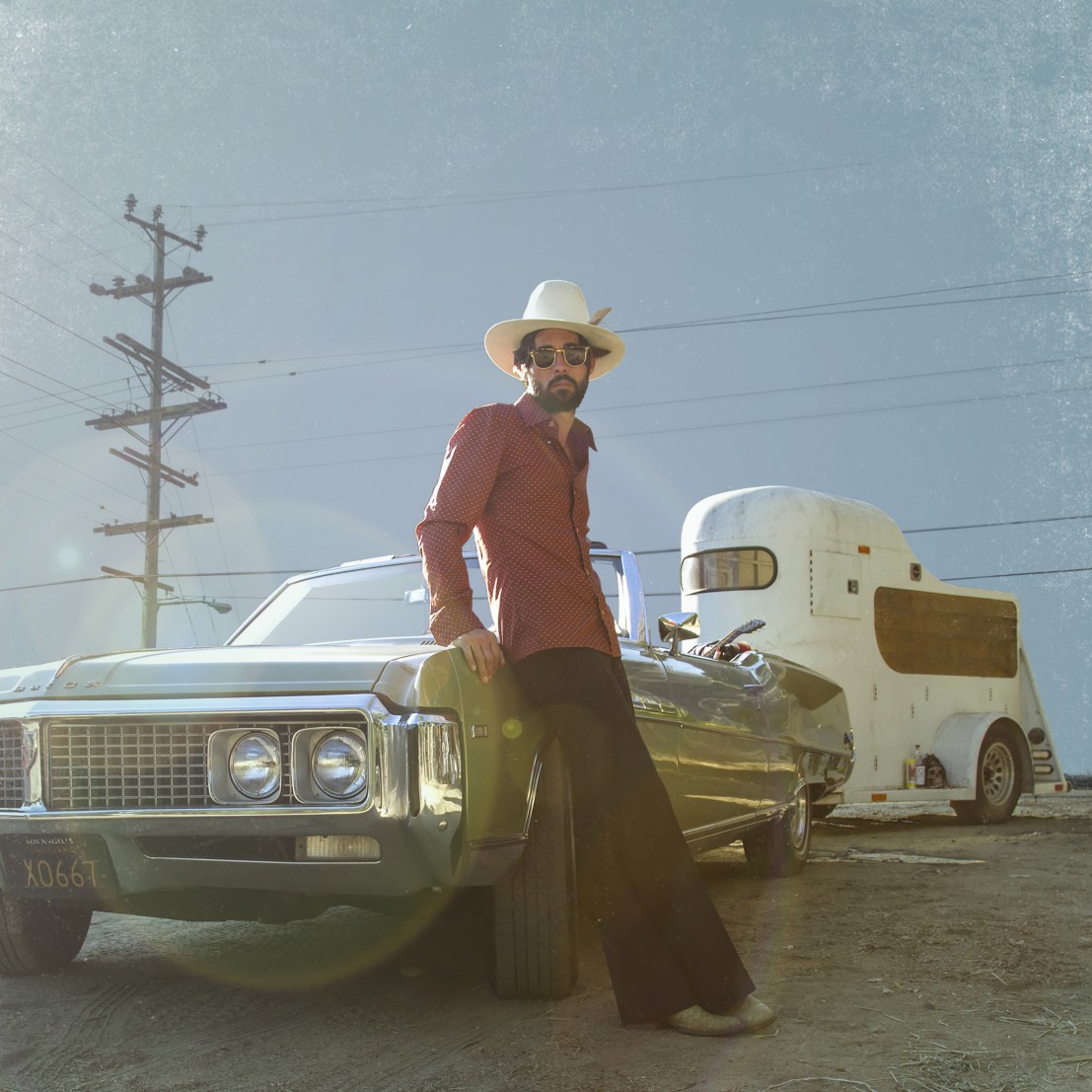 On stage in London, the manifesto of 'Situation Station" is evident in the diverse audience who have all been brought together by Bingham's resonant acoustic storytelling, his message chiming with individuals from many cultures and backgrounds. Bingham explains that working once again with producer Charlie Sexton helped him to bring together a vast range of styles and sounds that he hoped would cross both musical and cultural borders. Having grown up in similar parts of the US meant Sexton understood many of the ideas and sounds Bingham was trying to convey too. After sending him a series of demos, Sexton pulled together a band who helped to produce the album's sound "organically." He continues: "Working with Charlie was great," Bingham says. "I've known Charlie for years and we both kind of grew up in some of the same places in Texas. One of the great things about Charlie is that when I called him about the record, I didn't have to really explain any of the influences I wanted to portray across the album…He kind of knew already."
"A lot of the influences of that area, specifically in the Texas area, is very diverse culturally…it's a lot of different styles of music converged in that area around Austin and the Hill Country and I wanted to have a road map of the Unites States that kind of represented the different places that I lived in and the different cultures I experienced. I wanted the album to reflect [all] these places. Charlie was very critical in helping me to get that, helping me to reference a particular Tejano band or something from the Mexican border, for example, or a blues sound from Louisiana, South Texas border or swing music from up in the North. I wanted to represent those styles in different ways: he helped me to bring all of that together."
Whilst Sexton's influence on creating an album with such cultural scope was huge musically, lyrically it was a much more isolated affair for Bingham who explains that he needs to write in solitude. The subject matter, he explains, was partly responsible, but so too was how easily distracted he gets when writing. At first, faced with reflections on his impoverished childhood and itinerant existence, the experience drew parallels to Tomorrowland, the scope proving almost too vast. "I think writing the songs was the same process [as always] but this album was bit more difficult. In the beginning, it was this [expansive] idea of a concept album and I was looking at it as a whole, so it was overwhelming. As soon as I started to make it [and think of it] as one song at a time, it ended up coming together fairly quickly and I would just take one emotion at a time, write about it and eventually it came together as a whole."
"Acting is a bit of a different outlet for expressing things...it gives me a break and I can clear my mind of whatever I'm thinking about"
"Getting started was the hardest thing. I think once I wrote 'Wolves', which was one of the first songs I wrote for the album, I got that down and it set the tone for the whole album. Writing one song at a time, I had pieces for each of them and eventually I could see the whole picture and the whole story which meant just filling in the details." Bingham says the more comfortable he got in looking back to the past, the easier the experience became – both in memory and in relating the album to the present time. "I think it's very much a part of the American story right now. I think from the concept of the album, it really was about highlighting the difference in rhetoric we have now in the country and on the street today, how it's coming from the top to the bottom, how people have alienated each other then and now."
Making the album in between back-to-back tours and filming in Yellowstone (where he stars alongside Kevin Costner and Luke Grimes) means his schedule is incessantly busy. Yet a break away from the solitude of writing is needed, Bingham says, to escape the loneliness his song writing method can sometimes bring. "Acting is a bit of a different outlet for expressing things, I guess. I've definitely tried to balance the two, turning one off and another on which has been a bit of a learning curve for me, but I find it refreshing. It gives me a break and I can…clear my mind of whatever I'm thinking about. It's a distraction almost, but one that…eventually helps me to create [more effectively] I think."
"It's certainly been a wild ride," he repeats, laughing, our interview drawing to a close as talk turns to his Oscar win for Best Original Song in 2010 for "The Weary Kind" from Crazy Heart. Penned with T Bone Burnett, the song was performed by Jeff Bridges in the movie and became a cult classic. "It was a bit surreal," he says, of going from playing in roadhouses and honky-tonks just a few years earlier to standing next to Cher at the Oscars. Via an impoverished, nomadic childhood, heart-breaking loss and struggle, Bingham has, however, used his experiences to find strength, to tell a story of those without a voice and those who feel oppressed: the result with American Love Songis a collection of songs proving universal in reach. "To be able to translate these songs across borders…to tell stories that resonate is still wild to me. It's been a difficult album to write. It's not always easy to revisit the past but I think it's important. It helps to process it so you can continue on down the road and eventually find peace."
Ryan Bingham plays at Black Deer Festival which runs from 21-23 June in Eridge Park, Kent. Find out more at blackdeerfestival.com