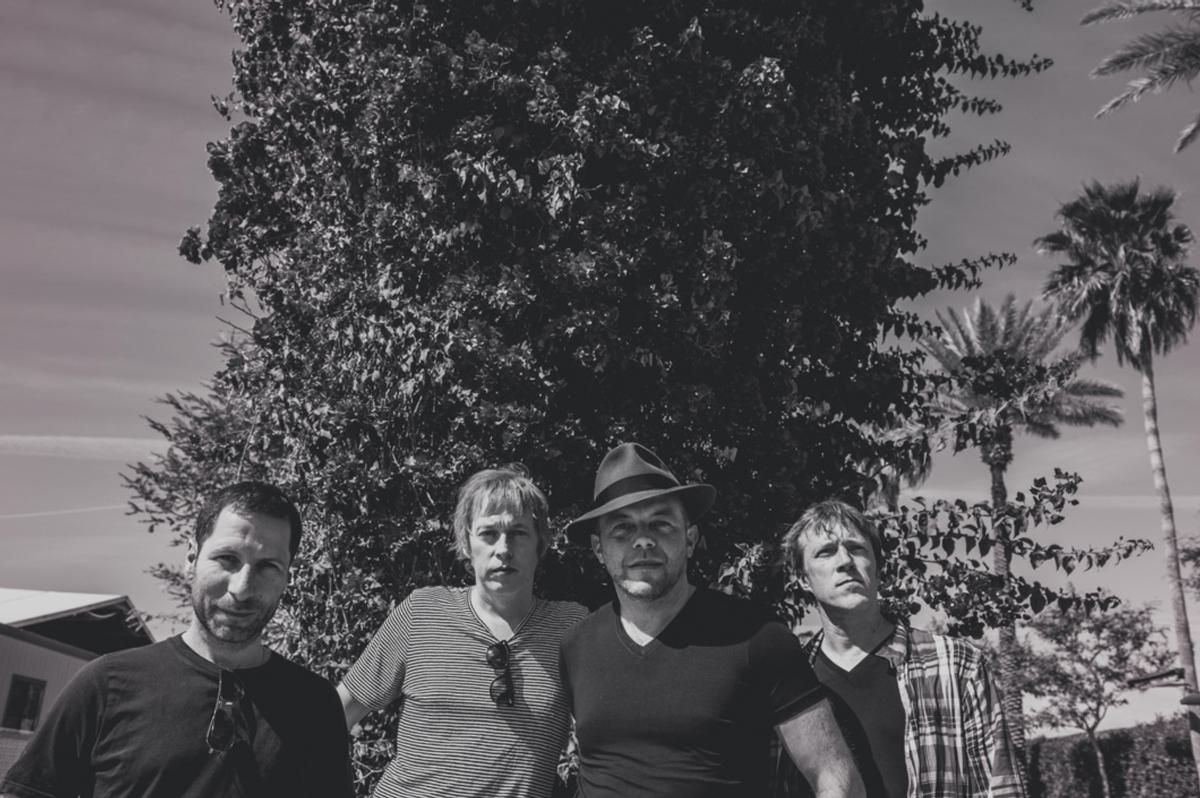 Ride: Noise is far more interesting when it's put against beautiful things
19 May 2015, 09:24
"When you've got something with that amount of passion and intensity, in time it's going to explode, you're going to crash. Creation did and we did, but I think it's perfect, it wasn't a career band move"
This spring has seen a number of beautiful reunions from some of the '90s greatest bands, with Super Furry Animals playing live for the first time in six years and Blur releasing an album featuring with Graham Coxon back in the fold. Trumping both in terms of longitude are Ride. who returned to the stage after a two decade absencen. One of the most adventurous bands of their era, the Oxford four-piece were at the vanguard of artists making the leap from the indie charts to the Top 40. They called it quits in 1995 but now Mark Gardener, Andy Bell, Steve Queralt and Loz Colbert are back.
The reasons for the reunion are well documented: the moment felt right and they realised there was still an appetite for their music. Their first gig proper was at Coachella, they're headlining Field Day in June and the UK dates sold out in a matter of minutes. They're humbled by the response, as Colbert tells me, "I thought that we'd be forgotten and that would be it, but I constantly had people from all echelons of society who gave me reasons to want to do it, it wasn't just us and our circle of friends." Gardener it as like coming home: "I thought if I never had that feeling again I'd be really sad, I feel blessed. I can best describe it as a special voodoo between us as a unit, an expectation for us to hit a standard, which goes unsaid and when that all clicks together it's incredibly strong, that's a wonderful thing to feel again."
If there's a certain sadness that they spent twenty years apart working with others, Colbert tempers it with their current strengths as an even mightier live proposition. "It's sort of weirdly tragic," he explains, "but brilliant in the same way, that parts of a broken-up band got to work with legendary people - me with The Jesus and Mary Chain and Gaz Coombes, Andy with Oasis, Mark with Robin Guthrie - but not getting to play together. I'm really happy we get to form a band again, everyone has so much more to add and it's a great honour seeing people appreciate all the parts of the band now all those parts are together."
Colbert hasn't abandoned his work with Coombes and will combine both projects, schedule permitting. I point out the most obvious clash that comes to mind: they're both playing Sunday at Field Day, but he's drumming both sets. "I'm in training for it! It's playing music and that's what I'm here for, I'm literally on this planet to do that. A festival set for Gaz is manageable, if anything will knacker me out it's the Ride gigs." His bandmates approve of his extracurricular activities, with Bell effusing, "Gaz is like Elvis, he has so much charisma, I went to see him in London and it was wicked."
In the '90s they found their natural home on legendary indie label Creation, which appealed to their desire to be part of a likeminded cabal of creatives with a non-careerist aesthetic. Gardener laughs when he recalls their first trip to America: "I didn't think there'd be a stretch limo waiting to take us into New York for the first time. Me and Loz were playing with the curtain control, having a drink and thinking 'This interesting isn't it?"
Eqqualy there were elements of having to play the game as success beckoned, Gardener explains: "Things were thrown at us, Top Of The Pops, making videos, we were really alien in those places."
Ride delivered Creation's first Top 10 hit with the eight minute epic "Leave Them All Behind". To give some context of how ground-breaking that feat was, it was the second highest new release that week - just behind Michael Jackson's "Remember The Time" and in a chart where Wet Wet Wet were number one.
Colbert thinks their approach was completely different to the Britpop scene that followed them. "We were just before the career bands," he tells me, "[and] to be in a band when we started felt like such an odd thing to do. We were real outsiders. I think in the next phase of music everyone considered it to be a job, it was just accepted. It felt like Britpop wasn't such a risk anymore and bands were working the system."
Queralt agrees that their ethos was more innocent than what followed in their wake: "That period when indie bands were crossing over into the charts the major labels thought 'We can have some of that and start making money' and I don't think they really knew how to do it well, they ended up on mainstream TV and it didn't really work. I think when we were around it was all new to us and it was all new to the industry."
But their commitment to the cause meant long term career planning wasn't on the cards. Mark looks back at those times with a touching honesty; their approach meant that they weren't built to last at the time. "It was great way to stick the V's up to the big labels, but when you've got something with that amount of passion and intensity, in time it's going to explode, you're going to crash, Creation did and we did, but I think it's perfect, it wasn't a career band move."
Ride's musical progression saw them changing elements of their sound for each record, but always keeping the spine of melody and noise. I tell Bell I'd read that after their debut Nowhere he was concerned that it would date so switched to a cleaner sound for Going Blank Again. "I was completely wrong about that and I put my hands up," he responds. "It felt like the whole heavy effect sound of Nowhere was like the psychedelic sound of 1967, a fad that you had to shake off before everyone else. The more we tried to sidestep sounding dated by going for a more classic sound the more dated those records sound now."
This brings me to their musical legacy and the idea that they were just a Shoegaze band gets short shrift from Andy. "If you sat me down and tried to get me to define what Shoegaze is I couldn't tell you, it's probably based on the 'Dreams Burn Down' type songs with the big spacey guitars but "Leave Them All Behind" sounds like The Who to me, it's a big epic rock song and 'Vapour Trail' is a pop song that could be done in any era really. Shoegazing was a dirty word in England and everybody moved on very quickly to something else."
I'm interested in the changes in music they've seen in the last twenty years. Gardener loves that that genres have collided and can happily co-exist at music festivals: "There's lots of more accepted movements and people are more eclectic, before it was shoegaze, grunge and then Britpop, but now it's like it's all there - people within their own genres and scenes of music are playing alongside each other."
He's acutely aware of the pressure for Ride to deliver: "Live is the big acid test now and that's when you've got to be great and if you're not there's plenty of bands on the bill who are. That's the ultimate challenge, how do we do what we did but bring it up another level?"
There has also been a movement of guitar bands away from independent powerhouse labels such as 4AD and Creation to self-funded releases. As a producer, Gardener doesn't think record labels make sense to bands who are just starting out, "because of the financial implications bands release their own records and keep all the profit. Independent labels aren't in the position to come in and share recording costs because they're not going to make the money back."
Bell sees the lack of money as a reason that bands have to make certain sacrifices - such as keeping a job for longer "You just deal with it the way it is," he muses, "[and] coming out of time when there was so much fucking money - an obscene amount going around - people our age were lucky if they caught a bit of it, but it doesn't change the feeling of wanting to be a musician, you just might be a bit more niche."
The waning of such labels saddens Colbert; he now sees the majors pulling the strings of their smaller counterparts. "4AD and Creation were exactly the labels I was thinking of about when you asked what inspired us. They were independents started by entrepreneurs with passion, it was all about the music. There are hundreds of small labels now but inevitably it's part of the chain that leads up to the majors, so you don't get that sense of danger anymore, of somebody colonising a new area." Andy believes such independent labels still exist, but the type of music they're releasing has radically changed.
"I see those labels but they're not guitar labels anymore, they're labels like Warp. The bands who are forward thinking in music aren't guitar bands any more, they're electronic and electronic music is where shoegazing went."
Key to this shift for Colbert is the lack of innovation in a lot of guitar music. "Guitars and guitar sounds became a bit boring; I don't feel like people are itching to get their hands on guitars at the moment as much as decks or synths. I don't think a teenage kid would want a guitar today as much as an Xbox1, that's not a bad thing, it's just what it is." For Queralt, it's a simple matter of economics. "When we were at school synths costs thousands of pounds," he says, "so the only way into music was to buy a cheap electric guitar, but now electronic music is much more accessible to people who want to make music, buy yourself a midi keyboard and you're away.
"I think you have to worry for the future of guitar bands for that reason."
So are guitar bands now a cult concern rather than trailblazers? Bell speaks of his love for bands such as Warpaint, "They're great, they're moody and magnificent" but he feels the guitar has been marginalised. "The guitar feels like a violin now, it feels like a niche thing these days. We're now the playwrights of the next couple of decades rather than being the rock stars, you become something off to the side."
The digital era has also radically changed communication with their audience. Whereas they used to send photocopies of handwritten newsletters to their mailing list, they are all to varying degrees active on Social Media. Gardener welcomes its impact, not just on the immediacy of interaction and its global reach, but that it allows each band member a means of expression. "That one voice band thing, I never really quite got that because we've all got interesting stuff to say," he says. "It's great an audience can get an honest reflection of how we're feeling along the way. Someone said it was like they're going on the trip with us and that's what it is, it's a trip."
PHOTO: GAELLE BERI
I'm curious about how they feel about Ride's sound now. Gardener feels that whilst they're older in body, the intensity of the shows promises to be greater than before: "Ride is really energetic - it always was - and especially as we're going back to the early stuff, it's full on and that's why it works." Bells tells me that after their warm-up show in Oxford he came off-stage with his hands covered in blood for the first time since Ride's shows in the early '90s."There's fire in the songs themselves and we still play them with the same intensity. We feel it: there's something in the songs and the way we play them that translates." Colbert echoes this when talking about Coachella: "It was great, we finally got to play some shows and see what it was like to play a Ride gig and I can tell you it was very intense, as it should be and none of that's gone."
What set Ride apart for me was their combination of noise and melody. Is that still important, I ask Gardener. "Noise is far more interesting when it's put against beautiful things like harmonies and it's something we always favoured," he responds. "When you mix up elements that's when things get interesting." On the flipside of that, Colbert recently penned a brilliant article about the middle section of "Drive Blind", the only song of the set where people clap during rather than after the song. "That section is a way of us answering a lot of questions that we don't answer using our mouths," says Colbert. "It's a catharsis and it's amazing how people react to it. I just like the idea that people think of it as an absence of melody, harmony and words and that it's missing something as a result, but looking at the reactions of people and the way it feels to us in some ways it's the opposite. It could be you're getting more than that, you're getting everything, that's the only way I can describe it. It's going to be something different for everybody and it's incredibly powerful."
Technological changes mean that Ride no longer have to make compromises in bringing their recorded sound onstage. Crucially, guitar sounds that once could only be made in the studio are now available at the touch of a pedal, with Bell finally realising his long-cherished desire to make backwards guitar noises live. Having spent a decade playing bass with Oasis, there's a glee to the sounds he can now add to the mix: "Everything has been a bit like Rip Van Winkle for me; I went to see some guitar pedals and was amazed to see how many amazing effects are now available, things I would only dream of when I was eighteen years old. So the Ride sound is much easier to get now."
Live, the nature of some of the songs demands that they retain their improvisation, which Gardener feels keeps them on their toes. "There's always elements of what we do that are freeform, like 'Seagull'," he explains. "We're a lot more rehearsed than we ever were but within that it still goes where it goes and that's fun and keeps it interesting." They've studied the songs and their nuances, Bell and Queralt talk of "Cool Your Boots" from Going Blank Again, which they wrote in the studio but didn't stop to appreciate how they could replicate it live at the time. "That's one of the songs I play the most. I like the whole outro bit, all those mad drum breaks and changes at the end we did at the spur of the moment when we were recording it, but we've learnt them and now its second nature."
With no new album to promote, these shows harness the best of Ride live, which Bell explains has led them to the earlier songs. "We hardly played 'Vapour Trail' after the first tour because we just got bored with it, whereas now it's a big highlight and you couldn't do a Ride gig without it.
"The setlist is all killer and no filler, whereas before we'd be doing the stuff that was brand new and whatever else we felt like on the night."
When I ask about other reformations, Bell unequivocally cites The Stone Roses as his touchstone and one of the main reasons he decided to reform. "Even them just playing the same songs as 45-year old men added so much to their legacy and if we can pull off musically I'll be more than happy," he enthuses.
"I saw them about five times and it was so good. Ian was great, John and Reni were just absolutely on fire musically, and Mani was holding it down and being awesome. It was just a brilliant thing."
Even though they're enjoying playing, their mind-set is very much one of carpe diem, with any future plans to record off the agenda. Colbert feels the lack of planning adds to their enjoyment: "There's so much to be enjoyed in the moment and I think that's why the shows are going to be so fucking great, because we're in the here and now, we're enjoying the moment and that's what we want to share with everyone. We've had twenty years of listening to other bands and watching changes in music and that's going to come out in what we play. OK, maybe then whatever…"
Having watched live footage from the US shows, Ride are an even more fearsome live band than first time around. The tour - which will now run to the end of the year - is shaping up to be one of 2015's musical highlights. Despite all the changes in music since they've been away, their story is ultimately one of four friends bound by something as simple as a love of music.
Colbert sums it up: "There are four individual stories and they're all rich with events and circumstance. Life has happened in a brilliant way to all of us and I wouldn't have changed anything.
"We've had a chance to experience the world in a way that human beings should and then that comes back into the music in a way it could never have done before."
Ride play The Roundhouse in London this Sunday (24 May) and return for Field Day 2015 (6-7 June)