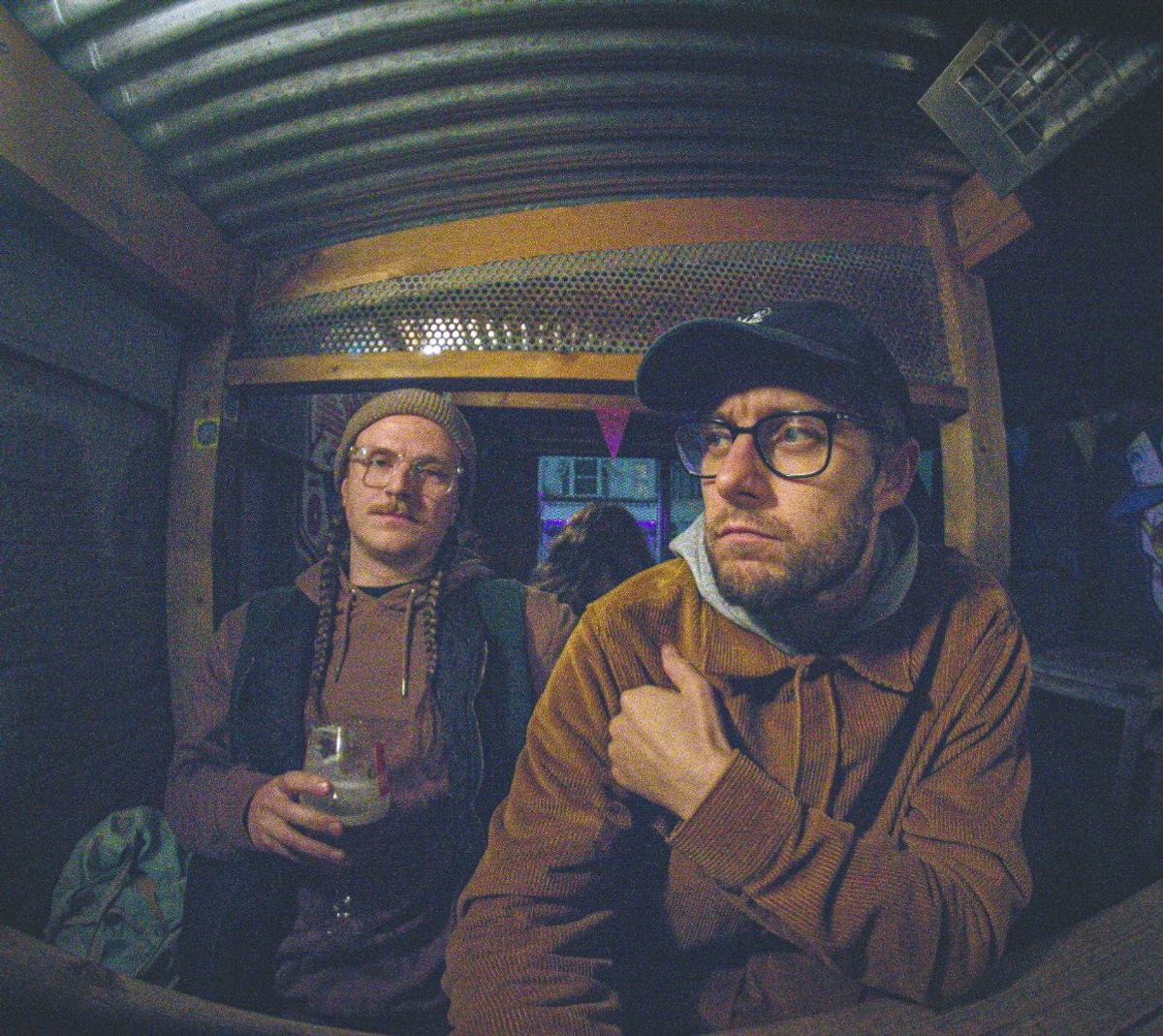 Regal Cheer are finding community in the DIY scene
04 February 2023, 09:30
Formed from the ashes of a slew of Brighton's emo revival-era staples, Regal Cheer's guitarist Max Cleworth and drummer Harry Menear bonded over a love of local gigs, house parties, and the Netflix series I Think You Should Leave. Sonically reminiscent of acts like Meat Wave and Nai Harvest but playing twice as fast, the pair are eagerly gearing up for their debut album Cans and a UK headline tour.
Talking over Zoom on a Monday evening, they sit upon a twin bed, sipping budweiser and chain smoking cigarettes. "Harry was always around my first house in Brighton," starts Cleworth with a grin, tossing a toy to his Jack Chi dog across the room. "It was a complete dive and loads of mates from Jersey used to live there as well. If I was to look back on Facebook you'd probably find some very cursed photos."
The title of the record feels perfectly on-brand for what Regal Cheer are striving for; 10 tracks clocking in at 17 minutes, enough time for a few pint-sized cans before heading to a scrappy emo punk show. Despite the brevity of each track, a lot of love and dedication has clearly been poured in as the debut brims with tight musicianship. Recorded at Brighton Electric Studios, one of the stand out cuts on the record "Forests" features gang vocals from members of post-hardcore band I Feel Fine, Chalk Hands and noise-rock outfit Big Slammu. It's a testament to how DIY scenes have a tendency to fall in with each other; working as a supportive community.

"We didn't want to go into this album recording a bunch of stuff that sounds good but we wouldn't be able to play live," Cleworth explains. "So when people come see us and sing along it's gonna feel like they're doing those parts with us!" Opening with a frantic, hazy riff that becomes a sticky earworm from the outset, "Castanets" deals lyrically with the frustrations of sharing a house with other musicians whilst avoiding conflict as much as humanly possible. Cleworth says it's a song that was written years ago and was "lingering over him", before he and Menear finally had the chance to sit down and record it properly. "The house share at the time was very dingy. Housemates would be making noise until 4am on a weekday which is the last thing you want to deal with after a long day at work. It became horrible to live in. There needs to be a limit when you're doing this band-music thing, sometimes you just need to fucking calm down and be considerate, it's not always about you."
The novelty of Regal Cheer being a dual vocal indie punk two-piece isn't something that reinvents the wheel, but for the brief unhinged indie punk that the band currently make, it works perfectly. For one, decision making in terms of what musical ideas should be pushed going forward are a lot easier than having to negotiate with three or four other members. "If I pitch something or Max pitches something, it's pretty easy to just say yes, or no, and then move on," Menear explains. "It's not like in a full band where someone might object to something in a song and the rest of the group tells you to shut up and move on. We're both keen on everything we do which is nice. We've had friends say to us 'oh we have six members in our band and we can't fucking book a gig anywhere!'"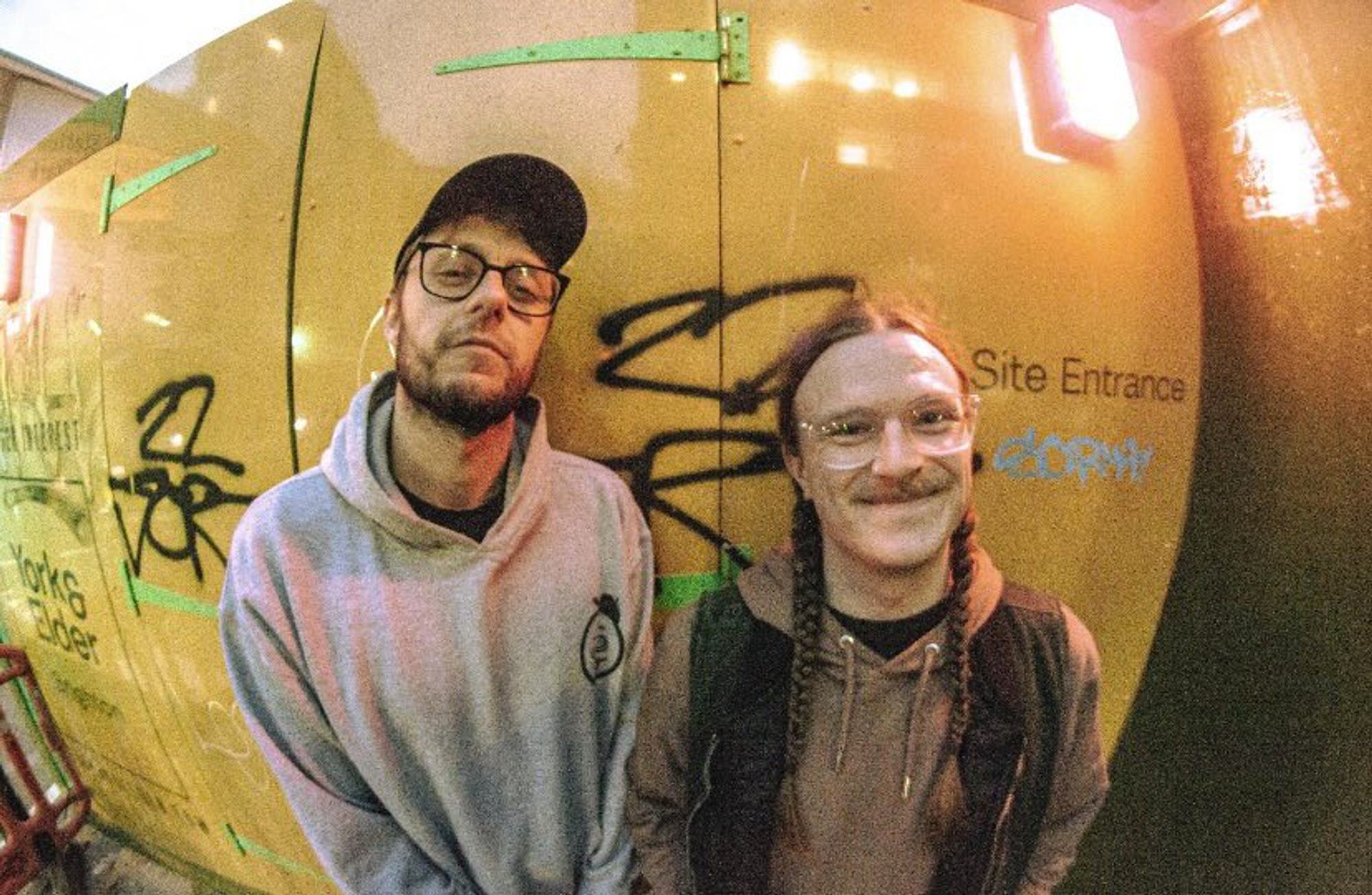 On the flipside, sometimes only having two people to bounce song structures off can be a hindrance, albeit not one that creates a huge barrier when it comes to songwriting. Cleworth says that being the only person who makes melodies in the band can make it hard to fully commit to an idea. "Because my memory is dog shit, I'll have a huge archive of ideas that I really like and not do anything with them for ages. I'm pretty sure I just labeled one of the songs as 'Kerrang' and sat on it for years," he laughs. "But the good thing is we didn't have to modify much. How you hear the songs on the record is pretty much how we wrote them."
For their first headline tour, Regal Cheer plan to play pretty much their entire discography so far, which includes Cans in its entirety, their first 2 EP's Side Hustle, Overtime and maybe a couple new tracks. Menear claims that by doing this, it's a very quick way of getting all their material out there and they don't want to give the audience any kind of excuse to go to the bar or leave the room. "We love seeing bands that do that with their sets. I've seen Cancer Bats almost a hundred times or some shit like that and they're just 'bang bang bang' with little to no breaks, it's mad!"
Coming along for the 11 date tour are ex-Gender Roles members' new band Really Big Really Clever, whom Regal Cheer have known for years and can't recommend highly enough. "It was sad to see how things ended with [Gender Roles], we're so happy that they're with us [and] back to doing what they love the most."

Cans is out now on Beth Shalom Records. Find Regal Cheer tour dates here.