"It was my first time in South Africa," she recalls. "She was maybe three or four years old, and her mother… she tapped me on the shoulder and said 'tell Rap what you wanna tell her'. And this little girl looked up and me and she said 'I wanna be like you when I grow up'."
"And as simple as those words are, it touched me in a whole different way. I could fly 15 hours over the Atlantic into a whole other continent and I could still have that influence. It showed me that I do have a purpose bigger than myself."
It seems things have come full circle for Rapsody – born Marianna Evans, in 1983, Snow Hill California. As a glassy-eyed student, Rapsody's love of artists like Lauryn Hill and MC Lyte gave her the guts she needed to pick up a mic in the early '00s, when the plethora of female emcees we now have blowing up the charts seemed like a pipe dream. Fast forward to today, and she's just released EVE – a record that galvanises her status as a leading light in hip-hop, and also serves as a heartfelt dedication to the Black women – politicians, writers, activists, actors – who've propelled her from suburban College girl to jewel in the crown of Jay Z's Roc Nation.
Each track of the new album is named after a Black woman who's inspired Rapsody in some way – from Hatshesput, the fifth pharaoh of the Eighteenth Dynasty of Egypt, to model and businesswoman Tyra Banks. I'm intrigued to find that, of the many living women featured, Rapsody has only met one ("Yeah – I hope when they hear the song, they like 'em!" she giggles "I'm interested to see if any of them reach out to tell me how they feel about it.")
Witling the list down was a pretty brutal process, too. "There were a bunch who didn't make it on," Rapsody laments. "Initially before we got to 16, we were stuck at 23… 24, and it was really difficult to decide who we were gonna take off. We lost Miriam Makeba, who's a legendary singer and activist from South Africa. There was one named Zane who's an erotica writer from America. [Politician] Maxine Waters has one… DJ Spinderella [of Salt N Pepa] has a song. Who am I forgetting? There's so many…" And these 'ones' were full songs? "Sone of them are complete songs, some of them are ideas that I started but I didn't complete. Like, I have one that's named after Lauryn [Hill] with two verses, but I don't have a hook for it yet," she teases. I joke that we might hope for a B-sides album, to mop up the other 50 or so candidates who didn't make the cut.
In an interview with DJ Booth in 2017, Rapsody said that her genre was "life music". A storyteller first and foremost, she's made a career of talking herself round on record, her lyrics laced with self-help and positive self-talk. You can here that wisdom on "Black and Ugly" from Laila's Wisdom – a track that tackles the stinging unfairness of white-washed beauty standards, before rising high above them on its chorus ("Yeah, they call me black and ugly / But I go so hard, make the whole world love me,"). And on EVE'S "Soujouner", where Rapsody details the ways in which racism still runs ruins through American society, before reciting the "water off a ducks back," bridge: "Yeah, swim good, enjoy the ride / Every day I rise, thank God that I am alive."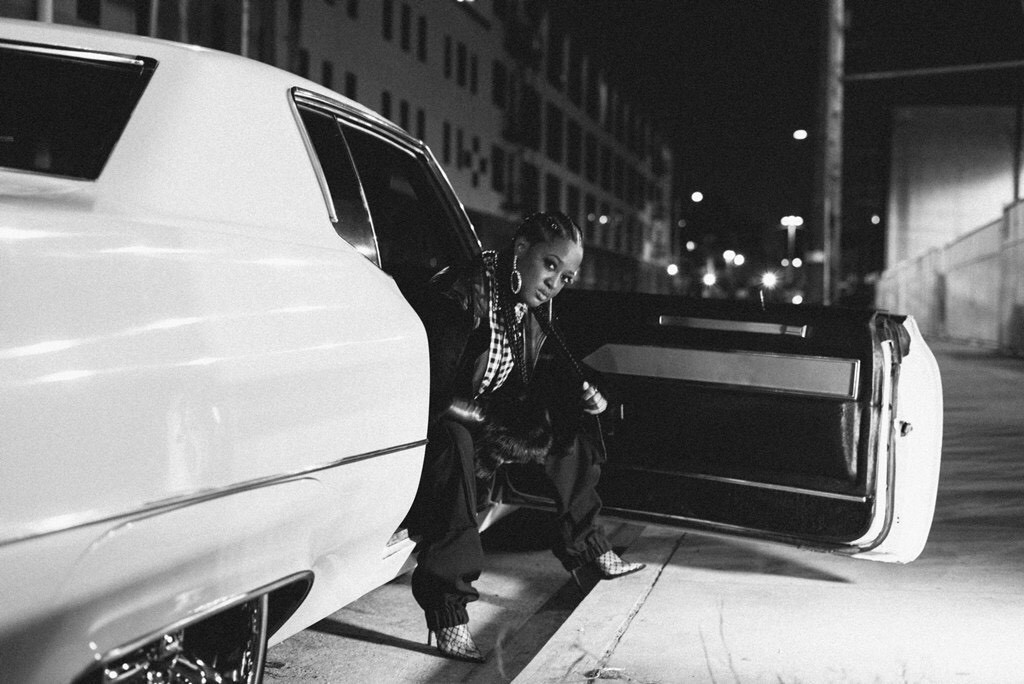 Even in conversation, Rapsody speaks with a steady consideration. She seems markedly zen for someone days away from unleashing her third album on probably the biggest hip-hop imprint in the world. I ask her how she manages. "Man… I pull my confidence from everywhere," she smiles. "My circle, the people around me. Whether it be 9th Wonder on my label, or new friends that have entered my life. Like the legendary [designer] Misa Hylton – she's been in the game 20 years. To be able to have her, where I can just call her. She gives me inspiring advice, about our energy and what we should spend our time on, how to be confident."
Rapsody seems to value experience above all else, and places particular import on 'big sisters' and older women in her life to help steer her ship. "Talking to Queen Latifah, having a relationship with her, helps me so much. I try and look to other individuals who have walked the path, who have lived life a little bit longer, to gain that wisdom. And my mom – she sends me notes and texts every day that remind me of those same things." She's even partial to a bit of pop psychology to temper the onslaught of her social feeds. "We're all on Instagram! So I follow inspirational pages on there – just reminders that you need when you're scrolling through everything else that's crazy!" she laughs.
And onto that craziness. With EVE, Rapsody has penned yet another highly political record, which pulls no punches in its assessment of the state of race and gender relations in the US, pulling apart themes of mass incarceration, gun crime, and systemic discrimination. This is where her head is at, still. "We need to love protect and respect Black women, but all women too," she says. "Respect our power to bring life into this world, respect who we are, how much we carry. And understand that we have a place in society that should be respected. Whether it's giving us equal pay, or honouring our minds and our intelligence. Or who we are as human beings." She says she's exhausted by images of Black women in the media having to argue for their rights against a tide of bigotry, and my mind briefly flicks to examples I've seen in media this side of the pond: of Munroe Bergdorf attacked by two white journalists on Good Morning Britain or Reni Eddo-Lodge defending Black Lives Matter to a guy who insisted she was "preaching vulnerability".
"You see these videos…" Rapsody continues, with a gentle exasperation. "Where Black women have to fight against people who disrespect them when there are surrounded by men. You have to, at some point, step up for women. And just support us in a different way. Not look as us as weak or 'other than'. We deserve that, because of how much we give to the world."
The testing intersections of race and gender remain a hurdle in hip-hop – something Rapsody's been calling out since her first steps onto the scene. "Even in hip-hop, it's important that we bring balance and don't just dwindle women down to video vixens and sex symbols," she says. "It's about understanding that we're a spectrum – of beauty and intelligence, artistry, gifts, and we have different stories to tell that all need to be represented. So – protect, respect, and represent all women. But especially Black women. Because it's so much harder for us."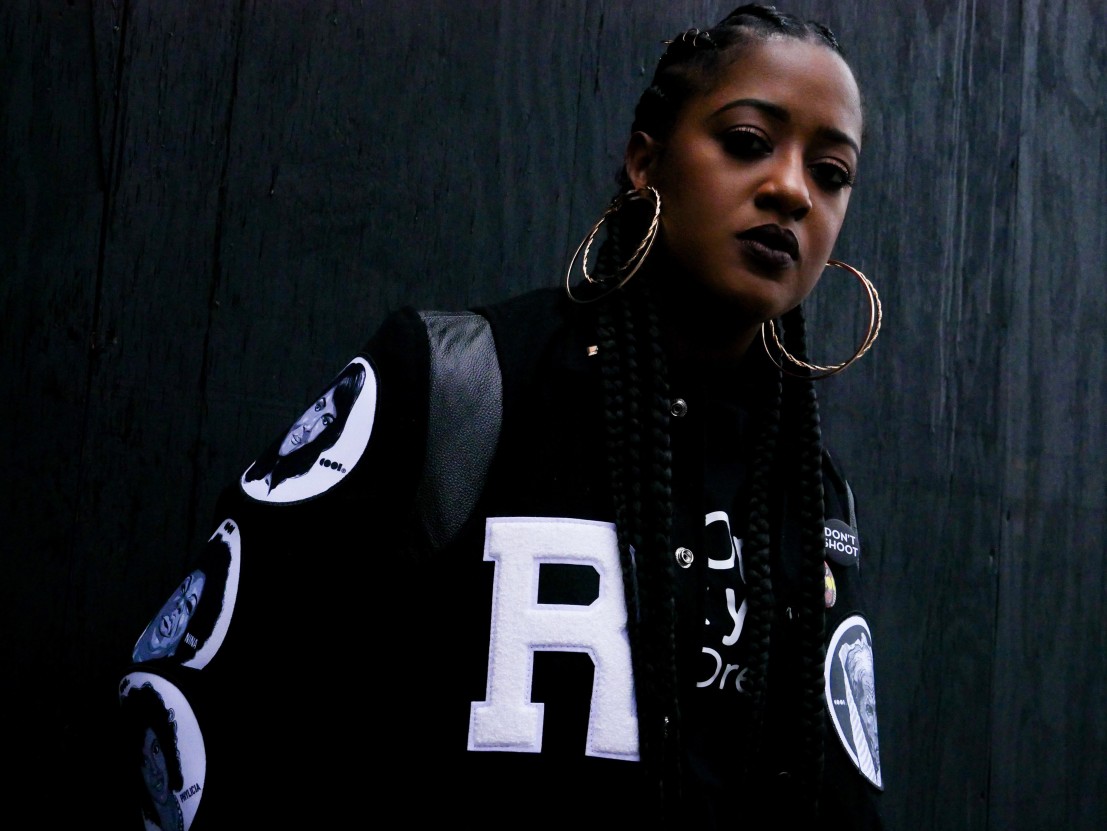 It's been almost a decade now since Rapsody released her Return of the B-Girl mixtape – now a classic in the left-of-centre conscious hip-hop canon of Bahamadia, Mos Def, and the aforementioned Ms Hill. In that period, Rapsody has worked with everyone from Raekwon to Anderson .Paak and been nominated for multiple Grammys, including one for her phenomenal 2017 release Laila's Wisdom. I wonder what – if anything – has changed in her, since she dropped those first few bars as a fledgling emcee on 9th Wonder's It's a Wonderful World label. "I think the biggest change I've seen in myself over the last 10 years," she pauses for a second, "is really figuring out who I am and where I fit – not only in the music business and the culture, but just in this world, what my purpose it. Looking in the mirror and being thankful for my growth – for everything I've learned. I have learned to appreciate things and be confident and walk in my light."
Like those bars in "Soujouner", Rapsody says she's realised how vital it is to be able to roll with life's punches. "I don't have to chase thing or force things. It's important to go with what God gave me. I've been at peace with things in the universe, and I've learned not to fight things or worry about things too much. Because what's meant for you will happen in good time. And that's just how I try and wake up and approach every day."
And, when it comes to the toughest elements of her job, Rapsody is on brand, seeing only challenges to rise to. Take the vertigo that comes from 'staying at the top', for example. "That's the old saying I hear the most – it's harder than to keep it than to get it," she reflects. "But y'know, on this journey, that part hasn't been that hard because I continue to be consistent in how I feel and in making great music. The challenge is to continue to evolve – but I enjoy that, the process of figuring out new things. I want to explore how can I progress from the last project to the next – like, what more can I do with my voice and my direction and my gift?"
For now though, the album is the word. Rapsody went into the studio with a plaintive aim of making the best music her and her team could – "and I think we did it," she smiles. "I'm just excited to see how it resonates with people." One listener who got an early playback was her mom, who told Rapsody: "I'm just so happy that you made this and you're doing this to honour women. And in doing that you honour me." "She's the first woman I fell in love with and someone that I owe my life to. She's the reason I have the life that I have," says Rapsody. "She's my Eve."
EVE is out now.