"One of them was to tour in a tour bus," says Corcoran. "We were able to cross that off that spring. We wanna do a US tour; we wanna tour Australia." To Connolly, she adds, "I think you also said that you wanna be listed on Wikipedia in Donaghmede's famous people."
"Yeah. I tried to put myself in a few times, but apparently, you can't do it for yourself," Connolly deadpans.
In the few years since making that list, the four-piece have been diligently checking items off; winning the Music Award at the Irish Tatler Women of the Year Awards 2019; festival appearances, and opening slots for bands such as IDLES, Pussy Riot, Future Islands. Currently, the pair are Zooming from their respective lockdowns at home in Dublin—likely not where they thought they'd be in the run-up to the release of their debut album, In Waiting, but it hasn't by any means lowered anticipation.
"We're very proud of this album, but we don't know what's gonna happen, and it is a lot of pressure," Connolly says. "But if it wasn't there, we wouldn't be working as hard as we are."
Hard work was their intention from the start. The band—completed by drummer/vocalist Rachel Lyons and guitarist/vocalist Cathy McGuinness—formed out of a pre-existing friendship group in 2016, all of whom had played in bands before, but this time, they wanted to go further than gigging in local venues alongside their day jobs. "Even when nobody knew who we were, we said from the outset we wanna do this properly," Corcoran recalls.
It was also the intention that the band would consist of four queer women. Queerness is in the very DNA of Pillow Queens; their foundation built on being visible as queer artists, with In Waiting featuring song titles such as "Gay Girls" and "Handsome Wife". "That was something that was important to us," says Corcoran. "I've been in bands before where we were approached by a queer publication, and the other members of the band were like: 'We don't want it to be a gimmick, we don't want to make that a thing'. And it's like, okay, it's not gimmicky, it's just a big part of my identity that I don't wanna be hiding. I don't wanna feel like we wouldn't do any queer press. With Pillow Queens it's the total opposite to that."
"[We would] welcome it. We don't get enough," Connolly laughs, before quipping, "I don't think people know that we're gay."
"This is our coming out article," Corcoran replies, tongue in cheek.
Following two previous EPs, In Waiting was born from a more collaborative writing process than ever before. "Everybody feels like their stamp is on the album," Corcoran notes, and it's as sure-footed as the band has ever been. Lyrically, much of the album deals with watching their beloved Dublin fall victim to gentrification, and concerns around financial and living circumstances grow ever more pressing.
Yet Ireland's influence on the album spreads its roots deeper even than that. Catholic imagery crops up throughout; something they found almost worked its way into to their lyricism unnoticed, merely a language picked up after growing up in a country where it's so unavoidable.
"None of us really grew up in a strictly religious household," Connolly says. "But we got a hangover of a very strictly religious country. And we had to grow up as four queer women in a country that didn't necessarily see us as whole people."
The conflation of religious language with perspectives that are intrinsically and uniquely queer results in a viewpoint that almost feels like a reclamation; a way of facing and re-sculpting this element of spirituality from which both Connolly and Corcoran felt ripped away. "When I was quite young, I was incredibly spiritual," says Corcoran, "and there were a lot of incidents—including me coming to terms with my sexuality and realising that that wasn't accepted—that were really disappointing. I was like, okay, I can't coexist harmoniously."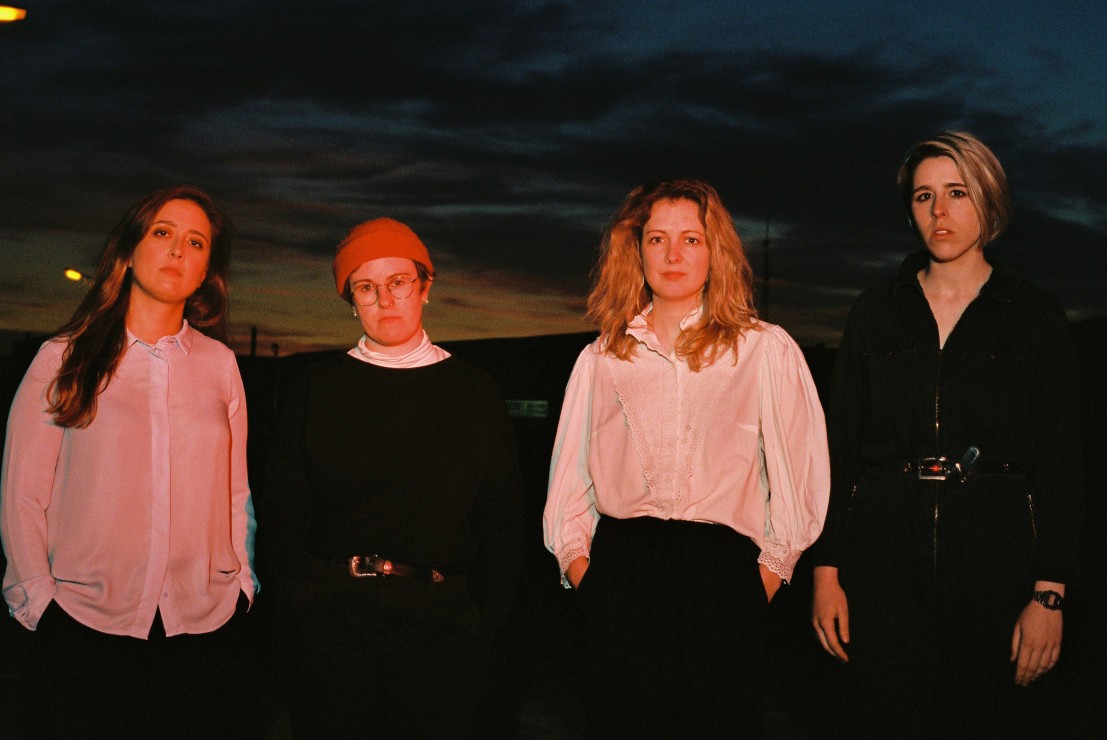 "I thought I'd have this part of me forever, and [now] I just have to be like: no, it's not me, it's not actually a part of me at all; I'm this other person. Which doesn't necessarily mean that I don't have a spiritual side, but the foundation of it was completely shattered."
Speaking to the crux of how this division shaped the band's songwriting, Connolly adds: "I think that grief of losing something that you thought was good when you were younger is in our songs a lot... It's a loss when you lose something that is, for a point in your life, something that gives you joy or gives you solace. It's a bit of jealousy, I think, when I see people who have that spirituality," she says.
"But I find [spirituality] quite beautiful as well," Connolly continues. "So it comes in ebbs and flows in terms of why you think it's a negative, and why you think it's a positive. It certainly affected how we see ourselves and how we look at the world."
"It makes me put a critical lens on things that maybe I wouldn't have done before," Corcoran agrees, "because when I was coming to terms with being queer, I thought that it was wrong, I thought that it was immoral, I thought that it was perverse. And then suddenly I was like, 'Oh, wait a second, maybe it's not', and I had to reassess that. And so it made me reassess everything."
As if in answer to those years of grief and shame, In Waiting feels like a celebration of queerness; of queer love, queer joy and queer identity. "Handsome Wife" is a beaming reflection on the glee of being in love ('The silence is so soft / I'm gonna be free'), while "A Dog's Life" sees them take pride in identity and community despite the coldness and inequity of the society around them; all of this viewed through a prism of queerness that is recognisable almost innately to those who share in it.
"There's so much emphasis on negatives, and homophobia and hate, and that's not what being queer is. There's so much joy in it," Corcoran says. "I found myself through queer art and queer performance, and finding that community."
"Unfortunately, it is mostly in moments of negativity that you become very aware of [your identity] — it usually has to do with safety and stuff," says Connolly. "But then there's moments of positivity—older people reminiscing about their youth, saying: 'Hey, I wish there was a band like you when I was growing up.' Or younger ones being like: 'I'm so glad to see people like me on stage.'"
Both inside and outside of the songs themselves, Pillow Queens have consistently used their platform to stand for matters of social justice. Over lockdown, they took part in Irish Women In Harmony, a collective of musicians using music to raise money for domestic abuse support charity Safe Ireland; they're participants of Keychange, an initiative that seeks to address the gender imbalance in the music industry; at gigs, they've spoken out against Ireland's inhumane Direct Provision system of housing asylum seekers; and of course, to be freely queer women in a country that still grapples with a long culture of homophobia and misogyny can be in itself a political act.
It's a responsibility that they value, yet equally one that they're wary of. "As individuals, we feel very strongly about a lot of stuff, but I don't think we should be looked at in terms of 'all of their music should be protest music,'" Connolly says. "Because if you get a band with four lads in it, they're not expected to continually make music that is about a political struggle. And sometimes you wanna exist in that world, where you're like: 'I wanna write a love song'. But for the fact that this love song is about queer love, it is suddenly political. So we are put into that box, which we thrive in and enjoy; but it's hard to exist and also be a political entity."
With much of the music industry on pause for the foreseeable future, it's difficult to know how many of the big plans the band had in store for In Waiting will be realised, and the album name has become darkly ironic in that respect. Still, they've more than proved already that they are vastly important artists; for a band of Irish women, their defiantly joyful expression of queerness against the country's backdrop of struggle and oppression is perhaps without any mainstream precedent.
A lot of people need a band just like Pillow Queens: expect them to take that in their stride when they go back to ticking items off that list.
In Waiting is out on 25th September via Pillow Queens Records